Kyoto Autumn Color Report (7)
Schauwecker's Japan Travel Blog
by Stefan Schauwecker, webmaster of japan-guide.com
This blog is intended to record some of my travel activities in Japan.
2006/11/22 - Kyoto Autumn Color Report (7)
With a delay of about one week with respect to the average year, the autumn leaf season is now approaching its peak in central Kyoto. Several spots are already reported to be at their best, while others need a few more days.
Visitors to Kyoto should be able to enjoy autumn colors until early December in spots across central Kyoto. The autumn leaf information board at Kyoto Station was finally updated today after it had remained unchanged for six days.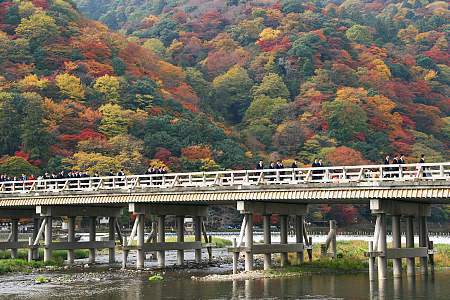 Arashiyama
In the morning we visited Arashiyama, where autumn colors are now at their best. Unsurprisingly, we were not alone. In order to avoid being stuck in traffic, make sure to access Arashiyama by train rather than bus or taxi. From Kyoto Station, you can reach Saga-Arashiyama Station in as few as 20 minutes.
In Arashiyama we went to Tenryuji, where autumn colors were spectacular, but unfortunately we did not have the time to visit any of the smaller temples in the Sagano area, which I suspect must be very beautiful, too.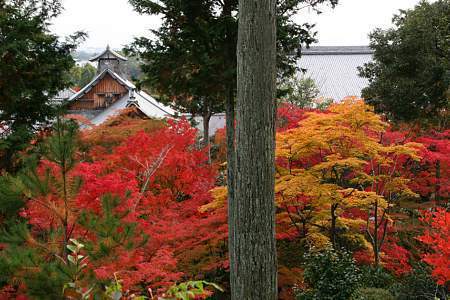 Tenryuji
In the afternoon, we had a reservation for Kokedera ("Moss Temple"), formally known as Saihoji. Reservations need to be made by postal mail at least one week before the intended visiting date, but the temple's spectacular garden is worth the effort, especially during the autumn leaf season.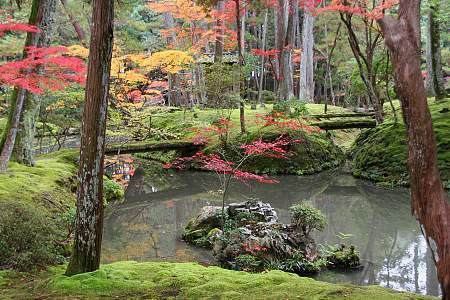 Kokedera (Moss Temple)
Another peculiarity of the temple is the high entrance fee of 3000 Yen per person and the fact that every visitor is required to copy a sutra text with brush and ink, while sitting on the tatami floor, a process that can easily take a full hour.
Only afterwards, visitors may proceed to see the temple garden, which is covered by more than one hundred varieties of moss. Although I had high expectations, my expectations were surpassed. It was one of the most beautiful gardens I have ever seen.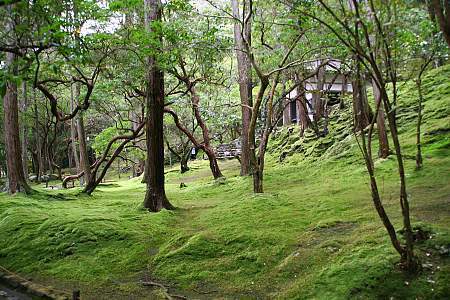 Kokedera (Moss Temple)