Schauwecker's Japan Travel Blog
by Stefan Schauwecker, webmaster of japan-guide.com
This blog is intended to record some of my travel activities in Japan.
2007/01/26 - Skiing in Naeba
I was heading for Gala Yuzawa, a ski resort in Yuzawa Town in the mountains of Niigata Prefecture, only 90 minutes north of Tokyo by Joetsu Shinkansen. The ski resort is unique in that the shinkansen station also serves as the resort's lower ropeway station.
However, shortly before arriving in Yuzawa, the train attendant announced that Gala Yuzawa is closed today, because strong winds did not allow the ropeway to operate. Therefore, I had to look for an alternative among the dozens of ski slopes in the Yuzawa area.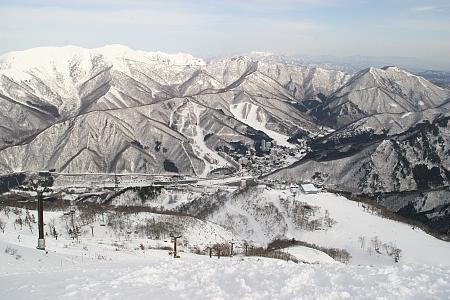 Naeba
While I was surprised about the lack of foreign language information at Echigo-Yuzawa Station, I made the decision in favor of Naeba, a large ski resort 30 minutes from central Yuzawa. The resort is dominated by the huge Naeba Prince Hotel complex, which offers more than 1000 guest rooms directly at the bottom of the ski slopes.
The hotel also operates the almost thirty lifts and gondolas in the Naeba ski resort. Many of the lifts run parallel to each other in order to provide the capacities for the huge crowds of skiers and snowboarders, visiting Naeba on weekends and during holidays.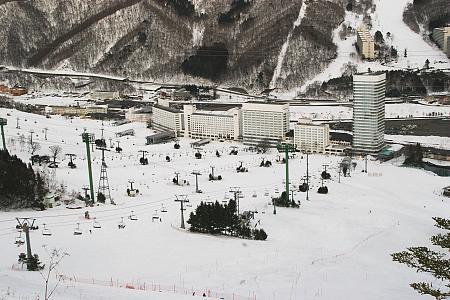 Naeba Prince Hotel
But today, a sunny Friday, the slopes were not crowded, I did not have to wait a minute to board any of the lifts, and about half of the lifts were not actually operating (which did not reduce the number of runs, since many lifts run parallel to each other).
I arrived at the daytrip welcome center of the Naeba ski resort with nothing but my city clothing, and was able to easily rent an entire ski equipment there, including boots, skis, stocks, wear, gloves and goggles. It cost me about 5000 Yen for four hours plus 3500 Yen for a 4-hour lift pass.
The views over the mountains and as far as the Kanto plain were beautiful, especially from the highest peak in the ski area, the 1789 meter high Takenokoyama.