Cherry Blossoms in Okinawa
Schauwecker's Japan Travel Blog
by Stefan Schauwecker, webmaster of japan-guide.com
This blog is intended to record some of my travel activities in Japan.
2007/01/31 - Cherry Blossoms in Okinawa
Cherry blossoms can be enjoyed in all 47 prefectures of Japan. In the southernmost prefecture of Okinawa, cherry trees start flowering as early as late January to early February, thanks to average daytime high temperature barely falling below 20 degrees even during the winter months.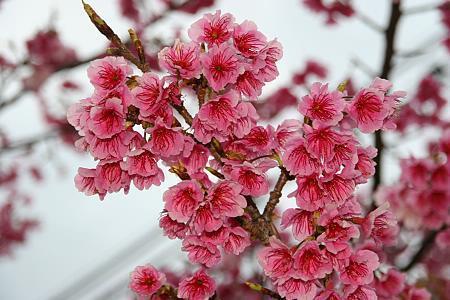 Hikanzakura
Okinawa's dominant cherry tree variety is the Hikanzakura (not to be confused with the Higanzakura) with deep pink blossoms. It differs in several ways from other cherry tree varieties found across Japan.
We visited two of the most famous cherry blossom spots of Okinawa Main Island: Nago Castle Park and Yaedake on the Motobu Peninsula.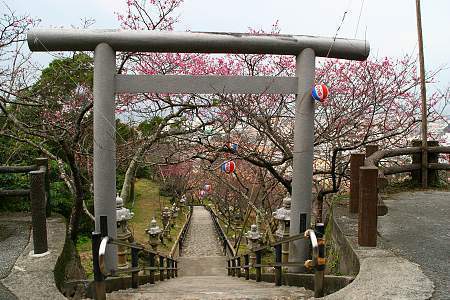 Nago Castle Park
Only a few of the trees in the Nago Castle Park already had their blossoms opened. We were a few days too early. The cherry trees stand along the stairs leading up the hill, on which Nago Castle was once located. Today, a shrine and public park remain.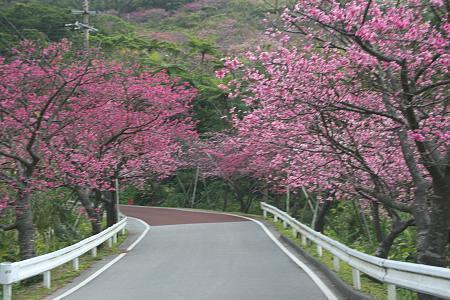 Yaedake
Yaedake is a mountain on the Motobu Peninsula. Hundreds of cherry trees line the road, which leads up the mountain for several kilometers. While several of the trees were already in full bloom, the peak of the hanami season was also only just about to commence.
We combined Yaedake with a visit to nearby Churaumi Aquarium, considered Japan's best aquarium by many. Its huge "Kuroshio Sea" tank, featuring three whale sharks and 80 other species, was particularly impressive.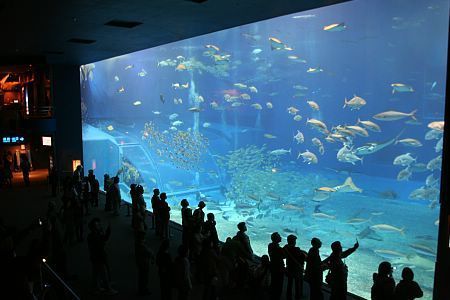 Churaumi Aquarium