Niseko and the Australian invasion
Schauwecker's Japan Travel Blog
by Stefan Schauwecker, webmaster of japan-guide.com
This blog is intended to record some of my travel activities in Japan.
2007/02/28 - Niseko and the Australian invasion
Niseko is a ski resort on Japan's northernmost island of Hokkaido, famous for excellent powder snow and for its big popularity among foreign visitors, especially Australians. Niseko is considered Japan's best ski resort by many.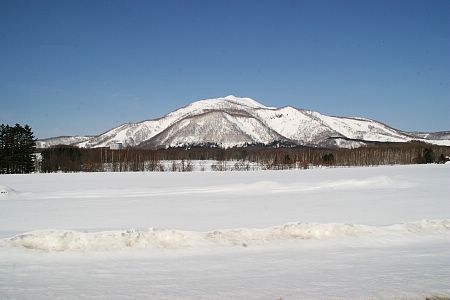 Niseko Annupuri Mountain
We accessed Hokkaido by the Cassiopeia night train from Tokyo (see previous blog entry), arriving in Sapporo around nine in the morning. Because all convenient bus and train connections to Niseko depart Sapporo before 9am, we decided to get around by rental car.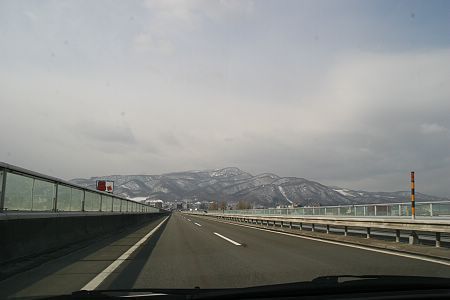 On the expressway from Sapporo to Otaru
Along the way from Sapporo to Niseko, we made a sushi lunch break in Otaru and visited the city's canal area. Driving time from Sapporo to Niseko was about 2.5 hours, and the streets were completely cleared of snow.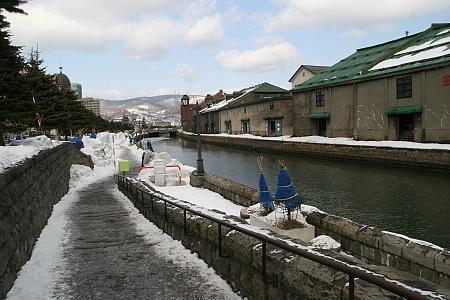 Otaru Canal
Niseko consists of three separate ski resorts: Annupuri, Higashiyama and Hirafu. They are all located on the same mountain, Niseko Annupuri Mountain, and are interconnected with each other at the top of the mountain. The bases of the three resorts are about a ten minute drive apart from each other.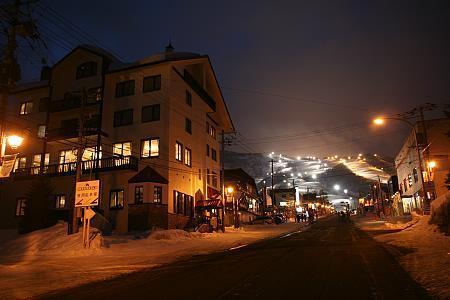 Hirafu by night
Of the three resorts, only Hirafu is a sizable village, while Annupuri and Higashiyama just consist of a few hotels and resort homes. Niseko town center is located several kilometers away from the ski resorts and is not a convenient base for skiing. Accordingly, it is not much touristicly developed.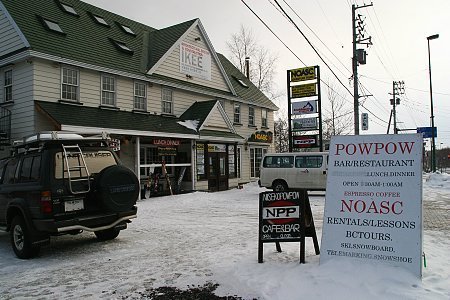 English signs in Hirafu
Visited mainly by Japanese tourists until a few years ago, Niseko has recently experienced something like an "invasion by foreigners". The number of oversea visitors to the ski resort, particularly from Australia, is overwhelming, indeed. I have never seen anything like it in Japan.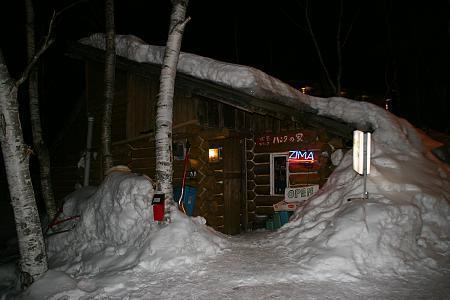 Hank's Bar
Hirafu's night life is also dominated by foreigners, with Japanese guests making up small minorities in most of the village's numerous interesting bars and restaurants. We enjoyed a dinner at A-Bu-Cha, followed by a beer with yakitori at Hank's Bar, a small place run by an elderly Japanese couple.
Hirafu Gondola
As for skiing, I found Niseko very attractive, and the infrastructure in good condition. Niseko also attracts visitors with its "back country", whose powdery slopes and valleys can be freely explored at one's own risk. Only a few areas of the mountain are strictly off limit due to dangerous terrain.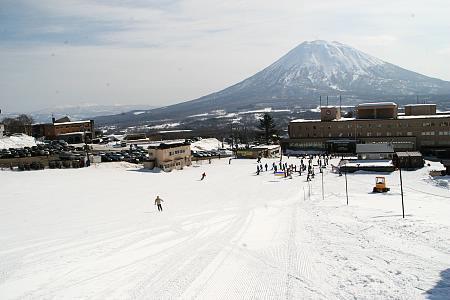 Mount Yotei from Hirafu
On the morning of the last day, when the sky had turned blue the first time since our arrival in Hokkaido, we headed home, driving via Lake Toya to Sapporo's Shin-Chitose Airport, where we boarded a jumbo jet to Tokyo Haneda.