Kanazawa's wealth of attractions
Schauwecker's Japan Travel Blog
by Stefan Schauwecker, webmaster of japan-guide.com
This blog is intended to record some of my travel activities in Japan.
2007/04/12 - Kanazawa's wealth of attractions
Almost four years after my last visit, I headed to Kanazawa with the purpose of collecting new material for the improvement of the Kanazawa sightseeing guide at japan-guide.com.
The city's wealth of attractions captured me again. Kanazawa offers all what foreign tourists expect from Japan: shrines, temples, gardens, a castle, samurai and geisha districts and outstanding food, arts and crafts. I am wondering why the city still remains somewhat off the beaten path of foreign tourists.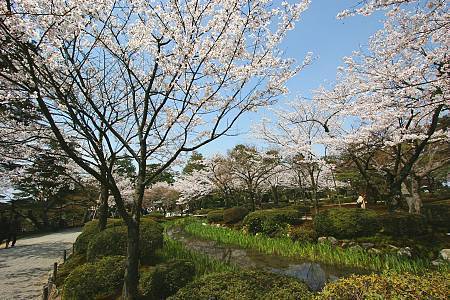 Successfully timed my visit to Kenrokuen to coincide with the cherry blossoms
Kanazawa is home to Kenrokuen, one of Japan's "three most beautiful gardens". I agree. In fact, I have not yet visited a traditional Japanese landscape garden, which surpasses Kenrokuen's beauty. And this despite the fact that the garden can get crowded at times.
Avoid the peak times of tour groups with loudspeakers by visiting early in the morning, during lunch hour or late in the afternoon. The garden's long standing popularity has also resulted in a pleasant street of restaurants and stores, catering to tourists, just outside the entrance gate.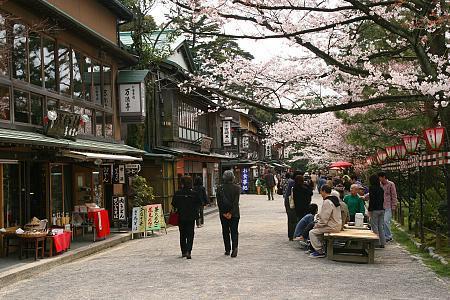 Touristy street next to Kenrokuen's entrance
Ishikawa Gate, just a few steps from Kenrokuen, is most of what remains of the original Kanazawa Castle today. The rest was lost in fires and due to the Meiji government's destructive dislike for symbols of Japan's feudal past.
Today, many citizens of Kanazawa want their castle back. As a result, the city has decided to slowly rebuild several parts of the castle one after the other. From 1997 to 2001, parts of the second citadel were reconstructed, and works on another gate, not far from Ishikawa Gate, are currently underway.
While many Japanese castles of today are concrete reconstructions to keep costs down, Kanazawa Castle is being rebuilt using only traditional construction techniques and materials. A visit to the interior of the recently reconstructed turrets and warehouse is highly recommended.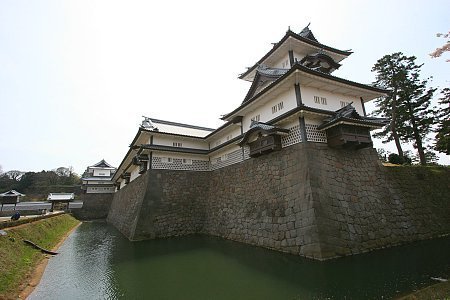 Recently reconstructed turret and storehouse of Kanazawa Castle
Some former residences of the feudal lord's retainers can be visited in Kanazawa's Nagamachi. The former samurai district has been nicely preserved (and restored) with earthen walls and wooden entrance gates.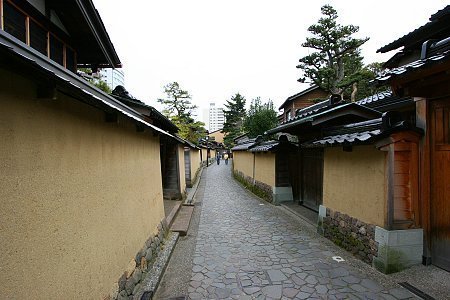 Nagamachi Former Samurai District
Kanazawa's three geisha districts, Higashi-Chayagai (Eastern Teahouse Town), Nishi-Chayagai (Western Teahouse Town) and Kazuemachi (Kazue Town), have also survived the post-feudal years in good shape. Among the three, Higashi-Chayagai is the largest and most beautiful.
Shima and Kaikaro are two old houses in the Higashi Chayagai, which used to host geisha performances, and are now open for tourists to explore. Other buildings along the beautifully preserved street and its narrow side streets house atmospheric cafes and interesting shops.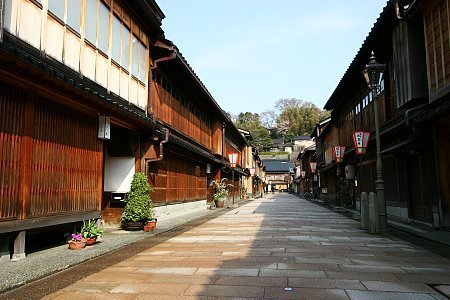 Higashi-Chayagai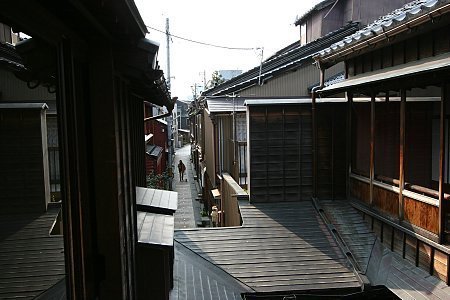 Narrow side street of the Higashi-Chayagai
One of the highlights of our visit to Kanazawa was Myoryuji, a temple also popularly known as "Ninja Temple" due to its range of trick doors, hidden stairways, pitfalls and other built-in gadgets to keep possible intruders at bay. Note however, that the temple is completely unrelated to ninja.
Myoryuji can only be visited on tours. Tours are held in Japanese, but a file with explanations in English is available. Advance reservations are required.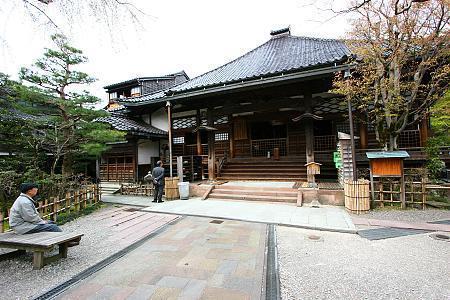 Myoryuji
Most of my trips are accompanied by at least one major failure or problem. This time, my visit to the recently opened 21st Century Museum of Contemporary Art, towards which I had high expectations, ended in personal disappointment and a hole in my research for the Kanazawa sightseeing guide.
While I checked the museum's opening hours and closing days in advance, it slipped my attention that a special exhibition was being held during our stay in Kanazawa, and the museum's regular collection was not on display. The building's intriguing architecture made the visit worthwhile, nevertheless.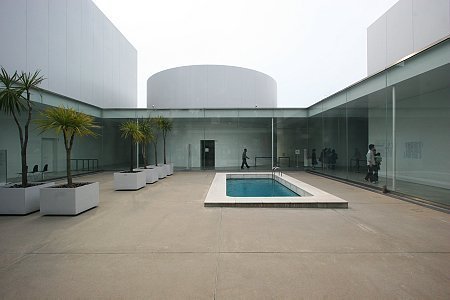 21st Century Museum of Contemporary Art
Our trip to Kanazawa ended on a high note with a wonderful seafood donburi lunch at Omicho Market. My bowl of rice was topped by delicacies such as sea urchin (uni), salmon eggs (ikura), fatty tuna (otoro), oyster (kaki), crab (kani) and even some sprinkles of gold leaf, a Kanazawa specialty.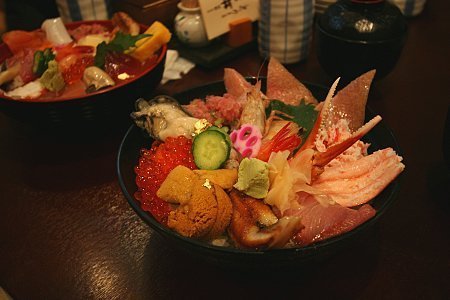 Lunch at Omicho Market
We accessed Kanazawa by Joetsu Shinkansen and Hakutaka limited express via Echigo-Yuzawa. The journey along the Sea of Japan coast with the stormy sea on one side of the train and the towering peaks of the Japanese Alps on the other side, was quite spectacular, although we incurred a delay of over an hour due to strong winds.