Cherry Blossom Report: Nagoya
Schauwecker's Japan Travel Blog
by Stefan Schauwecker, webmaster of japan-guide.com
This blog is intended to record some of my travel activities in Japan.
2009/03/30 - Cherry Blossom Report: Nagoya
Nagoya Castle
March 30, 2009 - opening (10-50%)
Many somei yoshino trees, several weeping cherry trees and small numbers of less commonly seen cherry tree varieties are planted around the pleasant park and along the moats of Nagoya Castle.
In the main citadel (honmaru), reconstruction works have started on the former palace buildings, which are scheduled to be re-erected by 2018. But most other areas of the castle park are not affected by the construction work.
Most trees around the castle are currently opening, but need an estimated 2 to 5 more days to reach full bloom. Only the 5-petaled weeping cherry trees (shidare-zakura) near the main gate are already in full bloom, while their pinker cousins with more than five petals (beni-shidare-zakura) have only just started to open.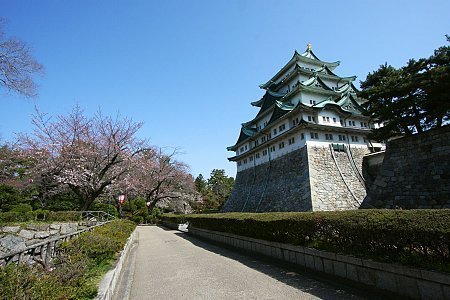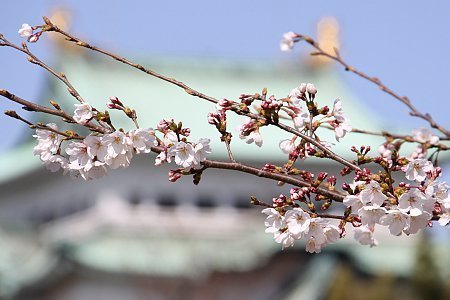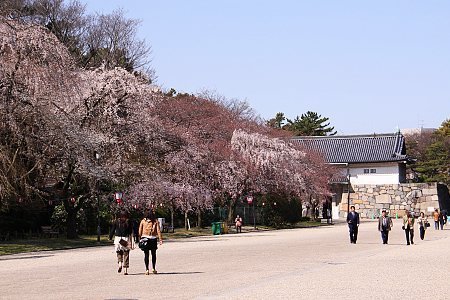 ---
Yamazakigawa Riverside
March 30, 2009 - opening (10-50%)
The Shikinomichi ("Path of Four Seasons") along Nagoya's Yamazaki River is justifiably designated as one of Japan's 100 best cherry blossom spots. The river is lined by hundreds of cherry trees for nearly a kilometer.
Less than a third of the blossoms along Yamazaki River have opened so far, and it is likely to take 3 to 7 more days until full bloom is reached.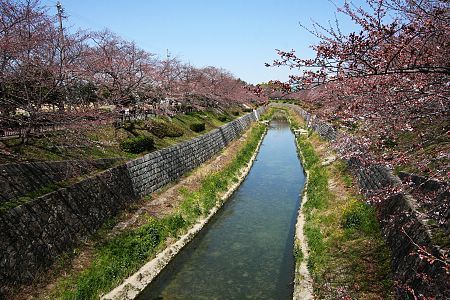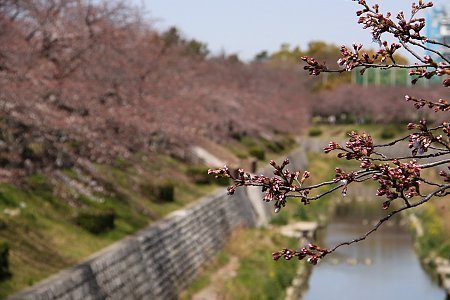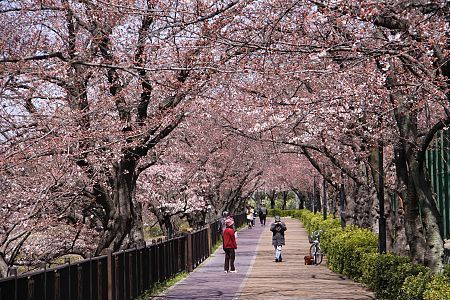 ---
Tsuruma Park
March 30, 2009 - approaching full bloom (50-80%)
Tsuruma Park (Tsuruma Koen) is probably Nagoya's most popular city park for cherry blossom viewing. The public park in central Nagoya offers many food stands and space for cherry blossom viewing parties under the trees.
The grove of cherry trees near the park's main entrance has almost reached full bloom, while the more exposed trees in the open area of the park still have less than half of their blossoms open.