Autumn Color Report: Noboribetsu Onsen
Schauwecker's Japan Travel Blog
by Stefan Schauwecker, webmaster of japan-guide.com
This blog is intended to record some of my travel activities in Japan.
2009/10/15 - Autumn Color Report: Noboribetsu Onsen
I spent the second day of my 3-day autumn leaf report trip to Southern Hokkaido in Noboribetsu Onsen, one of Japan's best hot spring resorts. Noboribetsu is blessed with a beautiful jigokudani ("hell valley"), that provides the town's ryokan with many different kinds of hot spring water.
Autumn colors in Noboribetsu's Jigokudani were close to their peak today and added an additional dimension to the already amazing scenery.
Pleasant walking trails through the forest connect the Jigokudani with other places of volcanic activity in the hills above Noboribetsu. Among them, Oyunuma is a highly sulfuric pond with hot water bubbling up and a surface temperature of around 50 degrees. Colorful trees and bushes provided an attractive contrast to the pond's grey-blueish water.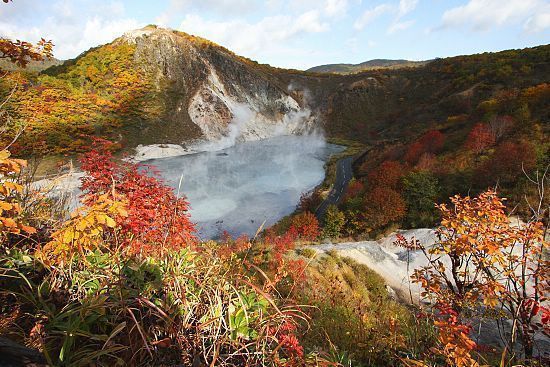 Flowing out of Oyunuma is a river called Oyunumagawa. The river, still hot and flowing through the forest, made for an out-of-this-world scenery. And if you walk along the river a few more minutes, it gets even better: you get treated with a natural foot bath.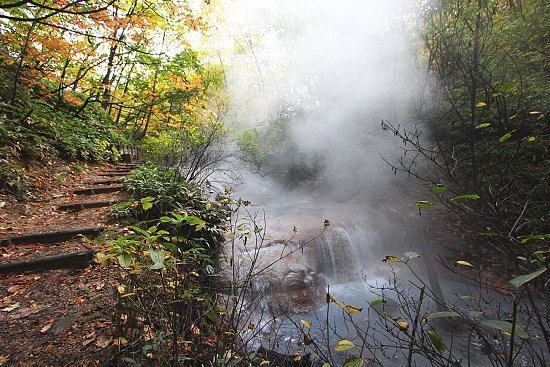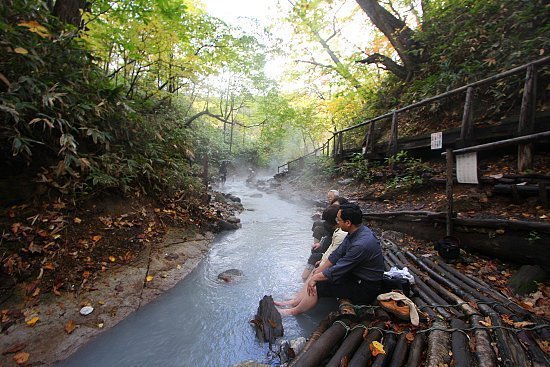 Seeing and smelling all the wonderful sulfurous waters, I developed a strong desire to immerse myself completely in one of Noboribetsu's hot spring baths. So, I headed to the Takimotokan, the ryokan with the best baths in town. While the average onsen ryokan's baths offer one or maybe two different hot spring waters, the Takimotokan's feature as many as seven, all differing in character and benefits. The quality comes with a price, though: 2000 yen for a daytime visit.