Shuraku Restaurant, Vancouver
Schauwecker's Japan Travel Blog
by Stefan Schauwecker, webmaster of japan-guide.com
This blog is intended to record some of my travel activities in Japan.
2010/02/07 - Shuraku Restaurant, Vancouver
In too many cases, Japanese food served in restaurants outside of Japan is barely recognizable as such, as the quality of ingredients and the skills of the chefs leave a lot to be desired. There are a few cities outside of Japan, however, where Japanese cuisine is not only widely available but also of considerable quality.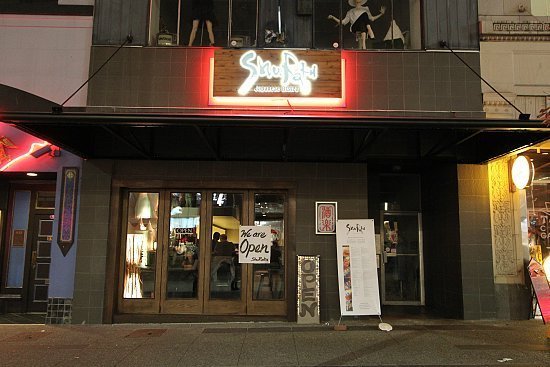 One of them is Vancouver, Canada, where some downtown streets are virtually lined by Japanese restaurants. Not all of them are good, though. In fact, most of them are not. But there is a small number of excellent Japanese restaurants in Vancouver, a few of which I would like to introduce in my travel blog over the coming weeks.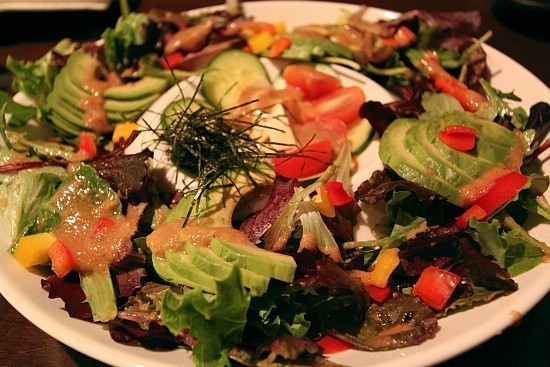 Today we visited the relatively new Shuraku Restaurant in downtown Vancouver, which opened in summer 2008. It was my first visit, and the restaurant quickly joined my list of personal favorites. Shuraku can be translated as "enjoyment of sake", and the restaurant calls itself a "Sake Bar and Bistro" with a sizable menu of sake ranging from cheap American Gekkeikan to premium junmai and daiginjo varieties from Japan (and Granville Island).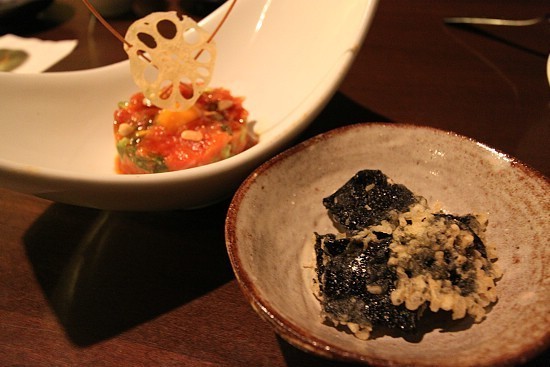 Shuraku's food menu mirrors in structure the menu of the typical Vancouver style izakaya by featuring a number of appetizers, salads, meat and seafood dishes and the mandatory array of sushi dishes, centered around an original variety of inside-out sushi rolls. What makes the food outstanding are the quality ingredients and the creative originality of the dishes, which result in very delicious and enjoyable meals.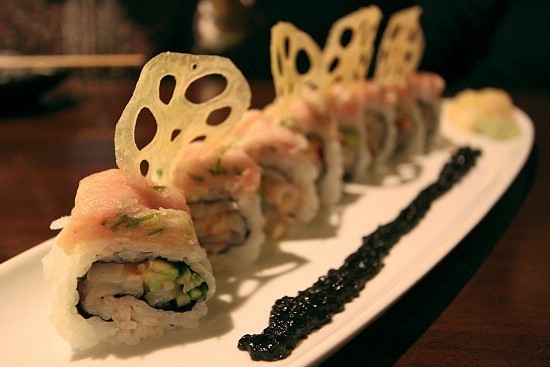 My highlight of the evening were the "Signature Rolls", inside-out sushi rolls. Choosing from the menu's ten original rolls was not easy, as all their descriptions sounded very enticing and interesting. We ended up trying the Roulette Roll with spicy scallop and avocado, topped by negitoro and renkon chips, and the Grandfather Roll which succeeded to harmonically combine avocado with cream cheese, mango, prosciutto, capers and a balsamic sauce.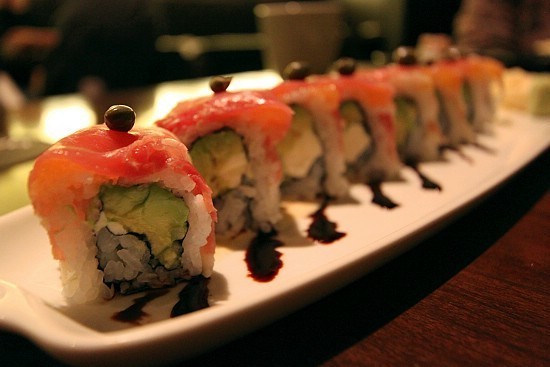 PS: We re-visited Shuraku for lunch on March 2, 2010 and experienced the restaurant in a rather different light: the sushi rice was hard and the sushi rolls felt like they came right out of the refrigerator. Maybe there is a gap in quality between the lunch and dinner menu...