Schauwecker's Japan Travel Blog
by Stefan Schauwecker, webmaster of japan-guide.com
This blog is intended to record some of my travel activities in Japan.
2010/02/14 - Hapa Izakaya, Vancouver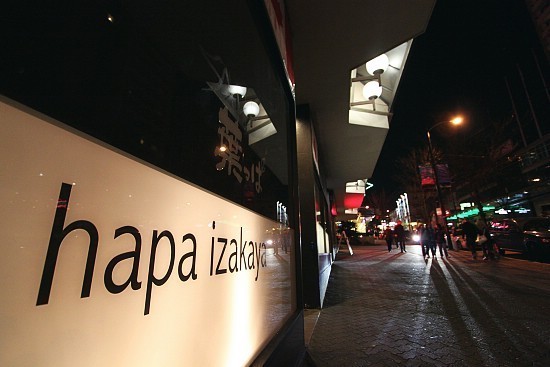 When Hapa Izakaya opened in 2003 at Robson Street, it was one of the first establishments to introduce original Japanese dishes in an izakaya atmosphere to Vancouver. Today, their Robson location is three times as large as it used to be in 2003, and branch restaurants are also found in Vancouver's trendy Kitsilano and Yaletown districts.
Hapa Izakaya stands out with its minimalist exterior (like a Gion teahouse, barely recognizable as a restaurant) and stylish interior, as well as its original dishes, whose style have inspired a lot of newer izakaya style restaurants in Vancouver over the years.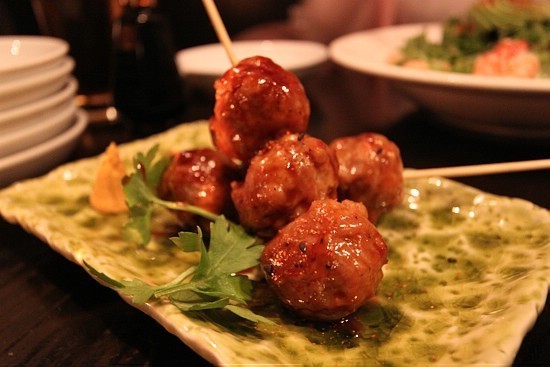 Hapa Izakaya fascinated me back in 2003 with never before experienced dishes such as saba (mackerel) seared at the table. Maybe our choices today were not the luckies, but we felt that the originality of Hapa's dishes has dwindled a little bit since 2003 (or other restaurants have caught up to it and raised our expectations). Nevertheless, we enjoyed our dinner there a lot.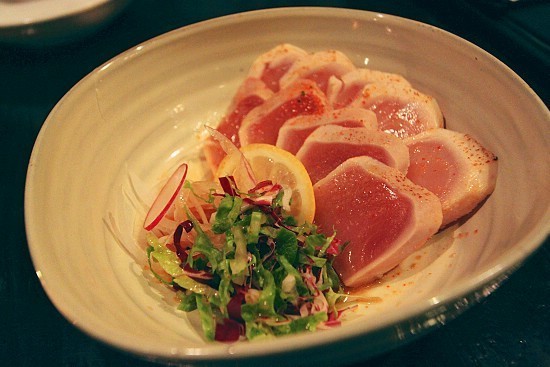 We started off with Bintoro Tataki, a beautifully simple dish of seared tuna sashimi on an excellent vinaigrette sauce. Many of the other dishes were good but not outstanding, including the Shrimp and Avocado Salad and the Monsa Roll. Another highlight of the night was Kakuni, slow simmered pork, which was served in an original way with nikuman style steamed buns.