Autumn Color Report: Kamakura
Schauwecker's Japan Travel Blog
by Stefan Schauwecker, webmaster of japan-guide.com
This blog is intended to record some of my travel activities in Japan.
2010/12/06 - Autumn Color Report: Kamakura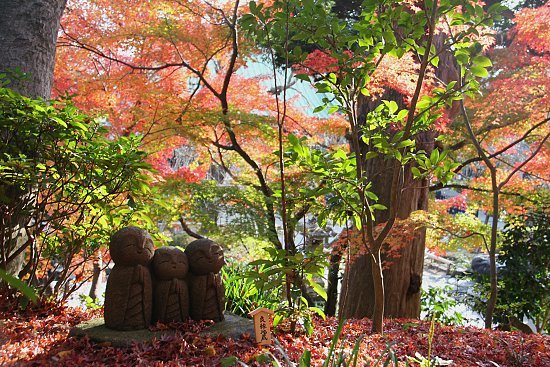 Almost three months after this year's first autumn color report, the season is finally approaching its end. Today I visited Kamakura, one of the last places in Japan to see the leaves change colors. The season does not usually peak here before early December.
Weather conditions have been quite favorable for koyo over the last few weeks thanks to many nights with low temperatures enhancing the colors. As a result, the trees have made up the delay witnessed earlier this season. On a less positive note, strong winds and rain have taken down quite a few leaves prematurely last week.
I started reporting at Hasedera, where the maple trees were near their peak today, although some of the trees have started to decline. The colors around the pond in the lower garden of the temple grounds were particularly pretty.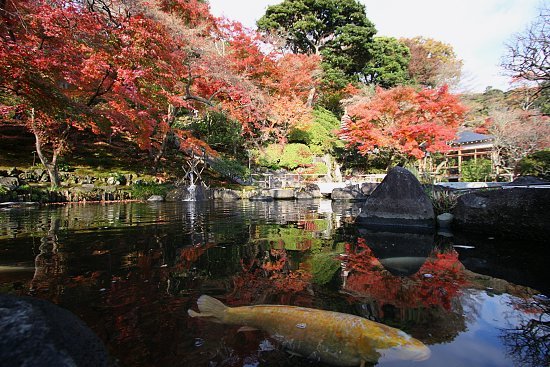 Next I paid a quick visit to the Kamakura Daibutsu (Great Buddha). There are only a few colorful trees on the grounds around the beautiful bronze statue, however, these are currently near the beauty of their autumnal beauty.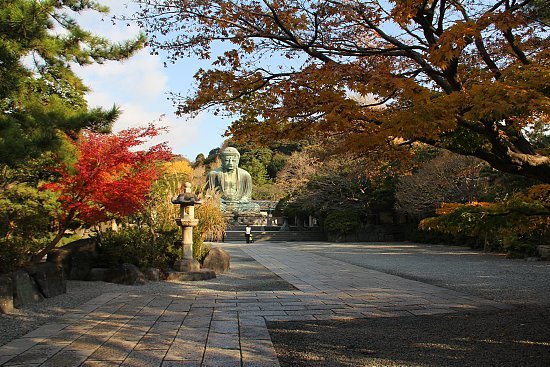 Via the Daibutsu hiking trail I continued to the Genjiyama Park, a mountaintop park with a statue of Minamoto Yoritomo, the shogun who founded the military government of Kamakura 818 years ago. The trees around the park are already beyond their peak. I suspect that many leaves fell victim to last week's strong winds.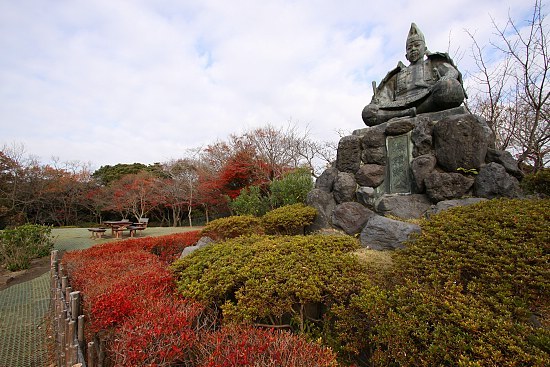 Tsurugaoka Hachimangu Shrine lost its magnificent, centuries old ginkgo tree during a winter storm earlier this year. Despite cracking at its base and falling over, the tree did not entirely die. Many young branches have since started to grow from the roots of the old tree and from a part of the trunk which the shrine has placed next to the tree's former location. These branches were providing some modest autumn colors today in their first year of existence.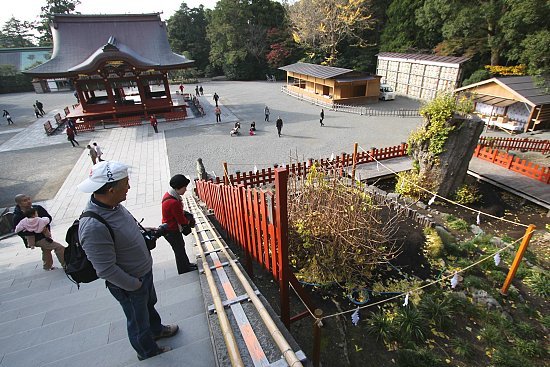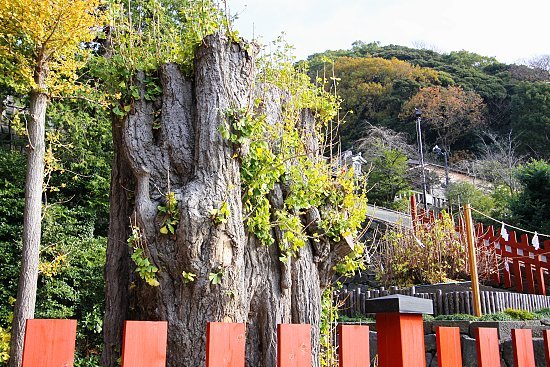 With a bag of roasted ginkgo nuts I made my way to Kenchoji Temple, a ten minute walk north of Tsurugaoka Hachimangu Shrine. Kenchoji does not have an overwhelming number of colorful trees, but the few maple trees on its grounds were at their peak today.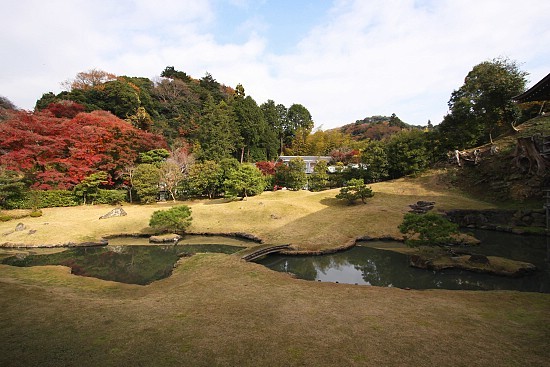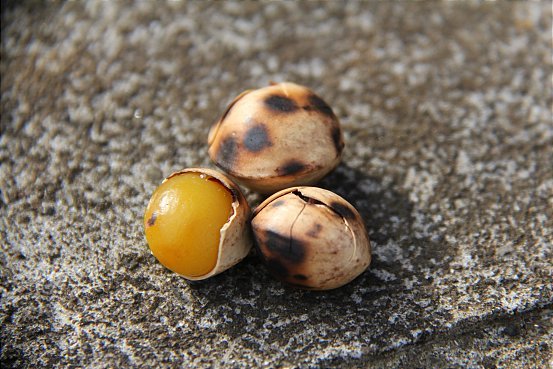 A pleasant surprise was my visit to Meigetsuin, a temple most famous for its hydrangea flowers (ajisai), which bloom in June and July. Not expecting much, I quickly realized that the pretty temple grounds are worth a visit also in autumn.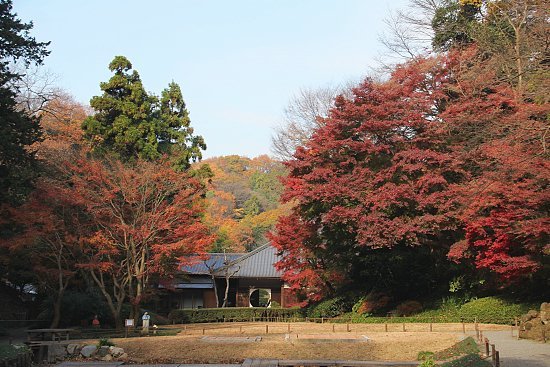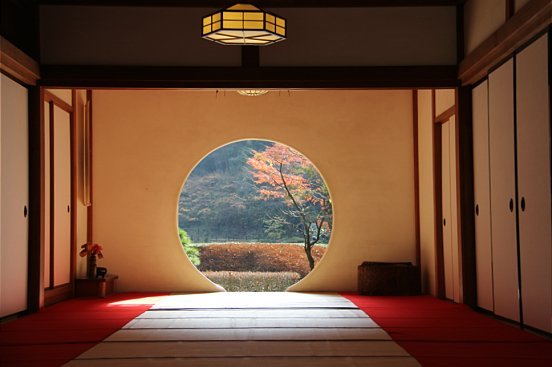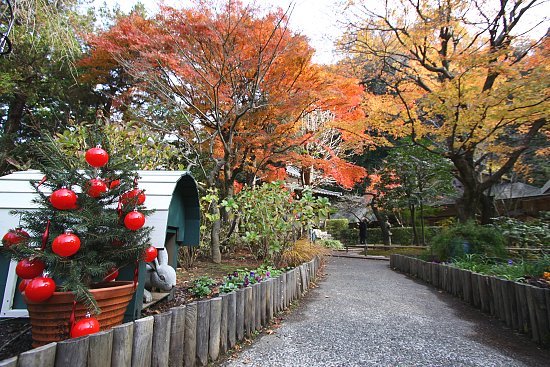 My last stop in Kamakura was Engakuji Temple, which was quite busy today for a good reason: the colors around the temple buildings were at their peak.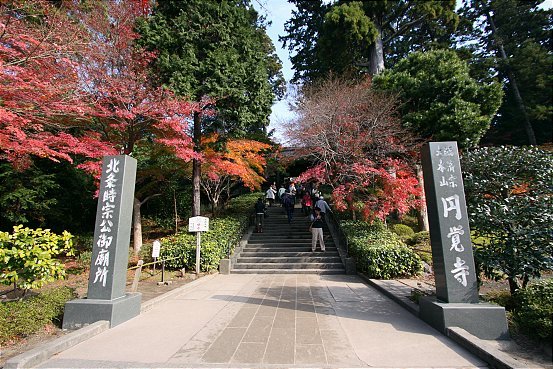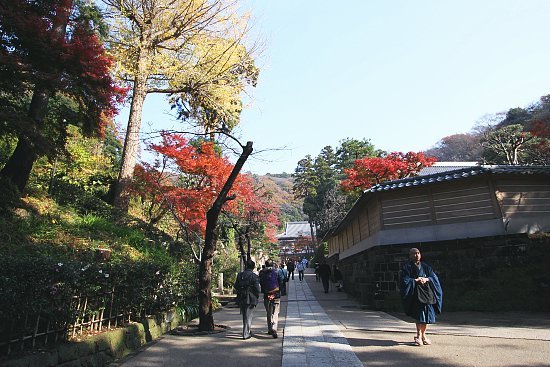 On my way home, I made a detour via Sankeien, a beautiful garden in Yokohama. Autumn colors were modest around the pond, but there were some spectacular pockets of vibrant maple leaves in the forested areas, especially around the Yokobuean tea hut.