Cherry Blossom Report: Kyoto
Schauwecker's Japan Travel Blog
by Stefan Schauwecker, webmaster of japan-guide.com
This blog is intended to record some of my travel activities in Japan.
2012/04/01 - Cherry Blossom Report: Kyoto
The cherry blossoms in Kyoto are forecast to start opening from tomorrow, April 2. Today I visited the city for this year's first of approximately seven cherry blossom reports, as we plan to report from the former capital at least twice per week during the upcoming blooming season.
Arashiyama
April 1, 2012 - still closed
The cherry trees around the Togetsukyo Bridge in Arashiyama are usually a little bit behind the pace of the trees in the city center, which may be due to their exposed riverside location at the base of Kyoto's northern mountains.
And, indeed, the trees' buds did not look like they would start opening soon but rather that they required several more warm days in order to open up. Accordingly, I estimate that full bloom in Arashiyama is still at least one and a half weeks away.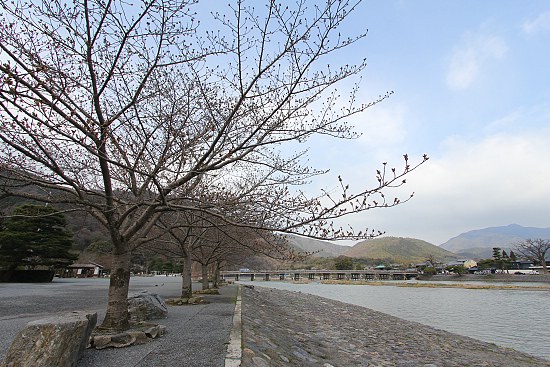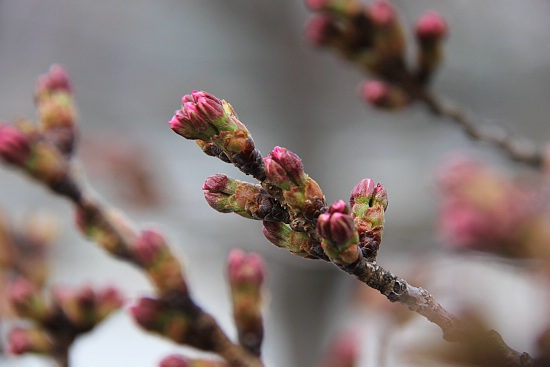 Kyoto Imperial Palace (Kyoto Gyoen)
April 1, 2012 - opening (10-50%) (weeping cherries)
A group of weeping cherry trees in the northwestern corner of Kyoto Imperial Park bloom a couple of days ahead of the elsewhere most numerous Somei Yoshino cherry trees, and can provide hanami opportunities to visitors who are in the city a few days too early for the main season.
The group of trees consists of multiple varieties which start blooming at slightly different times. The earliest blooming among them were already approaching full bloom today while others were approaching the 50% mark. Furthermore, there were several still closed, later blooming trees which will continue to provide this hanami spot with blossoms for multiple weeks to come.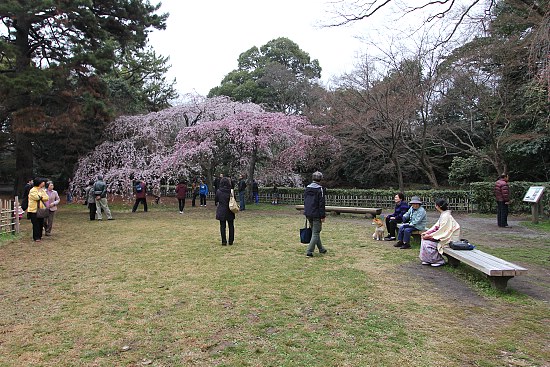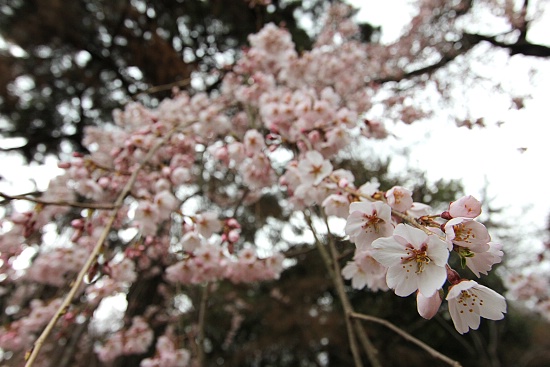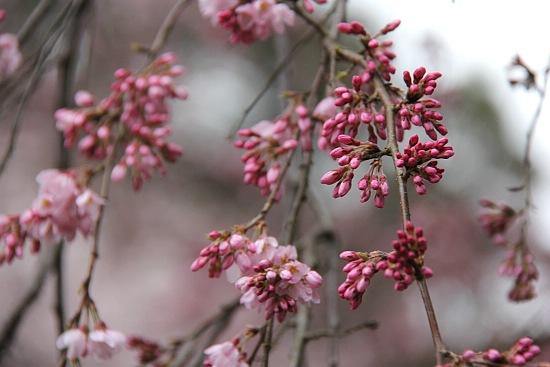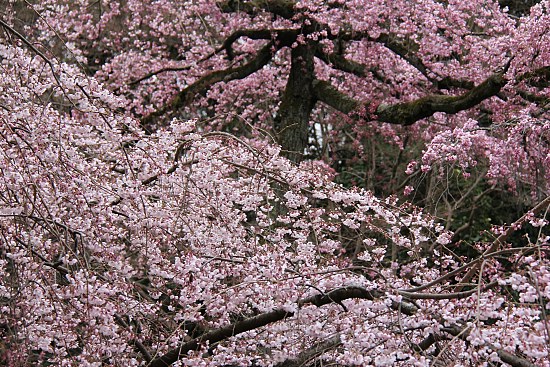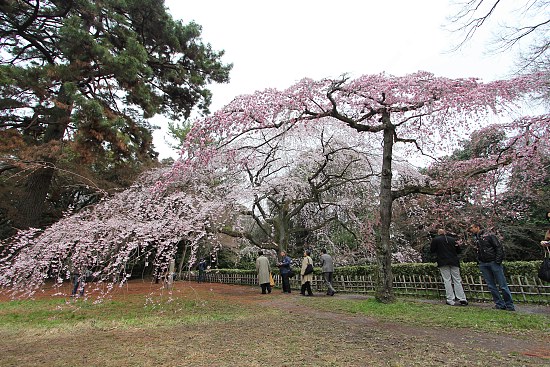 Philosopher's Path
April 1, 2012 - about to open
The Philosopher's Path connects Ginkakuji with the neighborhood of Nanzenji and is lined by a canal and hundreds of cherry trees that make for a pleasant walk during the blooming season.
The cherry trees along the path were still closed today and I failed to discover a single open blossom. It is probably going to take a couple more days before the blossoms start opening in large numbers in this part of the city.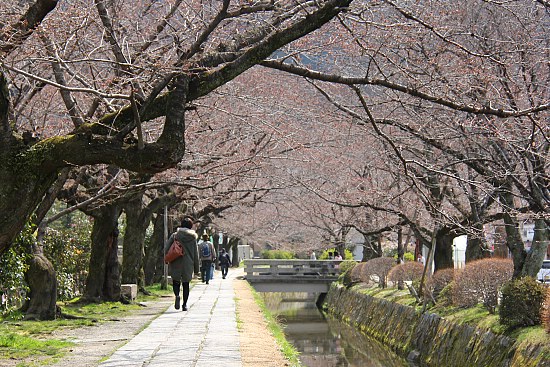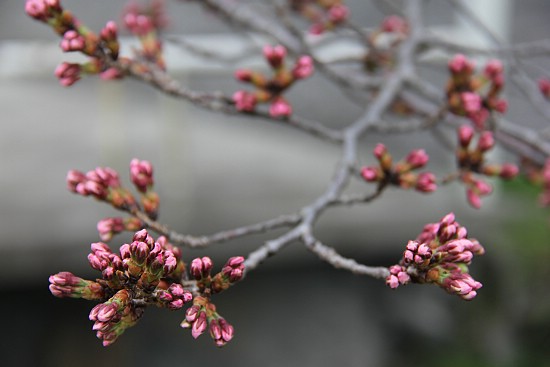 Keage Incline and Okazaki Canal
April 1, 2012 - about to open
The Keage Incline and Okazaki Canal (as well as the canal next to the Philosopher's Path) are part of a large canal and tunnel system that was built during the Edo Period and Meiji Period to connect Kyoto with Lake Biwa on the opposite side of the city's eastern mountains. Today they are outstanding cherry blossom spots.
Until 1951, the Keage Incline was used to transport boats between canals of different elevations. These days, the gentle slope is lined by cherry trees, which today were still closed but on the verge of opening.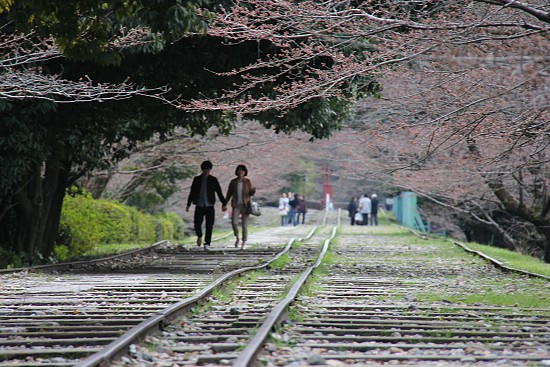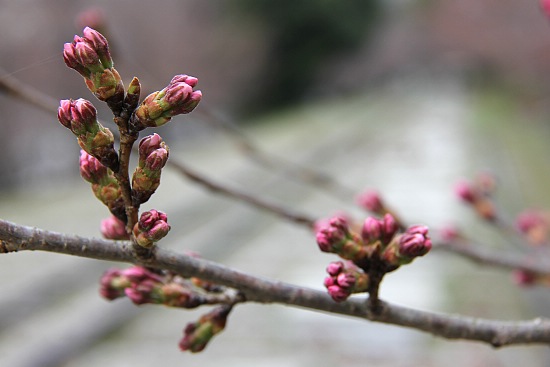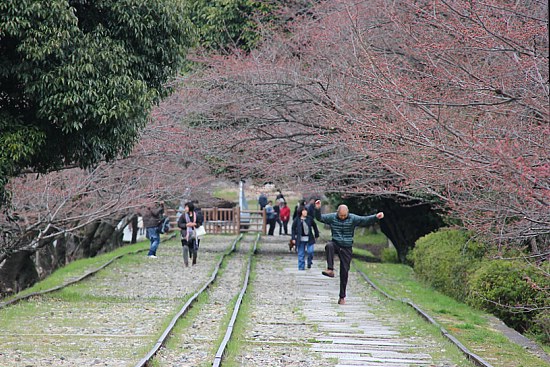 Okazaki Canal at the base of the Incline is also lined by cherry trees, which were at the same state as the Incline's trees. Despite the lack of blossoms, boat tours along the canal have started on March 29th. They cost 1000 yen per person and will operate every 15-30 minutes between 9:30 and 16:30 until May 6. Until April 15, they operate until 20:30 and offer views of lit up trees.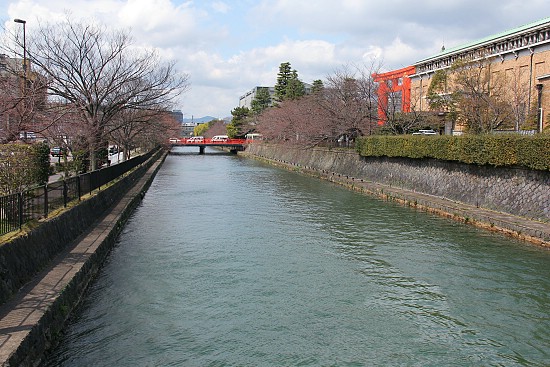 Maruyama Park
April 1, 2012 - about to open
Maruyama Park is Kyoto's most popular park for hanami parties, comparable to Tokyo's Ueno Park. It is located adjacent to Yasaka Shrine.
Most of the park's trees need a couple more days before they start open up. Even on the large weeping cherry tree at the center of the park, which usually starts opening 2-4 days ahead of the Somei Yoshino trees, I was not able to spot an open blossom yet, although the opening seemed imminent. The next weekend is unlikely to see the park at full bloom already.