Cherry Blossom Report: Tottori
Schauwecker's Japan Travel Blog
by Stefan Schauwecker, webmaster of japan-guide.com
This blog is intended to record some of my travel activities in Japan.
2012/04/15 - Cherry Blossom Report: Tottori
The cherry blossoms in Tottori typically open about a week after the ones in Tokyo. This year they were reported to have officially reached full bloom on April 10. Five days later, some trees have started to drop their first petals, but many were still at the peak of their seasonal beauty.
Fukurogawa River
April 15, 2012 - petals starting to fall
The Fukurogawa is a river that flows through central Tottori, where it is lined by more than 200 cherry trees for about 1.5 kilometers. The trees along the river have started to drop their petals but still looked very close to full bloom. They should remain attractive for a couple more days.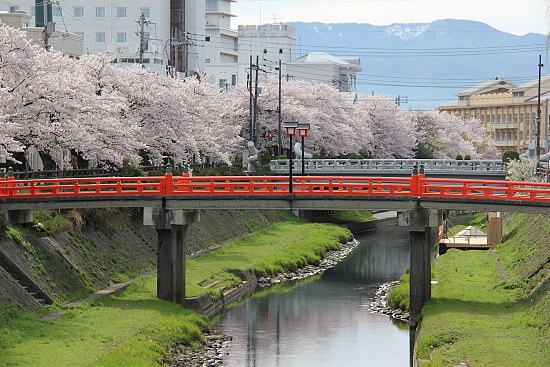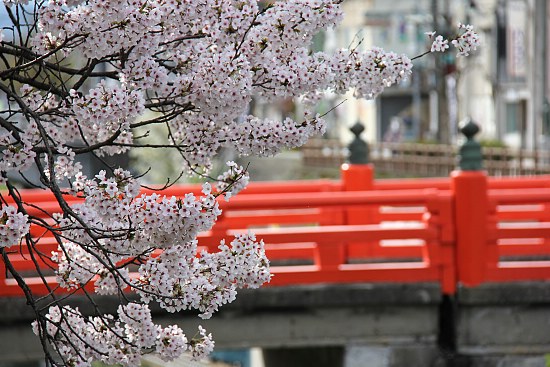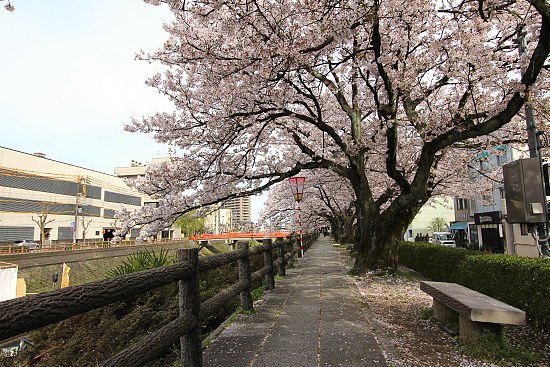 Tottori Castle Ruins
April 15, 2012 - petals starting to fall
Only some ruins remain of the former Tottori Castle, seat of one of the most powerful feudal lords during the Edo Period. Impressive castle walls, views over the city, a Western style mansion from the Meiji Period and the adjacent prefectural museum make it a popular tourist destination.
Also known as Kyusho Park, the former castle grounds become even more popular during the cherry blossom season when the park attracts many visitors with its over 200 trees and designation as one of Japan's Top 100 Hanami Spots. During the peak of the season, the trees are lit up by paper lanterns in the evenings between 18:30 and 22:00.
The trees on the various levels of the castle ruins have started to drop their petals, although some of them still stood at full bloom. They should provide good hanami for several more days.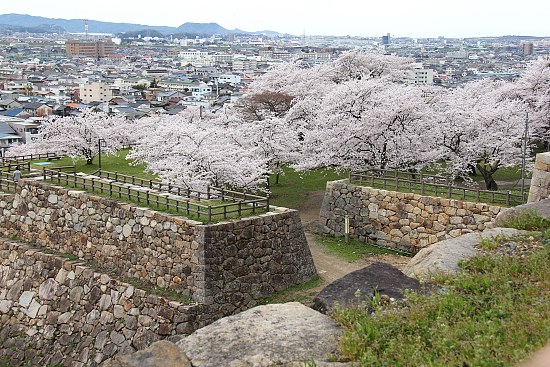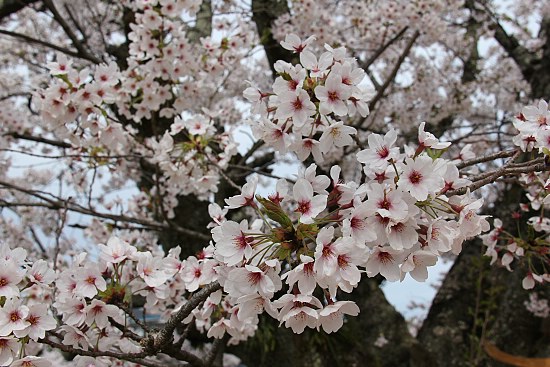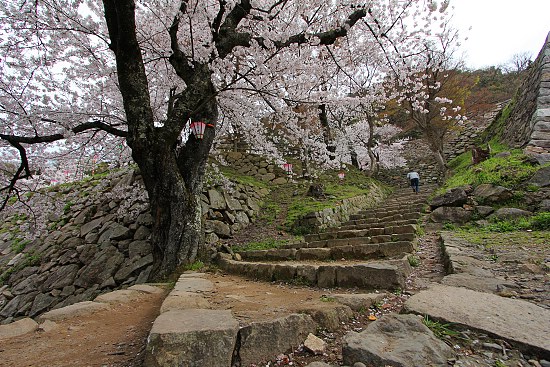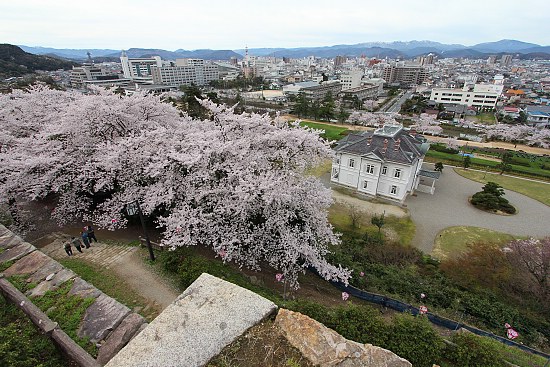 Inaba Senbonzakura
April 15, 2012 - full bloom
The atmosphere was delightful on this Sunday morning at the Inaba Senbonzakura with people of all ages streaming into the pleasant park. Senbonzakura means "a thousand cherry trees" and Inaba is the old name of the region that makes up eastern Tottori Prefecture. The cherry trees are found in one corner of the impressive Coca Cola West Sports Park that also contains numerous excellent sports facilities, just outside the city center.
While some trees along the approach to the Senbonzakura started to drop their petals, the trees in the main park generally were still at full bloom. The season should last several more days.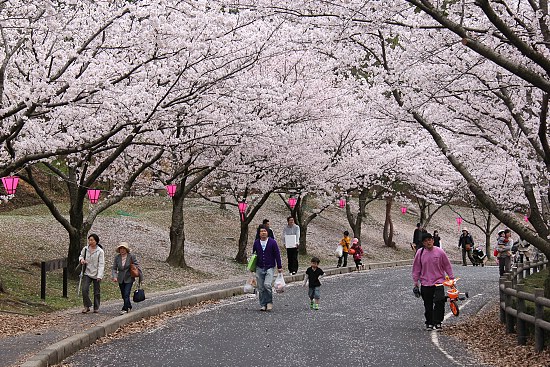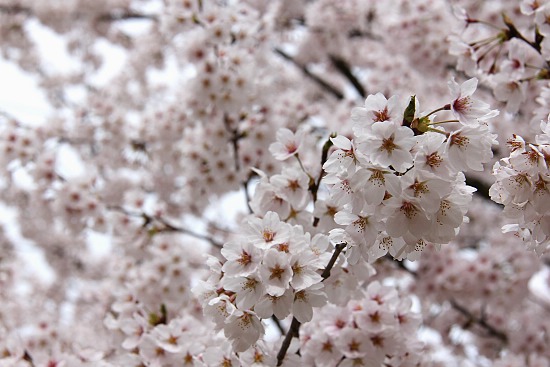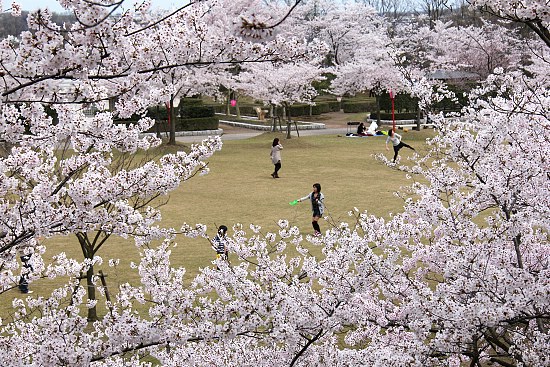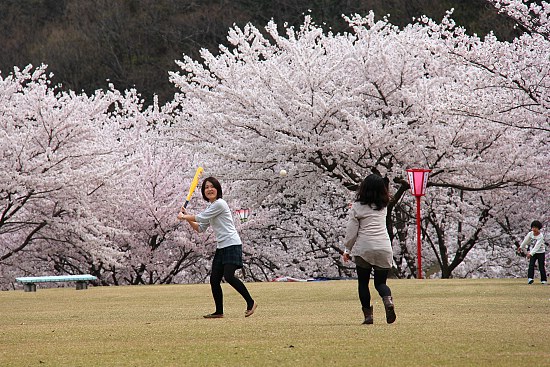 Koyamaike Aoshima Park
April 15, 2012 - full bloom
Three kilometers further outside the city center, I visited Aoshima Island in Koyamaike Pond, the largest body of water in Japan that is named "ike" (usually translated as "pond" in English). Formerly an inlet of the Sea of Japan, Koyamaike was separated from the sea by sand dunes over the centuries. Due to its size it definitely feels more like a lake than a pond.
Aoshima Island has a pleasant coastal walking trail that is 1.6 kilometers long and can be walked in under half an hour. Hundreds of cherry trees are planted along the trail and in the island's hilly interior. The Somei Yoshino were still at full bloom. Additionally, there were many cherry trees of different varieties, including a lot of late blooming varieties, which will provide visitors with cherry blossoms for at least two more weeks.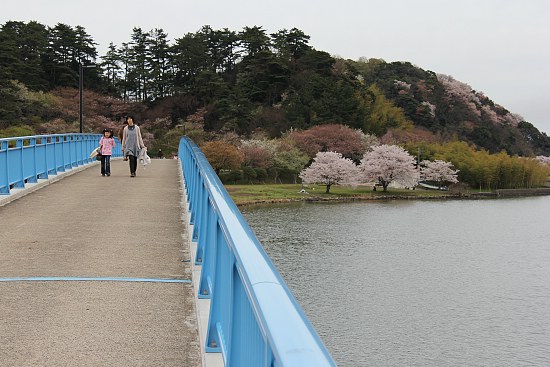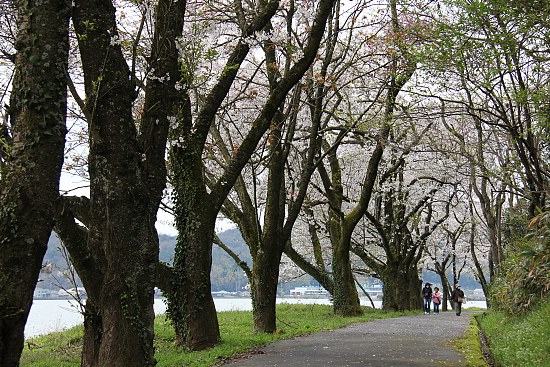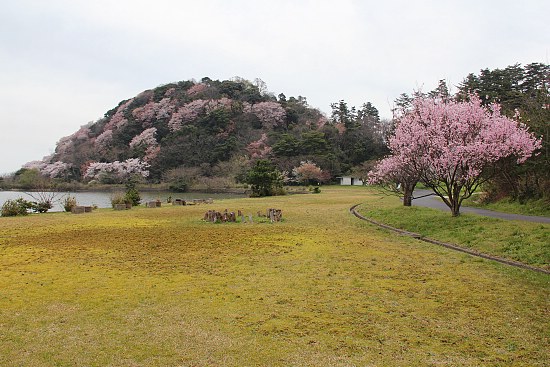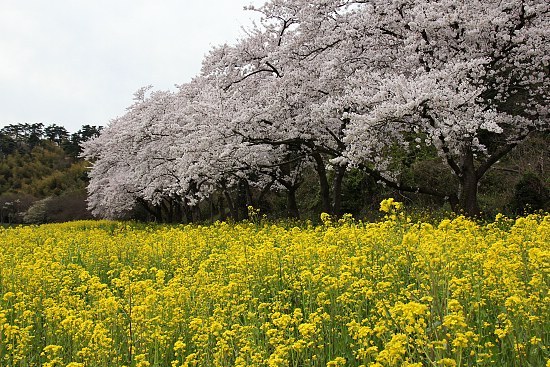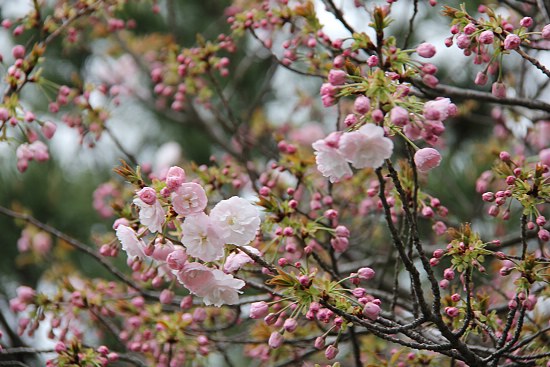 I can't imagine visiting Tottori without seeing its sand dunes. While they are not a hanami spot, I had a particular reason to include them into my itinerary today: the new Sand Museum opened its doors to the public yesterday. The museum holds annual exhibitions of sand sculptures, which were formerly held outdoors or in temporary structures.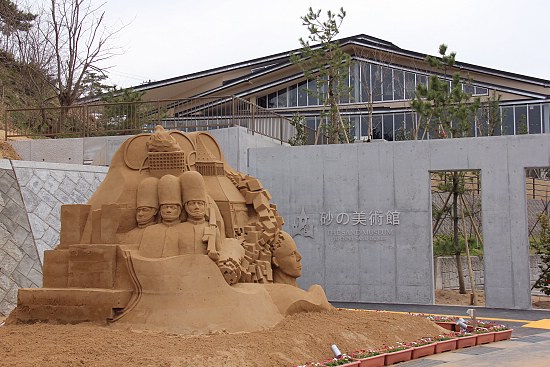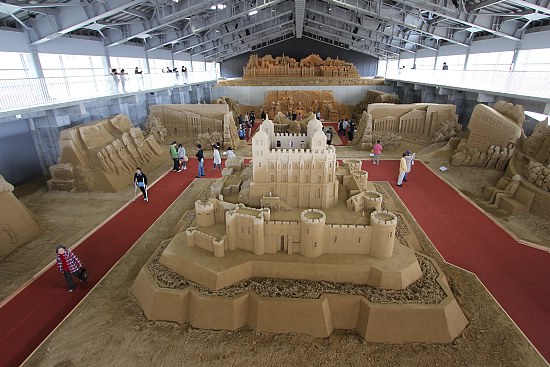 This year's exhibition (from April 14, 2012 to January 6, 2013) takes the United Kingdom as its theme and features more than a dozen large, meticulously created sand sculptures, including a feudal castle, a double decker bus, Newton and Darwin, and some members of the royal family. It felt very similar to a visit to the Sapporo Snow Festival except for the different building material.