Autumn Color Report: Asahidake
Schauwecker's Japan Travel Blog
by Stefan Schauwecker, webmaster of japan-guide.com
This blog is intended to record some of my travel activities in Japan.
2012/09/18 - Autumn Color Report: Asahidake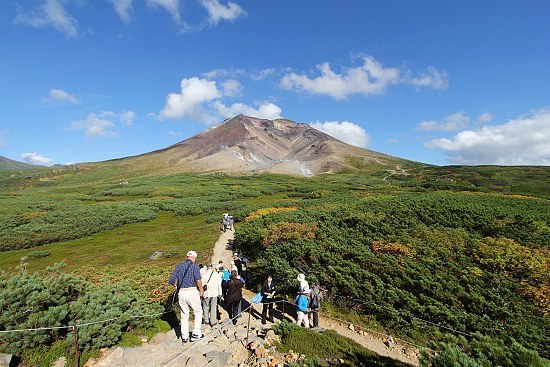 Welcome to the 2012 autumn color reports! Starting today, we will follow the seasonal colors for approximately three months as they descend from the highest peaks of Hokkaido into the gardens and parks of Kyoto and Tokyo. Along the way, we will be reporting about the leaves' current state from popular autumn color spots across Japan.
Like in the previous four years, we start reporting from Daisetsuzan National Park on Japan's northernmost island of Hokkaido. Daisetsuzan is the largest national park in Japan, and its mountains are the first place in Japan to see autumn colors each year. We have multiple reports scheduled both this and next week from this magnificent area of Japan.
Temperatures have been way above average this summer in Hokkaido, especially in September. The unusual heat is not ideal for the autumn colors, which require cool, crisp nights in order to turn most spectacular. As a consequence, the season has again started with a considerable delay compared to the average year. Furthermore, I am worried that the heat may also have a negative effect on the appearance of some of the leaves.
Today I visited Mount Asahidake, at 2290 meters Hokkaido's tallest peak. Tourists can easily ascend the mountain by ropeway from Asahidake Onsen to an altitude of 1600 meters. From there, they can enjoy the scenery in anything from 15 minute walks to multi-day trekking tours. I limited myself to an easy, 45 minute circular walk around the upper ropeway station.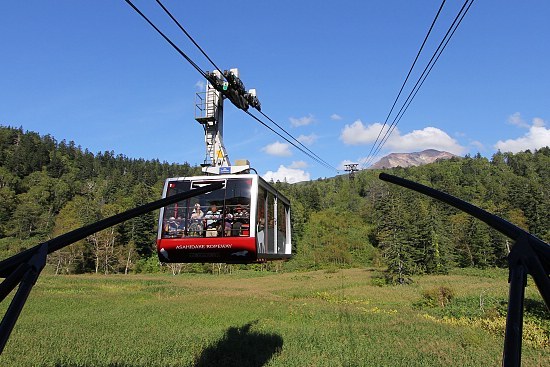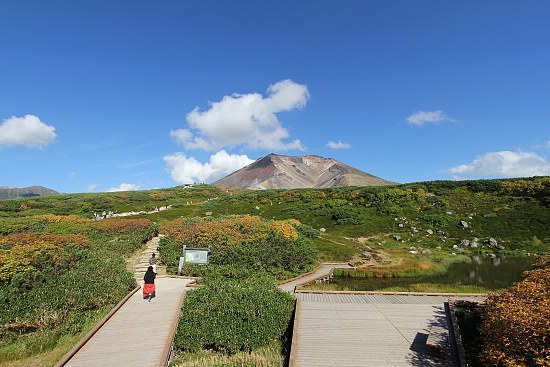 The temperature at the upper ropeway station was an unbelievable 22 degrees today - about ten degrees hotter than average. I could not help remember my visit of September 24, 2008 when around the same time of the year the autumn colors here were already covered up by snow.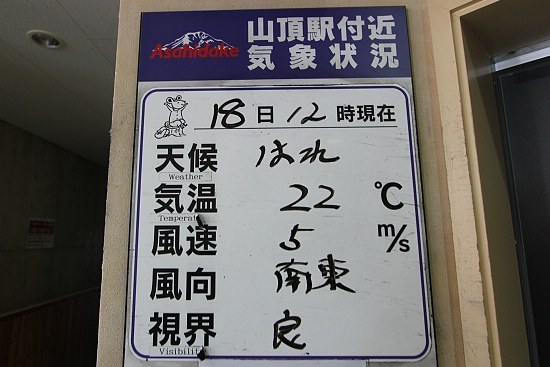 The bushes around the upper ropeway station have started to change colors, and although they were still at an early stage, further enhanced the already spectacular mountain landscape. According to the ropeway's website, there is hope that this year's colors may turn quite intensive and beautiful thanks to the fact that they enjoyed ample of sunshine.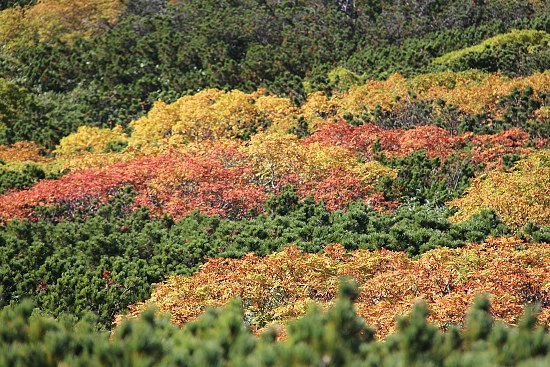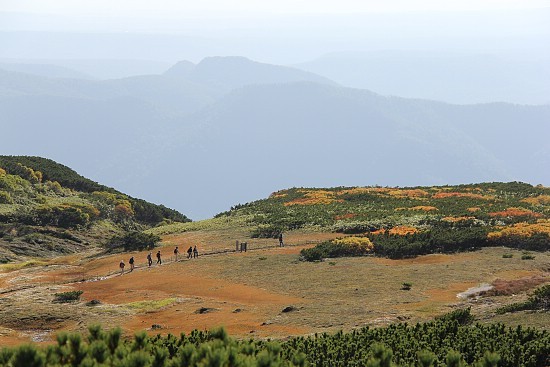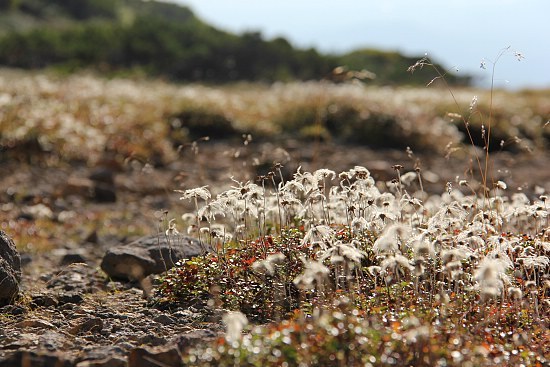 I expect that the leaves around Asahidake require about four to seven more cold nights before they reach the peak of their beauty. We plan to return to Asahidake early next week and hope to be able to report to you just that.