Grapes and Wines at Katsunuma
Schauwecker's Japan Travel Blog
by Stefan Schauwecker, webmaster of japan-guide.com
This blog is intended to record some of my travel activities in Japan.
2012/10/03 - Grapes and Wines at Katsunuma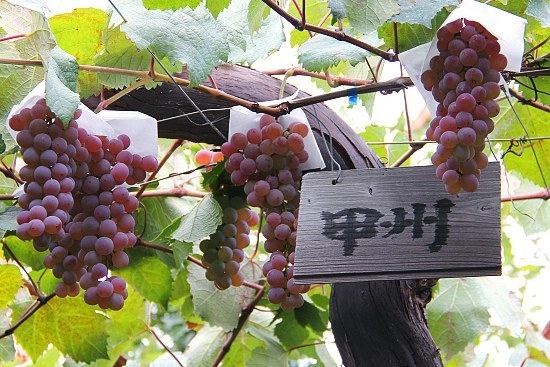 The Koshu grape, a native grape variety to Yamanashi Prefecture (formerly known as Koshu Province), has been grown and consumed by the local population since ancient times. As one of the sunniest and driest regions of Japan, the plain around Yamanashi's prefectural capital Kofu, enjoys ideal conditions for grape cultivation.
A little more than a century ago, some progressive youngsters, furthermore, introduced wine making to the region. Today, the area is covered by hundreds of grape plantations and dozens of wineries. Katsunuma, a town east of Kofu, is particularly famous for its grapes and wines. Below are some impressions from our visit to Katsunuma today: