Autumn Color Report: Alpine Route
Schauwecker's Japan Travel Blog
by Stefan Schauwecker, webmaster of japan-guide.com
This blog is intended to record some of my travel activities in Japan.
2012/10/04 - Autumn Color Report: Alpine Route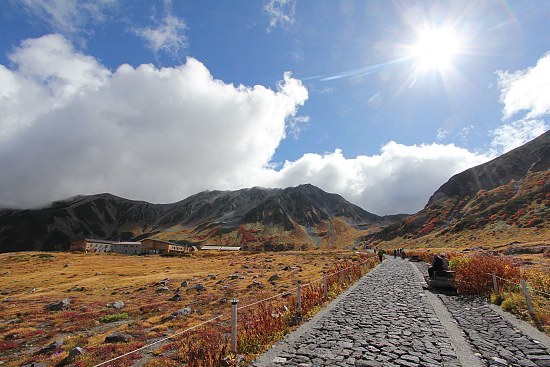 The Tateyama Kurobe Alpine Route is a spectacular way to cross the Northern Japan Alps by a combination of buses, cablecars and a ropeway. The route leads from Toyama City at the Sea of Japan coast to Murodo at an altitude of 2420 meters before descending into the town of Omachi in Nagano Prefecture. It can be travelled in either direction.
Due to its wide range of elevation, the Alpine Route features autumn colors over an extended time period. One of the first places on Japan's main island of Honshu to see the seasonal colors, Murodo usually sees its alpine bushes start coloring around late September, while the seasonal spectacle lasts into the month of November in the lower elevations along the route.
After our reports from Hokkaido had been somewhat disappointing in terms of colors, I frankly grew a little bit worried about this year's autumn colors in general, especially in Eastern Japan where the summer had been a particularly hot one. These worries, however, were blown away as soon as I stepped out of the Murodo Bus Terminal and was overwhelmed by alpine slopes covered in fiery orange and red nanakamado bushes and other shrubs.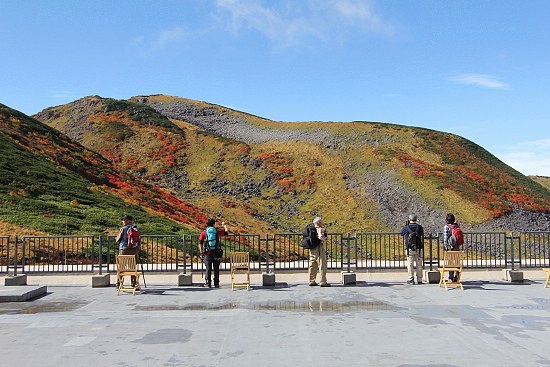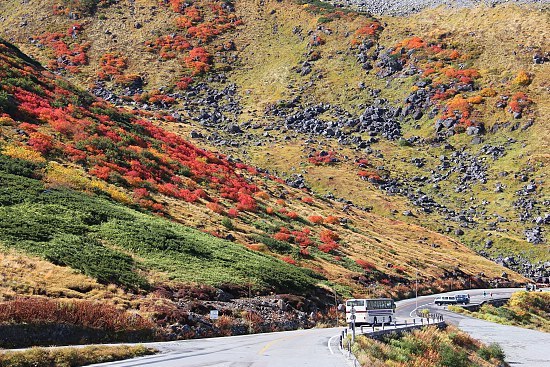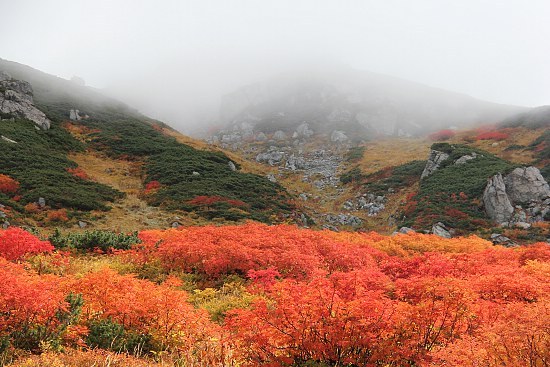 Murodo offers walking options for every visitor from easy strolls around the bus terminal to multi-day trekking tours through the Northern Alps. A particularly popular hike is the ascent to the 3015 meter high peak of Mount Tateyama, which takes about two hours one way from the bus terminal.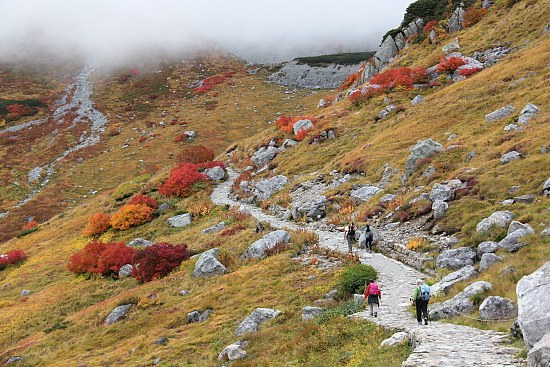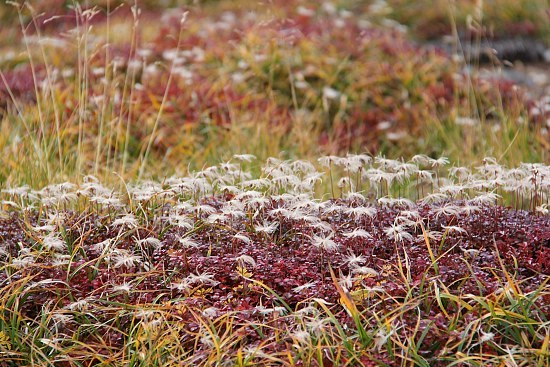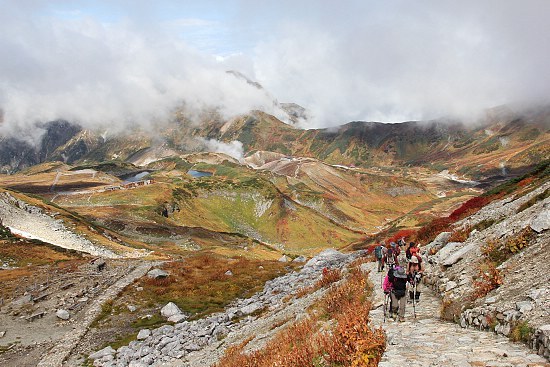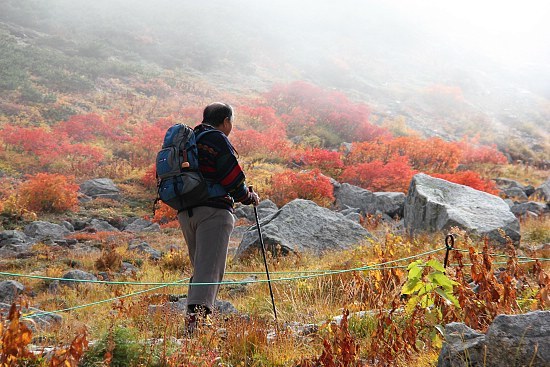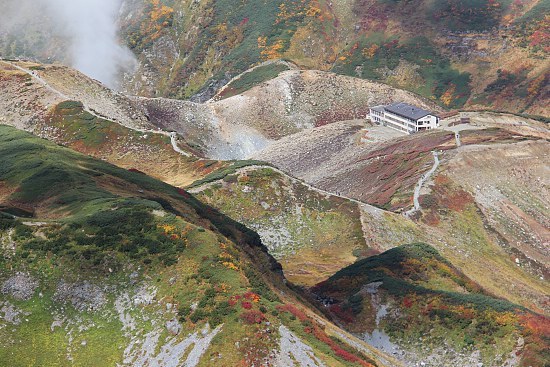 However, instead of hiking all the way to the peak (which was frequently wrapped in clouds today), I branched off the main trail half way to the top and walked downhill towards the Raichozawa camp ground. This trail traversed one of the most colorful mountain slopes.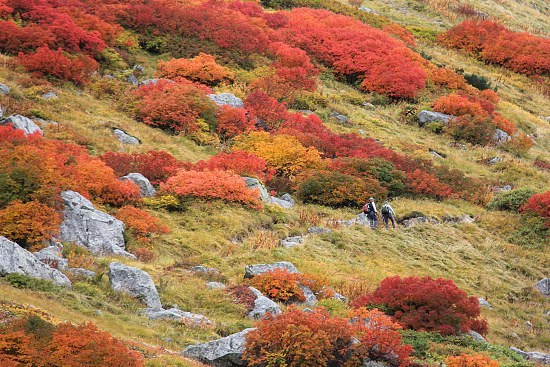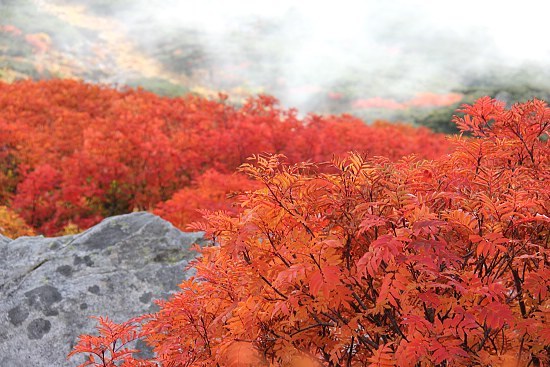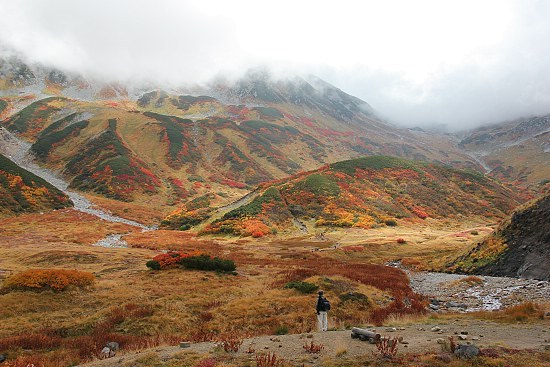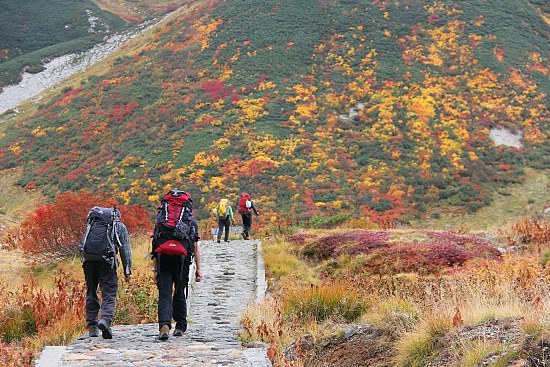 Reached in shorter and easier walks from the Murodo bus terminal are a few ponds and a "hell valley". Note however that due to a recent increase of volcanic activity and poisonous gases, entry into the hell valley is currently forbidden.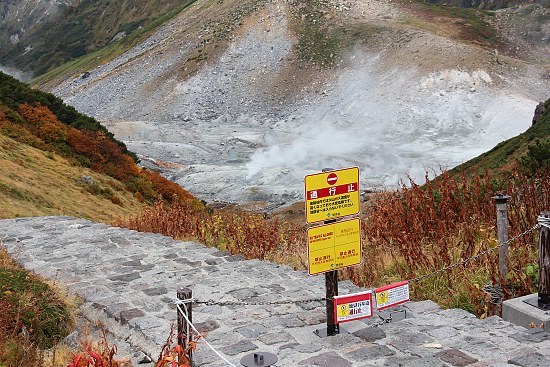 Over the following weeks, the autumn colors will gradually descend into the lower elevations of the Tateyama Kurobe Alpine Route, while the tallest peaks may soon receive their first snow. We have another report scheduled for the Alpine Route in late October.