Cherry Blossom Report: Okayama
Schauwecker's Japan Travel Blog
by Stefan Schauwecker, webmaster of japan-guide.com
This blog is intended to record some of my travel activities in Japan.
2013/03/26 - Cherry Blossom Report: Okayama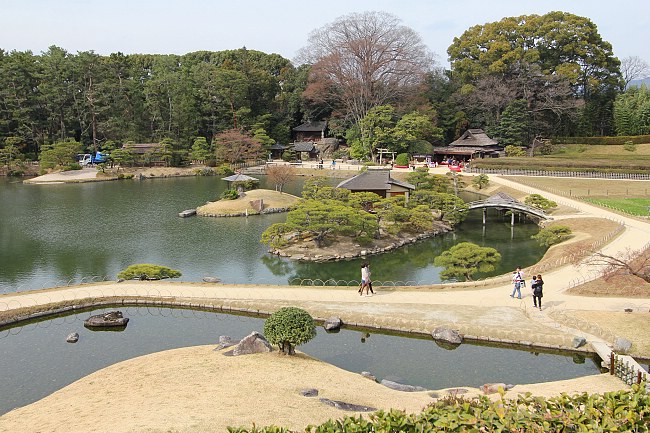 Korakuen Garden
March 26, 2013 - just opened (0-10%)
After a spontaneous visit to Okayama's Korakuen Garden today, I decided to post a quick, unscheduled report about the state of the city's cherry blossoms. The opening of the blossoms was announced here two days ago, on March 24, five days earlier than in the average year. Since then, temperatures have been below seasonal, providing the buds with little motivation to open up quickly.
The temperatures are expected to remain cool tomorrow and return to average values afterwards. I don't expect the trees to reach full bloom before next week, but think that they will provide some attractive hanami conditions on the upcoming weekend already, nevertheless, as many of the buds looked quite well developed.
About 300 cherry trees are scattered around the grounds of Korakuen, one of Japan's most celebrated landscape gardens. Many of them are concentrated in the cherry tree grove in the east of the garden and had less than one percent of the blossoms open. Even more trees are located along the Asahi River just east of the garden and around Okayama Castle to the south of it. Read more about Okayama's hanami spots.