Cherry Blossom Report: Tokyo
Schauwecker's Japan Travel Blog
by Stefan Schauwecker, webmaster of japan-guide.com
This blog is intended to record some of my travel activities in Japan.
2013/04/01 - Cherry Blossom Report: Tokyo
Today I challenged myself to cover Ueno Park and Shinjuku Gyoen in central Tokyo where the season is approaching its end, as well as three hanami spots west of central Tokyo that are usually somewhat behind the pace of the blossoms in the city center: Koganei Park, Showa Memorial Park and Mount Takao.
Ueno Park
April 1, 2013 - beyond peak
As expected, Ueno Park was the most advanced of all the places that I visited today. The unprovoked falling of petals, that Scott observed on his reporting trip three days ago, was still continuing today. The trees in the park were now noticeably beyond their blooming peak, and I am afraid that the next two days with rain in the forecasts will pretty much wrap up the season here.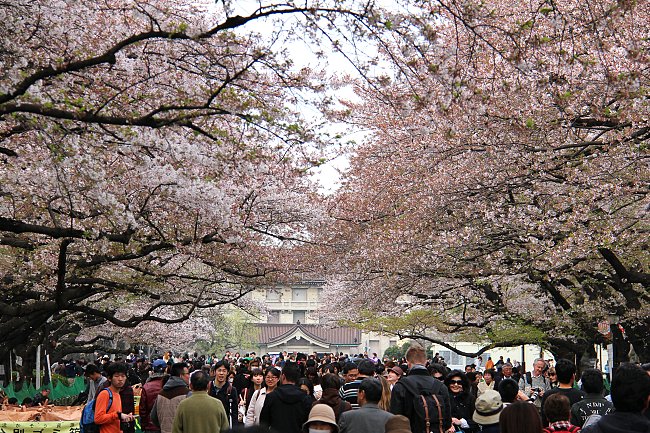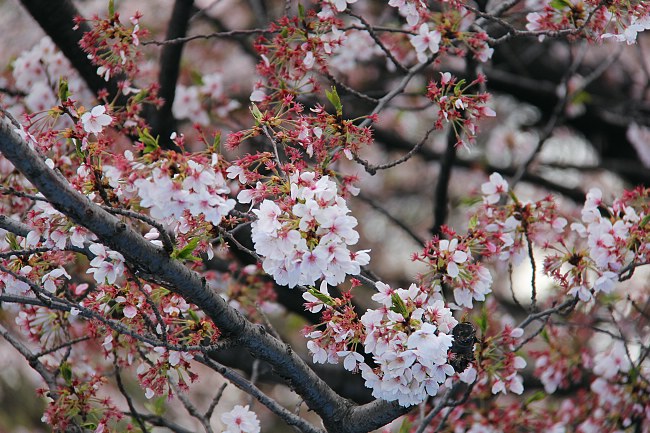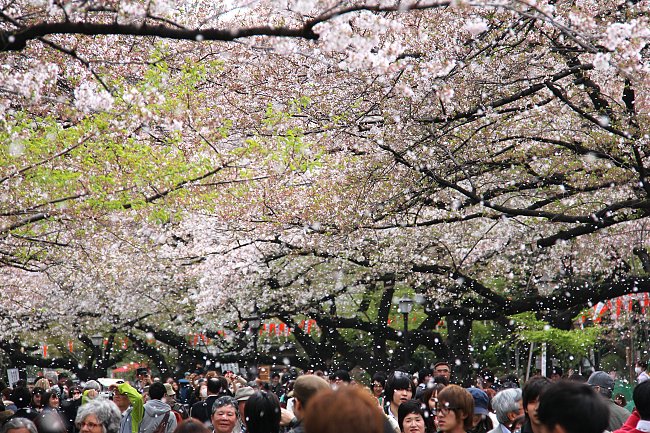 Shinjuku Gyoen
April 1, 2013 - petals starting to fall
The cherry trees at Shinjuku Gyoen still carried a few more petals than the ones at Ueno Park, and a few trees still looked pretty full, providing pleasant hanami conditions today.
Shinjuku Gyoen is also Tokyo's best park to see late-blooming cherry tree varieties, as it is home to over 60 different types of cherry trees. Together they provide park visitors with cherry blossoms through the month of April. Note, however, that late-blooming cherry trees tend to develop their leaves at the same time or even before their blossoms, resulting in a less homogeneous look and in nowhere the same frenzy that accompanies the flowering of the more numerous and popular Somei Yoshino trees.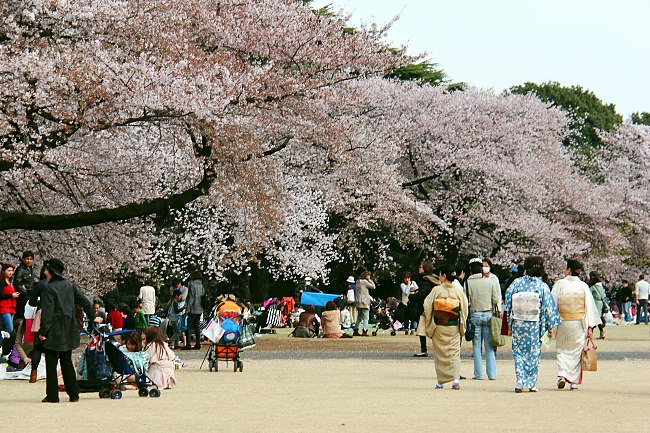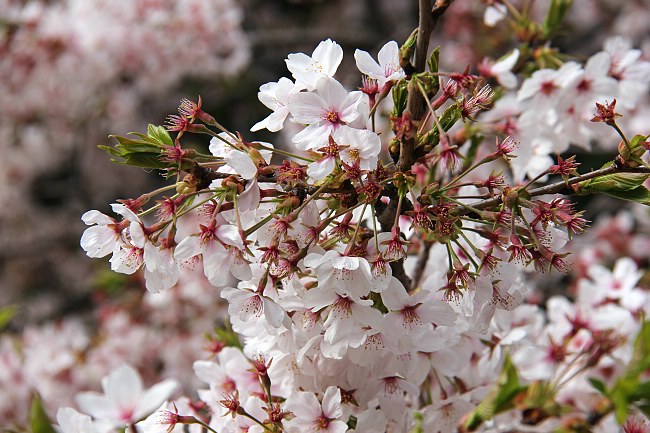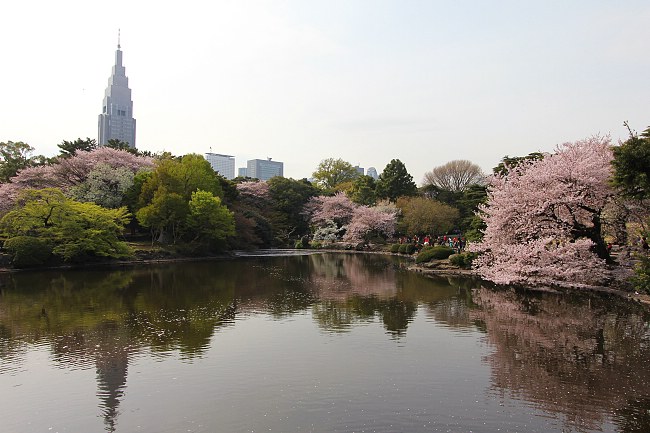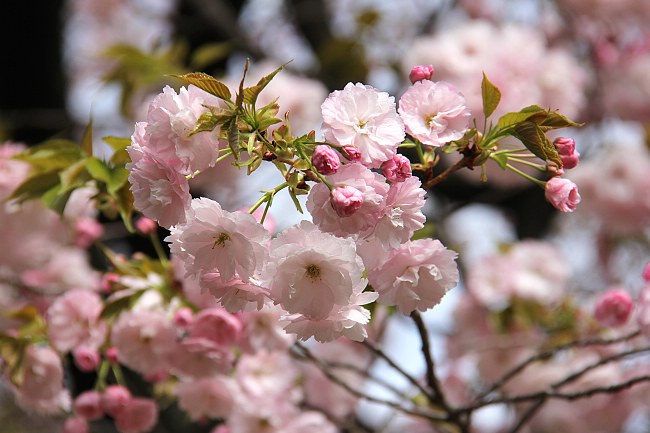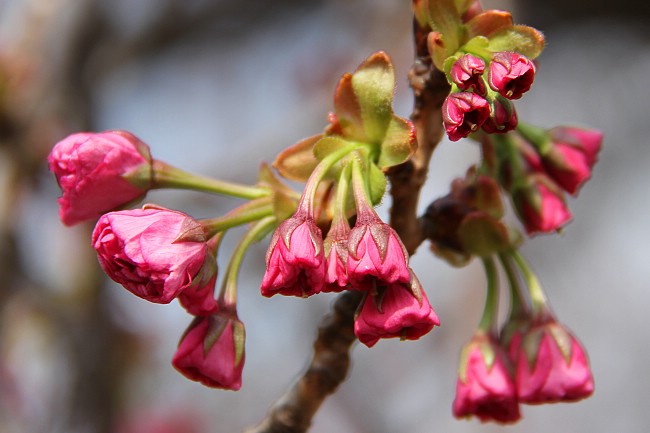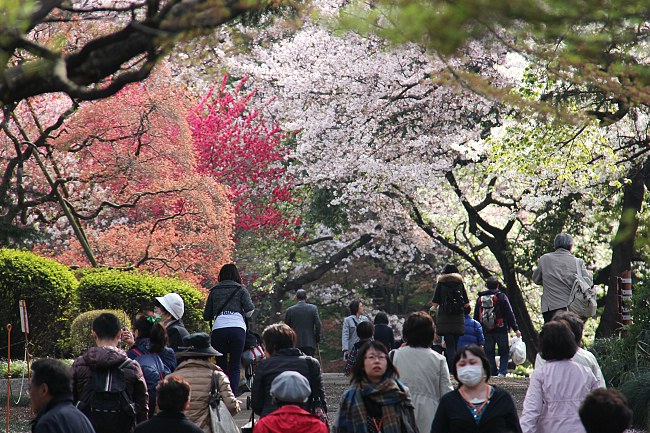 Koganei Park
April 1, 2013 - petals starting to fall
Koganei Park is a large public park in the western suburbs of Tokyo. It features over a thousand cherry trees, most of which are found in the Cherry Garden (Sakura no En) and in front of the interesting Edo-Tokyo Open Air Museum, which is also part of the park.
The trees at Koganei Park were at a slightly less advanced state than the ones at Shinjuku Gyoen. Although petals had visibly started to fall, many of the trees still looked very full. As mentioned earlier, rain is forecast over the next two days, and I am afraid that many petals at Koganei Park will fall victim to it.
Koganei Park can be reached in a 20 minute walk or short bus ride from JR Musashi-Koganei Station (25 minutes, 290 yen one way from Shinjuku by JR Chuo Line). Koganei Park charges no admission fee and is always open (except for the Edo-Tokyo Open Air Museum).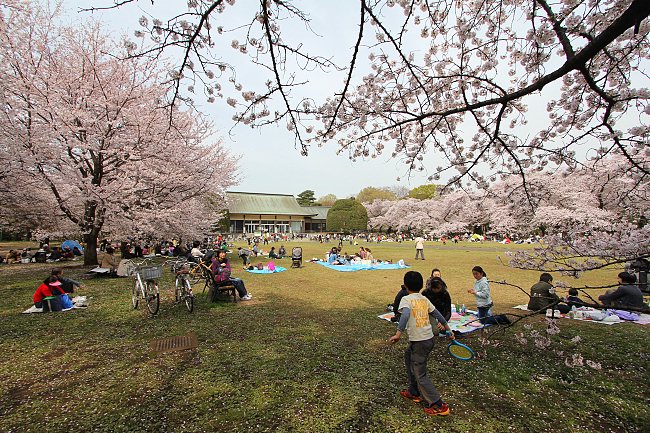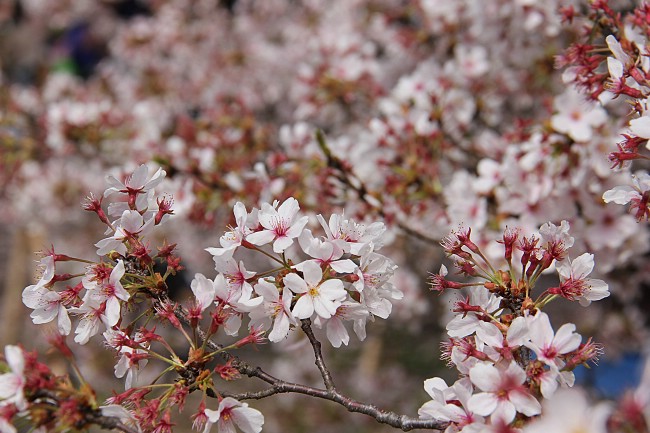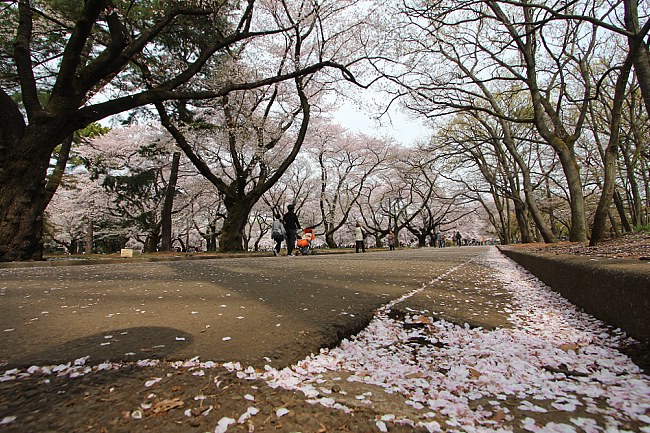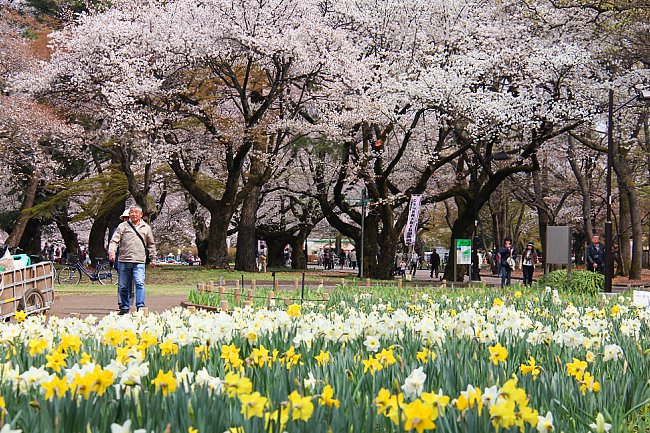 Showa Memorial Park
April 1, 2013 - petals starting to fall
Located on the former site of a military air field in the western suburbs of Tokyo near Tachikawa Station (30 minutes, 450 yen one way from Shinjuku by the JR Chuo Line), Showa Memorial Park (Showa Kinen Koen) is one of Tokyo's largest public parks. Built on the occasion of the 50th anniversary of Emperor Showa's reign, it was opened in 1983 and contains roughly 1500 cherry trees, about 200 of which are concentrated in the Cherry Blossom Garden (Sakura no En) near the center of the park.
The trees in this fabulous park were the highlight of the day. Most of them were still at full bloom, although the falling of the petals has also visibly started. The atmosphere at the park was extremely delightful.
Because Showa Memorial Park is so large - it takes about an hour to traverse on foot - rental bicycles are available at many of the park's entrance gates (400 yen for three hours). The park charges an admission fee of 400 yen and is only open from 9:30 to 17:00 (until 18:00 on weekends and national holidays).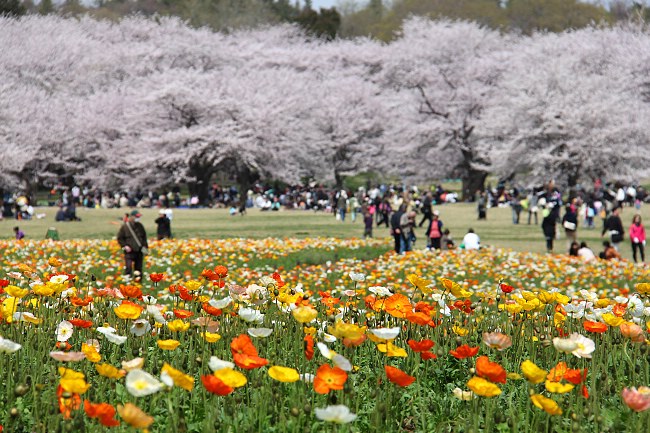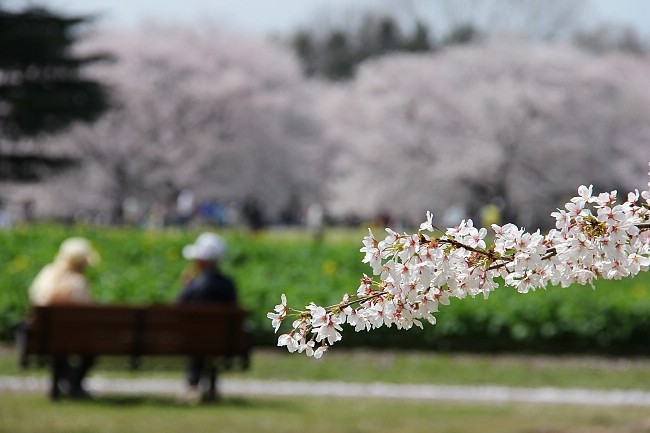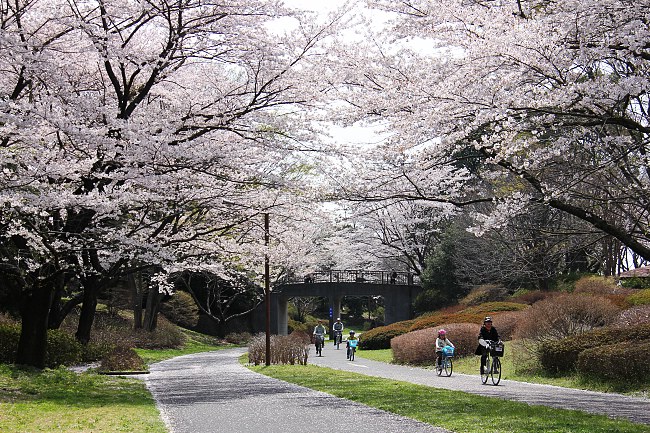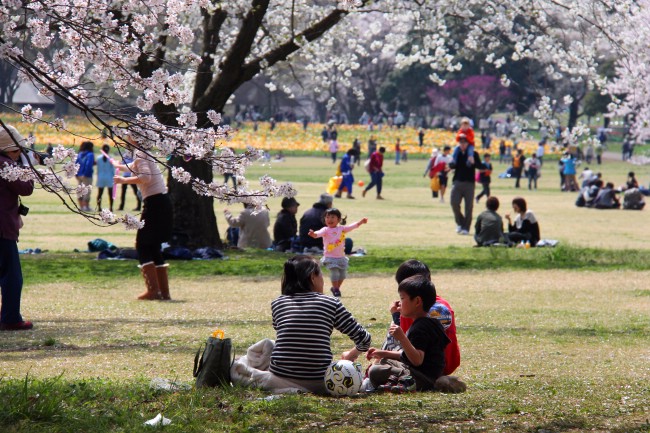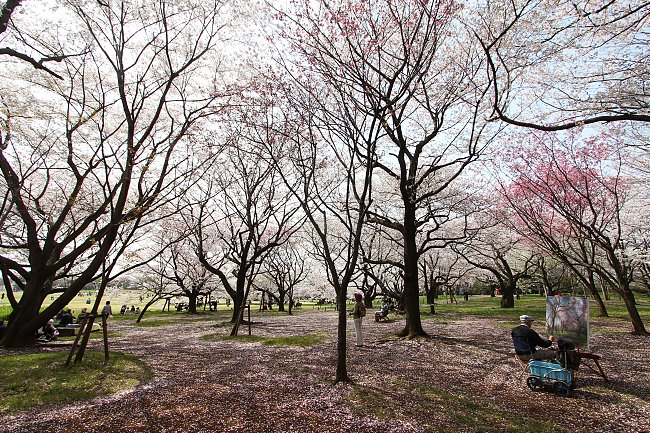 Mount Takao (Takaosan)
April 1, 2013 - full bloom (base of mountain)
April 1, 2013 - opening (10-50%) (summit)
Mount Takao is a forested mountain less than an hour west of Shinjuku that we have visited repeatedly for autumn color reports but never before for a cherry blossom report. The one way ride by Keio Railways from Shinjuku to the base of the mountain (Takaosan-guchi Station) costs just 370 yen. Takaosan attracts both locals and tourists with hiking trails through natural environment and as a centuries old center of mountain worship.
The popular hiking trails up Mount Takao do not feature a large number of trees. The only notable concentrations of cherry trees are a handful of Somei Yoshino cherries around the lower cablecar station and a couple of Yamazakura trees at the summit. While the trees at the base of the mountain were at full bloom today, the ones at the summit have only recently started to open.
A lot more cherry trees can be found by continuing hiking from the summit for another 30 minutes to Itchodaira. The reward are a thousand cherry trees also known as the Takaosan Senbonzakura ("Mount Takao Thousand Cherry Trees"). Today, however, I skipped the side trip there, hoping to include it in an upcoming report. The trees around the Itchodaira are likely to be at a similarly early state as the ones around the summit.