Cherry Blossom Report: Kyoto
Schauwecker's Japan Travel Blog
by Stefan Schauwecker, webmaster of japan-guide.com
This blog is intended to record some of my travel activities in Japan.
2013/04/04 - Cherry Blossom Report: Kyoto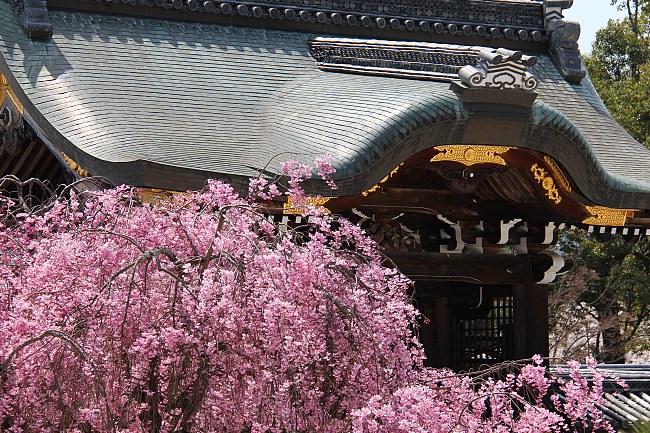 Three days after our previous report from Kyoto, I visited the city for another update. The trees survived yesterday's strong winds in good shape and were a joy to look at in today's sunny and warm weather. Hanami conditions should remain optimal tomorrow Friday; however, another storm with strong winds is forecast for the weekend, which may take down a lot of Kyoto's blossoms prematurely.
Kyoto Imperial Palace
April 4, 2013 - full bloom
In order to enter the inner grounds of Kyoto Imperial Palace, advance reservations for a guided tour are usually required. However, for a few days in spring and autumn, the general public can enter the palace grounds without prior arrangements. This spring, the special opening period started today and will last for five days until Monday. The palace grounds, however, are not known as a cherry blossom spot as only a rather moderate number of cherry trees have been planted there.
A larger number of cherry trees are located in the park that surrounds the palace. In particular, there are some beautiful weeping cherry trees around the northwestern corner of the park that we periodically visit for our reports. While the early blooming weeping cherries were approaching the end of their flowering period, the later blooming Yaebeni weeping cherry trees were currently at their best.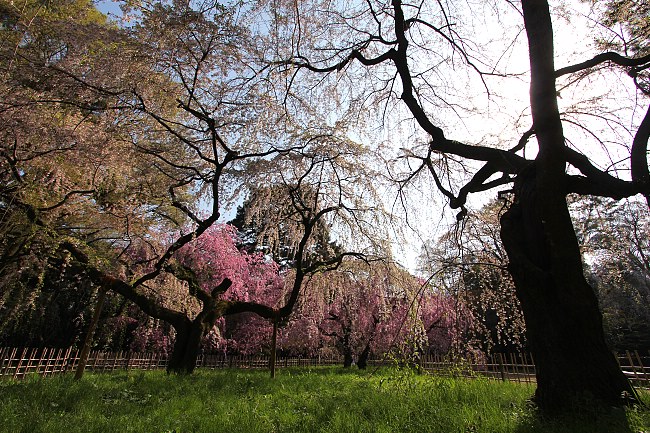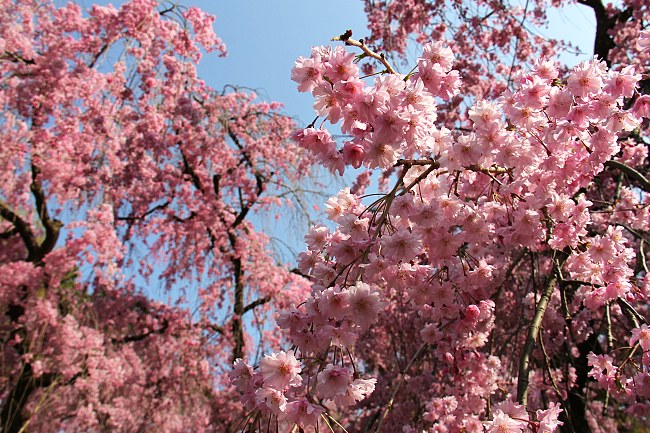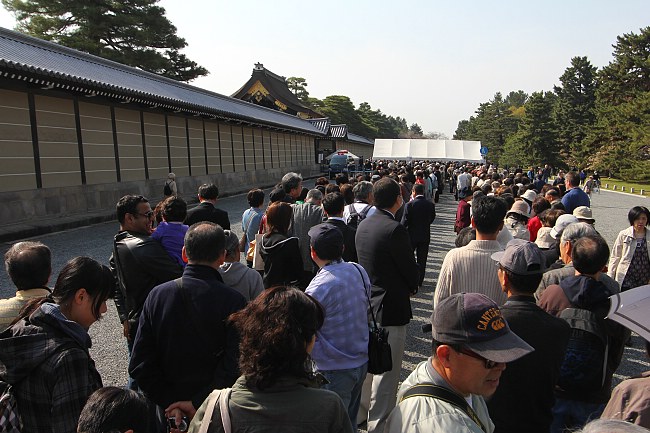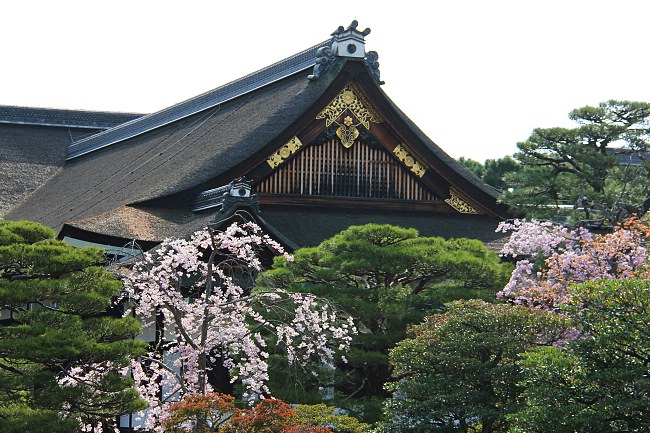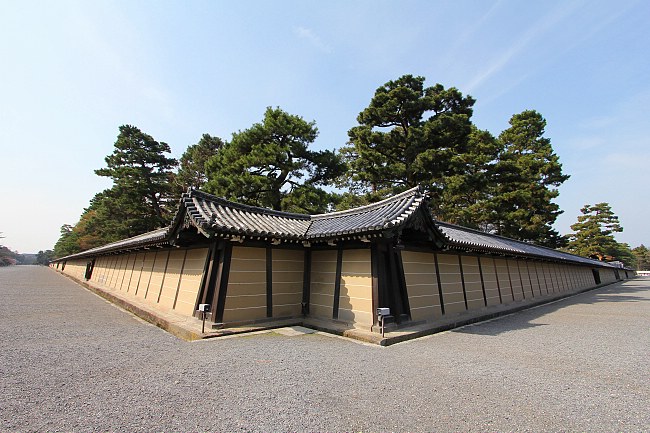 Kamogawa River
April 4, 2013 - full bloom
Kamogawa, the river that flows through eastern Kyoto, is lined by cherry trees along many of its sections. It is particularly pleasant for a walk or bicycle ride north of Demachiyanagi Station. And especially so north of the Kitaoji Bridge where there are tunnels of slightly later blooming Yaebeni weeping cherry trees that were just about to reach full bloom. There are also many Somei Yoshino trees that were still at full bloom, too.
Near the weeping cherry tunnels lies the Kyoto Botanical Garden, which offers even more flowering cherry trees and Kamigamo Shrine with a moderate number of large cherry trees. Note, however, that extensive renovation works on Kamigamo Shrine's main buildings have started recently and are scheduled to last until 2015.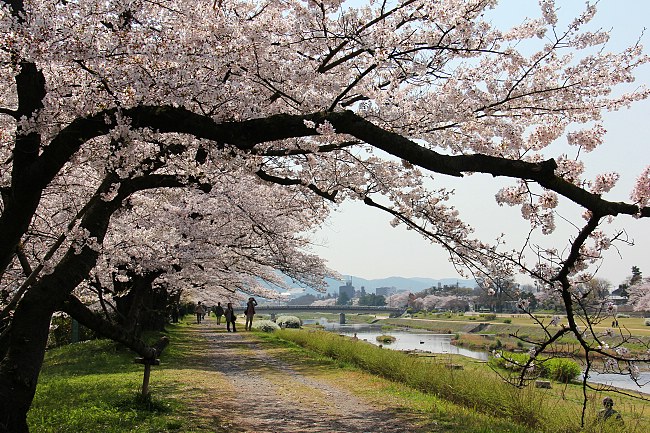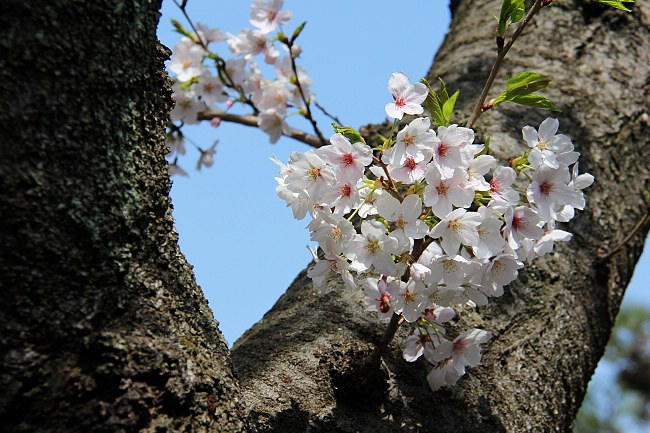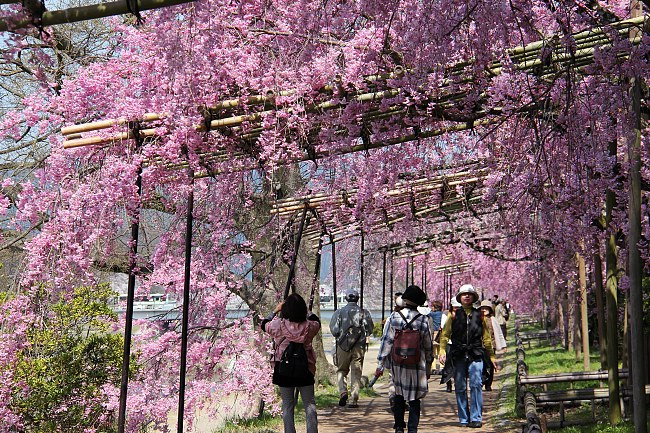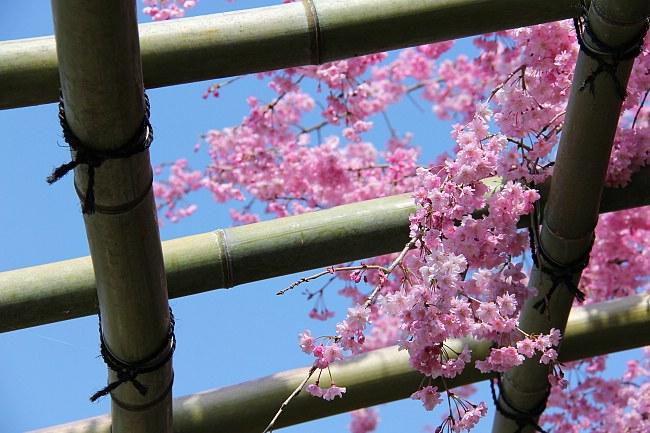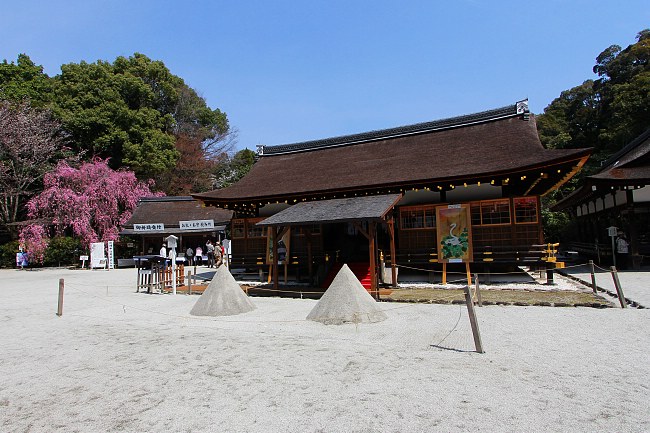 Arashiyama
April 4, 2013 - full bloom
The atmosphere was very delightful in Arashiyama today - although rather crowded in certain loactions. The cherry trees along the river and in Nakanoshima Park stood still strong at full bloom and provided optimal hanami conditions. I hope that many of them will make it through the weekend, although frankly I am a little worried.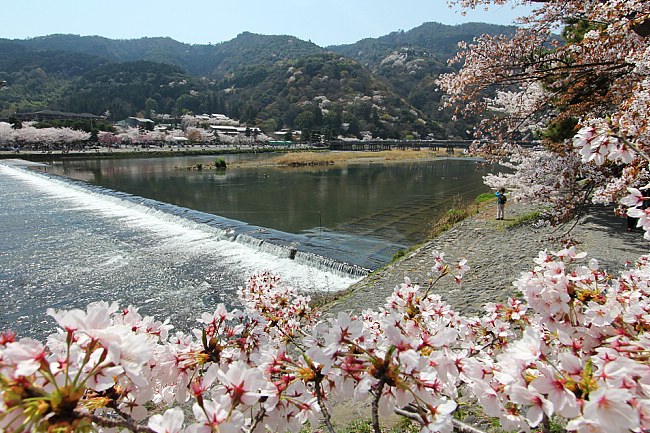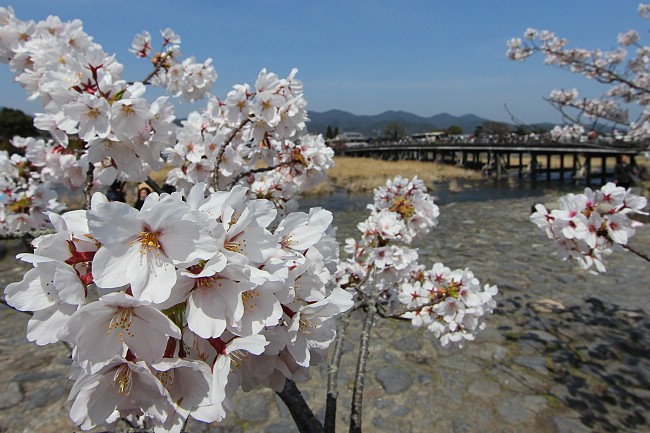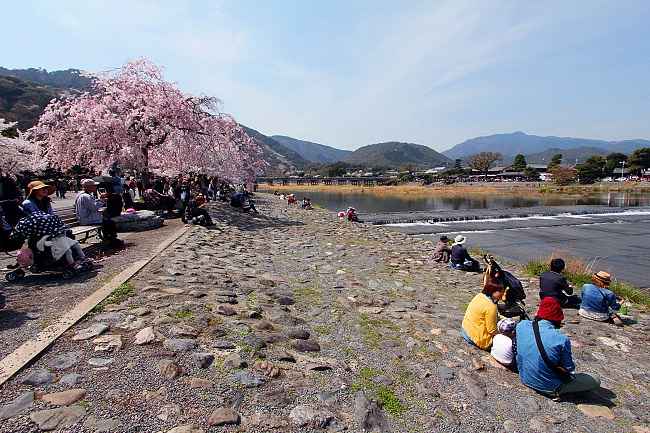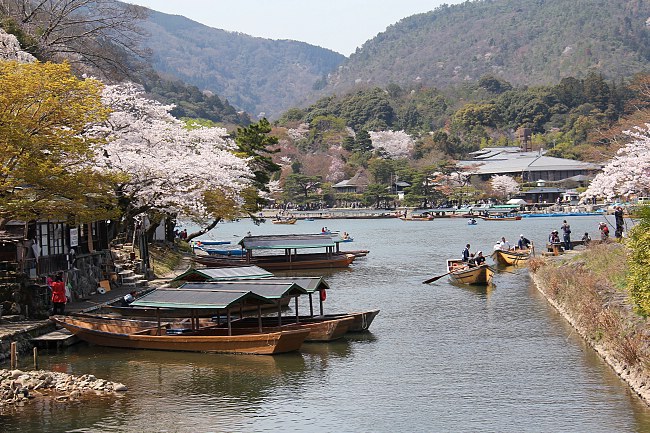 A twenty minute walk north of Arashiyama's Togetsukyo Bridge stands Daikakuji Temple which features a large pond surrounded by cherry trees. Here, too, the trees stood at full bloom and provided perfect conditions for hanami in combination with the spring like weather.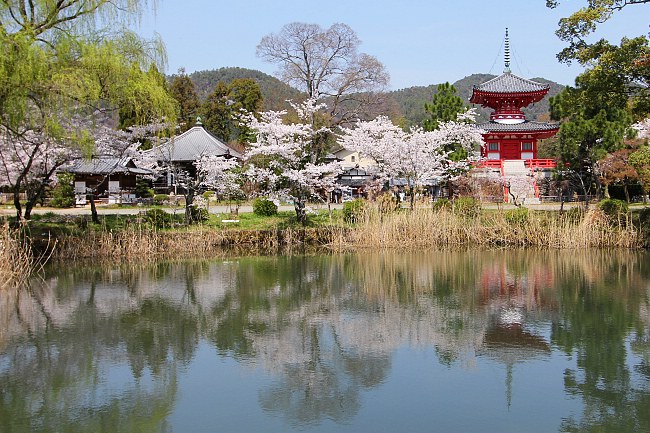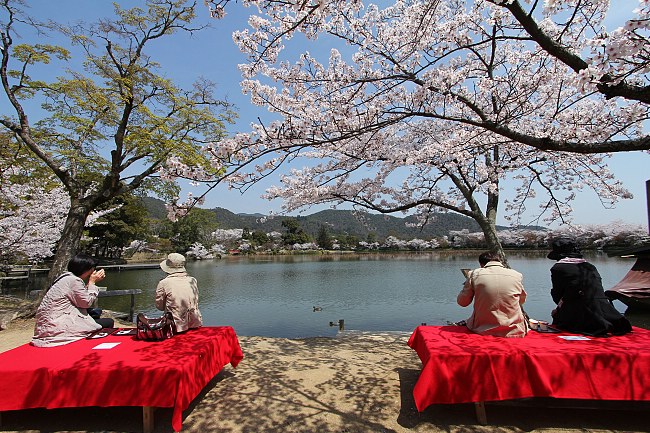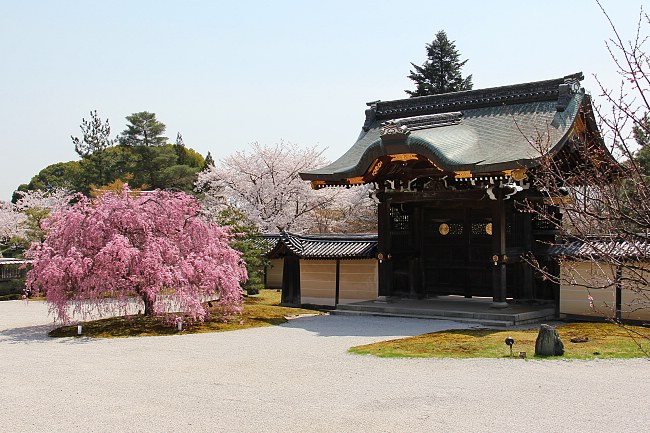 Maruyama Park
April 4, 2013 - petals starting to fall
The trees at Maruyama Park next to Yasaka Shrine still looked very full, but have started to shed their first petals. In particular, the great weeping cherry tree at the center of the park had already lost quite a few of its petals. But conditions for hanami continued to be delightful and will remain so through tomorrow Friday.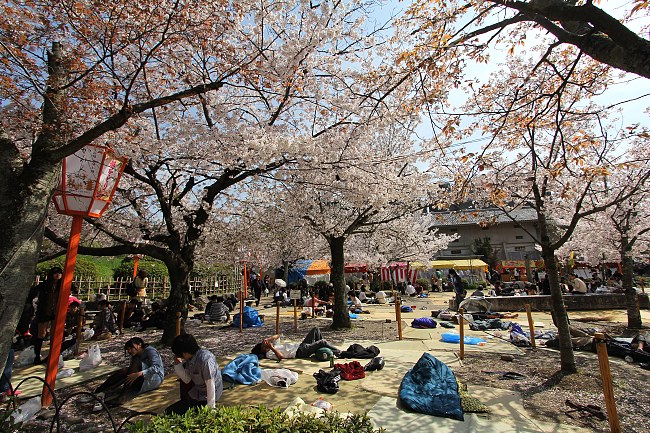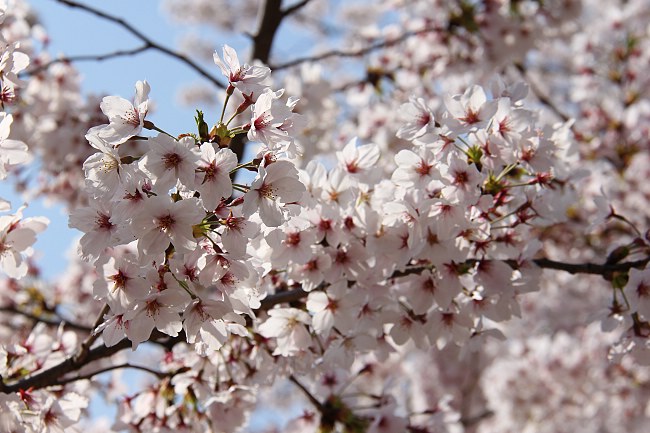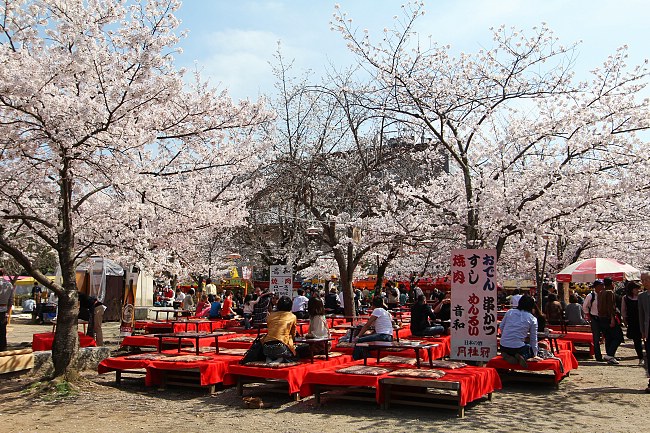 Heian Shrine
April 4, 2013 - full bloom
I ended today's reporting with a vist to Heian Shrine which was terribly crowded with tour groups and other tourists this afternoon. No wonder: the weeping cherry trees in the garden beind the shrine's main buildings have just recently reached the peak of their seasonal beauty. It is unlikely that the upcoming weekend's strong winds are going to cause too much damage here, so this may be a good place to visit if the blossoms at other sites across the city do not survive the weekend.