Schauwecker's Japan Travel Blog
by Stefan Schauwecker, webmaster of japan-guide.com
This blog is intended to record some of my travel activities in Japan.
2013/07/09 - Ise Shrine Rebuilding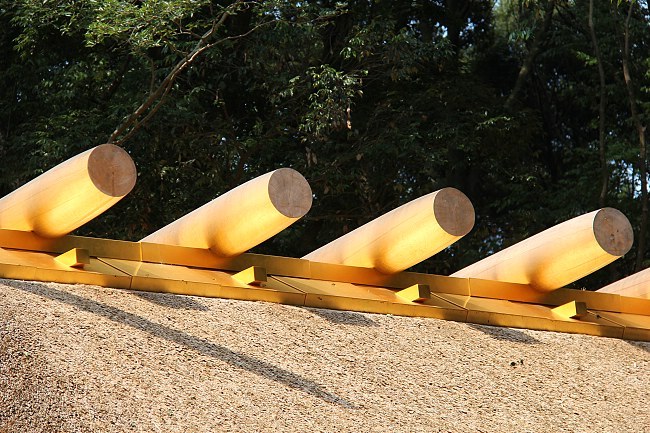 In one of the world's amazing cultural traditions, Japan's most venerated shrines, the Ise Shrines, are rebuilt from scratch every twenty years. This custom of keeping the shrines fresh and pure has been continued for over 1300 years with almost no interruptions since the late 7th century. This year marks the 62th rebuilding of the shrines, with the deities scheduled to move into their new homes in early October.
The Ise Shrines consist of two main shrines, the Inner Shrine (Naiku) and the Outer Shrine (Geku). The Inner Shrine is the more important one and enshrines the Sun Goddess Amaterasu, Shinto's most important deity. The Outer Shrine enshrines Toyoukehime, the deity who provides Amaterasu with food. Both shrines are located in dense forests and exemplify the essence of Japanese aesthetics and spirituality with their simple, graceful structures and natural surroundings.
The process of rebuilding the Ise Shrines takes tremendous efforts and actually has already started eight years ago with the gathering of building materials and preparatory ceremonies. The new shrine buildings are constructed on sites adjacent to the current buildings. While still hidden by scaffolding on our visit last year, the new buildings were now mostly uncovered and provided an intriguing contrast to their aged predecessors.
In early October, the deities of the Inner and Outer Shrines will be moved from their old into their new homes. Afterwards, shrine visitors will have the exclusive opportunity to see both the old and new buildings for a limited time before the old structures are torn down and their material reused at shrines across the country. Some of the Inner Shrine's old pillars, for example, will be reused as the shrine's next generation torii gate.
Ise Shrine's main buildings are surrounded by four fences, and regular visitors are only allowed beyond the first from where the main hall is still almost 100 meters away and barely visible. Furthermore, photography is not allowed beyond the first fence. The Sengukan Museum, which was opened last year at the entrance of the Outer Shrine, is highly recommended especially to visitors who wish to take a closer look at the shrine buildings. Besides many other interesting exhibits related to the shrine's rebuilding, the museum allows for unobstructed views onto a 1:1 replica of a fourth of the Outer Shrine's main hall. Picture taking, however, is not allowed here, either.