Cherry Blossom Report: Kumagaya
Schauwecker's Japan Travel Blog
by Stefan Schauwecker, webmaster of japan-guide.com
This blog is intended to record some of my travel activities in Japan.
2015/04/01 - Cherry Blossom Report: Kumagaya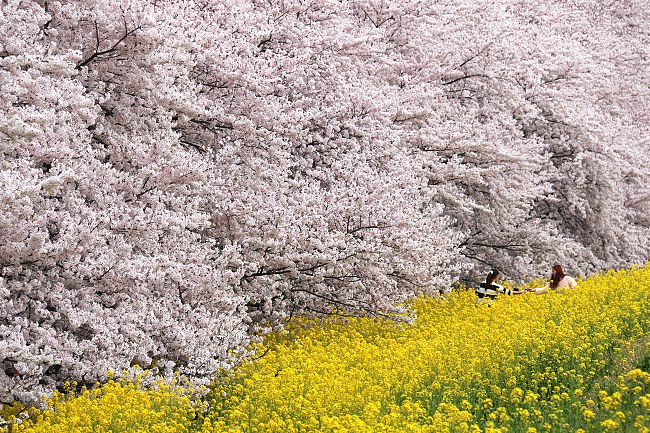 Due to unseasonally high temperatures, the cherry trees in many cities across Japan have exploded into full bloom over the last few days. Today we visited Kumagaya City in Saitama Prefecture, a 40 minute shinkansen or 60 minute local train ride north of Tokyo. The trees in Kumagaya started opening on March 27. In the average year, it takes them an entire week to progress into full bloom, but this year the warm temperatures made them fully open up in a mere three days.
Kumagaya Sakura Tsutsumi
April 1, 2015 - full bloom
The city's prime cherry blossom spot is Kumagaya Sakura Tsutsumi, a two kilometer long row of cherry trees along the river. Its proximity to Kumagaya Station (just a five minute walk away), makes this outstanding hanami spot very easily accessible. The area offers plenty of pleasant space for hanami parties and walks along the never-ending row of blooming trees. A cherry blossom festival with food stands and illuminations (daily until 9pm) is scheduled to last through April 12.
The trees along the river have just reached full bloom recently and looked absolutely gorgeous today. The sight was further enhanced by fields of yellow nanohana flowers that provided a striking contrast to the cherry blossoms above them. I expect the cherry blossom viewing season here to continue into mid next week.