Tohoku Sandai Matsuri: Sendai Tanabata
Scott's Japan Travel Journal
by Scott, staff writer of japan-guide.com
This journal is a log of my travels within Japan. Here you'll find my personal opinions on the places I've been and the things I've seen. Also expect to see the occasional review and editorial. Thanks for reading.
2009/08/07 - Tohoku Sandai Matsuri: Sendai Tanabata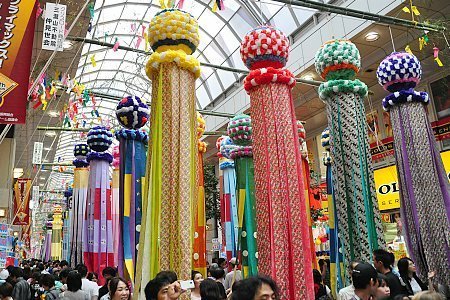 The final stop on our Tohoku Sandai Matsuri brings us to Miyagi Prefecture to see Sendai City's Tanabata Festival. Tanabata is an ancient star festival held on the seventh day of the seventh month, however in Sendai and other parts of the country it is held on August 7th in order to coincide with the lunar calendar. While Tanabata festivities are observed throughout the country, Sendai's is said to be the most spectacular and one of the largest (if not the largest) celebration of them all, with more than half a million people coming every year.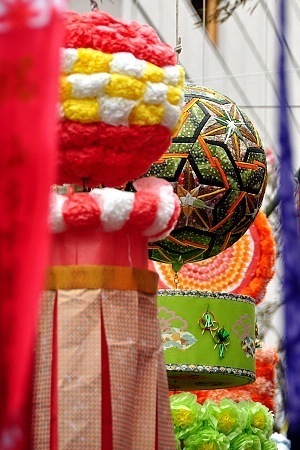 Taking place between August 5th and 8th, the Sendai Tanabata begins with a fireworks display, and has the usual events such as live shows, food stalls, and performances held around town. But the central feature of this festival can be found along the city's two main shopping arcades, where large paper decorations hang from more than 1500 bamboo poles which span across the street.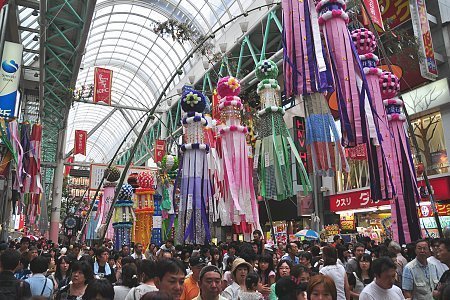 When I was researching the festival before the trip I had no idea what to expect. I read about how there are lots of decorations, but what I didn't realize is that not only are there a lot of them (around 7500 hanging pennants in the arcades alone), but they are huge (the poles are 10 meters long and the pennants are probably around 3-5 meters long) and extend for blocks. Walking among the decorations feels like walking through a forest of brightly colored windsocks.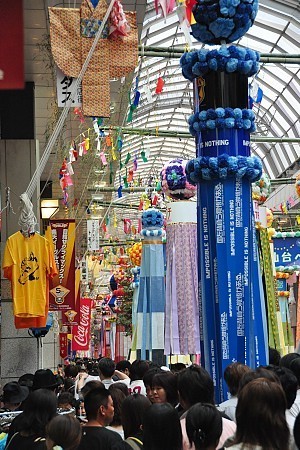 One point of pride for the Sendai Tanabata is that all the decorations are handmade by the shops along the shopping arcades, as well as by local schools and community groups. The decorations are made of paper and consist of seven different items: paper strips, upon which people write wishes; kimono, to ward off bad health and accidents; cranes, for long life, health and safety; a purse, for good business; a net, for good harvest; a trash bag, for cleanliness; and streamers, which represent the threads of a loom.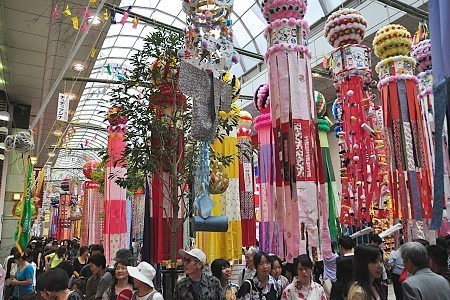 Unlike the other two big Tohoku festivals, Tanabata doesn't have any parades or dances to excite and engage the crowds, and I wasn't expecting too be wowed much by streamers. However, I'll have to admit that I was impressed with the sheer size and number of decorations that were hung throughout Sendai, which by itself is quite an impressive city. And at the same time, Tanaba had a nice laid back atmosphere making it a relaxing end to our Tohoku Matsuri tour.