Cherry Blossom Report: Osaka
Scott's Japan Travel Journal
by Scott, staff writer of japan-guide.com
This journal is a log of my travels within Japan. Here you'll find my personal opinions on the places I've been and the things I've seen. Also expect to see the occasional review and editorial. Thanks for reading.
2010/03/29 - Cherry Blossom Report: Osaka
by scott
Today for our first cherry blossom report of the year from Osaka we covered Expo 70 Commemorative Park, Kema Sakuranomiya Park, and Osaka Castle. As with Kyoto, cool temperatures over the last few days have prolonged the progression of the trees in Osaka.
Expo 70 Commemorative Park
March 29, 2010 - opening (10-50%)
When I woke up this morning I was surprised to find that is was snowing where I lived, which is not what I usually expect when I'm headed out on a cherry blossom report trip. But a few hours later I got off of the shinkansen in Osaka to beautiful sunny, if not brisk, spring weather. From there my first stop of the day was Expo 70 Commemorative Park, a large public park built on the former site of the 1970 World Exhibition.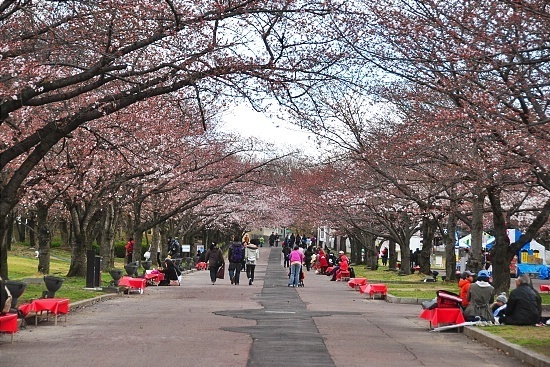 Nearly 5000 trees can be found spread out around the park, many of which are planted along Higashioji Street and the East Plaza. Higashioji Street is completely covered in a canopy of cherry trees, and has plenty of benches from where you can sit and enjoy the blossoms. The East Plaza, on the other hand is a large open field lined by cherry trees along its perimeter. Both areas have lots of spots under the trees where you can hold cherry blossom viewing parties. In the evenings the park is lit up until 21:00.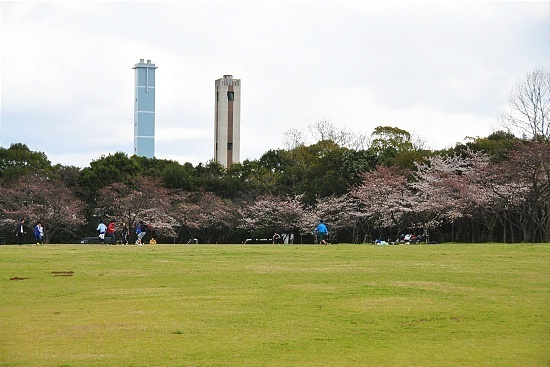 The cherry trees in the Expo 70 Park are still opening and are only about 20 percent full. Its pleasant now, but I think the trees will take at least until next weekend before they begin to reach their best viewing period.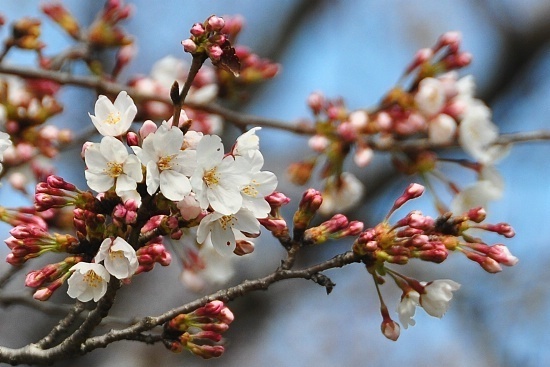 Kema Sakuranomiya Park
March 29, 2010 - opening (10-50%)
Returning to central Osaka, the next stop of the day was Kema Sakuranomiya Park, a pleasant park built along several kilometers of the Okawa River. Walking paths lead through nearly 5000 cherry trees that line both banks of the river, while sightseeing cruises travel along the water. Kema Sakuranomiya Park looks like an attractive place to hold cherry blossom viewing parties, and there are plenty of spots under the trees where you can picnic.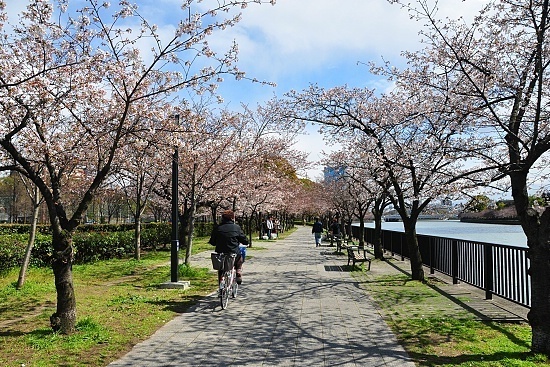 The majority of trees around the park are still opening but look like they are just shy of having 50 percent of their blossoms open. That puts Kema Sakuranomiya Park right on schedule for our predictions of best viewing times, and is probably where I would head if I was planning my own party this weekend.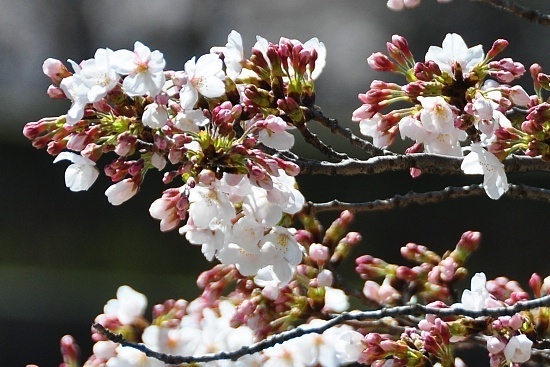 Osaka Castle
March 29, 2010 - opening (10-50%)
Today was my first time to visit Osaka Castle and I was looking forward to checking out Nishinomaru Garden from where you can take a picture of the castle keep framed by cherry blossoms. Unfortunately, the garden is closed on Mondays and they don't seem to extend their opening days for the cherry blossom season, except during their special light up events held this year from April 1-7 when the garden is open everyday and lit until 20:00. My only option was to settle for a shot of the garden's entrance through its locked gate.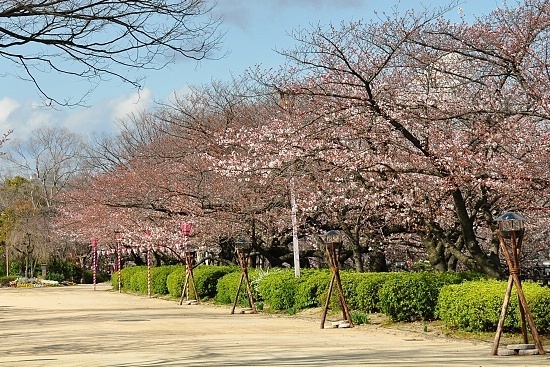 The blossoms around Nishinomaru Garden are still opening and I would estimate that around 30 percent of the blossoms are open. As with the other sights that I visited today, it looks like the cherry blossoms at Osaka Castle will start to be at their best around next weekend.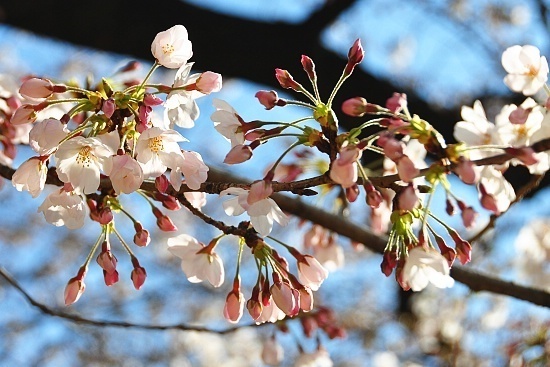 Meanwhile, most of the trees around Osaka Castle's keep are around the same state as those at Nishinomaru Garden, except for a handful of trees found just around the entrance to the reconstructed castle building which are at or approaching full bloom today.