Cherry Blossom Report: Himeji
Scott's Japan Travel Journal
by Scott, staff writer of japan-guide.com
This journal is a log of my travels within Japan. Here you'll find my personal opinions on the places I've been and the things I've seen. Also expect to see the occasional review and editorial. Thanks for reading.
2010/04/04 - Cherry Blossom Report: Himeji
Today was a follow up visit to Himeji to check the state of the blossoms at Himeji Castle and Kokoen Garden. Our previous visit to Himeji was on March 26, 2010.
Himeji Castle
April 4, 2010 - approaching full bloom (50-80%)
Himeji Castle was crowded today with people trying to get in to see the castle keep before restoration work fully begins on April 12. Around 9:30 this morning the line already stretched out to the entrance of Kokoen Garden and it was a two hour wait time just to reach the ticket gates. An additional 2.5 hours was expected to tour the keep.
The blossoms around the castle look great and are just on the verge of reaching full bloom. Today's warm sunny weather should continue over the next few days and I would expect the trees to fully open as early as tomorrow.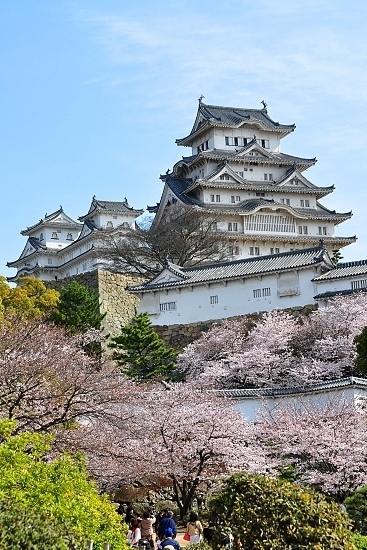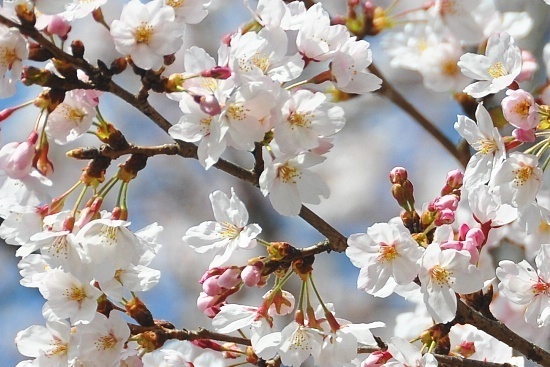 Many people were holding cherry blossom viewing parties under the perimeter of trees that ring the Sannomaru Hiroba field just outside the paid area of the castle. However, if you head up the steps towards the Senhime Peony Gardens you'll find an area covered in a canopy of cherry blossoms that was less crowded and looks like it's a better spot to hold a picnic.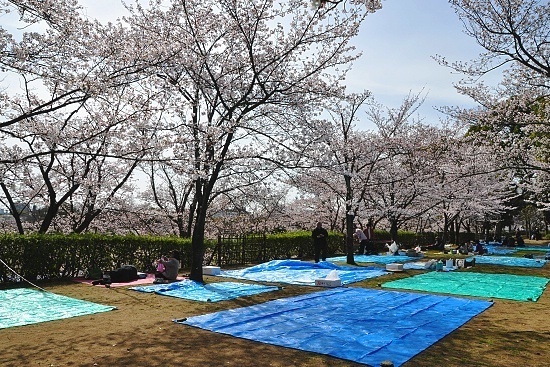 Renovations to Himeji Castle, in which repairs will be made to the keep's roof and outer walls, are scheduled to fully begin on April 12, when the keep's interior will be closed to the public and construction of the scaffolding starts. According to a recent news article by JNTO, the scaffolding will reach the top of the stone wall by early May, cover half the keep by late June and completely cover it by late November.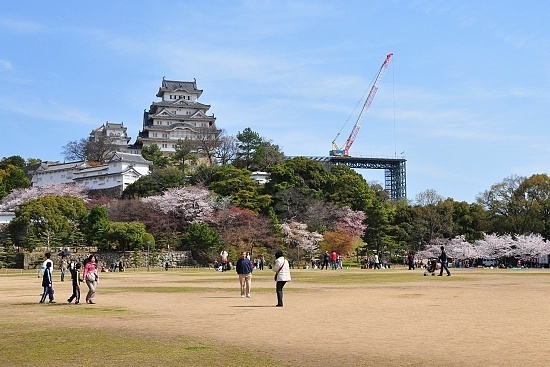 Kokoen Garden
April 4, 2010 - approaching full bloom (50-80%)
Kokoen Garden is a set of nine smaller Japanese landscape gardens located on the grounds of Himeji Castle but in a separate area just west of the castle keep.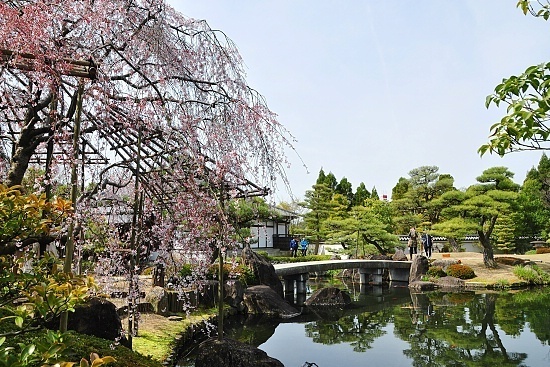 Kokoen's beautiful strolling gardens each have a theme such as the pine tree garden, the flower garden, and the bamboo garden, but none of these feature cherry blossoms very prominently. You can find a few trees here and there, and you can enjoy seeing several different varieties of blossoms while walking around the gardens.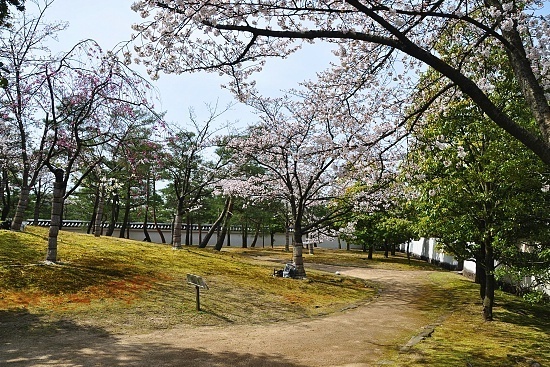 The few Somei Yoshino trees at Kokoen Garden are still approaching full bloom. The weather forecast predicts good weather over the next few days, so the trees should reach full bloom soon.