Autumn Color Report: Kyoto
Scott's Japan Travel Journal
by Scott, staff writer of japan-guide.com
This journal is a log of my travels within Japan. Here you'll find my personal opinions on the places I've been and the things I've seen. Also expect to see the occasional review and editorial. Thanks for reading.
2010/11/19 - Autumn Color Report: Kyoto
Today I checked out the autumn colors (koyo) situation over in the Higashiyama District of Kyoto. The first stop of the morning was a follow up visit to Kiyomizudera Temple. The trees around the temple have progressed a lot since our visit last week, and a lot of the tree are turning nice shades of orange and red which provides a nice view from the temple's balcony.
However, from below you could see that the trees are still primarily green and have not yet begun to approach their peak. I think last week's estimation of the peak still stands, and it will be another week or so before the trees around Kiyomizudera are at their best. On a side note, in the early morning Kiyomizudera is very dark as it sits in the shadow of the Higashiyama Mountains. It is far more attractive and better to photograph later in the day once the entire temple is lit.
Also, on November 17th Kiyomizudera began a special illumination viewing of the temple grounds and autumn colors which are lit up in the evenings. Admission to the illumination is from 18:30 to 21:00, costs 600 yen, and will run until December 12th, 2010.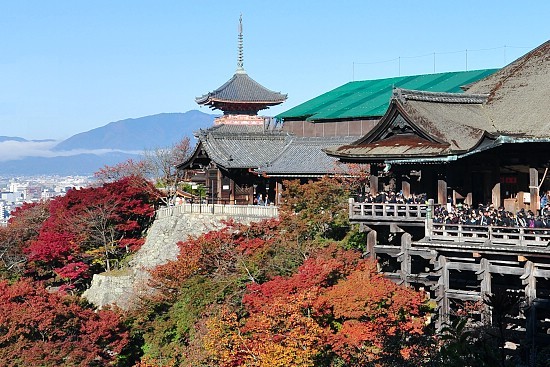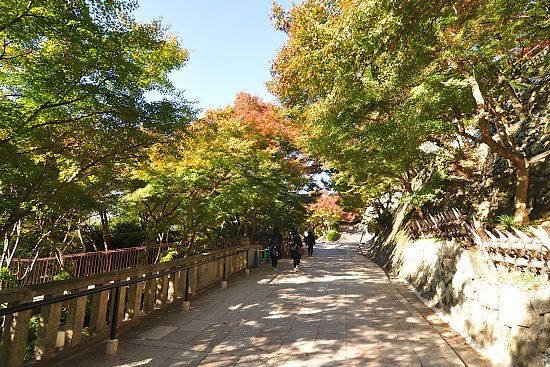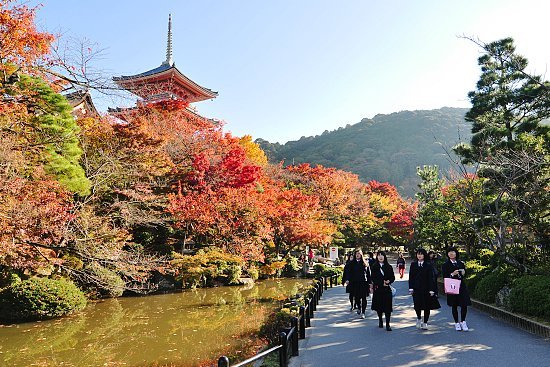 The second destination this morning was Kodaiji Temple, a popular temple in the Higashiyama District that was built in memory of Toyotomi Hideyoshi. The temple features some nice landscape gardens featuring moss, ponds, bamboo groves, and plenty of maple trees. The maples are beginning to turn various shades of yellow, orange, and red. But just like at Kiyomizudera, the trees are still mostly green and have not yet begun to approach their peak. Another week or so is needed here as well before the trees will be at their best.