Autumn Color Report: Tokyo
Scott's Japan Travel Journal
by Scott, staff writer of japan-guide.com
This journal is a log of my travels within Japan. Here you'll find my personal opinions on the places I've been and the things I've seen. Also expect to see the occasional review and editorial. Thanks for reading.
2010/11/30 - Autumn Color Report: Tokyo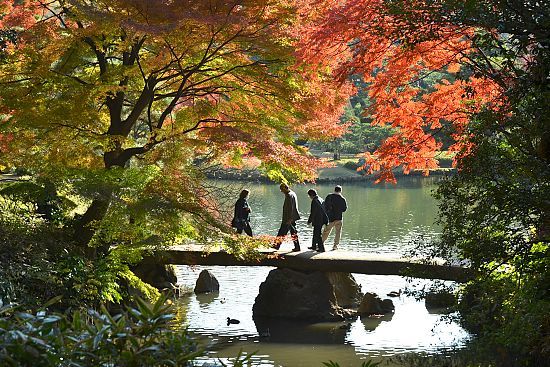 Today I made another follow up trip to Tokyo to check on the state of the autumn colors (koyo). The first stop of the day was at the Institute for Nature Study, a nature reserve preserving Tokyo's natural forest wetland, found in Meguro Ward in the heart of the city. The park has a number of trails that lead through wooded forest and around small ponds and streams, and the best part area for autumn colors is along a section of trail that passes through a large stand of maple trees. Unfortunately it is still very early in the season for the nature reserve and most of the maple trees are only just beginning to change colors.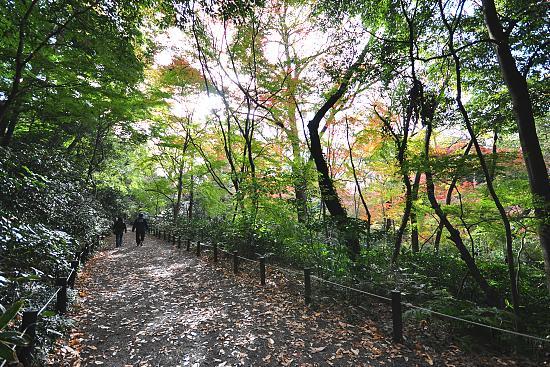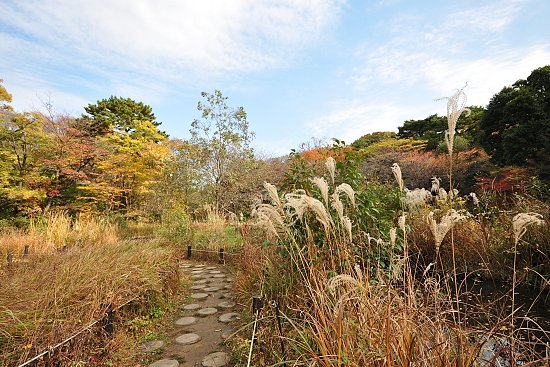 The next stop of the day was to Shinjuku Gyoen. Shinjuku Gyoen is best known for its cherry blossoms, but there are also many other varieties of trees planted around the park, some of which provide nice autumn colors. Besides the cherry trees, which typically have an early and not so vibrant koyo, there are ginkgos, maples and some bushes that were changing color around the park.
The maples are mainly found around two areas in the park: Shinjuku Gyoen's Japanese style landscape garden, where the trees are now mostly red and just around their peak; and more prominently around an area of the park called Momijiyama (maple mountain) where the maples surround a pond and cover a nearby hill. The maples along the water are just approaching peak color while the more sheltered trees on the hill are predominantly green and only just beginning to color.
Elsewhere around Shinjuku Gyoen, such as around the expansive lawns and the park's French style garden, you'll find mainly broadleaf trees that have already begun to drop a large percentage of their leaves.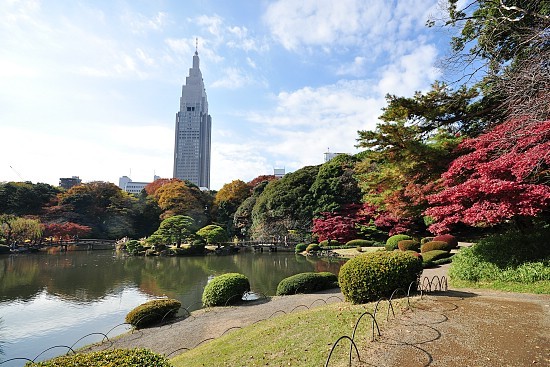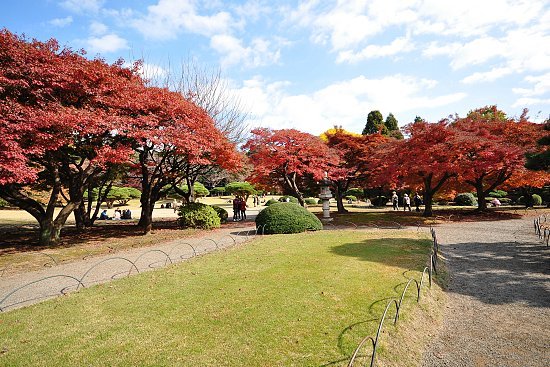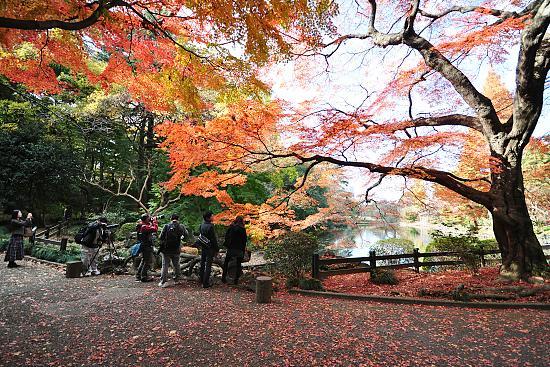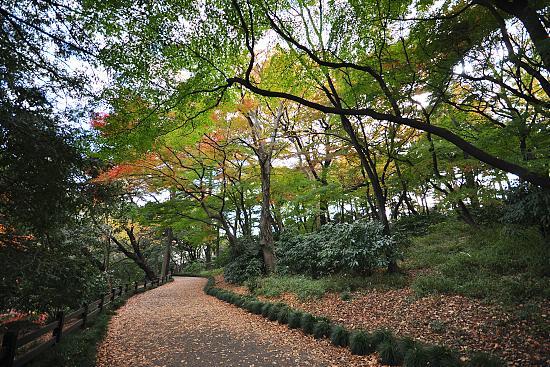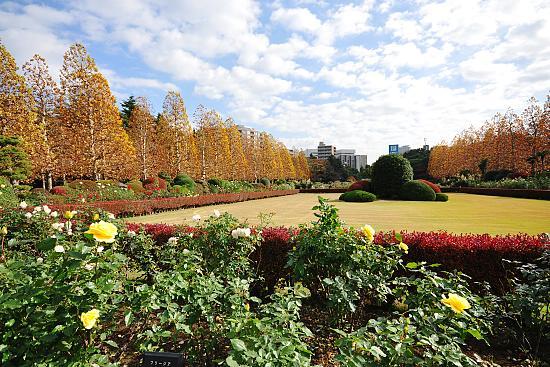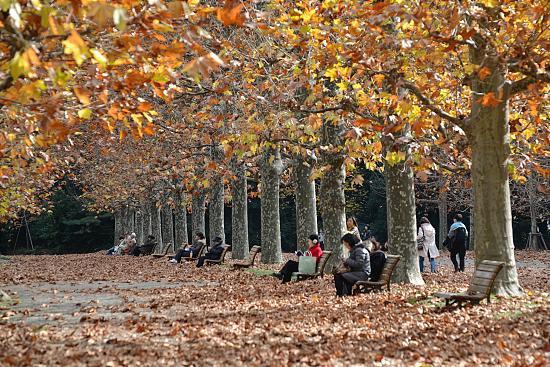 Next was a follow up visit to Koishikawa Korakuen. The trees around the garden have advanced quite a bit since last week and while many of the trees are still pretty green, it feels like most of the trees around the garden are right around their peak if not a little beyond their best. The garden will continue to be attractive over the next few days however.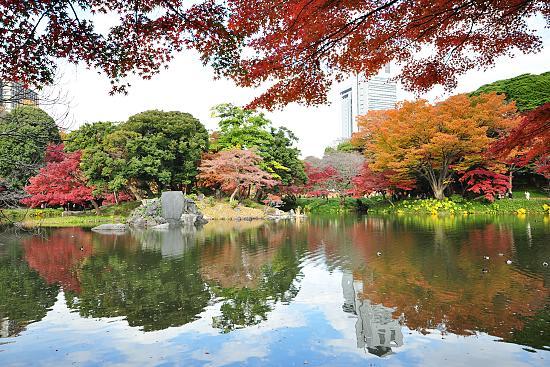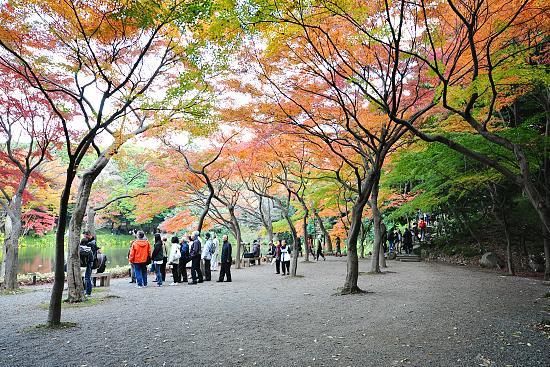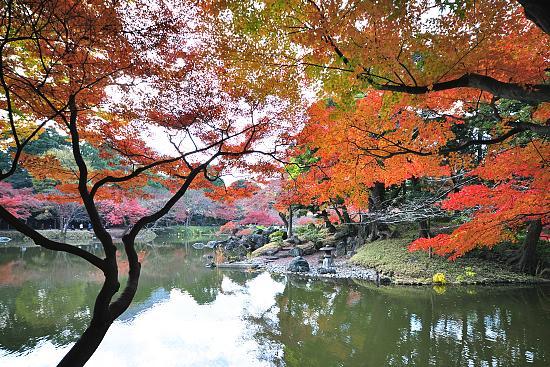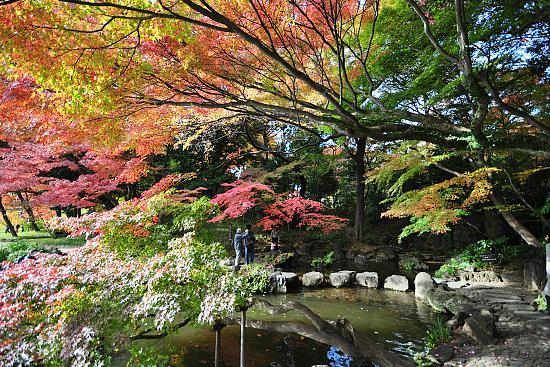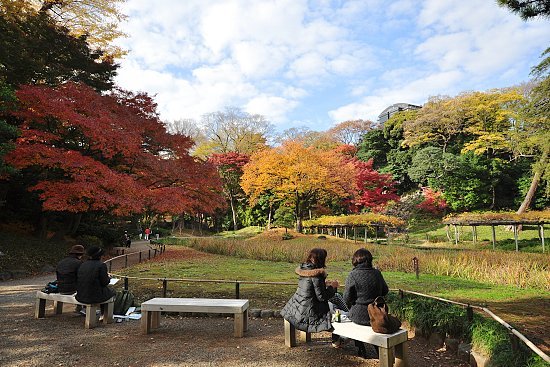 Finally, I made one more stop at Rikugien Korakuen. Just like Koishikawa Korakuen, Rikugien has also advanced since last week to the point where most of the maples around the garden are just around their peak, and they should remain nice for at least a few more days. Also, the garden's special evening illumination (daily 17:00-20:30, 300 yen) is currently going on and will continue through December 5, 2010.