Cherry Blossom Report: Tokyo
Scott's Japan Travel Journal
by Scott, staff writer of japan-guide.com
This journal is a log of my travels within Japan. Here you'll find my personal opinions on the places I've been and the things I've seen. Also expect to see the occasional review and editorial. Thanks for reading.
2011/04/02 - Cherry Blossom Report: Tokyo
Today I stopped by Tokyo on my way home from the Kansai Region to check out the cherry blossoms. This is our third Tokyo report this year after our previous visits on March 30, 2011, and March 27, 2011.
Shinjuku Park
April 2, 2011 - just opened (0-10%)
After departing early this morning from Kyoto, I arrived in Tokyo and headed straight to Shinjuku Gyoen. The somei yoshino cherry trees around the park have opened since Francois's visit three days ago and seem to be progressing nicely. The advancement of the blossoms varies slightly between the different parts of the park, but most of the somei yoshino trees still appear to have less than 10% of their blossoms open.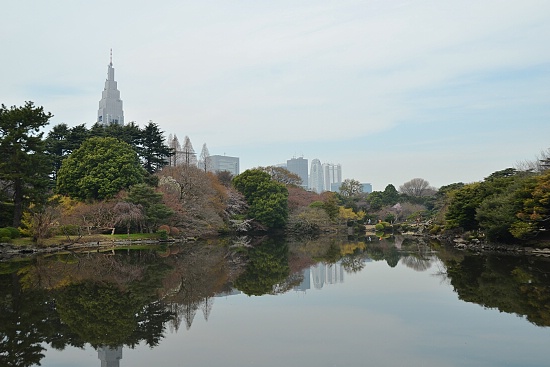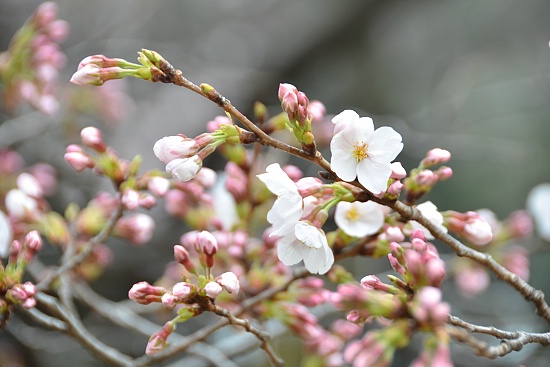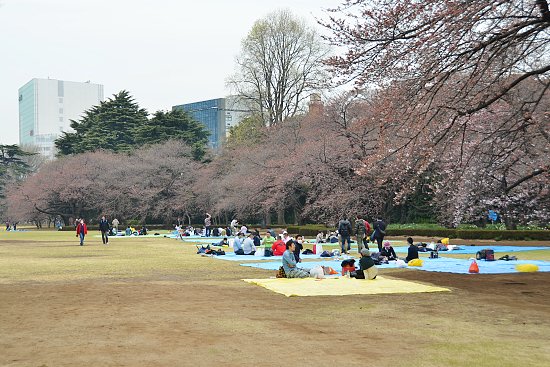 However, thanks to Shinjuku Gyoen's large variety of cherry trees there were quite a few early blooming trees found around the park that were at or near full bloom today. In particular, the large weeping cherry tree (Yaebeni Shidarezakura) that we've previously visited was at full bloom today. There is also a small area of trees, called the Sakuranochi, near the Sendagaya Exit that is filled with lots of different varieties of cherry trees. It is probably my favorite cherry blossom spot in the park as it is bound to have a few varieties of trees in bloom pretty much throughout the season.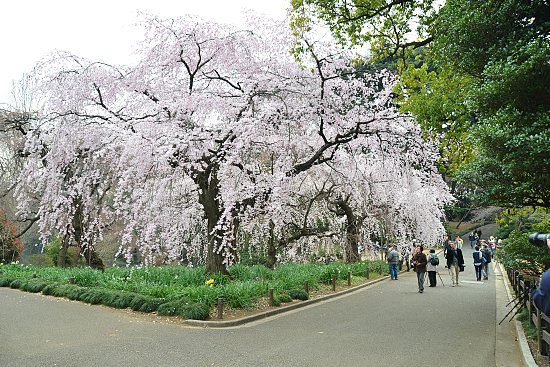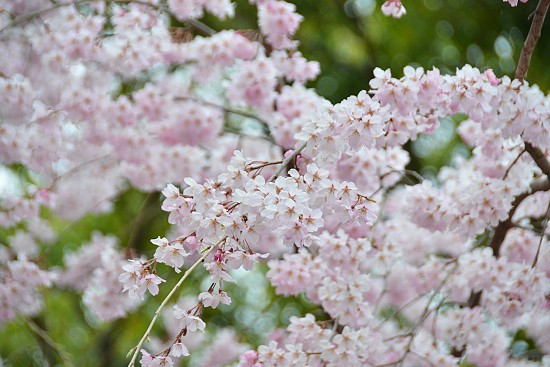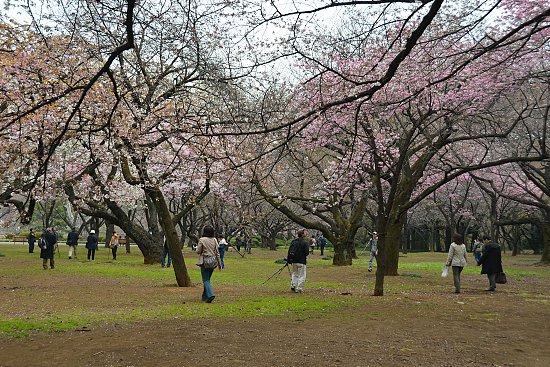 Sumida Park
April 2, 2011- opening (10-50%)
My next stop was to Sumida Park, a cherry tree lined park located along the Sumida River in the Asakusa district. I find Sumida Park to be a very nice place for cherry blossom viewing, perhaps much like a less crowded Ueno Park, due to its cherry blossom lined path that has lots of space underneath the trees for hanami parties.
The blossoms around the park are currently in their opening stages with a little more than 10% of their blossoms open. The park should continue to get quite a bit better over the coming days and will probably reach full bloom toward the end of next week.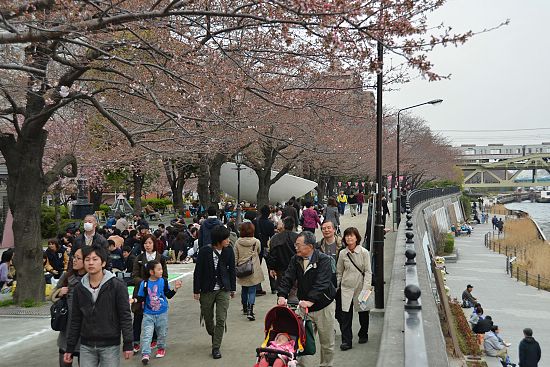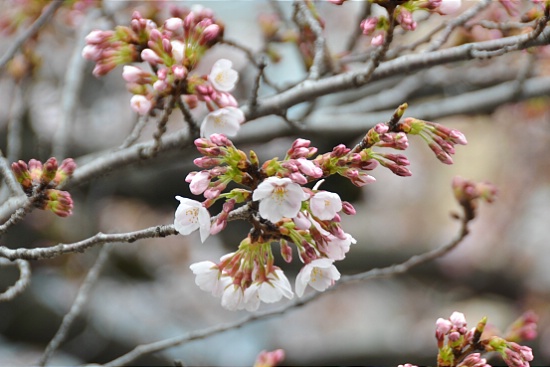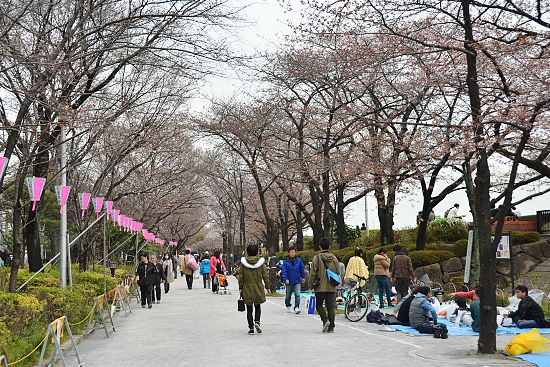 You can see the Tokyo Sky Tree being built across the river from Sumida Park. The construction of the tower has made some significant gains since last year's report trips to the area.
Ueno Park
April 2, 2011- opening (10-50%)
Finally, my last stop of the day was to Ueno Park. The blossoms have opened since our last visit and are progressing rapidly. Ueno Park tends to have a slightly advanced schedule compared to the rest of Tokyo, and while the blossoms were not quite at 50% open today they are opening fast and at this rate they may reach full bloom around the middle of next week. Hanami parties were also in full swing today, with people of all ages out enjoying some beautiful weather while picnicking under the cherry blossoms.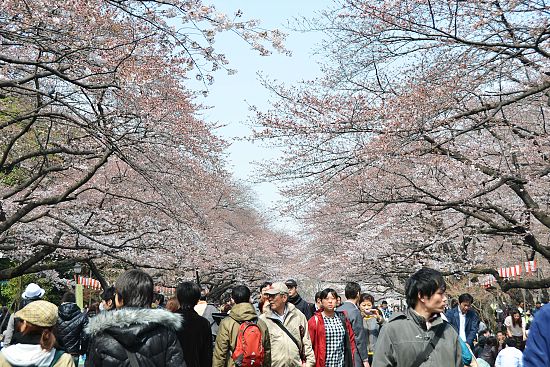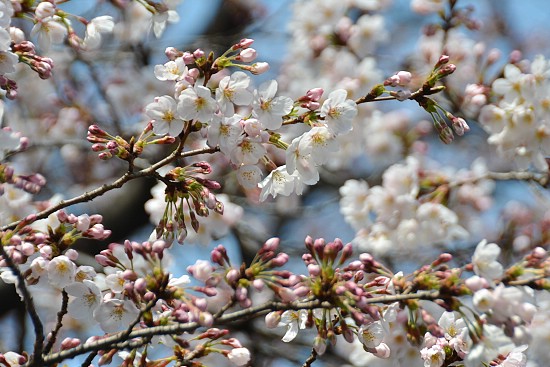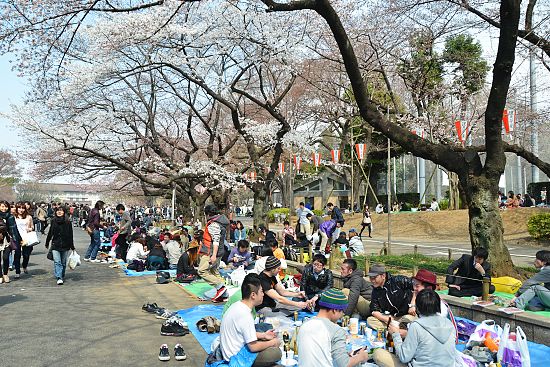 The most popular hanami party in the park was held by two cats who were enjoying the blossoms from their perch on a low hanging branch. It looks like the tree cat from last year is starting a trend.