Cherry Blossom Report: Hiroshima
Scott's Japan Travel Journal
by Scott, staff writer of japan-guide.com
This journal is a log of my travels within Japan. Here you'll find my personal opinions on the places I've been and the things I've seen. Also expect to see the occasional review and editorial. Thanks for reading.
2011/04/07 - Cherry Blossom Report: Hiroshima
Today I headed out to check on the cherry blossoms in Hiroshima and Miyajima, after which I made a quick afternoon visit to Iwakuni (a separate report can be found here). However, before reading these you may want to check out this excellent cherry blossom report trip by community member AlexRowan who visited Miyajima on April 3, 2011. Thanks for the great report Alex!
Hiroshima Peace Park
April 7, 2011 - full bloom
My first stop of the day was a quick visit to the Hiroshima Peace Park, where there are a few hundred cherry trees planted throughout the grounds. The cherry blossoms were in full bloom today and were particularly nice along the riverbanks that form the edges of the park. I would expect the blossoms to continue to be at their best for through the weekend.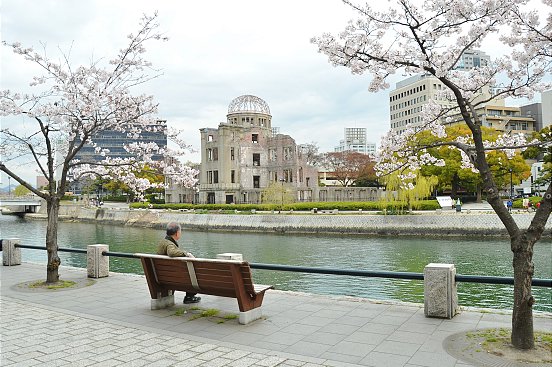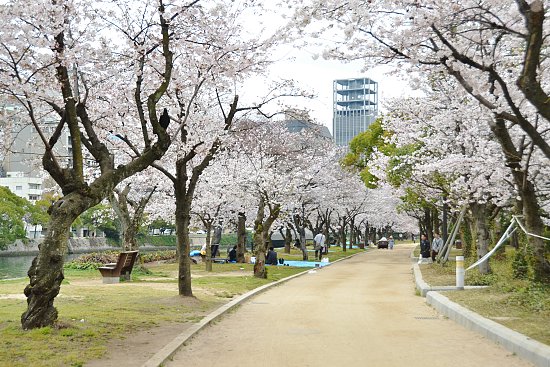 Miyajima - Itsukushima Shrine
April 6, 2011 - approaching full bloom (50-80%)
Next I took a quick ferry ride from the Hiroshima Peace Park to Miyajima, an island less than an hour from central Hiroshima. Miyajima is home to Itsukushima Shrine, which is known as a "floating shrine" as it is built on stilts and appears to float during high tide. The shrine has a huge vermillion torii gate set out in the water that one of Japan's iconic images.
There are about 1500 cherry trees planted around the shrine, and while there are a number of early blooming weeping cherry trees that have reached full bloom, the somei yoshino trees are not quite there yet and will need another day or two to fully open.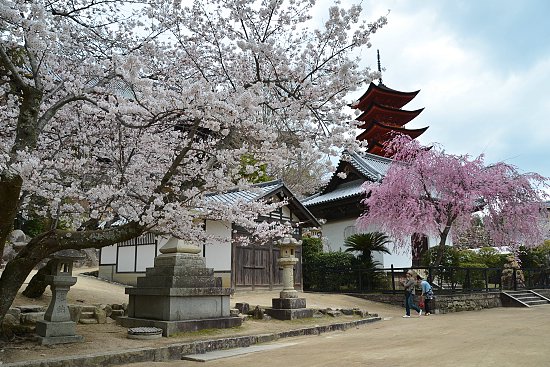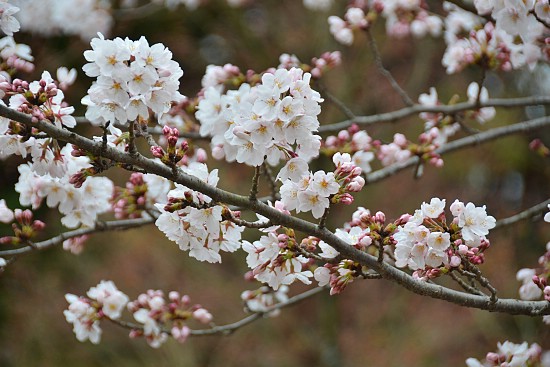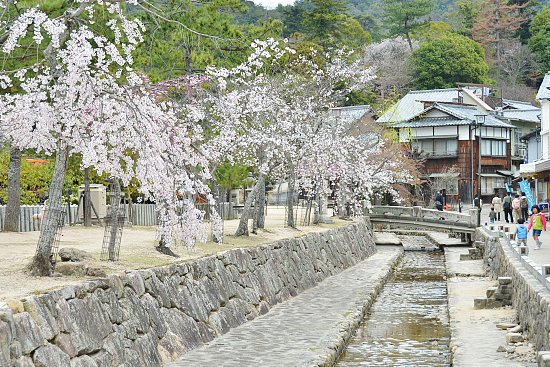 Miyajima - Tahoto Pagoda
April 6, 2011 - full bloom
The Tahoto Pagoda is a small, two story pagoda located on the hill overlooking Itsukushima Shrine. It can be reached by a few of the different walking trails that criss cross the slopes of Mount Misen.
There are about 300 cherry trees planted around the pagoda as well as in a small park on the slope next door. The blossoms are a little bit ahead of the ones found around the shrine below and have reached full bloom. Some of the trees are just beginning to drop a few petals when disturbed by the wind, so I wouldn't expect the area to remain at its best for more than a few more days.