Cherry Blossom Report: Kakunodate
Scott's Japan Travel Journal
by Scott, staff writer of japan-guide.com
This journal is a log of my travels within Japan. Here you'll find my personal opinions on the places I've been and the things I've seen. Also expect to see the occasional review and editorial. Thanks for reading.
2011/05/02 - Cherry Blossom Report: Kakunodate
We concluded our Tohoku Region cherry blossom reporting with a visit to Kakunodate in Akita Prefecture. Kakunodate is another of Japan's Top 100 cherry blossom viewing spots, and the final leg of the three best Tohoku hanami spots that we planned to visit on this trip. The other two spots are Kitakami in Iwate Prefecture and Hirosaki in Aomori Prefecture which we covered on April 29, 2011 and May 1, 2011 respectively.
Kakunodate Samurai District
May 2, 2011 - approaching full bloom (50-80%) (weeping cherry trees)
Today was a regular work day for most people, despite it being in the middle of the Golden Week Holidays, so the streets were relatively quiet when we arrived in Kakunodate this morning. The light drizzle and 5 degree temperature probably further discouraged some of the early morning crowds.
After we parked the car and grabbed some umbrellas we headed over to Kakunodate's former Samurai District where about 80 samurai families resided during the Edo Period. The samurai district is filled with dozens of weeping cherry trees which the samurai had imported from Kyoto to plant around their homes. Around 150 weeping cherry trees line the streets these days and lend a rather unique and sophisticated beauty to the historical district.
Although the cherry blossoms along some of the streets were only just beginning to open, the cherry trees in the samurai district looked like they were approaching full bloom today and were especially beautiful around the intersection at the center of the district. Overall the area's weeping cherry trees should continue to improve through the week and the entire district should be at its best by the weekend.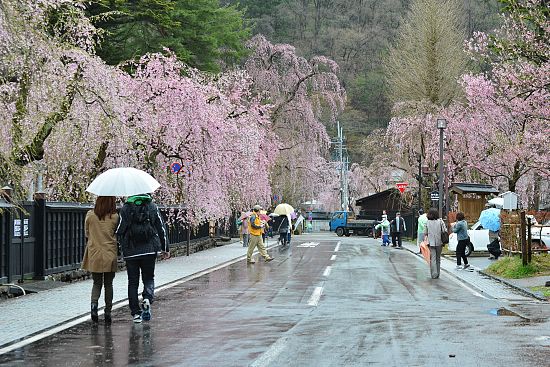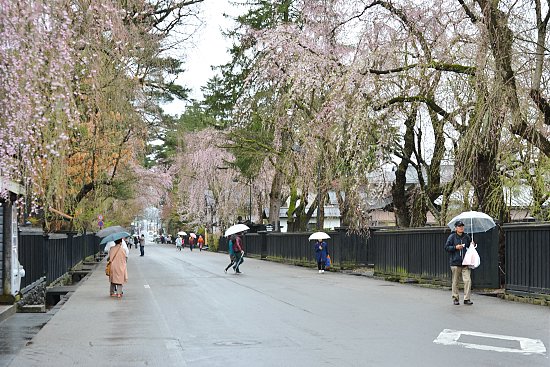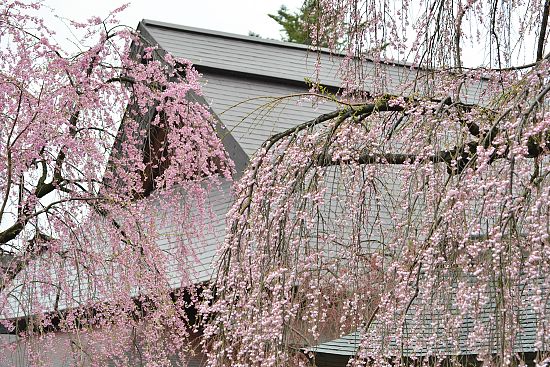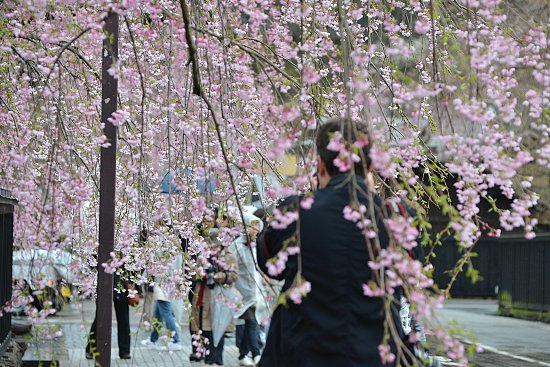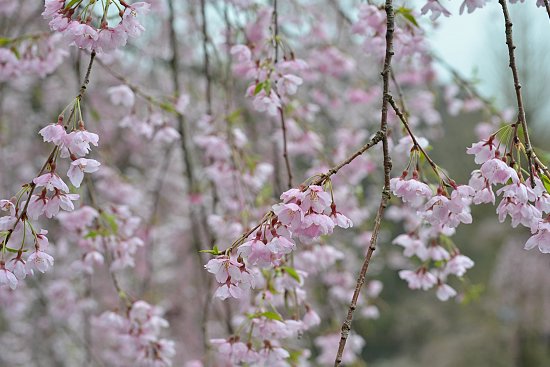 Kakunodate Riverside
May 2, 2011 - just opened (0-10%)
Next we headed to the river a few blocks west of the former samurai residences where a modern day park has been built along the riverside. Hundreds of somei yoshino cherry trees were planted along a two kilometer stretch of the riverbank to complement the city's weeping cherry trees.
The cherry trees line both sides of a path along the river and form a beautiful cherry blossom tunnel when at full bloom. Unfortunately, the cherry blossoms were only just beginning to open and will not reach their peak for at least a few more days. Around the weekend looks like it will be a good time to visit since you should be able to see the trees around both the samurai district and the riverside park at their peak.