Autumn Color Report: Tokyo
Scott's Japan Travel Journal
by Scott, staff writer of japan-guide.com
This journal is a log of my travels within Japan. Here you'll find my personal opinions on the places I've been and the things I've seen. Also expect to see the occasional review and editorial. Thanks for reading.
2011/11/22 - Autumn Color Report: Tokyo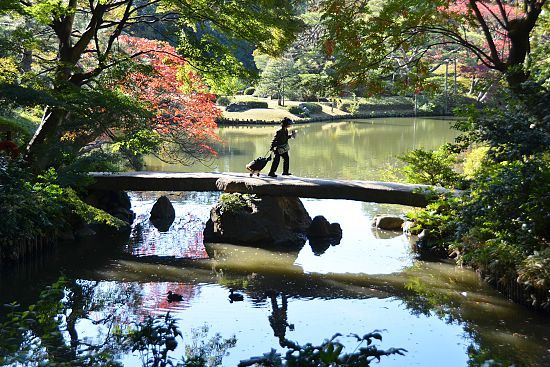 I took another trip down to Tokyo today to continue our reporting on the autumn colors (koyo) in eastern Japan. A little progress has been made since my trip last week, however it is still very early in the season and the leaves have only just begun to change.
The first stop of the day was Rikugien, a beautiful Edo Period strolling garden that has a large network of walking paths leading to several teahouses and 88 scenes from famous poems recreated in miniature around the garden's large central pond. The trees around Rikugien are just beginning to change, with only a handful of early maples and a few other species beginning to turn red. The garden is normally at its best from late November to early December, so it will still be a little while before it reaches its peak. Rikugien is illuminated in the evenings until 21:00 from November 18 to December 15.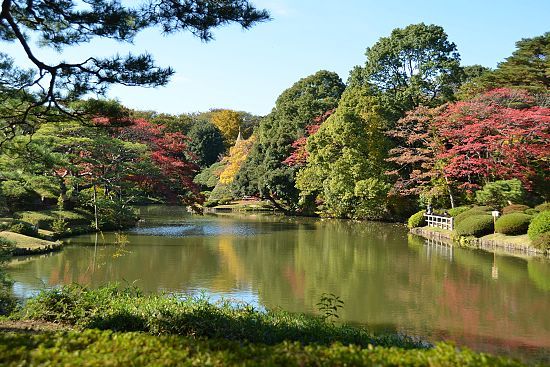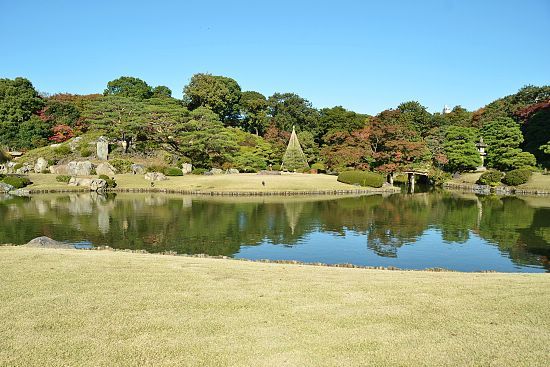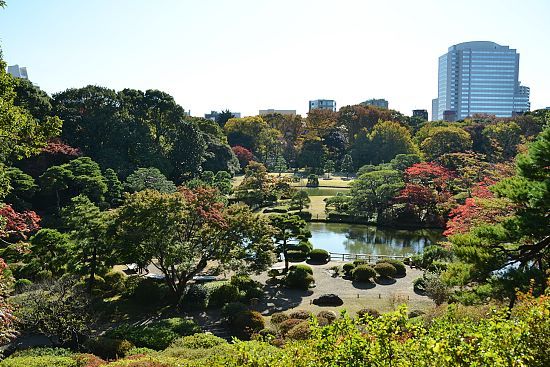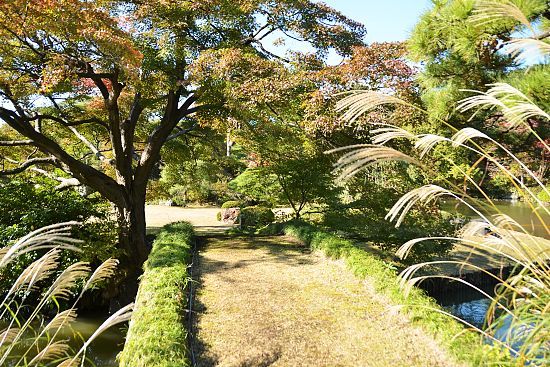 The next stop of the day was Koishikawa Korakuen, another Edo Period landscape garden that is one of Tokyo's oldest and best. Koishikawa Korakuen's large central pond is surrounded with dozens of maple trees that peak from late November to mid December. Accordingly, most of the maples were only just starting to color, and the more exposed trees along the water's edge were the furthest along. Another week or so and they should reach their peak.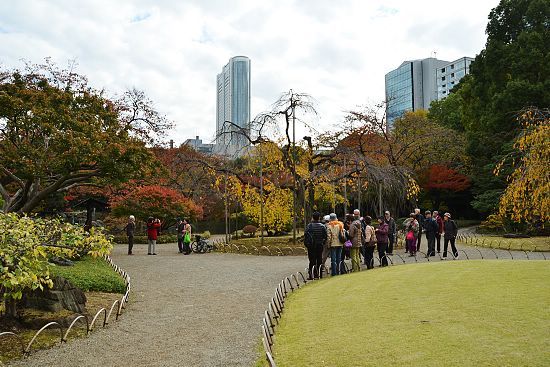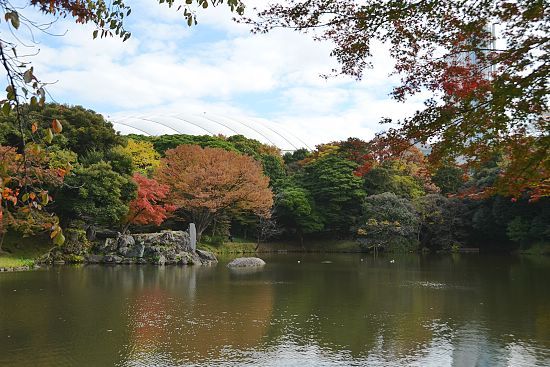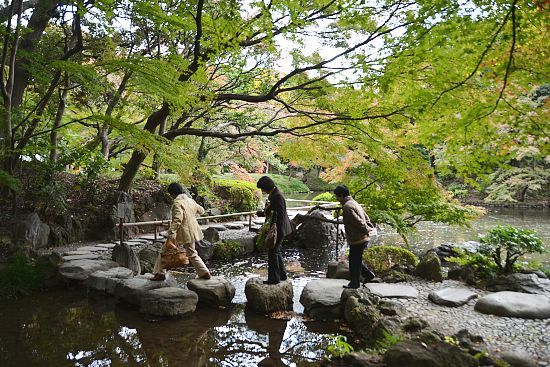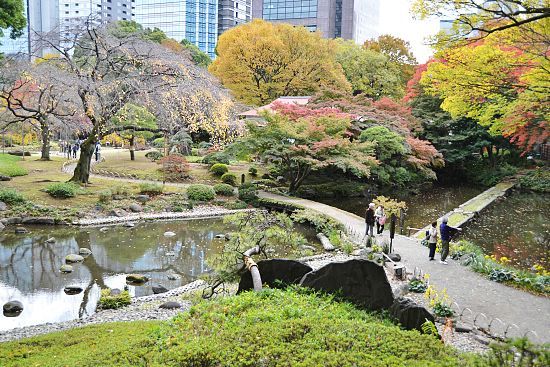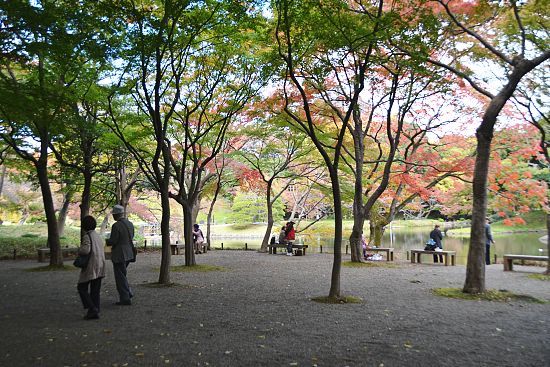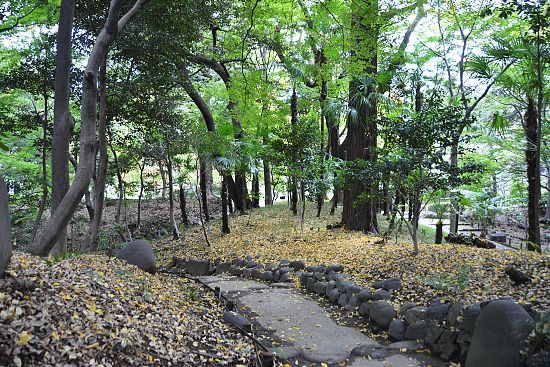 After visiting Koishikawa Korakuen I made a return visit to the Icho Namiki (Ginkgo Street) near the National Stadium in Aoyama, where I was a little disappointed to see that there had been little progress since my visit last week. Around the same time last year the leaves were quite a bit yellower, and, maybe it was a trick of the light, but the leaves seemed drab and muddied today. I'm starting to have some serious doubts on how the quality of this year's Icho Namiki will stack up against previous years' experiences.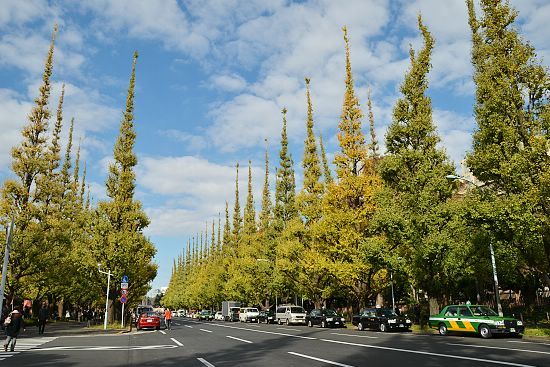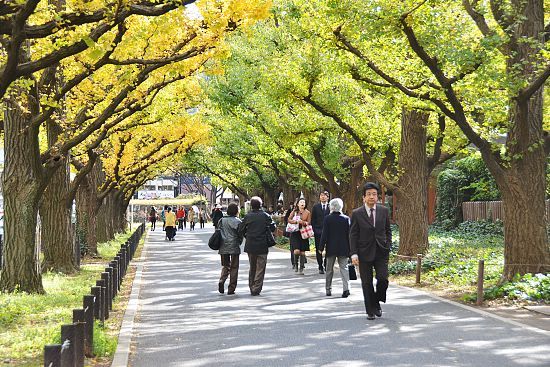 The last stop of the day was to Kyu Shiba Rikyu, a former feudal lord's residence and imperial villa which has been transformed into a beautiful strolling garden amidst the high rises of Hamamatsucho. While not a spectacular koyo spot, the garden does have its share of maples and other autumn foliage spread around its walking paths. Today the main koyo colors came from a stand of cherry trees toward the rear of the garden. There were also a few other early changing trees, such as a large zelkovia (keyaki), and a few early changing maples that contributed some color to the mostly green garden. However, the majority of the maple trees, including a large stand along the garden's eastern side, were predominantly green and may remain so for a while longer.