Cherry Blossom Report: Tokyo
Scott's Japan Travel Journal
by Scott, staff writer of japan-guide.com
This journal is a log of my travels within Japan. Here you'll find my personal opinions on the places I've been and the things I've seen. Also expect to see the occasional review and editorial. Thanks for reading.
2013/03/29 - Cherry Blossom Report: Tokyo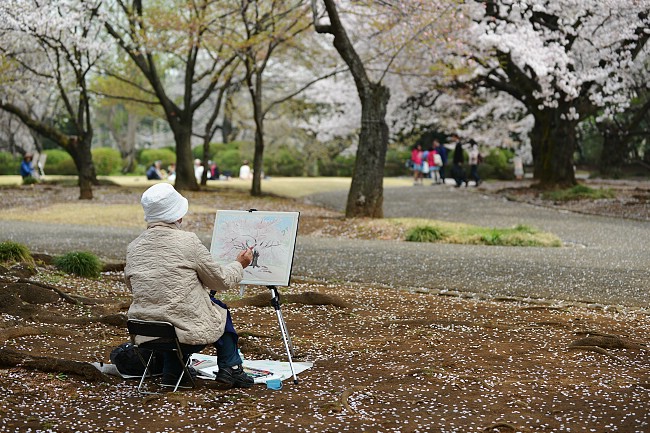 Today I headed down to Tokyo to revisit some of the city's popular hanami spots. The cherry blossoms were at full bloom when we last visited four days ago, and today the petals are beginning to fall across the city. Any small disturbance would set a flurry of petals flying, so unfortunately it looks like we are approaching the final days of the season here. Furthermore, light rain is forecasted for both this evening and Sunday, which could bring an abrupt end to the season around Tokyo.
Inokashira Park
March 29, 2013 - petals starting to fall
Inokashira Park is a city park near Kichijoji Station in western Tokyo. One of Japan's top 100 cherry blossom spots, the park features a large central pond surrounded by nearly 500 cherry trees. Inokashira Park has lots of space under its trees for picnicking and is an extremely popular place for hanami parties. Visitors can also rent rowboats and swan shaped paddle boats to explore the pond, or visit the Inokashira Zoo or the Ghibli Museum which both lie within the park grounds. The park is open until 22:00 during the cherry blossom season.
The cherry trees around Inokashira Park reached full bloom several days ago. Today they were just starting to lose their petals, but not in a bad way. Rather the light sprinkling of petals enhanced the atmosphere, and the park should be very nice for this weekend's hanami partying assuming they aren't too badly affected by this evening's light rain.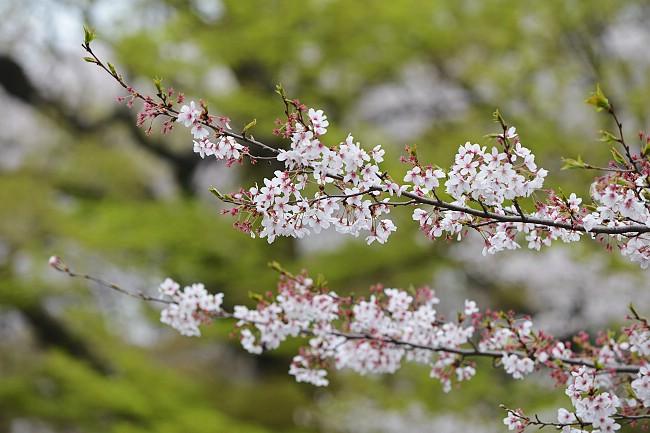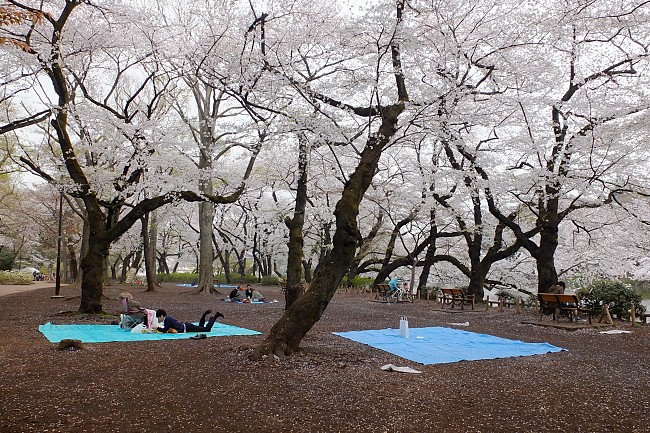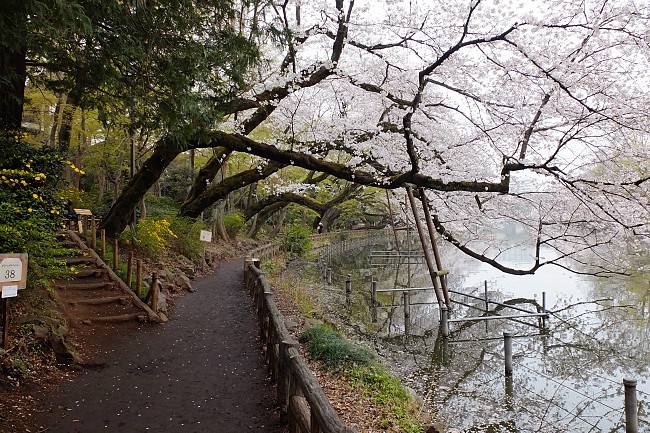 Yoyogi Park
March 29, 2013 - petals starting to fall
Next I headed down to Yoyogi Park by way of Harajuku Station. This large public park has some 600 cherry trees planted around the grounds, especially around the cherry blossom grove in its southwest corner. Yoyogi Park is another of Tokyo's popular hanami spots, so much so that we've seen it get completely trashed in the past by inconsiderate revelers. Fortunately that hasn't happened yet today, but the parties looked like they were only getting started as I was walking through this morning and I would expect it to get very busy very soon.
The trees around the park were beginning to lose their petals, but the blossoms still looked very beautiful. Small flurries of petals could be seen whenever a branch was shaken by a crow, but they were not yet falling freely.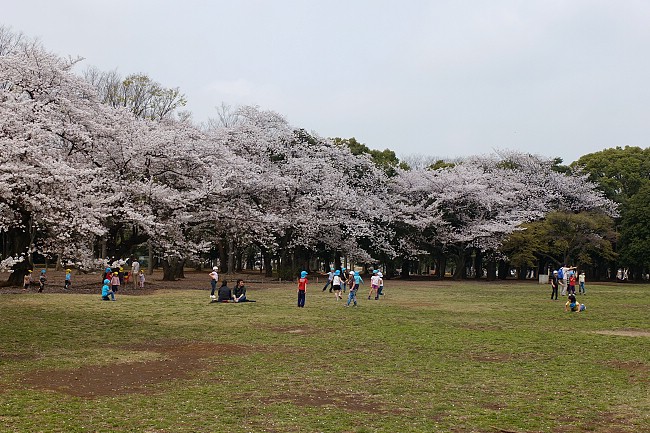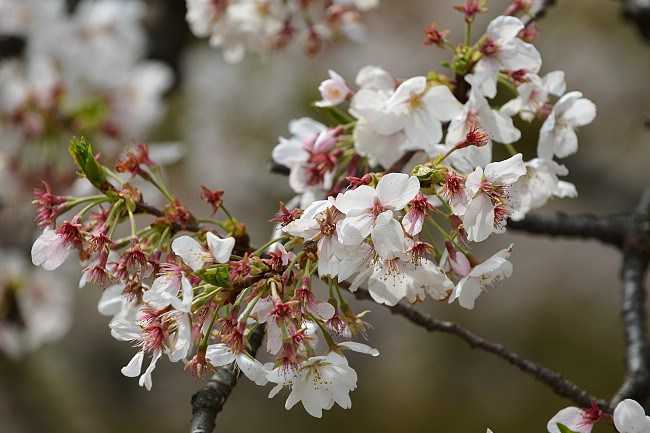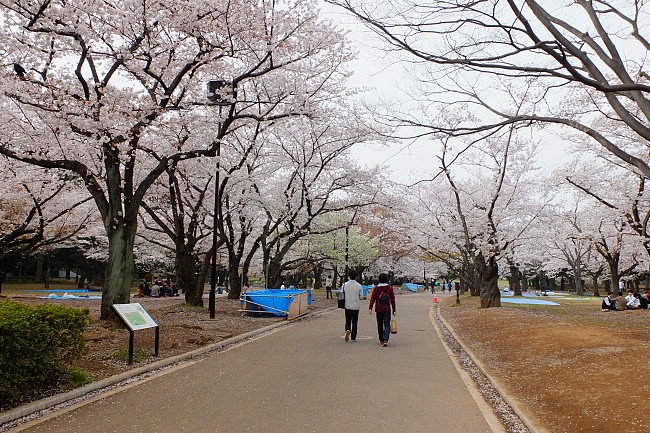 Shinjuku Gyoen
March 29, 2013 - petals starting to fall
On our last visit to Shinjuku Gyoen the trees were right in the middle of full bloom. Today the cherry blossoms around the wide lawns were beginning to drop their petals but still looked very healthy and robust. The petals were falling much more freely in other parts of the park, such as around Momiji Mountain and the Sakura Grove near Sendagaya Gate, with some great flower petal blizzards (hanafubuki) as a result.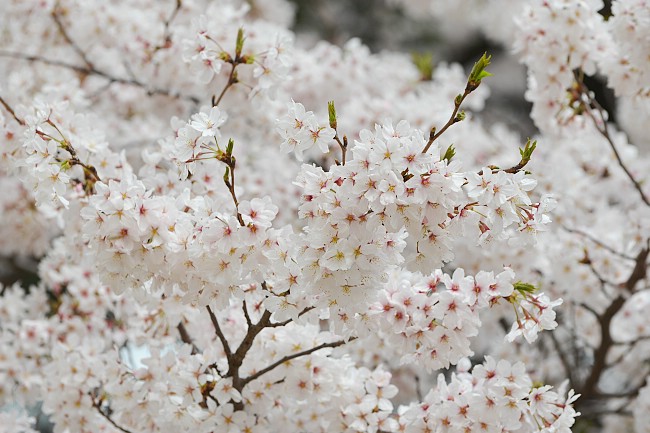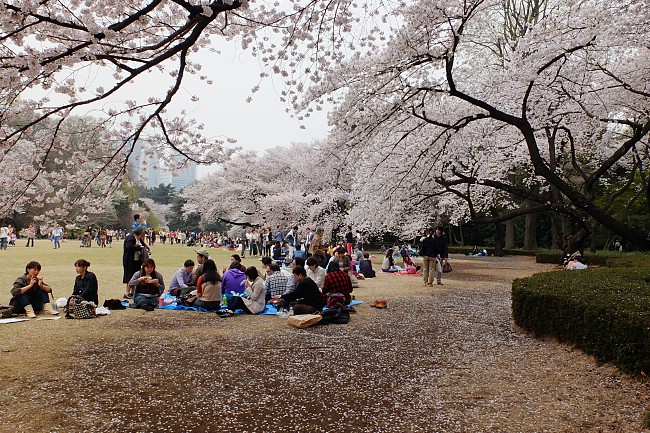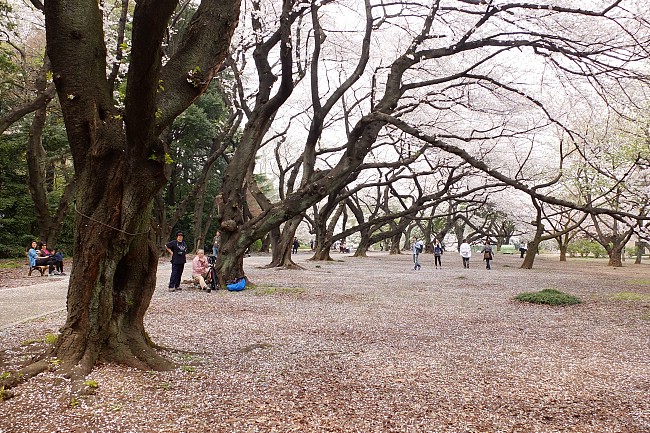 The later blooming varieties of cherry blossoms found around Shinjuku Gyoen were at varying states today. Several of the Ichiyo trees have started to bloom and their puffy pink blossoms were quite popular with today's visitors. Several of the Yaebenishidarezakura were around 50% open today, while the Kanzan Sakura still had tightly closed buds.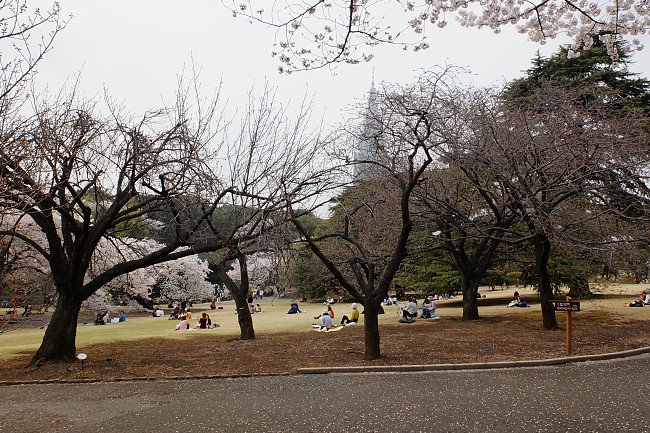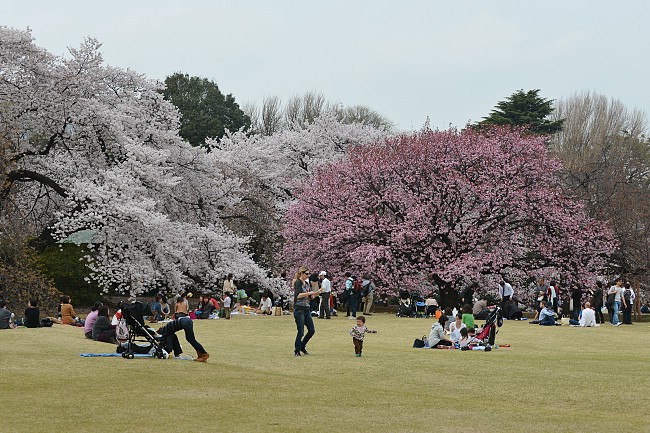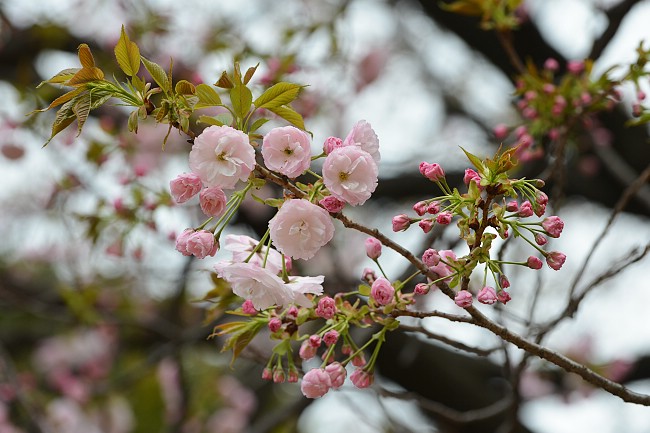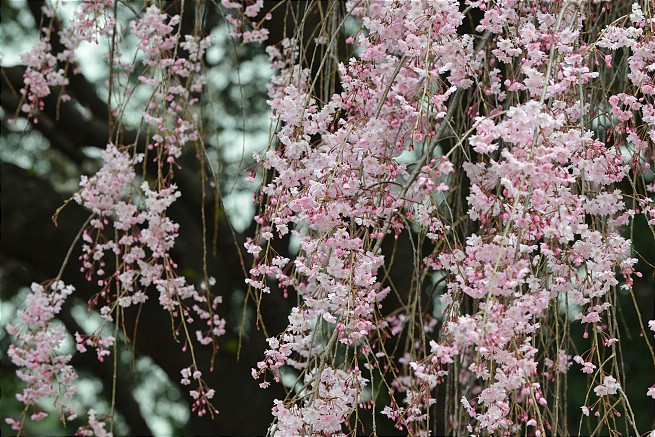 Ueno Park
March 29, 2013 - petals starting to fall
The cherry trees around Ueno Park tend to be slightly ahead of those around the rest of the city, and this was quite apparent today as the petals were falling freely from the trees without provocation. The trees still have the majority of their petals, but it is now just a matter of a few more days before there will be more petals on the ground than in the trees.