Cherry Blossom Report: Mount Fuji
Scott's Japan Travel Journal
by Scott, staff writer of japan-guide.com
This journal is a log of my travels within Japan. Here you'll find my personal opinions on the places I've been and the things I've seen. Also expect to see the occasional review and editorial. Thanks for reading.
2013/04/10 - Cherry Blossom Report: Mount Fuji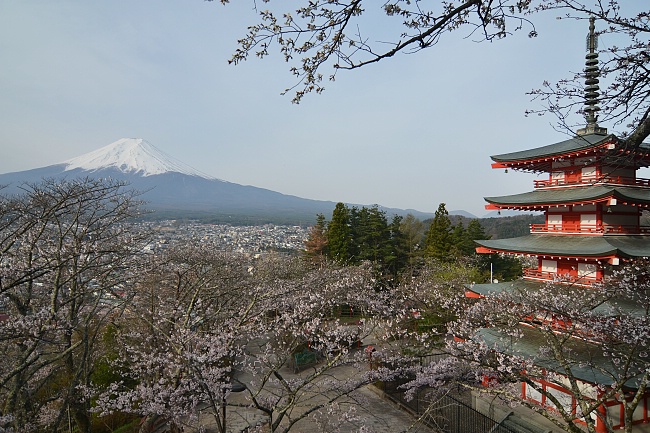 It has been five days since our last visit to the the Fuji Five Lakes (Fujigoko) region at the base of Mount Fuji, during which time the cherry blossoms were still opening around Lake Kawaguchiko. In the meantime, the cherry trees have reached full bloom all around the lake and should remain enjoyable through early next week. That fortunately also coincides with some beautiful weather that was forcast for the next few days.
Chureito Pagoda
April 10, 2013 - full bloom
Today the road up to the Chureito Pagoda was closed off so we had to climb the steps up to the five story pagoda on the side of the mountain. The cherry trees planted along the slope and around the pagoda were at full bloom and looked nice, but we did notice that the blossoms seemed less voluminous than in previous years.
The cherry trees down around the entrance to the shrine at the base of the mountain also remained very nice today. They were more advanced than the blossoms higher up the mountain, and although they were starting to drop their petals they should still be nice to visit for a few more days.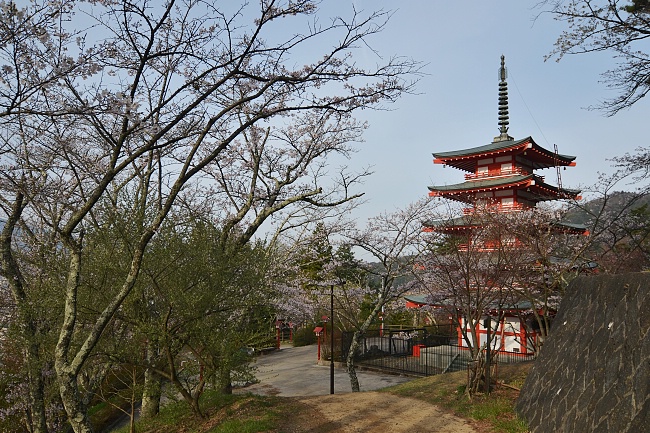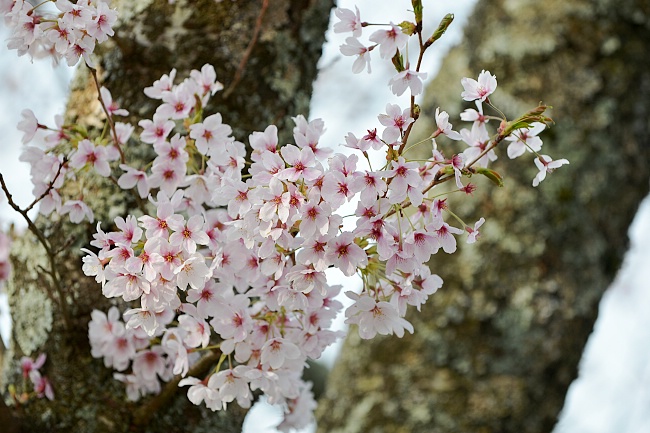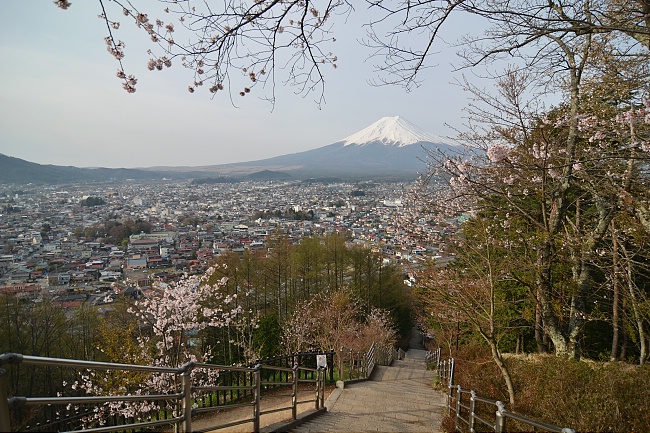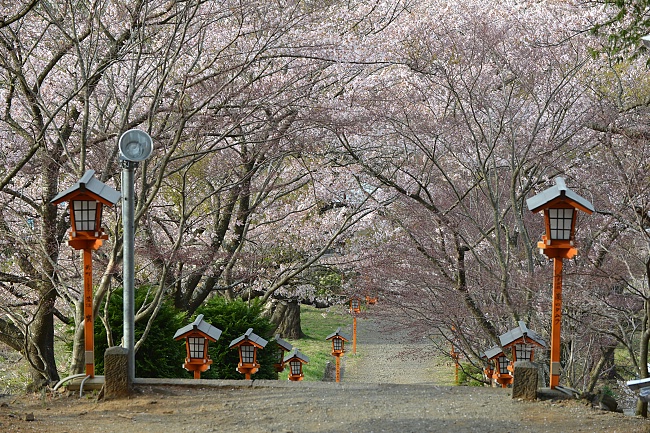 Ubuyagasaki Peninsula
April 10, 2013 - petals starting to fall
The trees around the Ubuyagasaki Peninsula at the northern end of the Kawaguchi Ohashi Bridge tend to be slightly ahead of other parts of the lake and the blossoms there were just beginning to drop their petals. We were a little concerned because a storm passed through the area over the weekend, but it seems to have had little effect on the trees. The blossoms in the area still offered nice views of Mount Fuji in combination with the lake and flowers today, but I wouldn't expect it to last more than a few more days.
Just a short 5-10 minute walk away from the Ubuyagasaki Peninsula are the Yaebenishidare cherry trees along the eastern shore of the lake. They were at full bloom today and should remain at their peak into next week.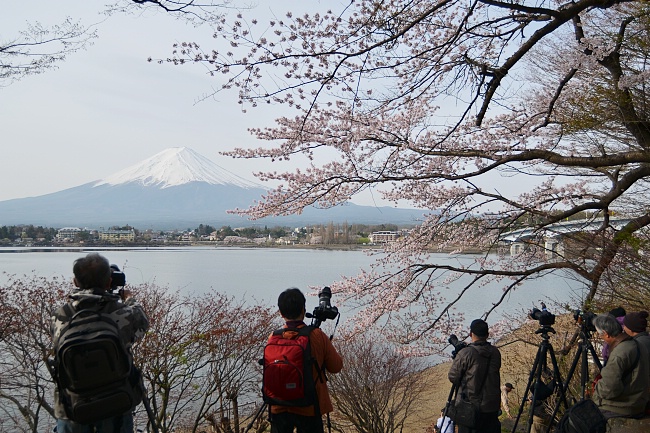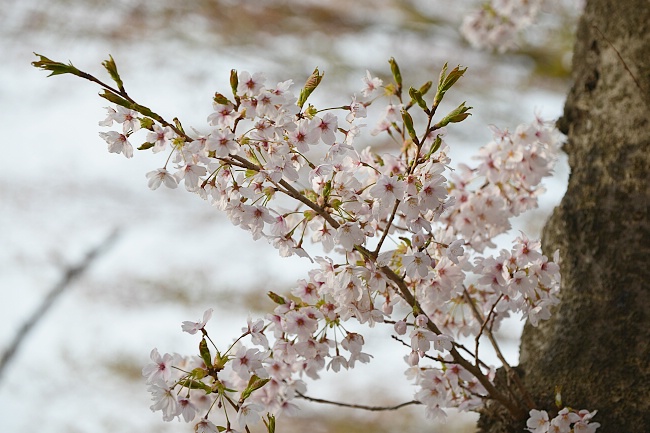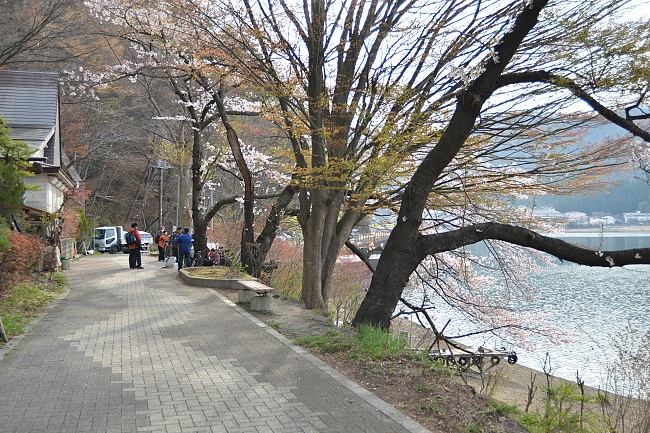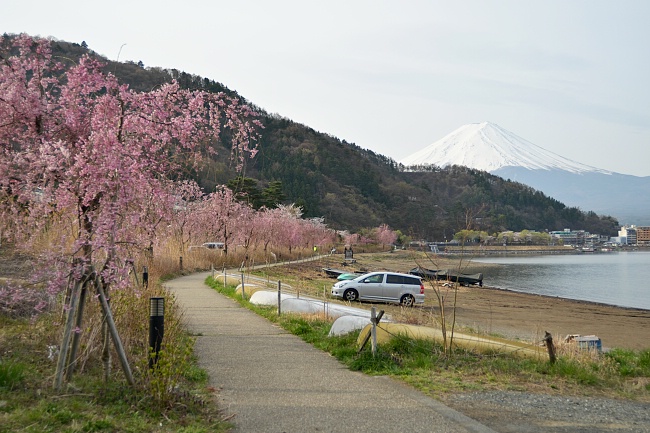 Northern Shore of Lake Kawaguchiko
April 10, 2013 - full bloom
The cherry trees along the northern shore of Lake Kawaguchiko only just opened the other day, but they advanced much quicker than I expected and only took a few days to reach full bloom. They looked beautiful today and should remain at their peak for several more days. Unfortunately, it is extremely likely now that the blossoms will be gone by the time this area's annual cherry blossom festival starts on April 19, 2013.