Northern Kanto Flower Report
Scott's Japan Travel Journal
by Scott, staff writer of japan-guide.com
This journal is a log of my travels within Japan. Here you'll find my personal opinions on the places I've been and the things I've seen. Also expect to see the occasional review and editorial. Thanks for reading.
2013/04/23 - Northern Kanto Flower Report
by scott and sean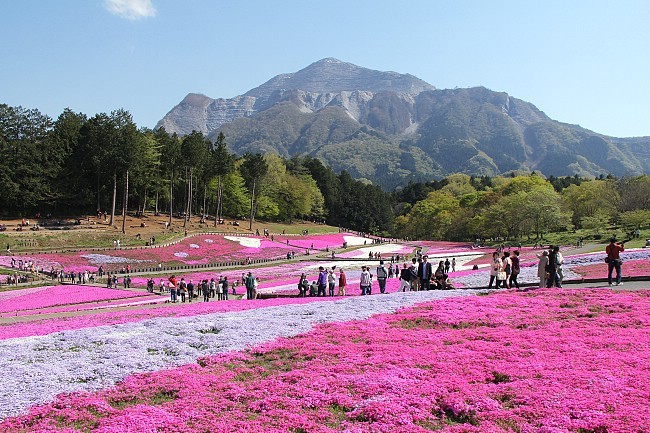 Next week we will continue our cherry blossom coverage from the Tohoku Region, but in the meantime we headed out to do something a little different. As the sakura season around Tokyo has come to a close, it's now the time for other types of spring flowers to take center stage. Some of these, such as wisteria (fuji) and moss pink (aka, shibazakura, phlox moss) are immensely popular and have entire parks devoted to them. So today we split up and explored three prefectures in the northern Kanto Region to check out some of these spots. Scott covered Ota Hokubu Sports Park and the Ashikaga Flower Park, while Sean visited the Chichibu Hitsujiyama Park, Takasaki Misato Shibazakura Park and The Treasure Garden Tatebayashi.
Ota Hokubu Sports Park
Ota Hokubu Sports Park is a large public park in the hills overlooking Ota City in eastern Gunma Prefecture. To reach the park from Tokyo, take a Tobu Ryomo limited express train from Asakusa to Ota, and change to a local train to Jiroembashi Station. From there it is a 30 minute walk to the park. The trains take about 2 hours, cost 2160 yen and are not covered by the Japan Rail Pass.
Alternatively, take the Joetsu Shinkansen or local trains to Takasaki (1 hour, about 4000 yen or 100 minutes 1890 yen respectively) and change to the JR Ryomo Line to Yamamae Station (1 hour, 820 yen). From there it is a 15 minute, 1800 yen taxi ride to the park. These trains are fully covered by the Japan Rail Pass.
Ota Hokubu Sports Park has a large lawn and several sports fields built on the hillside. The slopes around the sports fields are planted with flowers, especially the western slope which is covered in various shades of moss pink (shibazakura), which bloom in spring. I'm not too familiar with the blooming cycle of the shibazakura, but the flowers looked a little sparse compared to some of the pictures that I've seen of the park. I would expect the fields to fill out more as the season continues.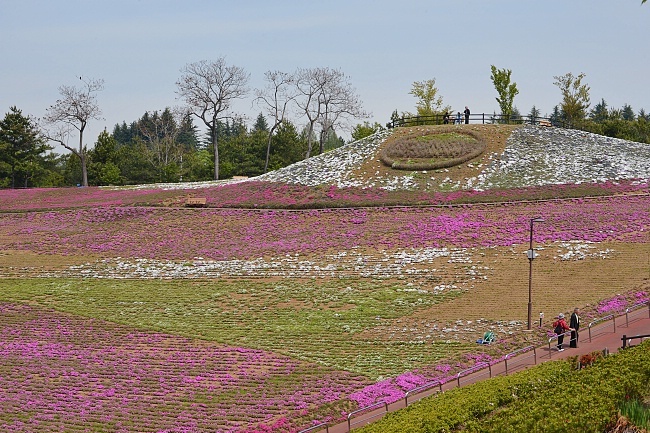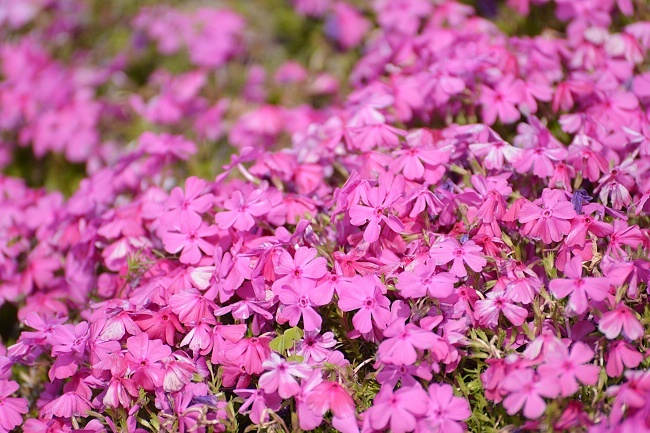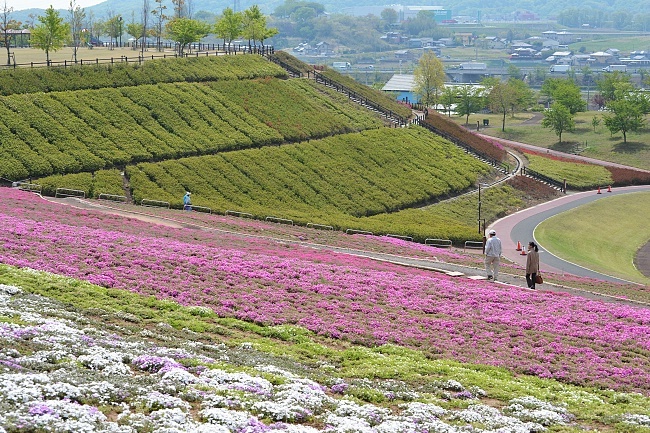 Walking around to the eastern side of the park you'll find even larger fields of Baby Blue Eyes bordered in contrasting Crimson Clover. The flowers along this slope also looked like they were not fully in bloom yet. Ota Hokubu Park has an annual Shibazakura Matsuri which includes a nice selection of food stands, souvenir and handicraft shops, and picnic seating around the large grassy field at the center of the park. The festival is open everyday from 9:00-17:00 and will run until May 12, 2013. Various performances and shows will also take place throughout the festival period.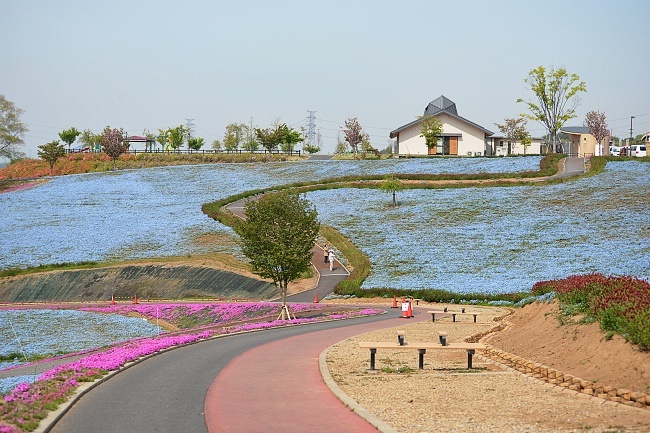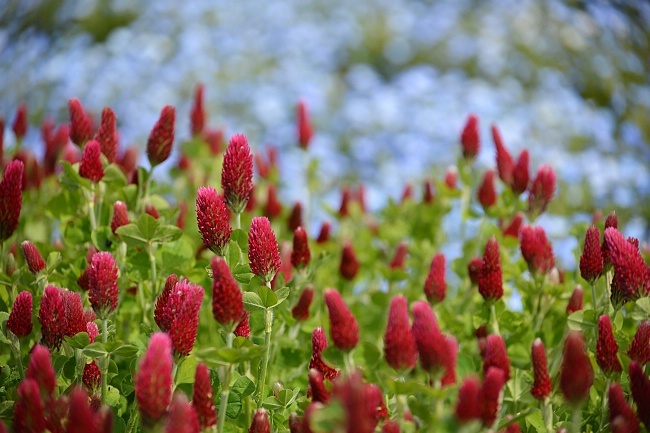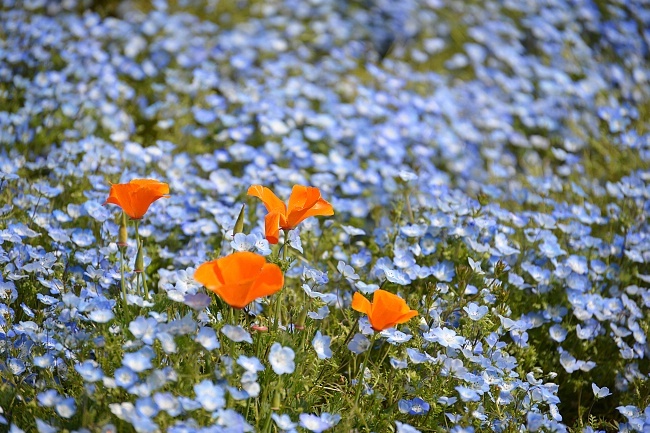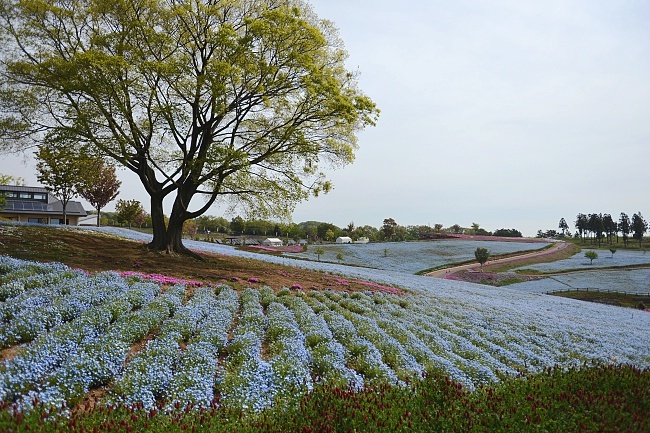 Ashikaga Flower Park
Not too far away is the Ashikaga Flower Park in Tochigi Prefecture. The large park is famous for its beautiful, hanging wisteria flowers, and is considered one of the best places in Japan to see them. Due to that it can get extremely crowded during the peak season, even on weekdays, and this is no doubt compounded by the fact that the peak often falls during golden week.
The wisteria typically reach full bloom in early May, and looked to be right on track as most of the blossoms were in the early opening stages today. Some of the more advanced flowers clusters were almost fully opened, but most had mostly closed blossoms. Many of the park's white wisteria blossoms, which usually bloom a little bit later than the purple and pink varieties, were still in the very early stages of opening.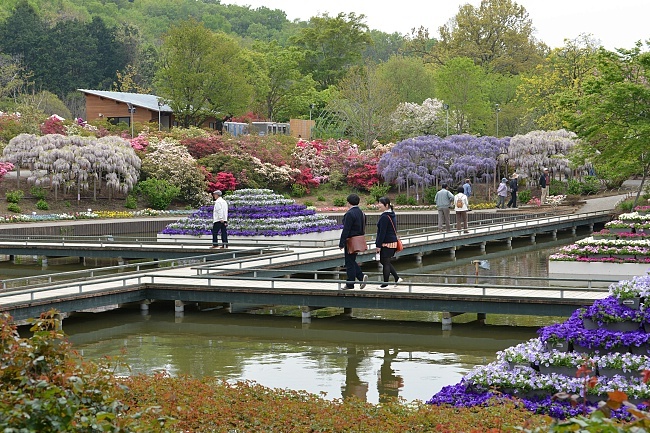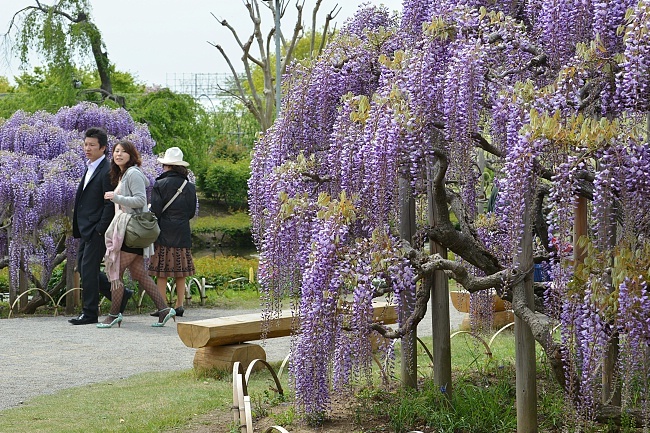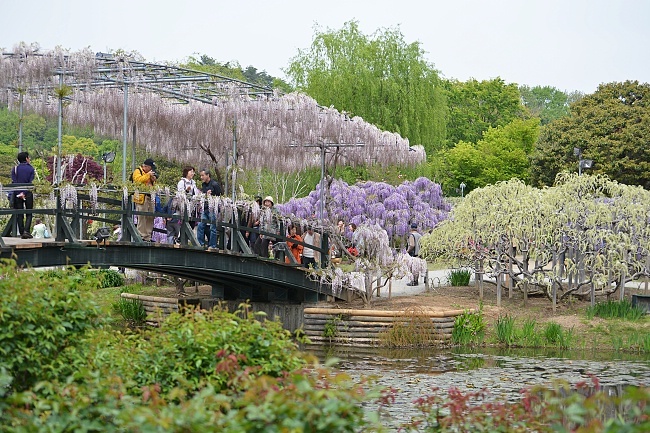 The park features some extremely large, extremely old wisteria trees which each spread out over several hundred square kilometers and must be supported by trellises. The oldest is over 100 years old, and there are a few other unique varieties that can be seen around the park including a type that has flowers that are up to 1.8 meters long and another type that has an unusually large number of petals per flower cluster.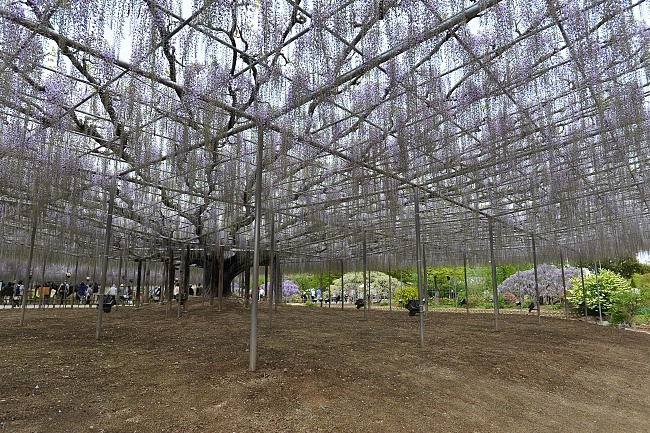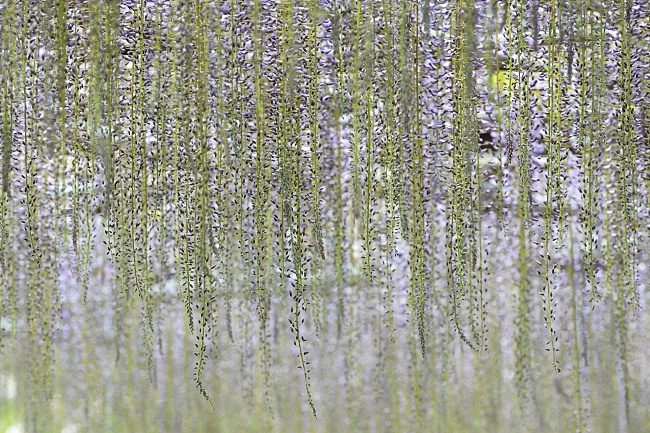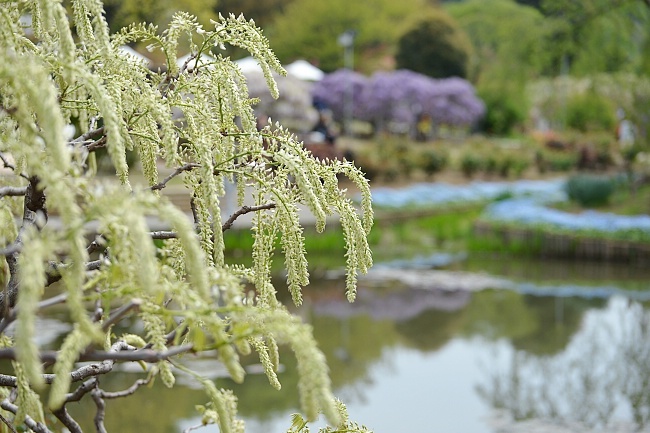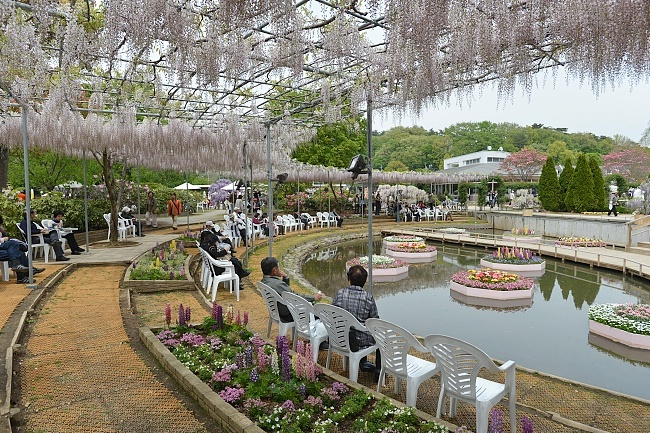 Other types of flowering plants can be found around the park, including all types of rhododendron bushes which were blooming in droves. Their vibrant pink, red, and white blossoms looked full and beautiful and stood in nice contrast to the wispy wisteria that grew along side or above them. Another popular flower is the Golden Chain trees which form a tunnel at the center of the park. Though not related, their yellow flowers resemble wisteria, but bloom much later.
The Ashikaga Flower Park is relatively easy to get to from Tokyo. More info on how to get to the flower park can be found on this page.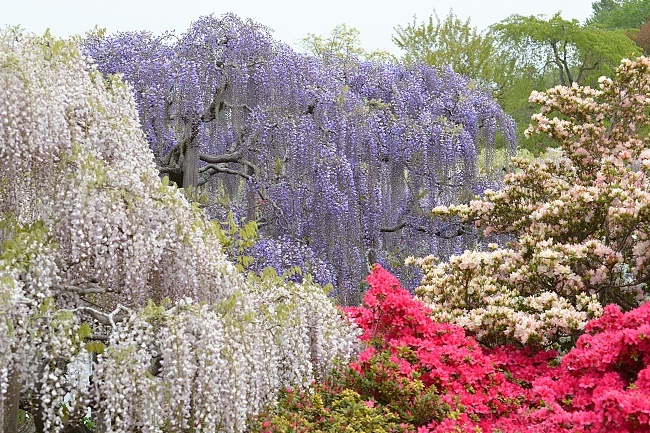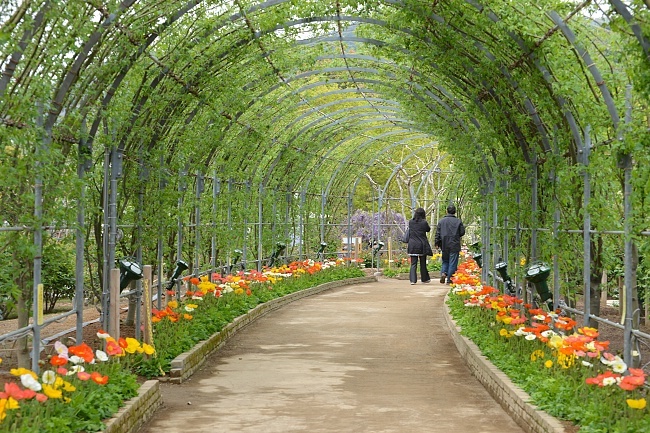 Chichibu Hitsujiyama Park
The city of Chichibu is located in Saitama Prefecture, and can be reached in about 90 minutes from Tokyo. Chichibu is perhaps best known for its Chichibu Night Festival, which is held every December. In spring, the Chichibu Hitsujiyama Park is also very popular, as its moss pink fields draw scores of visitors, as I had witnessed today.
Almost ten types of shibazakura provide colors of pink, white and purple at the park. The flowers are strategically planted to produce delightful designs across the fields. From the northern end of the fields, gorgeous views shibazakura with Mount Buko in the backdrop can be seen.
To get to the park from Tokyo, take a direct limited express train by Seibu Railways from Ikebukuro Station to Yokoze Station (75 minutes, 1340 yen, hourly departures). Local trains also make the trip costing 620 yen less but taking about 30 minutes longer.
Japan Rail Pass holders may choose to take a shinkansen from Ueno Station to Kumagaya Station (30 minute, 3000 yen), and transfer to Chichibu Railways for Ohanabatake Station (70 minutes, 840 yen). Only the shinkansen leg of the trip is covered by the Japan Rail Pass. The park is a 20 minute walk from Yokoze Station or Ohanabatake Station.
Admission to the shibazakura fields costs 300 yen and opening hours are from 8:00 to 17:00 daily. Festival stalls are set up at the entrance and are scheduled to remain for as long as the viewing period (till May 6) lasts.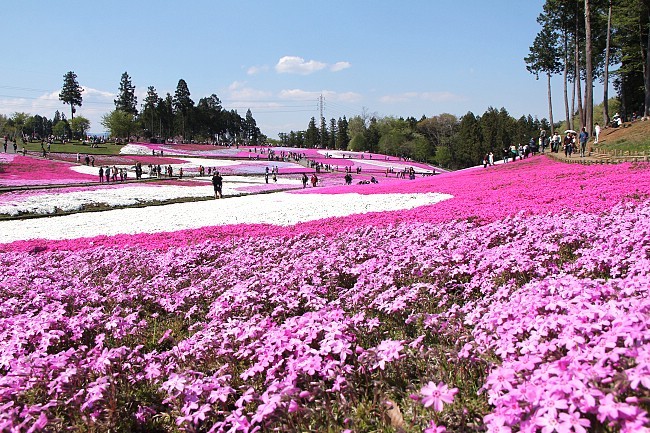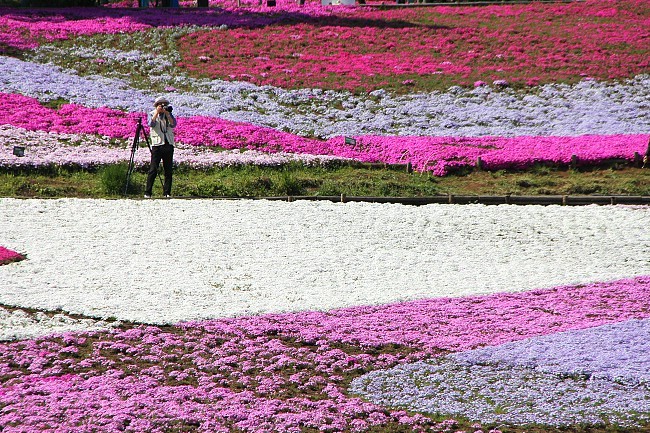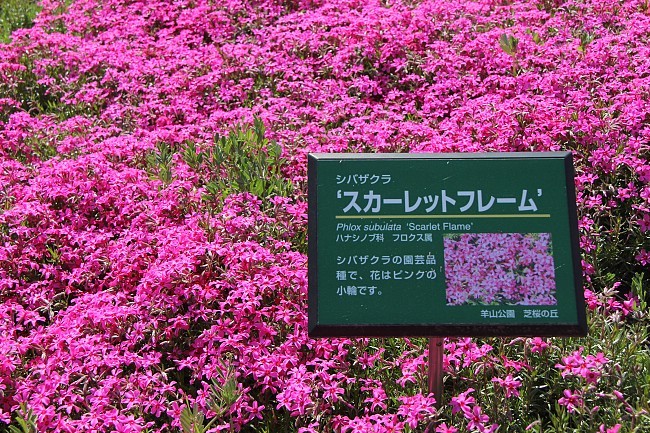 The Treasure Garden Tatebayashi
The Treasure Garden at Tatebayashi City of Gunma Prefecture has various seasonal flowers on display for most of the year. Around April to mid May, the garden is at its most colorful with shibazakura, nemophila, poppies and other flowers in bloom. Had I visited earlier this month, I might have been able to catch some views of cherry blossoms here as well, but nevertheless I thoroughly enjoyed the wonderful sight of wide fields of shibazakura in bloom today.
At the northern end, the Blue Garden was also looking pretty, featuring flowers of blue shades ranging from the baby blue of nemophila to the violet of verbena. Beside the Blue Garden was an area with lovely linaria.
Over at the southern end, plants at the Rose Garden have yet to start flowering. The roses here usually bloom twice a year: from mid May to mid July, and from mid September to mid November. A nice cafe and souvenir shops complete the leisurely experience at the Treasure Garden, which takes about one to two hours to tour around.
To get there from Tokyo, take a limited express train by Tobu Railways from Asakusa Station to Tatebayashi Station (1 hour, 1860 yen, 2 departures per hour), and then a 10 minute taxi ride (less than 1500 yen). Admission charges vary according to the season; it is 1500 yen when the shibazakura are in bloom, expectedly until May 6.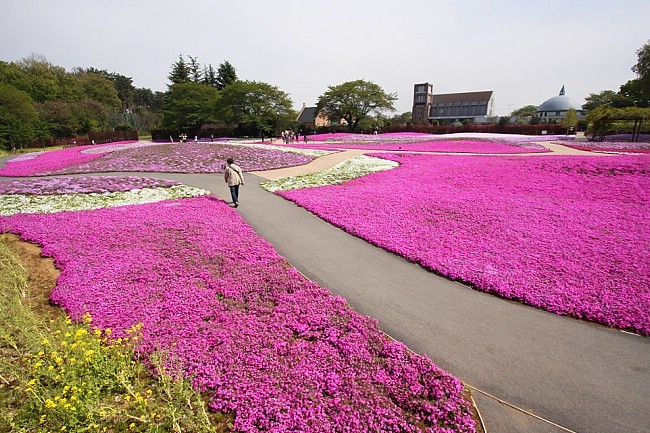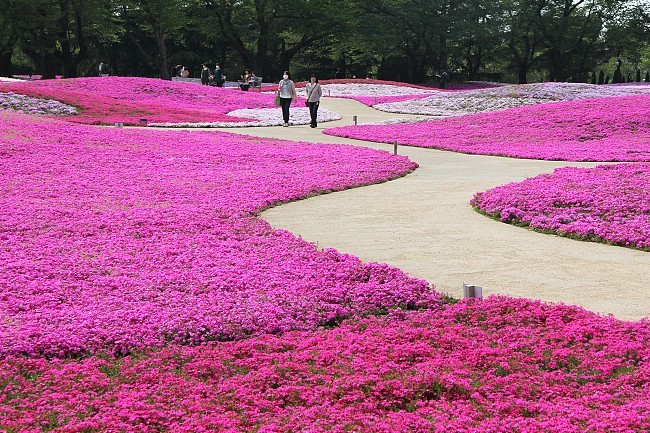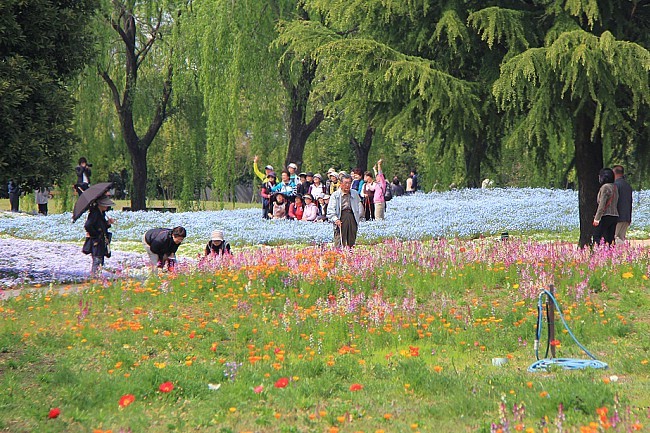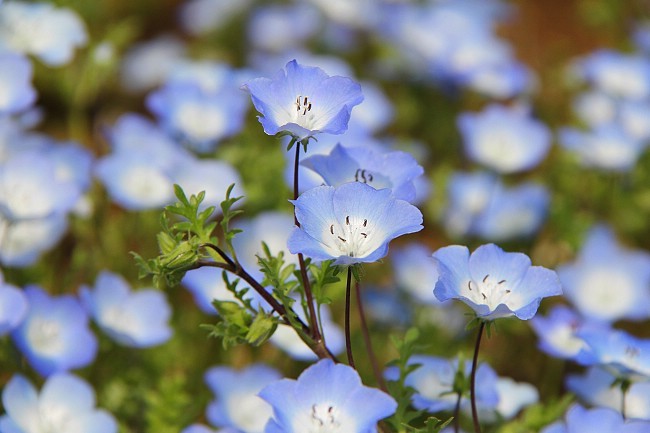 Takasaki Misato Shibazakura Park
A shibazakura festival is going on at the Takasaki Misato Shibazakura Park and will continue until May 12. During the festival, stalls selling local products and flowers are set up around the park's entrance. Of course, the main attraction at the park are its wide shibazakura fields covering the slopes of a hill.
Various types of phlox moss are planted across the fields to create designs which resemble the dress worn by Orihime - the weaving-maiden from a popular Japanese legend. Although the park was not as big as the other locations that were visited today, it was very photogenic and one of my favorites.
Unfortunately, the park is relatively inaccessible by public transport: one has to first get to Takasaki Station, before taking a 40 minute bus ride which requires a transfer that does not have frequent connections. Rental cars are recommended, because they also provide convenient access to the other locations listed above. Car rental outlets are available at Takasaki Station, the transport hub of Gunma Prefecture. Trains connect Takasaki Station with Tokyo's Ueno Station (110 minutes and 1890 yen by local train, 50 minutes and 4600 yen by shinkansen). The respective trains are covered by the Japan Rail Pass.