Cherry Blossom Report: Kyoto
Scott's Japan Travel Journal
by Scott, staff writer of japan-guide.com
This journal is a log of my travels within Japan. Here you'll find my personal opinions on the places I've been and the things I've seen. Also expect to see the occasional review and editorial. Thanks for reading.
2015/04/09 - Cherry Blossom Report: Kyoto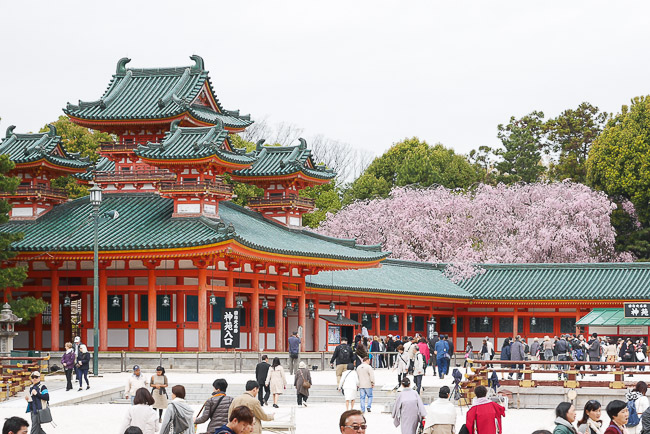 At this point the cherry blossom season is coming to a close around most of Japan's major cities, and is now moving on to the more northern areas of Japan (check out our sakura forecast to see where the peak currently is now). However, there are several sites around the cities that feature later blooming cherry varieties where visitors who are late to the main season can still enjoy blossoms in full bloom, especially the beautiful Yaebeni Shidarezakura weeping cherry trees. So today I took another visit to Kyoto to check up on some of these later blooming spots. While the main Somei Yoshino trees around the city reached full bloom on April 1st and are now mostly beyond their peak, the city's Yaebeni Shidarezakura were still at their peak.
Kyoto Botanical Garden
April 9, 2015 - beyond peak (Somei Yoshino)
April 9, 2015 - full bloom (Yaebeni Shidarezakura)
The Kyoto Botanical Garden is a large park in northern Kyoto next to Kitayama Station on the Karasuma Subway Line. As a botanical garden, the park is home to a huge variety of plants and flowers, in addition to groves of cherry trees of all different types. As expected, the Somei Yoshino trees around the park were beyond peak. But there is also a grove of cherry trees completely filled with later blooming varieties such as Yaebeni Shidarezakura. These weeping cherry trees seem to have just reached full bloom and should remain at their peak for about another week. In addition, the cherry trees will be illuminated in the evenings from 18:30 to 21:00 until April 12th.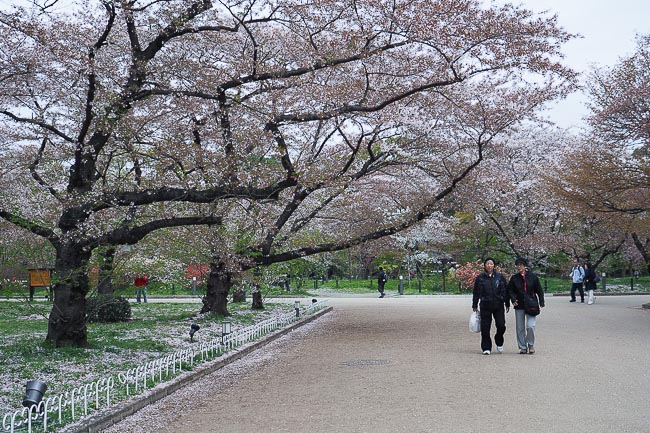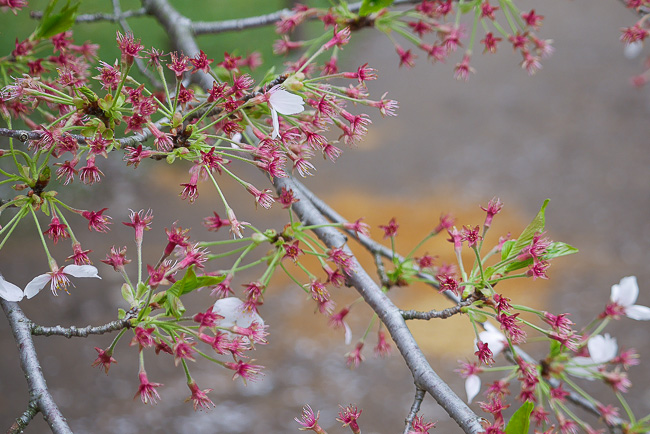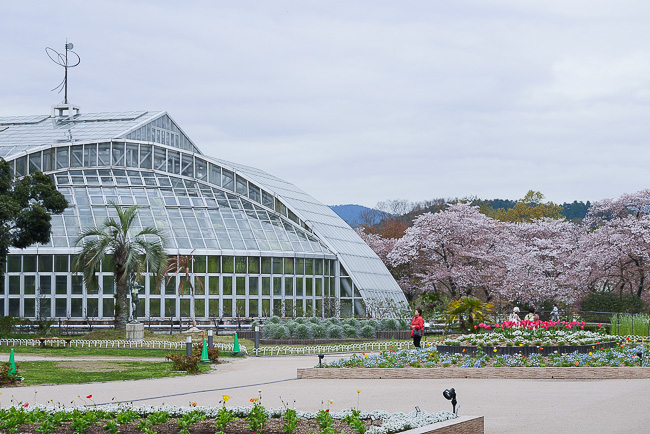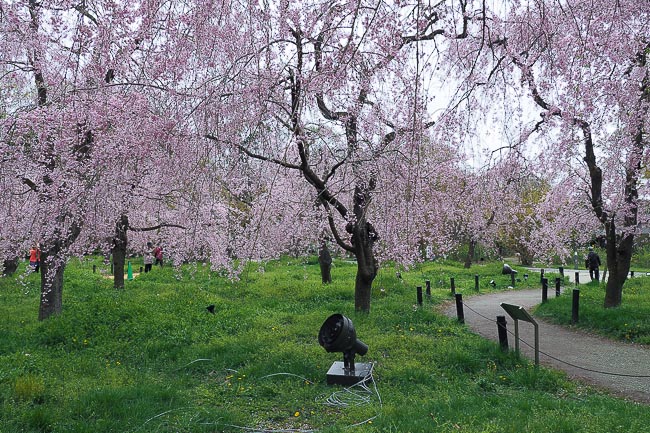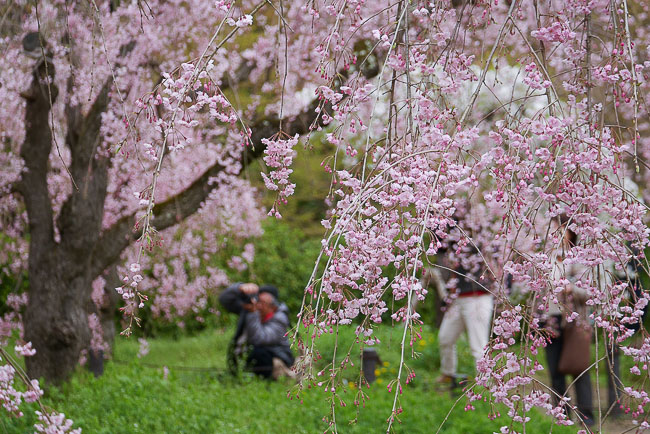 Kamogawa Riverside
April 9, 2015 - full bloom (Yaebeni Shidarezakura)
The Kamogawa River, which has hundreds of cherry trees scattered along its riverbanks, runs along the western edge of the Kyoto Botanical Garden just outside the park grounds. Much of these are Somei Yoshino trees which were still losing their petals today, however the section adjacent the botanical garden is planted with a row of beautiful weeping cherry trees that overhand a path along the riverbank. The blossoms were at full bloom today, and definitely worth a visit.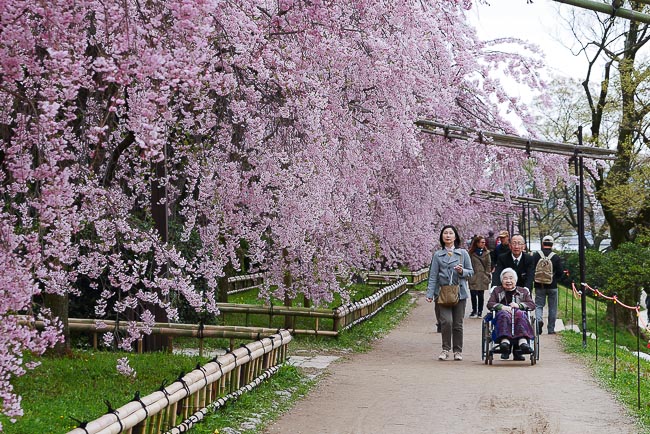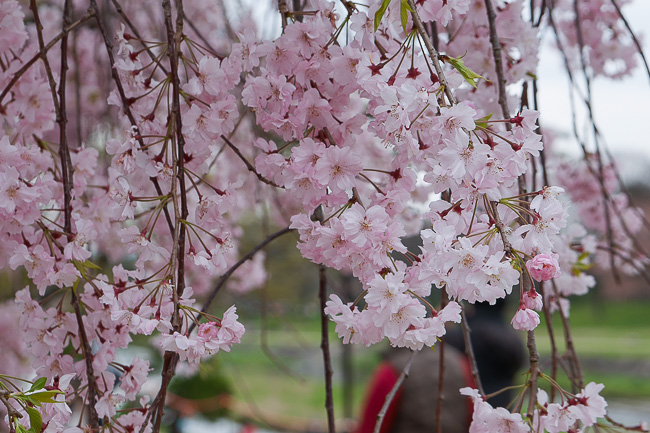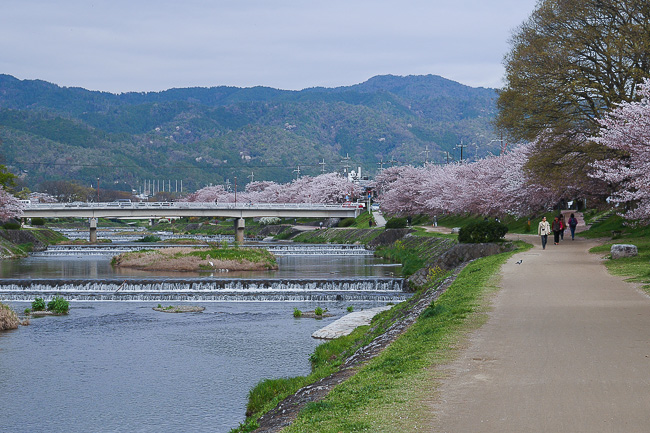 Philosopher's Path
April 9, 2015 - beyond peak (Somei Yoshino)
April 9, 2015 - full bloom (late blooming varieties)
The cherry blossoms along the Philosopher's Path were at full bloom when Raina visited on April 3rd, and since then have been dropping petals all along the canal. Most of the Somei Yoshino trees were almost bare at this point, however the path remained surprisingly nice due to a large number of (and a lot more than I ever realized) later blooming cherry trees that were still at full bloom. These later blooming blossoms should remain nice for several more days at least.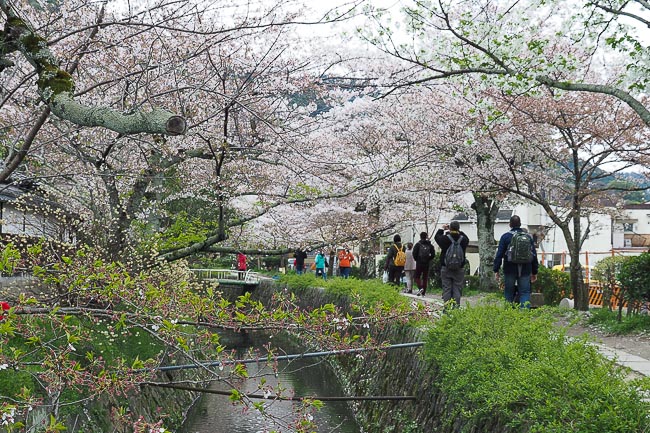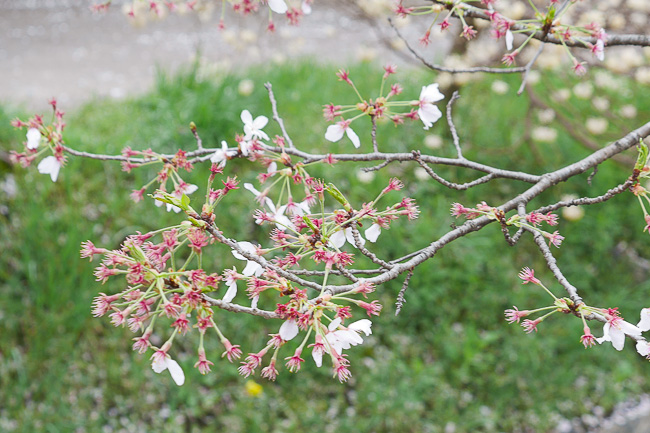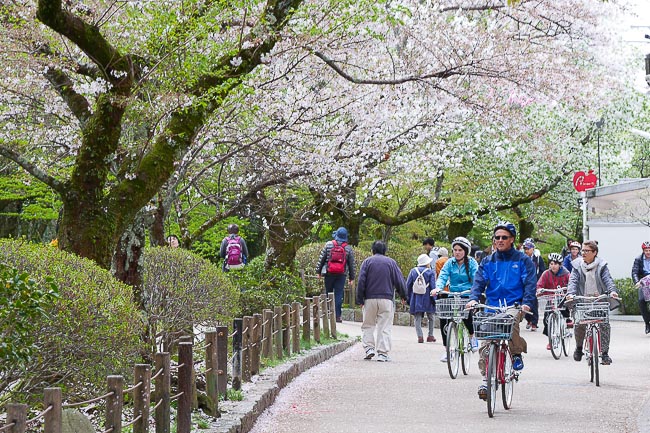 Heian Shrine
April 9, 2015 - full bloom (Yaebeni Shidarezakura)
Heian Shrine is another popular later blooming cherry blossom spot, and was not surprisingly crowded today as the Yaebeni Shidarezakura planted throughout the garden behind the shrine buildings just recently reached their peak. The darker pink flowers were full and beautiful around the shrine grounds and should remain at their best for several more days.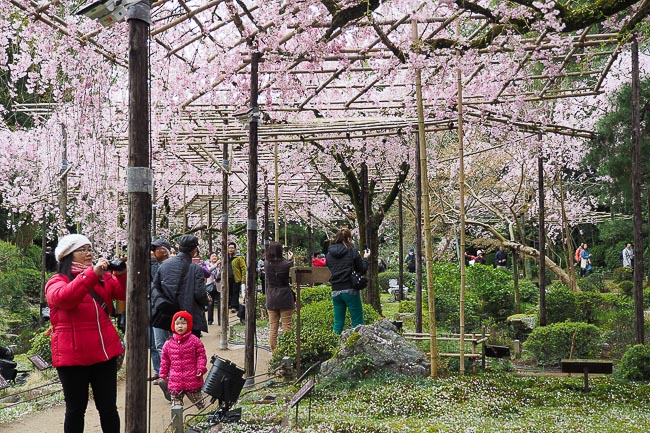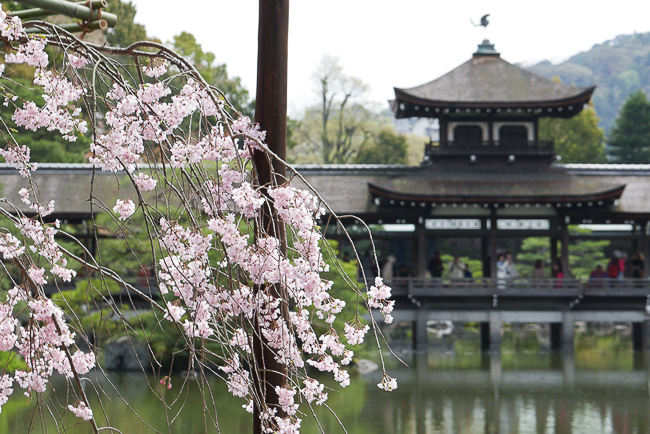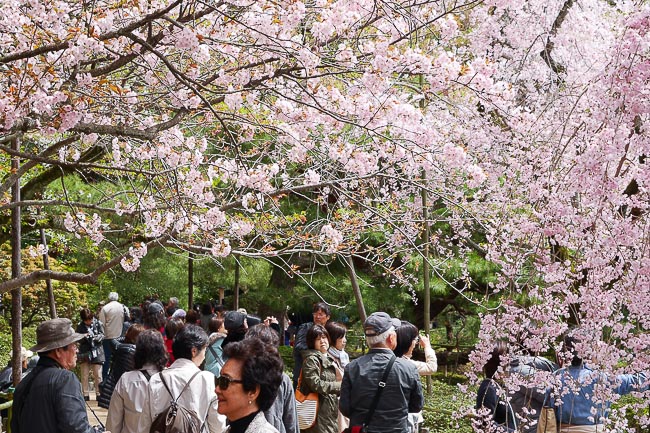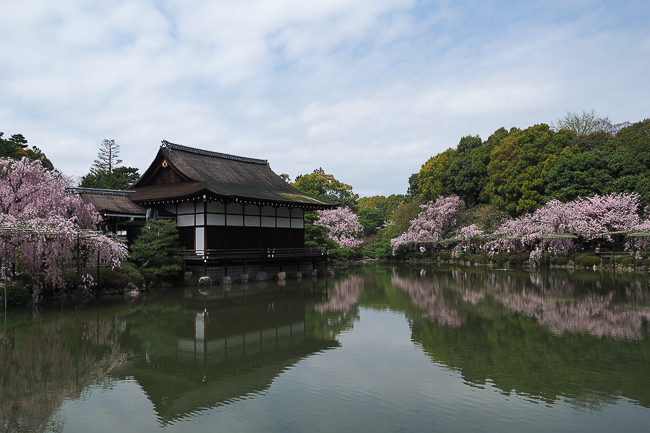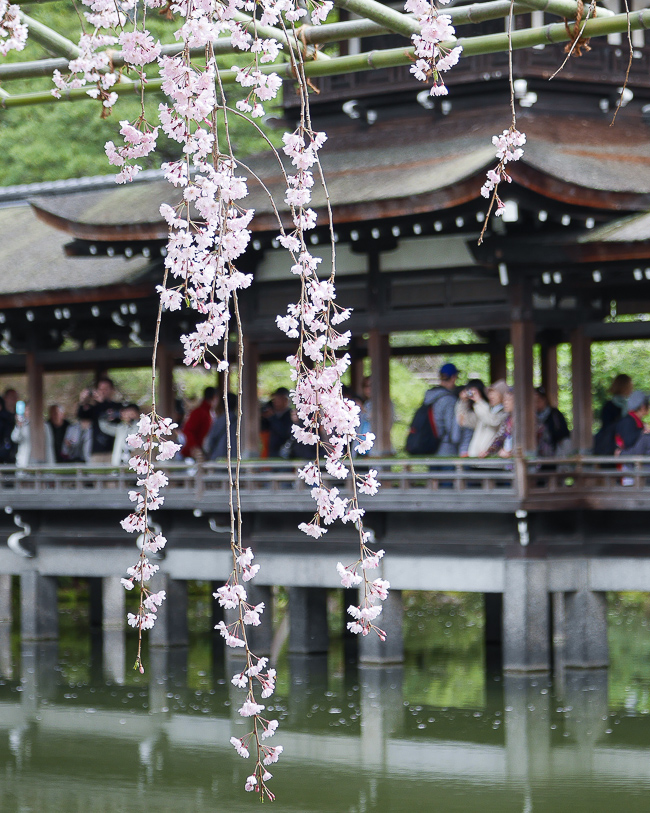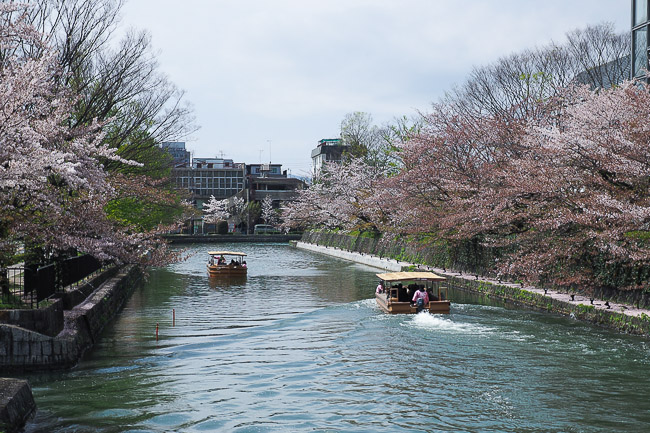 Maruyama Koen
April 9, 2015 - beyond peak
On my way back to central Kyoto I stopped by Maruyama Koen one more time. The trees were already losing their petals when I lasted visited the park on April 6, 2015, and since then the majority of trees have lost almost all of their petals.