Wisterias at the Kawachi Fuji Garden
Scott's Japan Travel Journal
by Scott, staff writer of japan-guide.com
This journal is a log of my travels within Japan. Here you'll find my personal opinions on the places I've been and the things I've seen. Also expect to see the occasional review and editorial. Thanks for reading.
2015/04/30 - Wisterias at the Kawachi Fuji Garden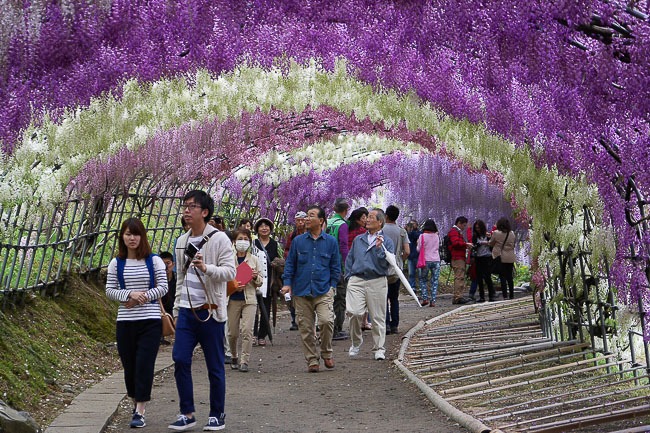 Important Notice: The garden's admission system changed in 2016, requiring advance reservations. See our Kawachi Wisteria Garden page for details.
Today Schauwecker and I undertook a mission to check out one of the more elusive, yet popular sites in Japan. You may remember photos of beautiful tunnels of purple, pink and white wisteria flowers that went viral on the internet a while back. Those tunnels are located in the Kawachi Wisteria Garden (ë═ôÓôíëÇ, Kawachi Fujien) a private garden in Kitakyushu, which exploded with those pictures on the foreign blogosphere and have become a popularly asked about destination for flower hunters.
The Kawachi Wisteria Garden only opens seasonally in spring and autumn (mid April to late May, and mid November to mid December respectively). Its main feature are the beautiful wisteria vines planted over an 110 meter long tunnel, an 80 meter long tunnel, two domes, and a large trellis the size of several tennis courts.