Takumi no Waza - Master Craftsmanship of Japan
Scott's Japan Travel Journal
by Scott, staff writer of japan-guide.com
This journal is a log of my travels within Japan. Here you'll find my personal opinions on the places I've been and the things I've seen. Also expect to see the occasional review and editorial. Thanks for reading.
2015/06/23 - Takumi no Waza - Master Craftsmanship of Japan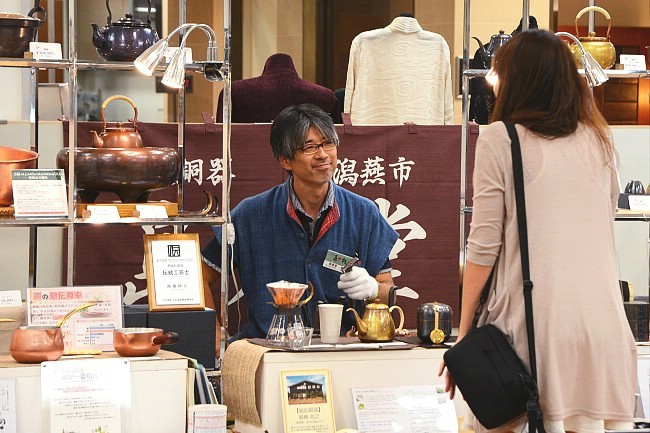 Today Schauwecker and I visited the Takumi no Waza, or Master Craftsmanship of Japan, a twice-yearly handicraft exposition of craftsmen held on the 7th floor of Mitsukoshi's flagship department store in Tokyo's Nihonbashi District. The exhibition runs through June 30, 2015 and features nearly 70 craftsmen from across Japan who specialize in traditional household goods, hand-dyed clothing, lacquerware, metalwork, fans, woven bamboo baskets, jewelry, furniture and more.
The artisans each maintain a booth where they display and sell their products. Over 30 of them also demonstrate their skills to visitors. These men and women represent some of the most skillful practitioners of their crafts which shows in the quality of the products on display. But don't be surprised by the price tags; this handicraft fair is decidedly high-end. Nonetheless, the exposition is incredibly interesting in letting you discover some of Japan's best traditional goods while meeting and talking with the craftsmen who created them (if language skills permit).
The Nihonbashi District and the Mitsukoshi department store are a fitting location to host the Takumi no Waza exhibition. The district has flourished over the centuries as a center of nationwide trade, while the department store has a 350 year history of selling household goods to Tokyo's shoppers. If you can't make it to this June's exhibition, note that the next Takumi no Waza is expected to take place from late December 2015 to early January 2016.