Sean's Japan Travel Journal
by Sean, staff writer of japan-guide.com
2012/01/27 - Kusatsu Hot Springs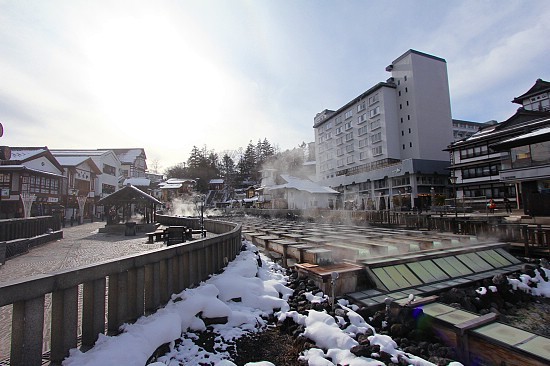 A day which starts with a trip to an onsen can't be bad, especially if it's to Kusatsu. It was a beautiful day: nice sunshine, clear sky, good company. It was cold but not too cold - a heart charged with excitement brings with it warmth to the body.
We arrived at the popular Otakinoyu hot spring early cos' we started early - it's strange how people don't seem to mind sacrificing a few hours of sleep and willingly brave the winter cold for things that are worthwhile.
Otakinoyu is famous for its Awaseyu, which consists of five hot baths with water of increasing temperatures. On this particular day, the temperatures were 39, 42, 44, 45 and 46 degree Celsius respectively. I barely made it through 44. Convinced that it is beneficial to complete the course, I tried 45, but was unable to put myself in beyond my knees. Try again next time.
| | |
| --- | --- |
| Otakinoyu | Adding alkaline to the spring water |
We took a stroll down the river to look at the spot whereby they add alkaline to neutralize the acidic spring water, so that the people downstream would have streams with fish in them. Then, we went to the town center to look at the Yubatake.
Today, the town center was gorgeous. There was a layer of white covering the roofs of the buildings, and packets of snow littering the Yubadake area. Even the cat seemed to enjoy itself. Noticed a familiar name in not so familiar colors: 7-Eleven was brownish instead of its usual red and green. I later learnt that it was required of the store to blend in with the Kusatsu colors.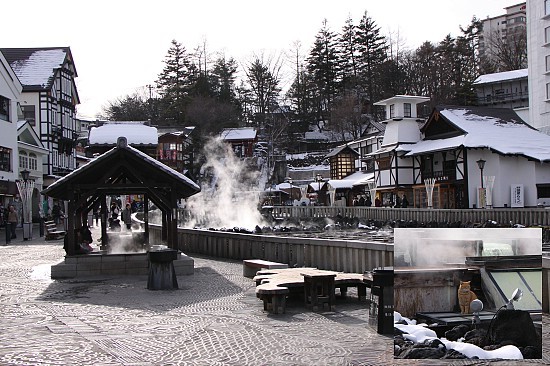 A short walk brought us to Osakaya, the ryokan which we were to put up at tonight. At the door, we were pleasantly surprised that our name was put up on the wall (second from the left) - great hospitality. What's left then is to put up with a stomach keen for the delicious feast that was waiting in the evening. The room was really nice; the service was better; the Japanese of the Japanese lady who served us at dinner: immaculate.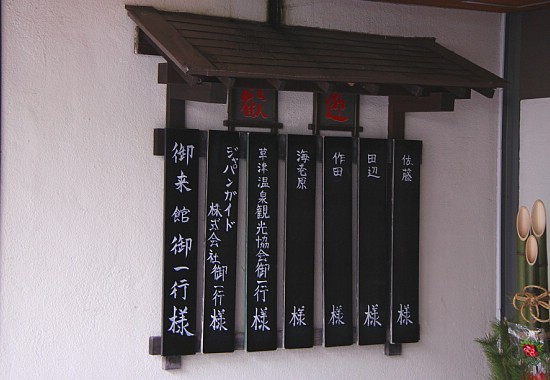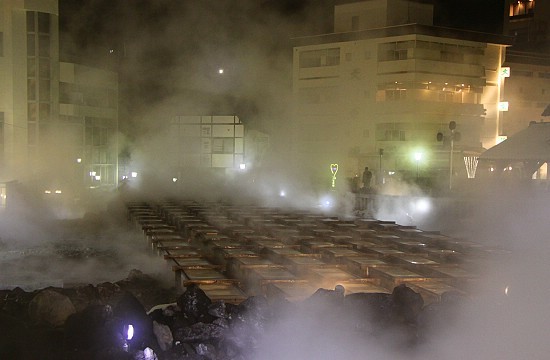 After a good rest for the night, we attended the Yumomi performance the following day, and received a souvenir towel each for our participation. It was a fun experience. Next, we took a walk through the Sainokawara Park to get to the Sainokawara Rotenburo (open-air hot bath). It was a nice stroll and the open-air hot bath was amazing. Kusatsu's great! I'm sure I'd be visiting again fairly soon.