Cherry Blossom Report: Kumamoto
Sean's Japan Travel Journal
by Sean, staff writer of japan-guide.com
2012/04/03 - Cherry Blossom Report: Kumamoto
Today we travel to Kumamoto, the city with the famous Kumamoto Castle, one of the most beautiful in Japan. Kumamoto is usually one of the first cities in Japan to reach full bloom. Indeed, the Weather Agency announced that the city's cherry blossoms have reached full bloom yesterday. By the way, the first cherry blossoms in the cities of Hiroshima and Osaka also opened yesterday. Today, they started to open in Kyoto. It should take approximately one week from now before peak season is reached in the Chugoku and Kansai regions.
Kumamoto Castle
April 3, 2012 - Petals starting to fall
It was drizzling slightly when we arrived at Kumamoto. Approaching the castle, we noticed lots of fallen petals under the cherry trees along the moat. The wind was particularly strong today, which probably contributed to the faster-than-expected dropping of petals.
As we passed through the gates of the castle, we noticed nice cherry trees in full bloom, which made nice foreground additions to our pictures of the gorgeous wooden turret above the castle walls. The path leading to the main keep had strategically planted cherry trees presenting attractive views; they were also in full bloom, shedding petals due to the strong wind.
There was lots of activity going on at the open space just outside the main keep. Visitors were enjoying the magnificent scenery of the castle and its buildings, and the cherry trees at their peak. There were also people dressed in traditional costumes posing for pictures to be taken. Hereafter for a few more days, it should still be great for visitors hoping to catch Kumamoto Castle with its cherry trees at full bloom - provided that the wind kami (deity) feels co-operative.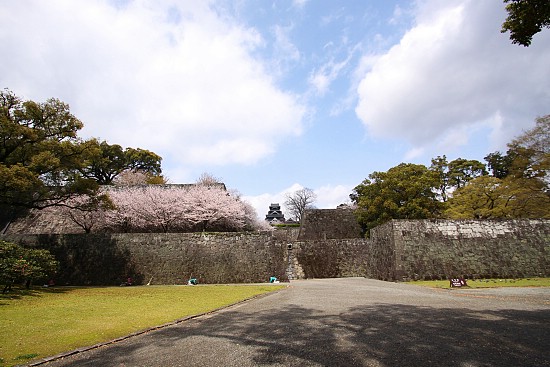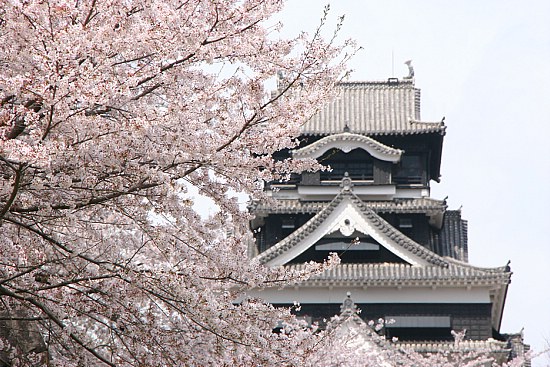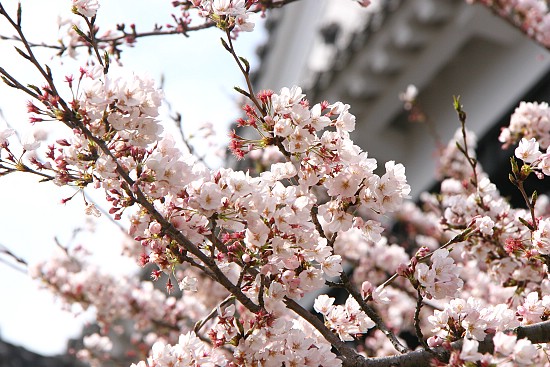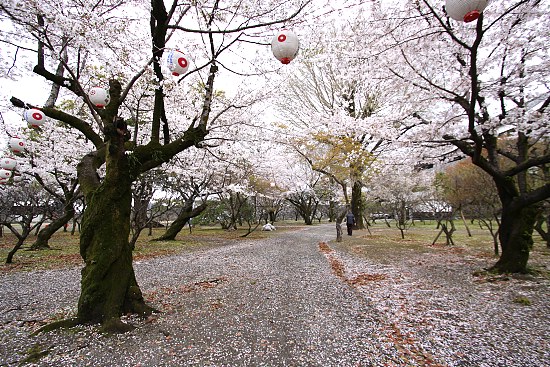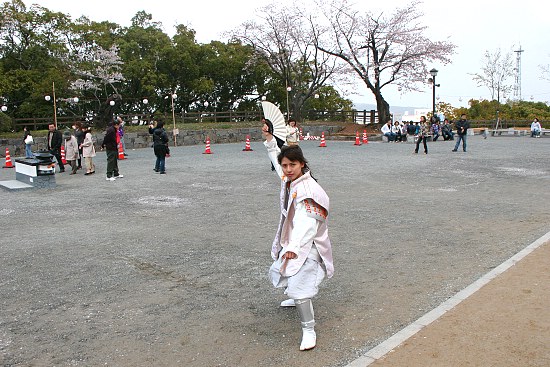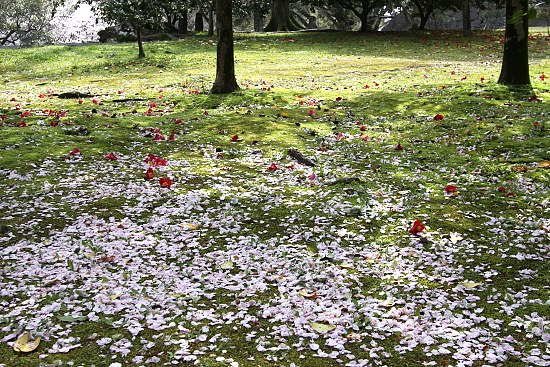 Suizenji Garden
April 3, 2012 - Petals starting to fall
Suizenji Garden is a unique garden which is designed with certain characteristics that represent famous locations in Japan. One of its most striking features is a miniature of Mount Fuji, immediately recognizable at first sight.
By the time we arrived at the garden, the weather had turned for the better, but the wind was still strong. The state of the cherry blossoms was similar to how it was at Kumamoto Castle: they were at full bloom but petals were starting to fall.
Incidentally, the Sanyo Shinkansen ceased operations temporarily earlier because of the strong winds. The next few days are forecasted by weather agencies to be sunny and less windy, so we are optimistic that the season will not be further shortened due to the elements of nature.