Cherry Blossom Report: Kyoto
Sean's Japan Travel Journal
by Sean, staff writer of japan-guide.com
2012/04/11 - Cherry Blossom Report: Kyoto
It looks set to be a wet day. Weather forecasts have indicated rain nationwide, with many cities likely to see lightning.
I am making my way back to Kyoto to revisit Arashiyama and Maruyama Park, and I wonder how the cherry blossoms there have been faring since I visited them on April 6 and April 9. As I write while on board the shinkansen, the rain and wind outside doesn't seem too strong; this is good news for the petals of the already open cherry blossoms.
Maruyama Park
April 11, 2012 - Full bloom
"My toes are wet", was the thought on my mind at the time when I arrived at Maruyama Park. There were many visitors, albeit not as many as it would be if not for the bad weather. Most festival food stalls were closed; their owners must have read the weather reports.
The cherry blossoms though, are open, and peak has been reached here. Actually, I saw some signs that the rain did take a toll on some of the flowers: some cherry blossoms were missing petals which I found to be on the ground. The rain is forecasted to stop at the end of the day, so hopefully the majority of the blossoms will remain till the weekend at least.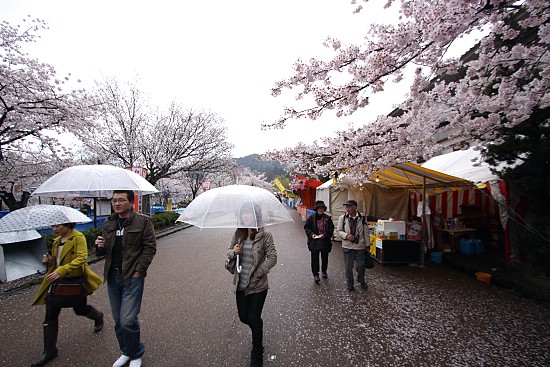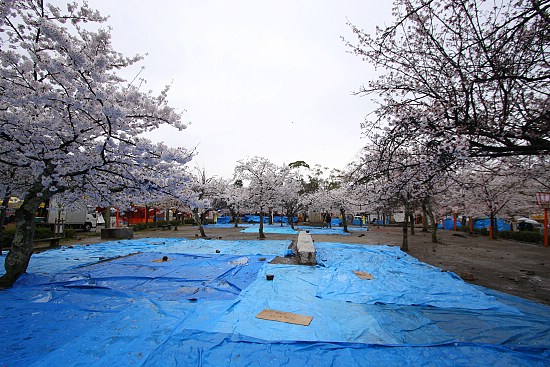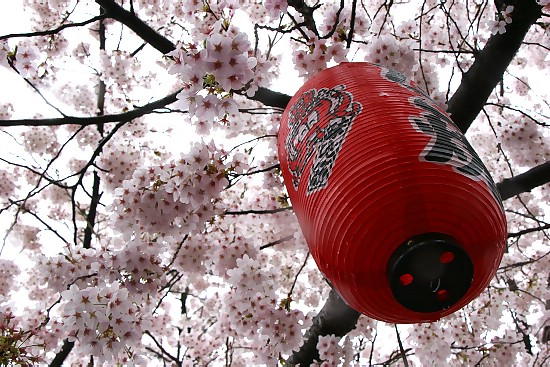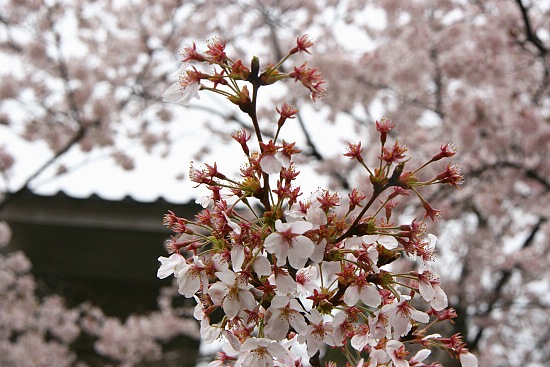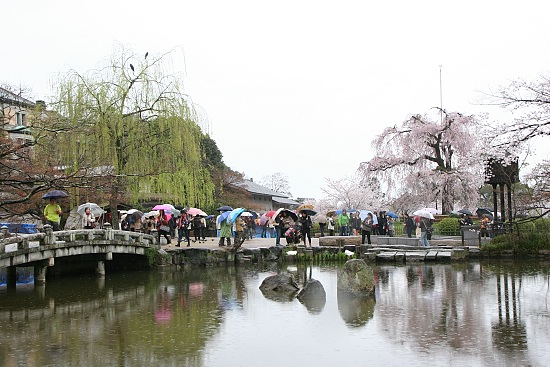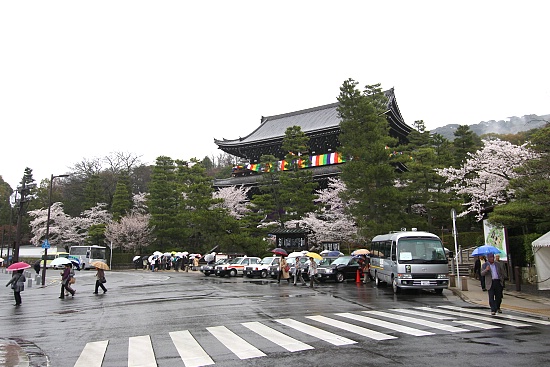 Arashiyama
April 11, 2012 - Full bloom
The cherry trees at Arashiyama usually reach peak slightly later than the average in Kyoto, but today I found the trees here to be in full bloom. And I mean full full bloom (sic), as in if I had counted the blossoms one by one, I would have probably obtained a result of 99.5% open. These cherry blossoms look really strong with their petals sturdily attached; they will remain to greet visitors this weekend and possibly beyond.
The cherry blossoms were great and I would have taken so many more pictures if not for the wretched rain which spoiled things on four accounts: 1) It was considerably more difficult to take pictures with one hand holding an umbrella. 2) I had to constantly wipe the camera with the 100% all cotton shirt I was wearing. 3) When I did manage to take a picture, there were as many other umbrellas as cherry blossoms in it. 4) By the time I was done, I was walking through puddles as if they didn't exist because it didn't matter anymore.
Tomorrow should see better weather in Kyoto, so if you are visiting, I am sure you would have a magnificent time taking magnificent pictures.