Cherry Blossom Report: Hirosaki
Sean's Japan Travel Journal
by Sean, staff writer of japan-guide.com
2012/05/07 - Cherry Blossom Report: Hirosaki
One week after my last visit, today I visit Hirosaki again to check out the development of the cherry blossoms at its castle.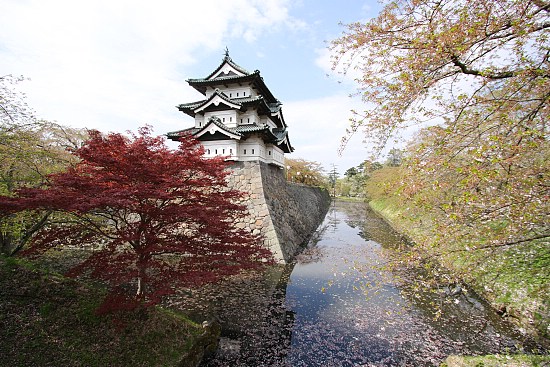 Hirosaki Castle
May 7, 2012 - End of season (Somei Yoshino)
May 7, 2012 - End of season (Weeping cherry trees)
May 7, 2012 - Full bloom (Yaebeni weeping cherry trees)
May 7, 2012 - Approaching full bloom (50-80%) (Other late blooming varieties)
I was surprised to find that the petals of the Somei Yoshino cherry trees had fallen by such an extent. Not only did I come too late to see hanafubuki (blizzards of falling petals) here, even the moats were pretty empty of fallen petals. The ground was still soggy, so I'm guessing that the wet weather of previous days must have shortened the lifespan of the blossoms.
Nevertheless, there was still much to see at the castle grounds: the many Yaebeni weeping cherry trees near the main keep were in full bloom (albeit already shedding petals). Other varieties such as the golden-yellowish Ukon and the pinkish Azuma Nishiki were also at their peak, while the dark pinkish Kanzan were only at about the halfway mark.
Following the end of the Golden Week Holidays yesterday, the festivities have mostly ended. The west moat which was filled with rental boats just a week ago has returned to its usual calm. Some festival stalls still remain open, but the crowds have mostly dispersed and visitor numbers seem to be gradually going back to normal. The huge hanami parties have gone, but little picnics were spotted under the shade of still flowering trees. The cherry blossom season here has yet several more days to go, thanks to the many trees of the late blooming varieties.