Autumn Color Report: Route 292
Sean's Japan Travel Journal
by Sean, staff writer of japan-guide.com
2012/10/05 - Autumn Color Report: Route 292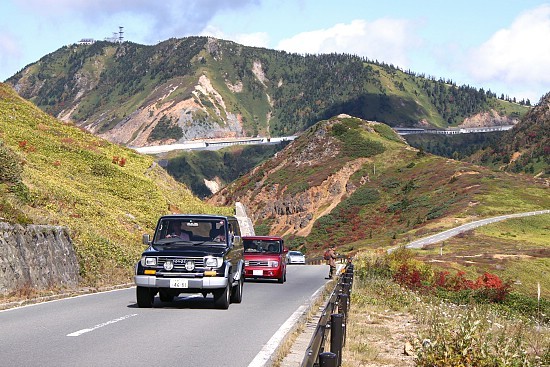 Today we travelled a section of Route 292 between Kusatsu Onsen in Gunma Prefecture and Shiga Kogen in Nagano Prefecture. The high altitude of this section of the route, which at one point reaches 2172 meters - the highest of all national routes in Japan - is the reason why autumn colors can be spotted fairly early around here.
Approaching from the Gunma side, we made our first stop at Kusatsu Onsen, one of the most famous hot springs in Japan. They are building a new public bath near the Yubatake, which is slated to be completed in spring 2013. The autumn colors at Kusatsu town were still predominantly green, but to be honest, rather than for the red and yellow of autumn leaves, people go to Kusatsu primarily for the milky white-yellow of its onsen waters.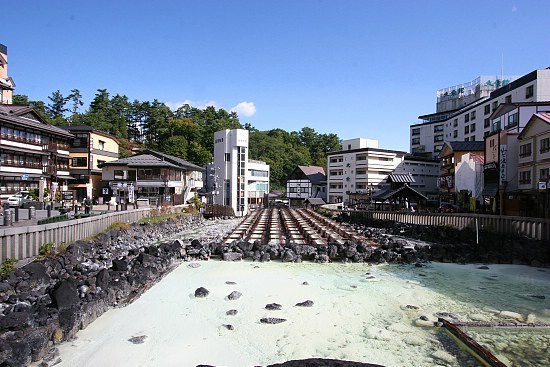 Moving on, we travelled along Route 292 which took us to higher grounds and great scenery. As we climbed the winding road, autumn foilage began to show with increasing density and intensity. A nice stream of other visitors were traveling the route as well, like us, making occasional stops at the check points which offered scenic views along the way.
It was great to look down onto the valleys and see the dark green from evergreen trees in contrast with the yellow, orange and fiery red from some of the deciduous trees, with the pastel green from the sasa (small bamboo plants) providing a nice variation.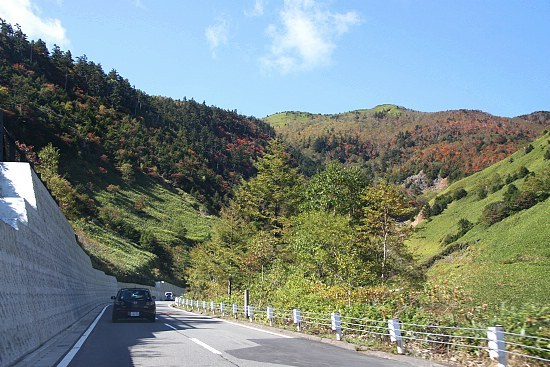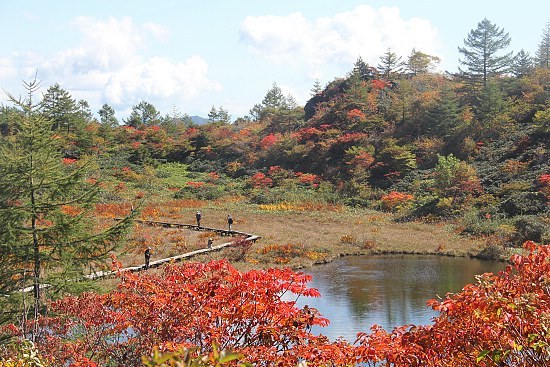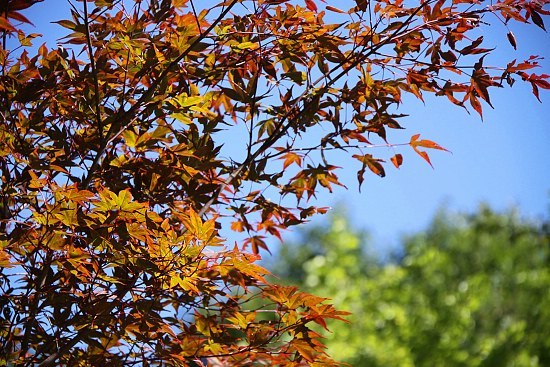 We arrived at Mount Shirane to quite a crowd of visitors, although it was not so packed as to make it unpleasurable. Views were very pleasant indeed, and autumn colors have reached their peak here. Actually, as we made the short 15 minute climb from the parking lot up to the top of the mountain, we saw some leaves of the nanakamado already beginning to dry up, perhaps signifying that peak might soon be over.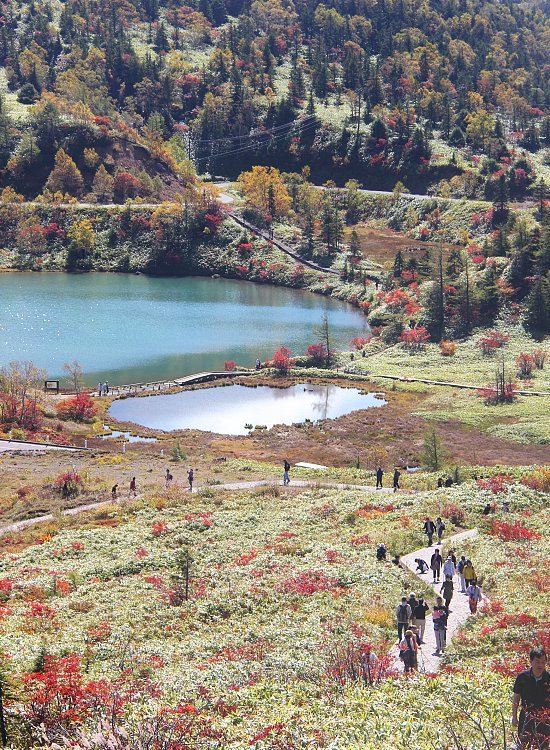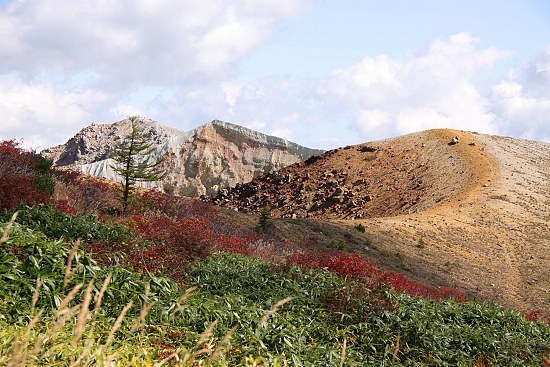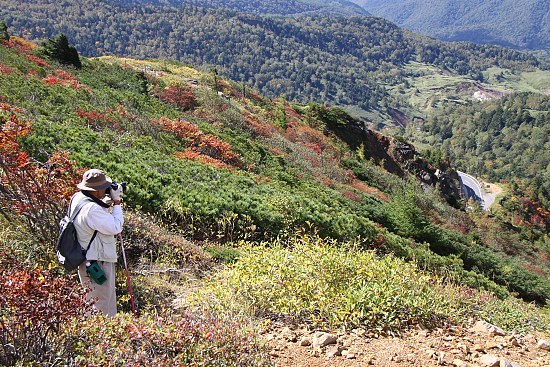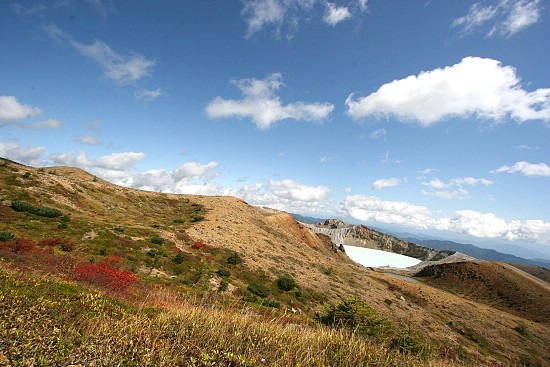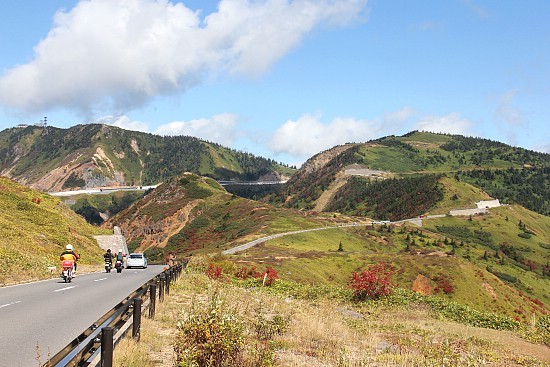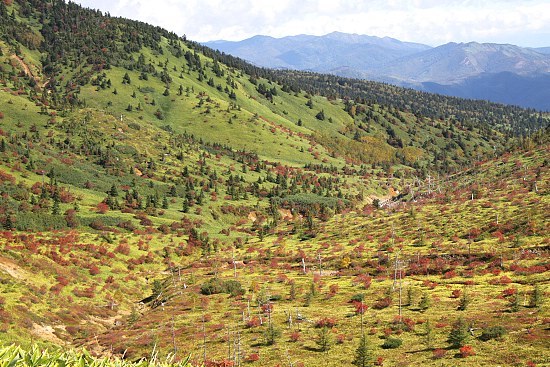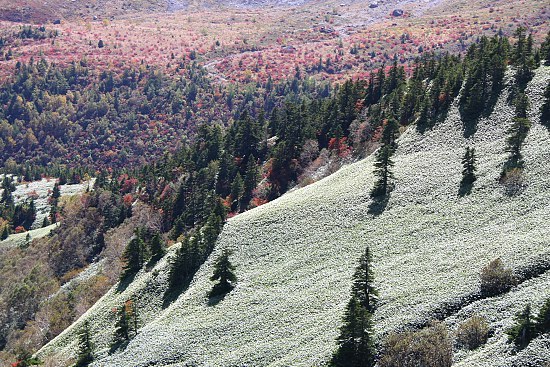 Making our way across Shiga Kogen, we noticed that the colors of the highlands were more developed on the Gunma side than on the Nagano side. Especially at lower elevations of the Nagano side of the highlands: colors were still mostly green, with the exception of some pockets of autumn colors such as that at the Ichinuma Pond.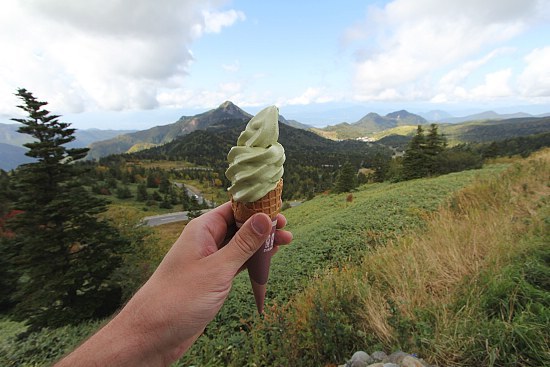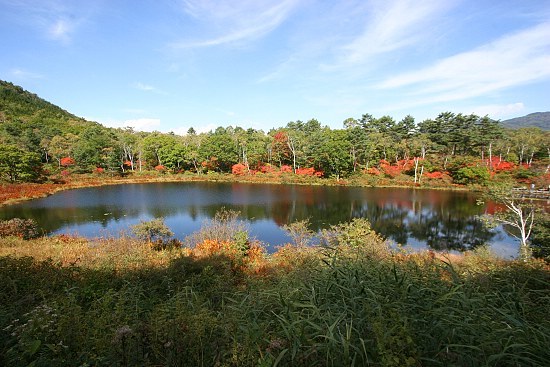 After descending Shiga Kogen, we took some time to visit the Jigokudani Monkey Park which was just around the corner. While this is not usually an autumn color spot, it was as usual fun to watch the monkeys as they swing around nimbly and carefreely around nature.