Sean's Japan Travel Journal
by Sean, staff writer of japan-guide.com
2013/02/17 - Tokamachi Snow Festival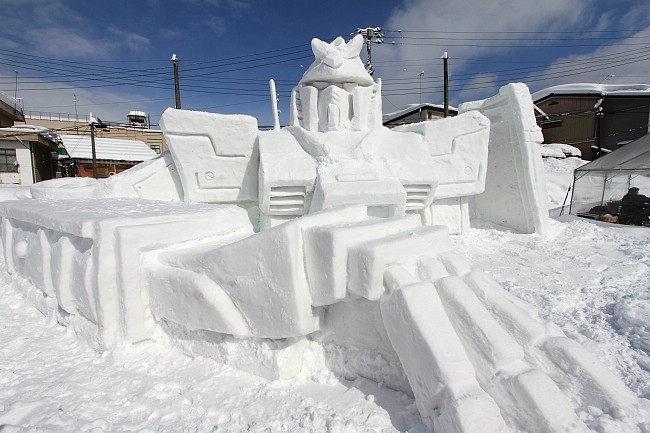 I have fond memories of Tokamachi because I had a great time during my last visit for the Echigo Tsumari Art Triennale. Today, I visited the city again and saw a totally different landscape from what I had seen last summer: Tokamachi experiences one of the highest snowfall rates in Japan, usually accumulating snow of depths two to three meters. Sources reveal that the snow depth of the day was about 240 centimeters.
Harsh winters around Tokamachi are double-edged swords: they lead to hardships that the locals experience, and to some extent are the reason for depopulation in the rural areas; but they also create winter wonderlands which provide breath-taking scenery and the platform for occasions such as the Tokamachi Snow Festival. At its 64th edition, this is one of the oldest snow festivals in Japan.
Lady luck granted us fair weather today. As our train approached Tokamachi Station, I was delighted by the gorgeous scenery outside: hills with frost covered trees, houses with seemingly new white roofs installed specially to celebrate the season, and cute automobiles moving gingerly on the streets as if they were afraid that the snow which they have accumulated on them might fall off.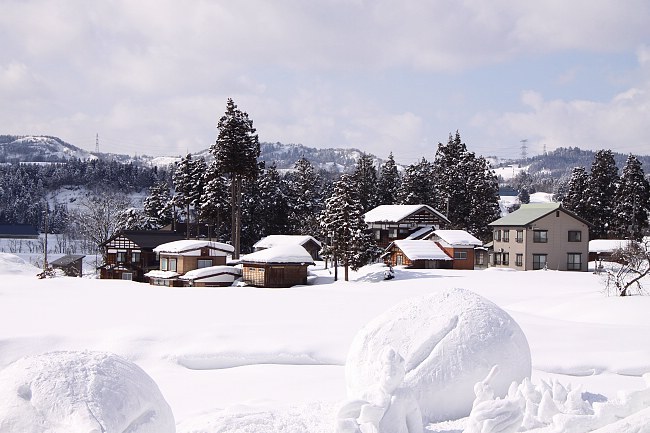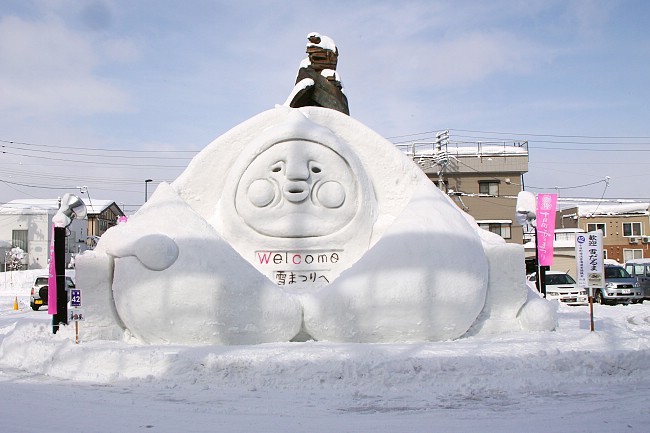 Close to the station, many shops lining the streets had snowmen with characteristics of the goods that they were selling displayed at their storefronts - the optical shop had a cute pair wearing glasses. Festive spirit filled the air as people, both young and old, strolled the streets and enjoyed the surroundings. The little ones in particular seemed to be having lots of fun playing with and in the snow.
Many snow sculptures were exhibited at various sites, some further away from the city center while others grouped into clusters located downtown. At one of the larger sites, the Community Hiroba, lots of other activities were taking place: people were playing volley ball in the snow, enjoying festival food and going down snow slides. Schauwecker and I thoroughly enjoyed the Tokamachi Snow Festival, especially as the rural setting provided the perfect backdrop for picturesque scenes. Maybe I have an affinity with Tokamachi, which never fails to provide me with lovely memories every time I visit.
For those interested to experience a snow festival closer to Tokyo, Tokamachi is much nearer to the capital city than Sapporo: it takes only about two hours to get from Tokyo to Tokamachi by train. The Tokamachi Snow Festival is held for three days surrounding the third Saturday every February. Today is the last day of this year's festival, but we are already contemplating of a visit next year.