Sean's Japan Travel Journal
by Sean, staff writer of japan-guide.com
2013/09/13 - Nakanojo Biennale 2013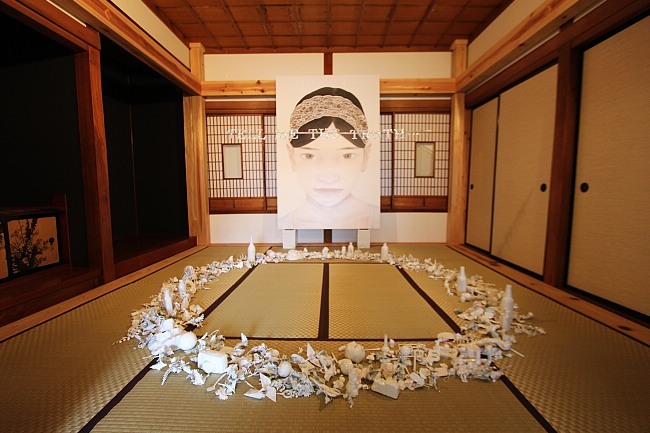 The Nakanojo Biennale 2013 is held from September 13 to October 14, 2013
(open 9:30 to 17:00 except on Thursdays)
About two hours by train north of Tokyo, in the forested, hot spring dotted, mountainous northern region of Gunma Prefecture is a town called Nakanojo. Once every two years, the town holds the Nakanojo Biennale, an art festival whereby various contemporary artworks, mostly by artists from the Kanto Region, are installed at venues distributed across the town. During the one month festival, many art events are also held in conjunction with the exhibits. This year marks the fourth edition of the Nakanojo Biennale; some popular art pieces from past festivals have been preserved and are showcased alongside the new works.
9:15. Fifteen minutes before the respective art venues open their doors, I was at the Tsumuji venue, close to the town center of Nakanojo, ready to buy my passport to the exhibits (1000 yen). There was a healthy crowd despite it being a weekday morning. The organizers must have been happy: In recent years, Nakanojo has seen a steady decrease in population as the young leave for big cities in search for better opportunities. The festival's aim is to remind people of the town's rustic charm; to rekindle feelings towards and draw visitors to rural Japan.
With my passport in my left hand and the complementary festival guide book in my right, I headed purposefully through the streets of rural Nakanojo, hoping to visit as many of the art destinations (close to 40) as possible before their closure at 17:00. I had a great time exploring bucolic Nakanojo. The art venues were created from former warehouses, old houses, decommissioned facilities, abandoned buildings and the like, lending a nostalgic appeal to the artworks.
Some practical information: The gateway to Nakanojo town is Nakanojo Station, which can be accessed from Tokyo by shinkansen to Takasaki, where you have to transfer to a local train on the JR Agatsuma Line (whole journey takes about two hours, 5000 yen, one connection per hour). There are also two limited express trains per day that run directly from Tokyo's Ueno Station to Nakanojo Station (about two hours, 4000 yen). The respective trips are fully covered by the JR Pass, JR East Pass and JR Kanto Area Pass. Some of the art locations can be easily reached on foot from Nakanojo Station; others by infrequent town buses. Rental cars present a convenient option and are recommended for covering more destinations within a day.
A night's stay at Shima Onsen is recommended for the visit. The popular onsen (hot spring) town is home to the famous Sekizenkan bath house cum ryokan, which is also one of the venues for this edition of the Nakanojo Biennale. With that I leave you with a pictorial of my eventful and enjoyable day at Nakanojo.