Cherry Blossom Report: Takato
Sean's Japan Travel Journal
by Sean, staff writer of japan-guide.com
2014/04/17 - Cherry Blossom Report: Takato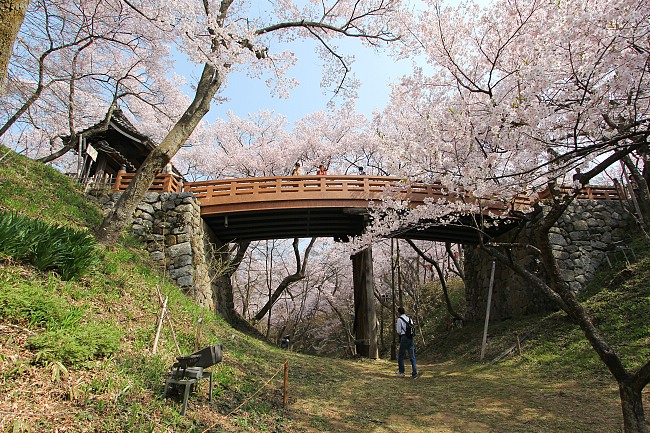 I made a trip to the Takato Castle Ruins Park in Nagano Prefecture this morning. Not much is left of the castle these days, but the park's claim to fame are the approximately 1500 Kohigan cherry trees planted across its compound. Each spring, these cherry trees form a lovely sea of pink and become quite a sight to behold, prompting many to proclaim the Takato Castle Ruins Park as one of the three best places to see cherry blossoms in Japan, along with Hirosaki Castle and Yoshinoyama.
Takato Castle Ruins Park
April 17, 2014 - full bloom
Today, the thousands of cherry trees at the site were at their very best, spotting full crowns with beautiful light pink blossoms. Many were at the park to enjoy the scenery, and the environment was enlivened by the calls of festival stall owners beckoning patrons. The popularity of this cherry blossom spot cannot be underestimated, and I was happy to have escaped the traffic jams by coming early.
For those intending to visit from Tokyo, you can take a limited express train from Shinjuku Station to Chino Station, followed by a bus to Takato Bus Station. From the bus station it is a 15 minute walk to the park. The entire one way journey takes between three to four hours and costs around 7000 yen. Visitors may also consider stopping over at the relatively nearby Matsumoto City, which is home to the famous Matsumoto Castle. It takes only 30 minutes by limited express trains or 60 minutes by local trains to get from Matsumoto to Chino Station, from where the bus trip to Takato takes about an hour.
During the cherry blossom festival which takes place till April 30, the Takato Castle Ruins Park is open from 8:00 to 17:00 (6:00 to 21:30 during the peak season, 500 yen). Illuminations are held from sunset to 22:00 every evening. It is a real pity that the next few days have been forecast to be slighly wet; let's hope for the sake of the blossoms and those intending to come that the wind would blow the dark clouds away. Nevertheless, I think views will be very pleasant here over the next three days or so.
By the way, the year's cherry blossom season is pretty much over in Tokyo - please visit this page if you wish to find out more about the situation of the sakura at other locations in Japan. With that, I leave you with a pictorial of some sights that I caught today: