Winter Activities in Karuizawa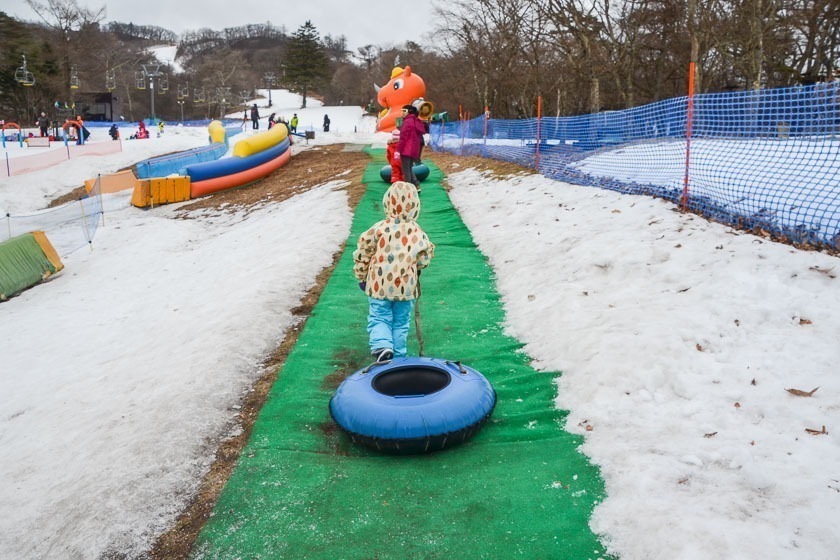 Following Lori's inaugural report of the Traveling with Kids Series to Shinjuku, our next installment features the resort town of Karuizawa in Nagano Prefecture. I brought my family of four there on a day trip to experience some fun winter activities and further explore this kid-friendly destination.
Karuizawa is a popular and easy day trip from Tokyo, taking just over an hour by shinkansen. The station in its own right has several amenities for those traveling with children, including baby changing tables in some restrooms and a small nursing room. However right outside the station is the Karuizawa Prince Shopping Plaza, which I feel has even better facilities, so it might be worth heading there instead. But more on that later.
To start, after a quick diaper change for my son upon arrival, we were off to our first destination and our first fun winter activity.
Karuizawa Prince Hotel Ski Resort
The Karuizawa Prince Hotel Ski Resort is a popular place for skiers and snowboarders both for its quick access from Tokyo, and its extra long season due to the use of snow machines to guarantee snow no matter the weather. The use of the snow machines allows the resort to open from early November into April, and is a great place to consider if you've promised your kids snow but the weather isn't cooperating! This snow resort also offers some great activities for kids of all different ages, including skiing lessons for children as young as 3 years old, and a kid's snow park, which was today's morning activity.
Access from the station is a brisk 10 minute walk, or even less if you cut through the shopping plaza, however as anyone with small kids knows, sometimes walking even short distances isn't always easy! Luckily there are also frequent shuttle buses from the station as well. The snow park is just past the lifts, right next to the Pandaruman Ski School practice grounds. You can buy your ticket directly at the small booth in the park, so there's no need to wait in line at the main lift ticket booth.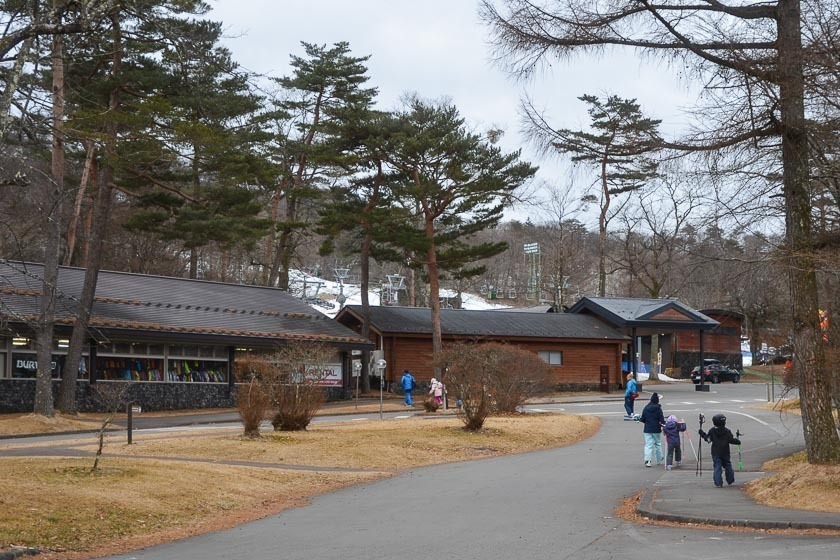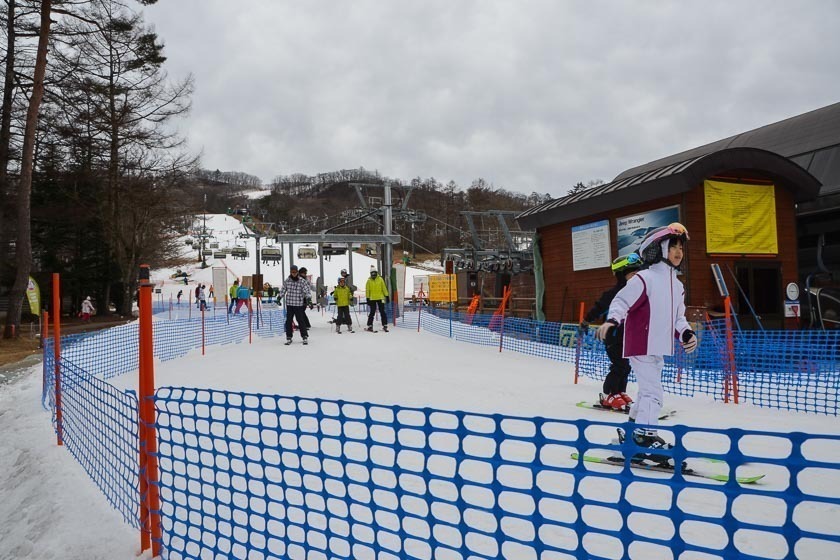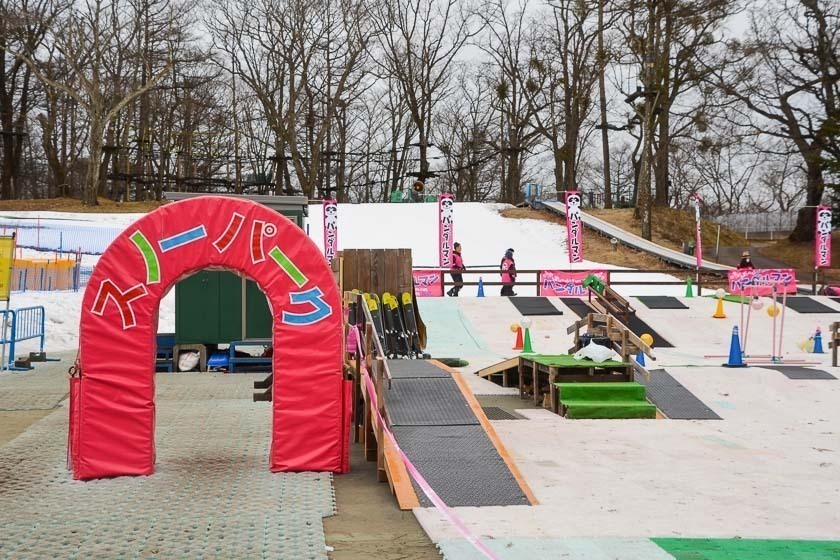 To start the day off, my daughter was excited to sled, so we grabbed one for an extra fee and headed up the small slope. There are both one and two person sleds provided so parents can sled with their younger children, while older children and adults can go by themselves. There is also snow tubing with two different sizes of tubes to choose from, a big mountain of snow to play on and provided toys, some playground equipment to climb on, and even a bouncy house. This area is sure to provide hours of fun for kids of all ages. And let's be honest, the adults too!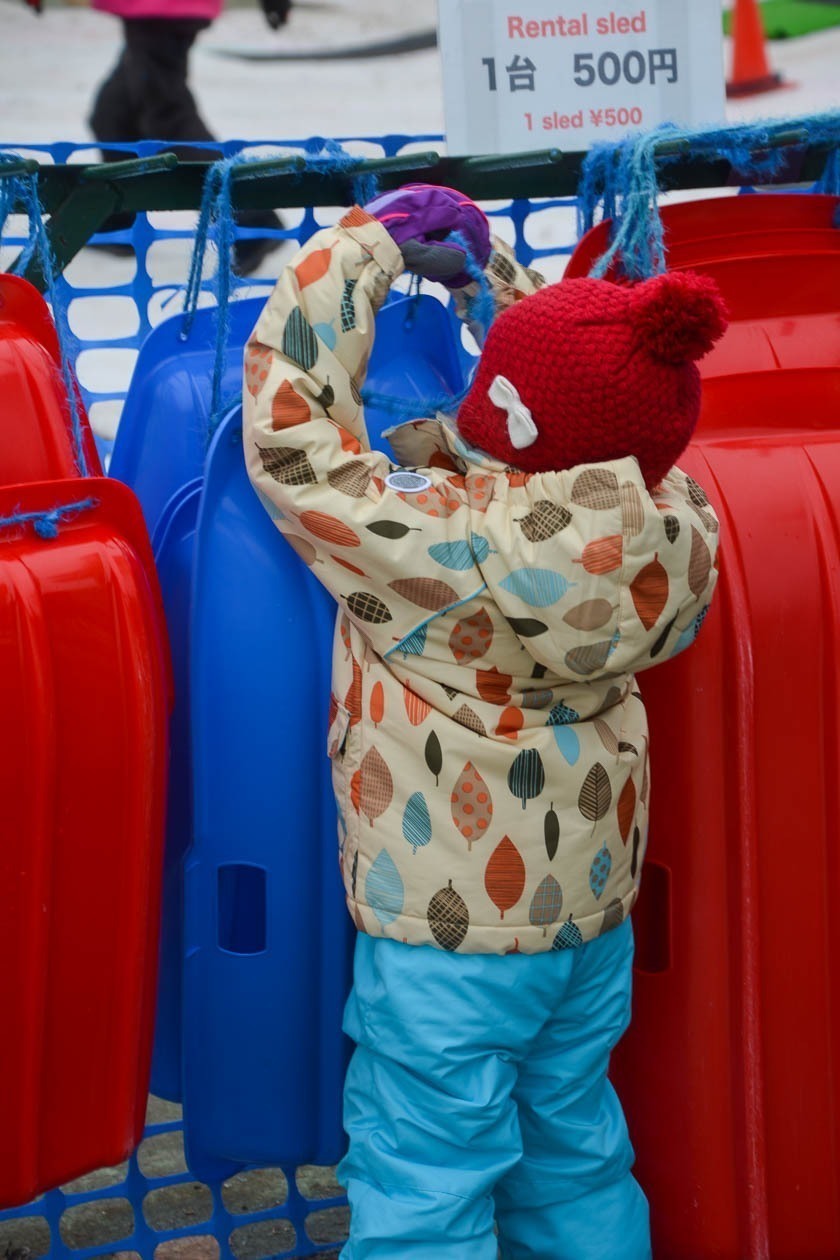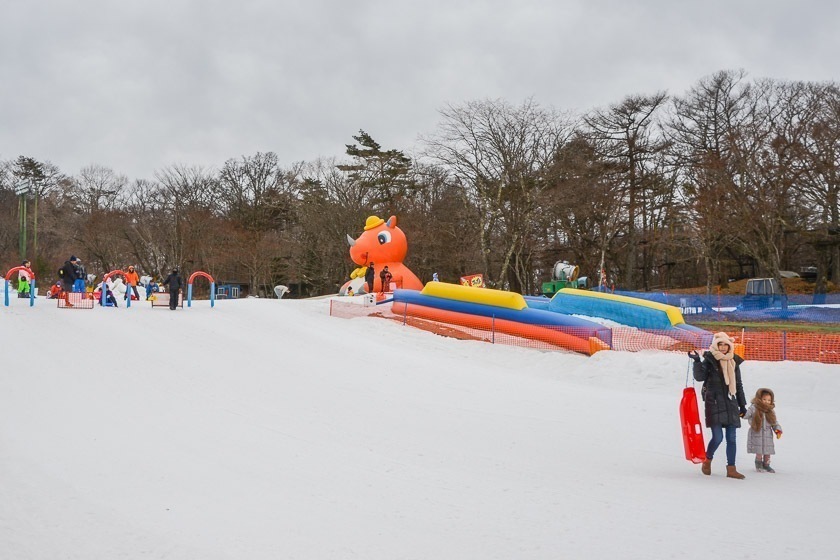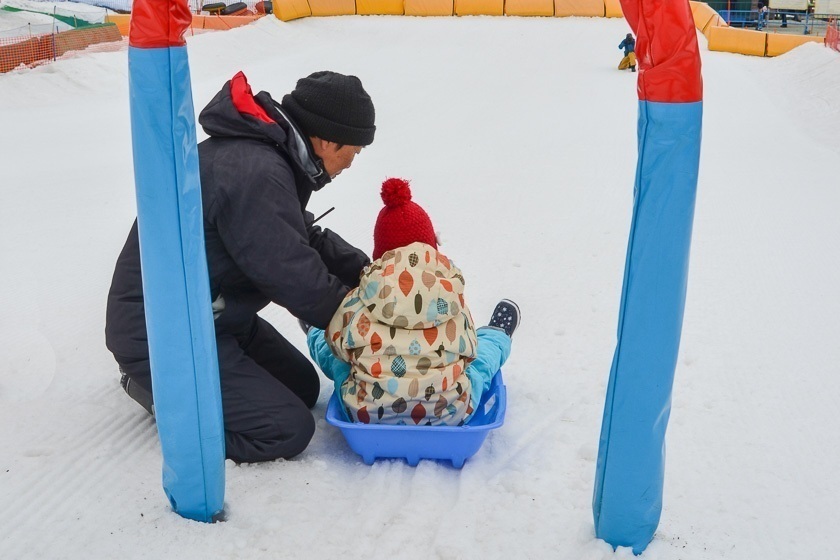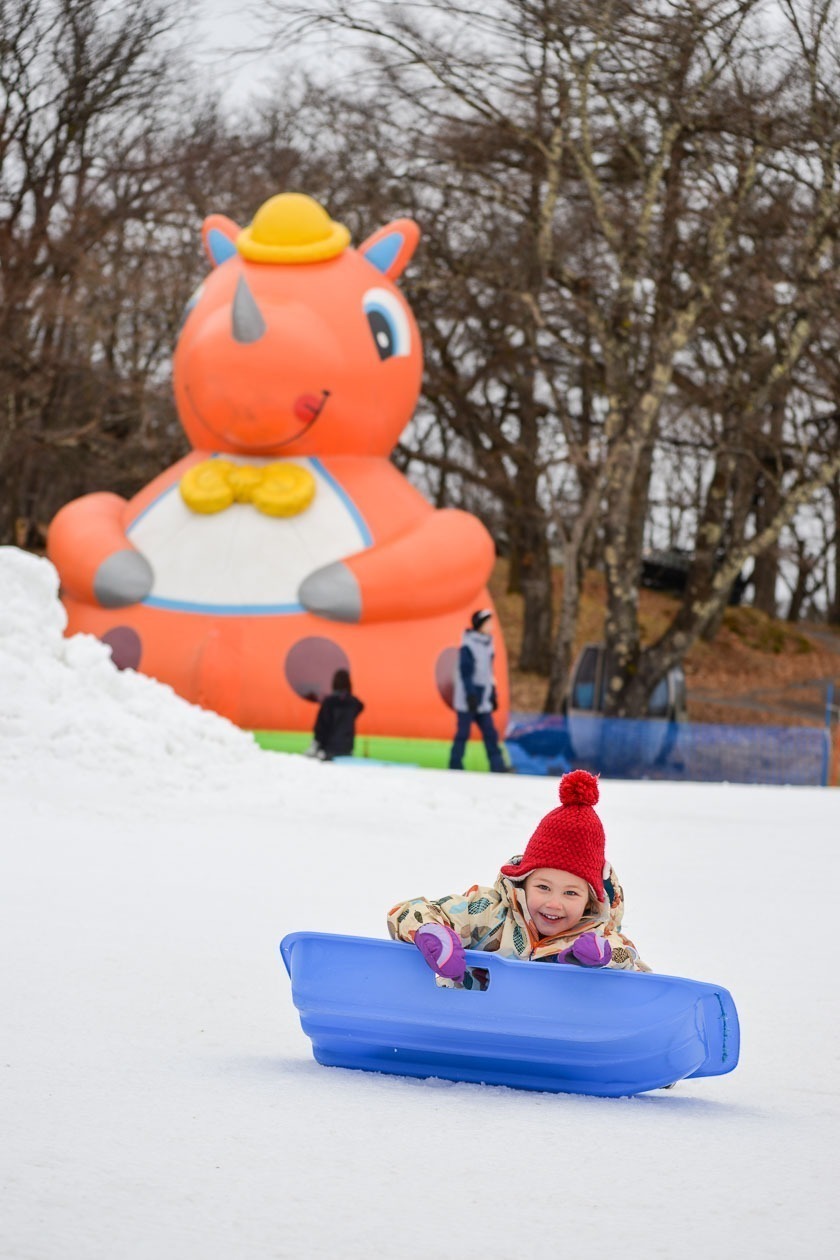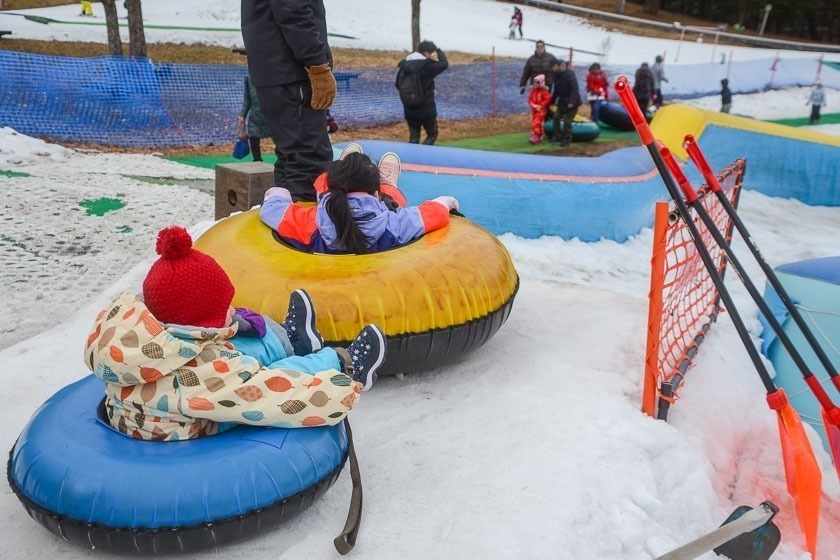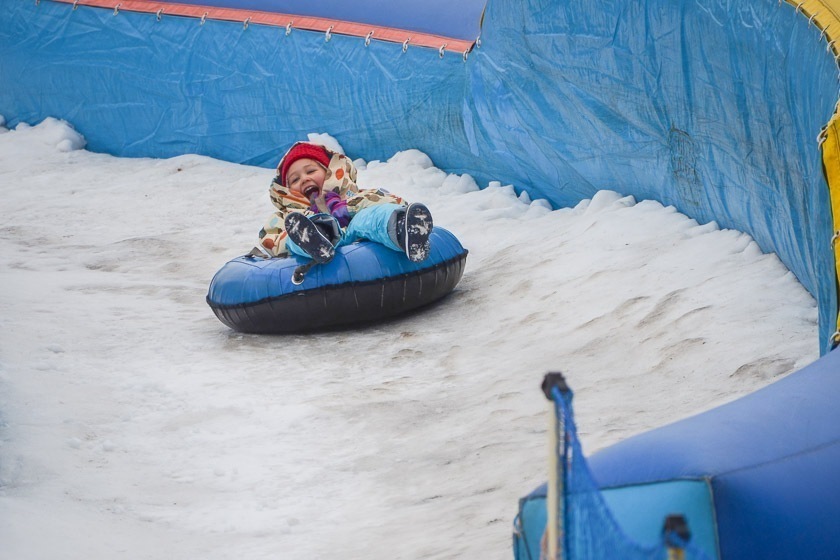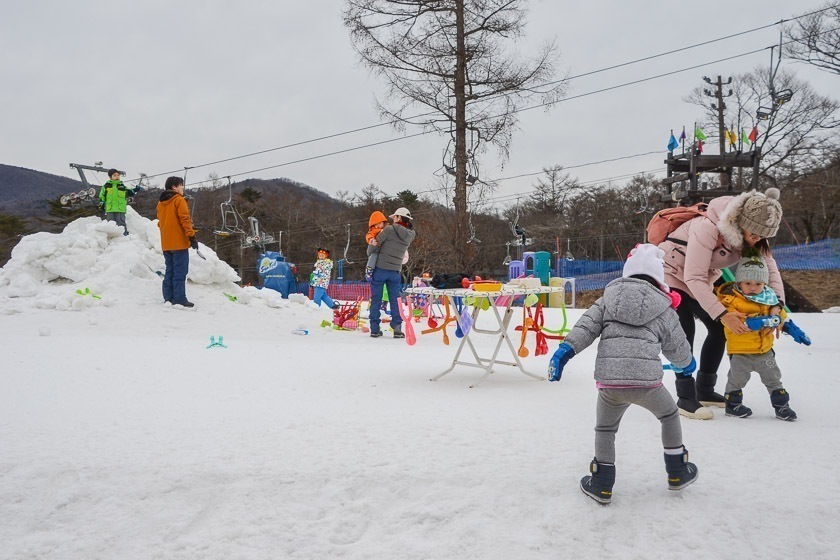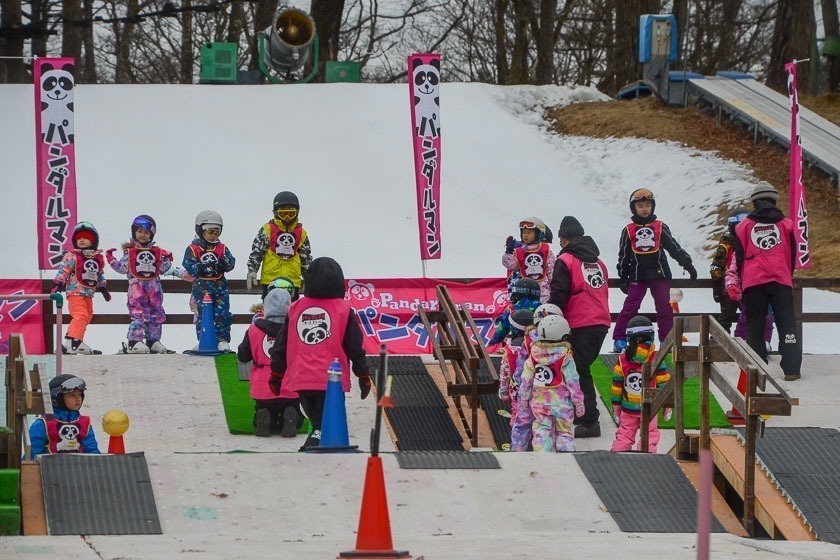 When you're ready for a break, there are basic toilets, a snack stand, and a warm room to use for resting or eating in units close to the snow park area, as well as an indoor restaurant and cafe for sit down dining. For changing a baby's diaper or a space for nursing however, you'll need to walk just a little bit further to the entrance and reception area of the Karuizawa Prince Hotel, where there is a small room for that purpose.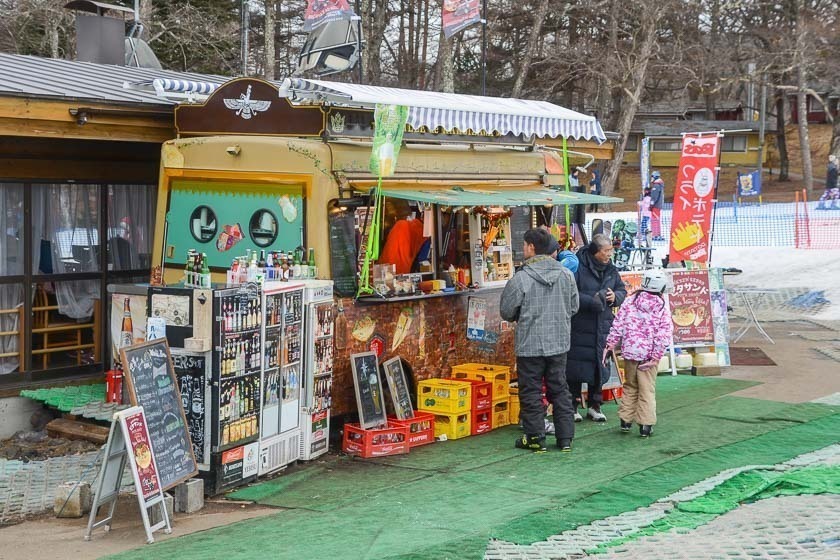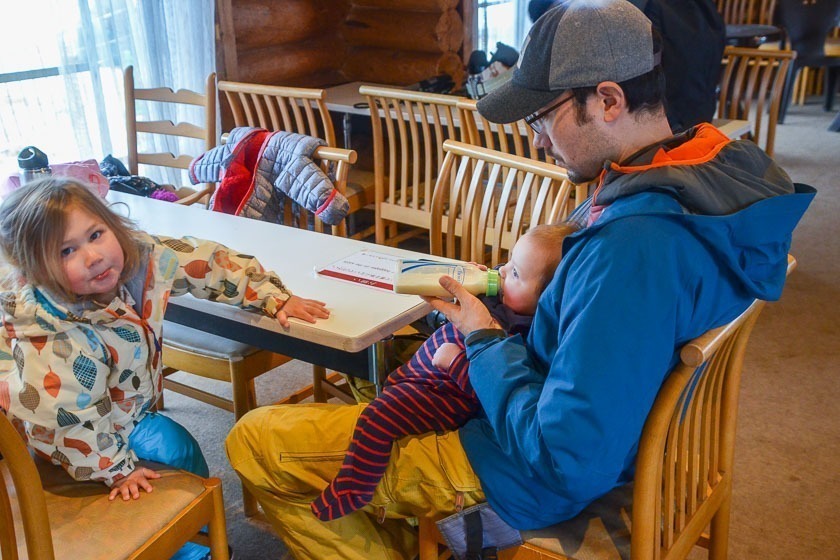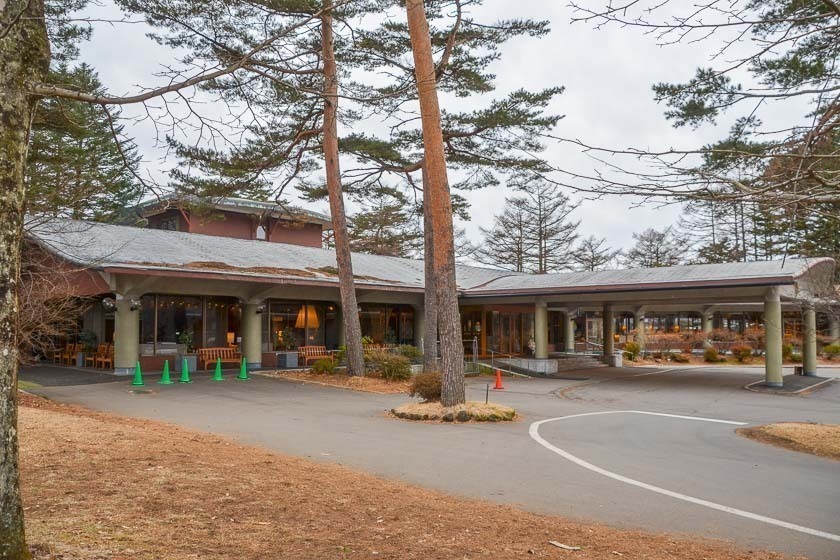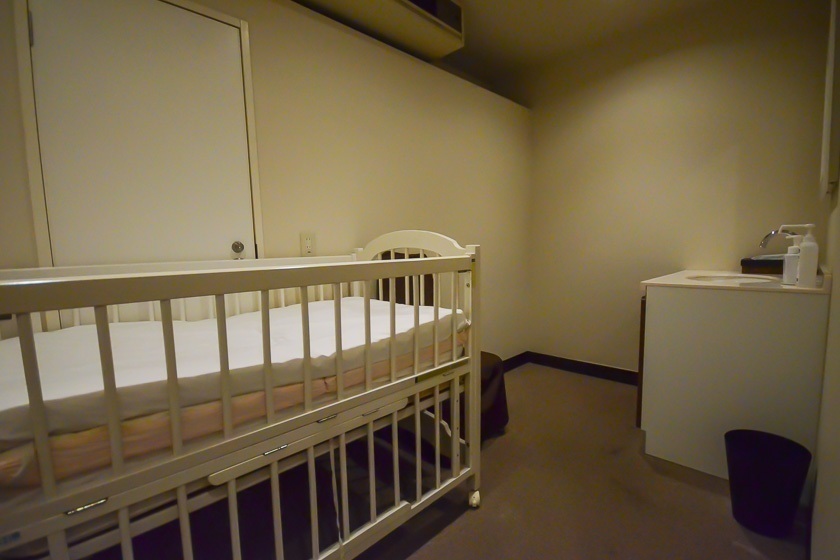 Keraike Ice Skating Rink
After a bite to eat for lunch at the shopping plaza right next to the ski resort, we headed about 20 minutes by car on to the Hoshino Onsen area to visit the Keraike ice skating rink. We checked in, laced on our skates, and headed out onto the ice. I was happy that the skates for my toddler were a special double bladed type for easier skating, but she still definitely had a lot of trouble keeping her balance on her own. Luckily, small chair-like sleds are provided, which can either be used to balance while you skate, or push someone around. The setting was cold but beautiful, and in the lounge area you can get some hot drinks to warm up and even watch live footage of one of the flying squirrel nests! They were sleeping, but still pretty adorable. The skating rink is a pond in summer that abuts a bird sanctuary, and nature walks are offered in other seasons, including a dusk tour to see the flying squirrels starting in March. Definitely a reason to visit again!
There is a toilet located in the reception building of the rink, but there is not a diaper changing station or even a seat for a baby to sit in while the parent uses the restroom, so make sure you change any diapers that need to be changed before heading there.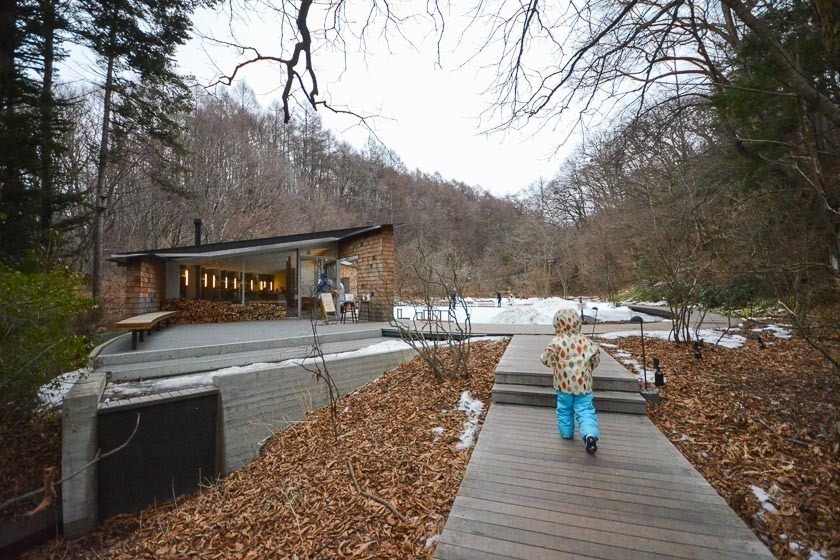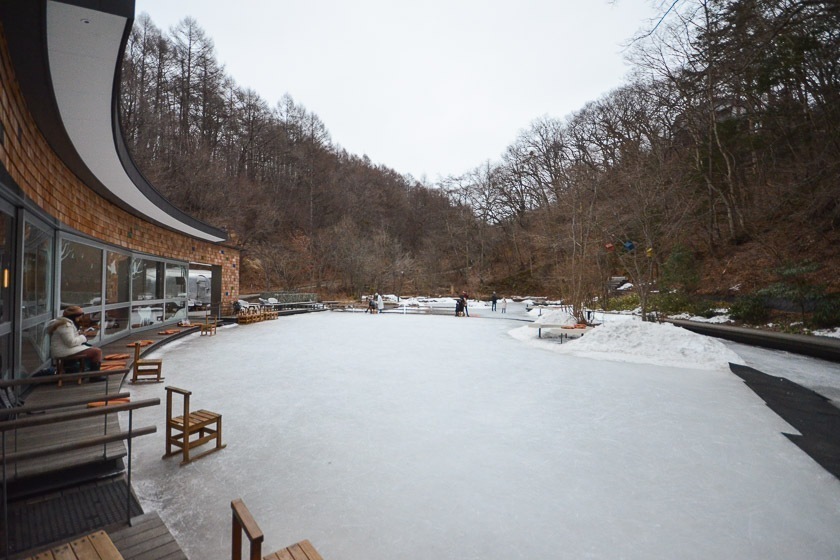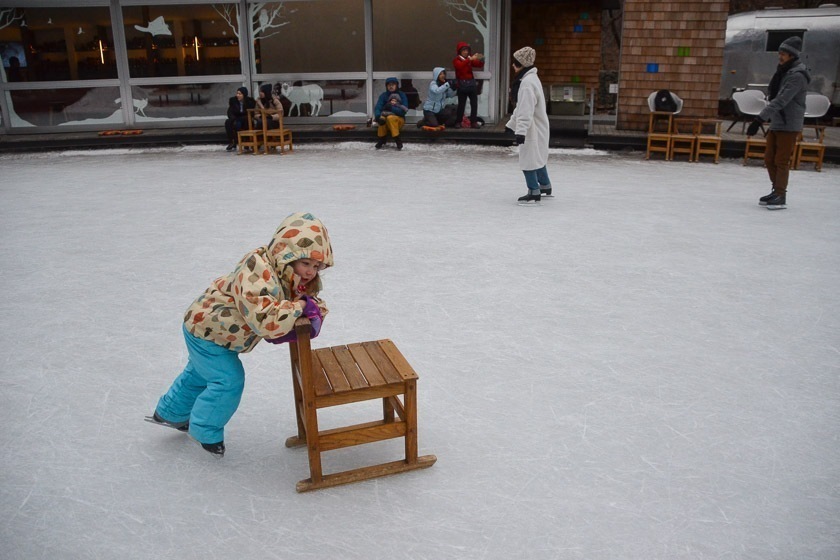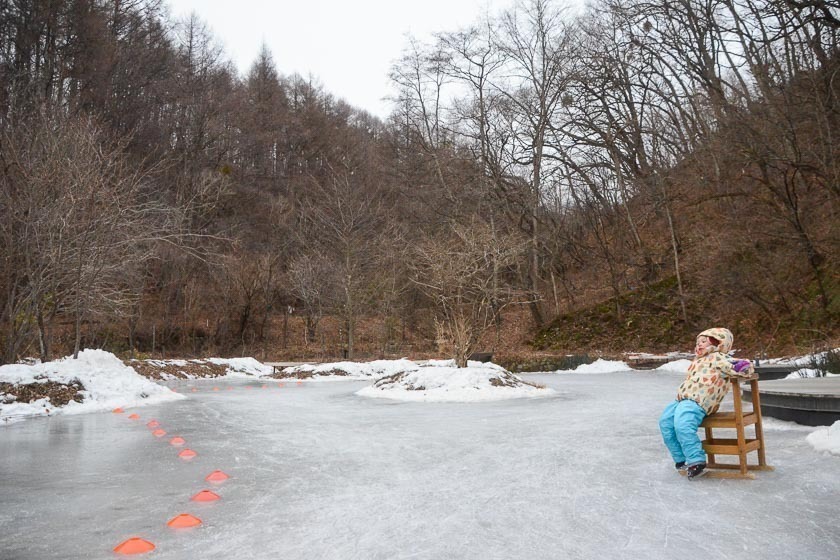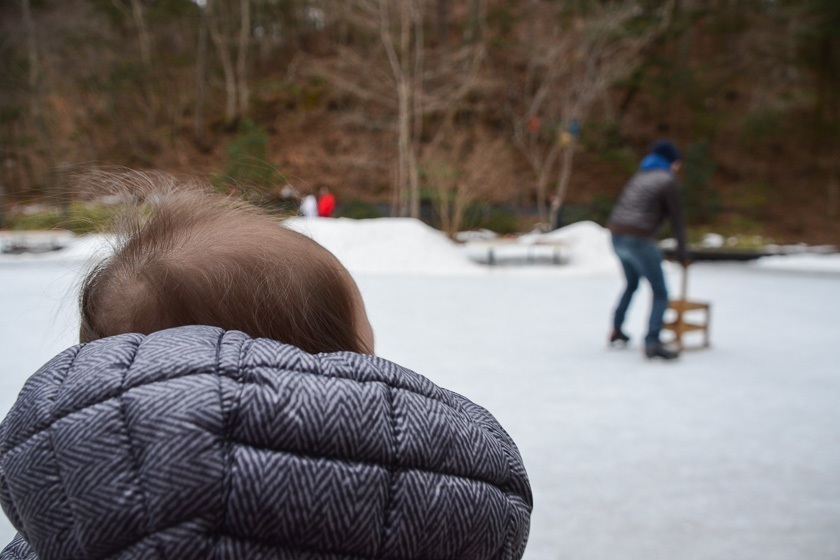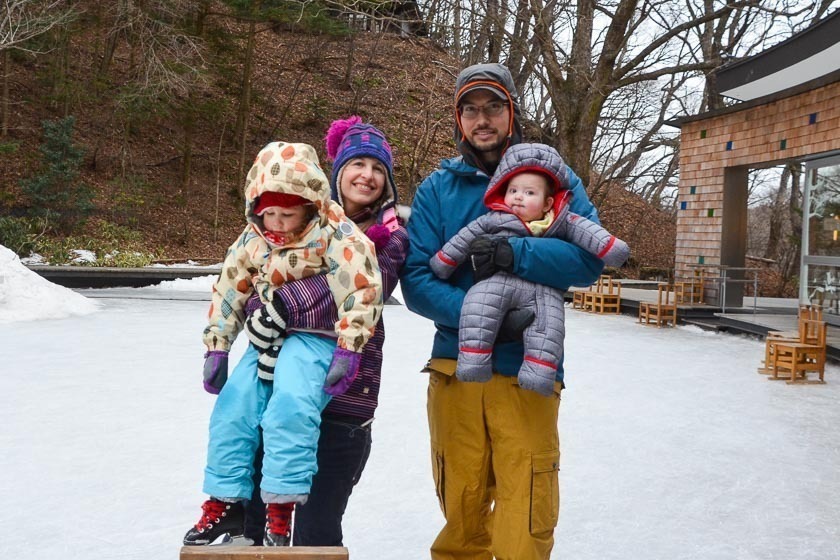 Tonbo no Yu and Harunire Terrace
After finishing up at the skating rink, we headed back down the path a short ways to Hoshino Onsen's Tonbo no Yu, a hot spring that allows non-staying guests to use it. I took my daughter to the women's side, while my husband and my son went in the opposite direction, but it's good to note that kids up to a certain height or age could go to either side with a parent, and on both sides there is a crib to set babies in safely while you change. We had brought a small inflatable baby bath to hold my son while we showered, since he isn't yet able to sit unassisted, but the onsen also had a supportive chair available for babies for use from around 3 or 4 months old. While we were bathing in the outdoor bath, it started to snow, which utterly delighted my daughter. The warm bath after a day of snow activities was wonderful!
Warmed up from our bath, and after a yummy juice break at the small cafe called Hungry Spot next to the onsen while the baby was fed, we then decided to take a quick walk down the road to the Harunire Terrace. The shops were already closed, but all the restaurants were open, so we wandered around in the snow before finally choosing the Sajilo Cafe Linden, a Nepali and Indian curry restaurant. The curry was not only delicious, but very mild so even my daughter was happy to eat it before we adults added more spices for some heat. I appreciated it was customizable for each person after you could have a taste, instead of having to decide how spicy you could handle when you ordered. Definitely great for a toddler who can't yet handle the heat!
The facilities at Harunire Terrace include a baby changing table in the bathroom, but unfortunately the nearest nursing space is about a 10 minute walk away, at the Bleston Court Hotel up the street.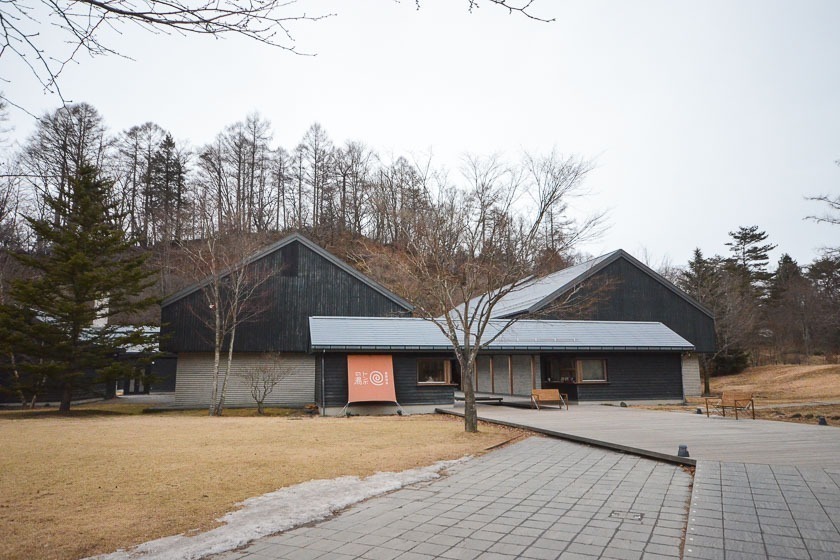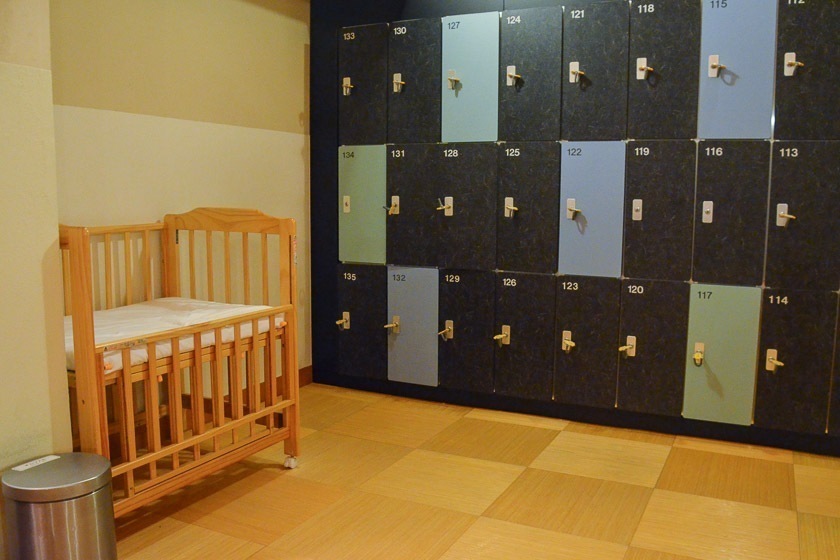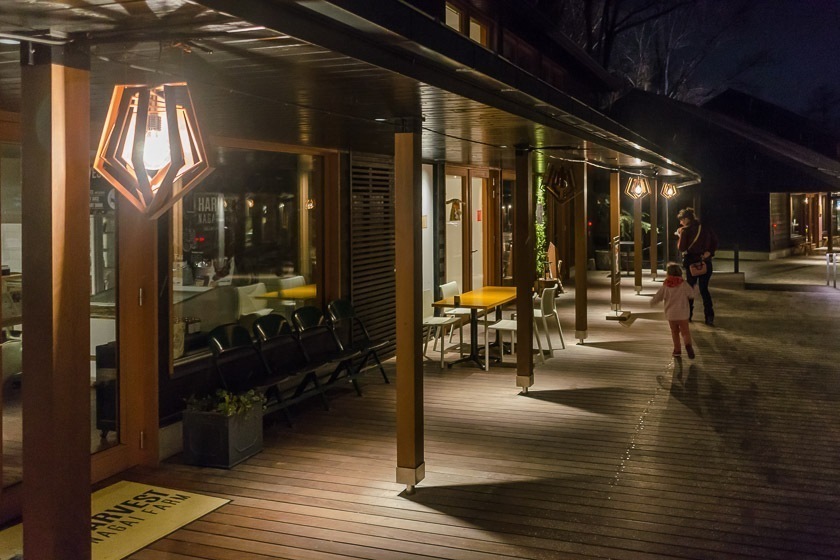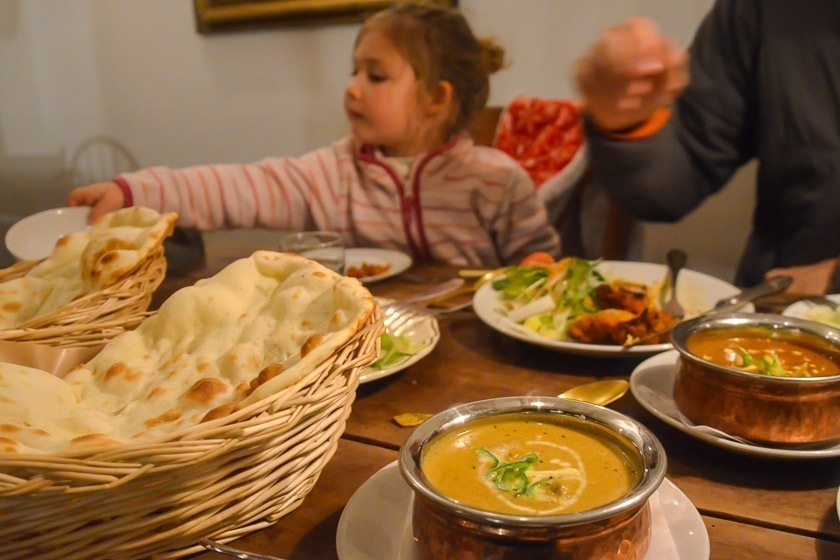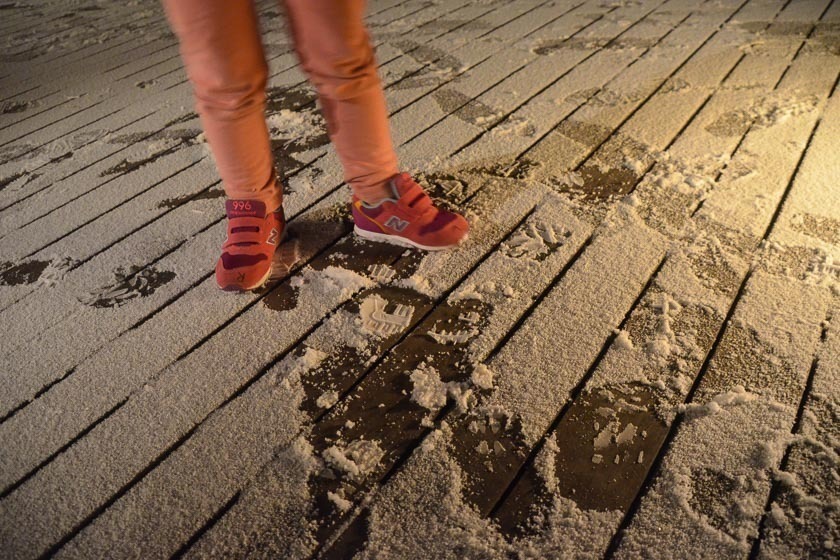 Karuizawa Prince Shopping Plaza
Our final destination of the day was the Karuizawa Prince Shopping Plaza, a large outdoor mall located right in between Karuizawa Station and the Karuizawa Prince Hotel Ski Resort. We had actually eaten at a fun Hawaiian restaurant there called Kua Aina for lunch, but we headed back again as it was on the way back to the station. During the winter season there are pretty illuminations that are a fun way to wrap up a long day, if you can brave the freezing temperatures! We had a quick look at the illuminations and popped into a few of the shops, grabbed a hot beverage from a coffee shop to warm our hands, then headed home, exhausted but happy.
In the central area of the shopping plaza is a baby changing area with multiple private booths for nursing, a microwave and hot water for making and heating up bottles, and other amenities. For the older kids, there is a fun play place in the New West area, and of course, plenty of large green spaces for running around and interesting shops to look in. The illuminations in the central area can be seen nightly until the end of March.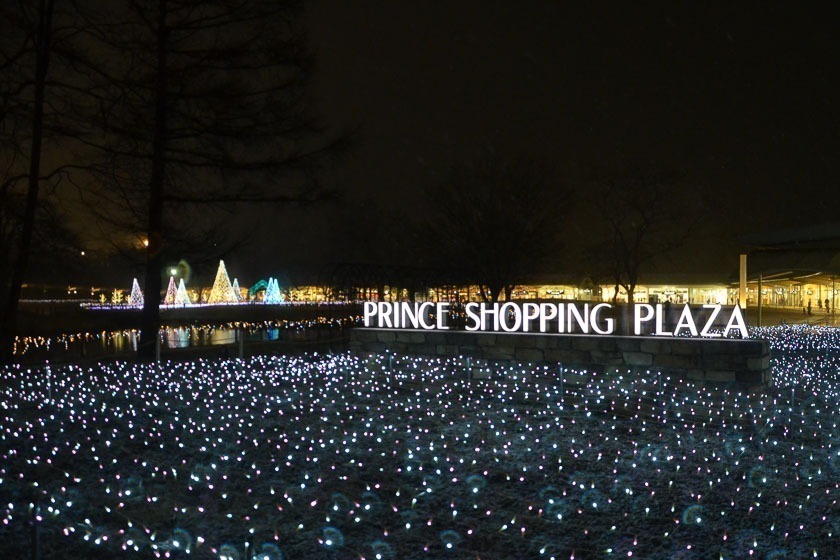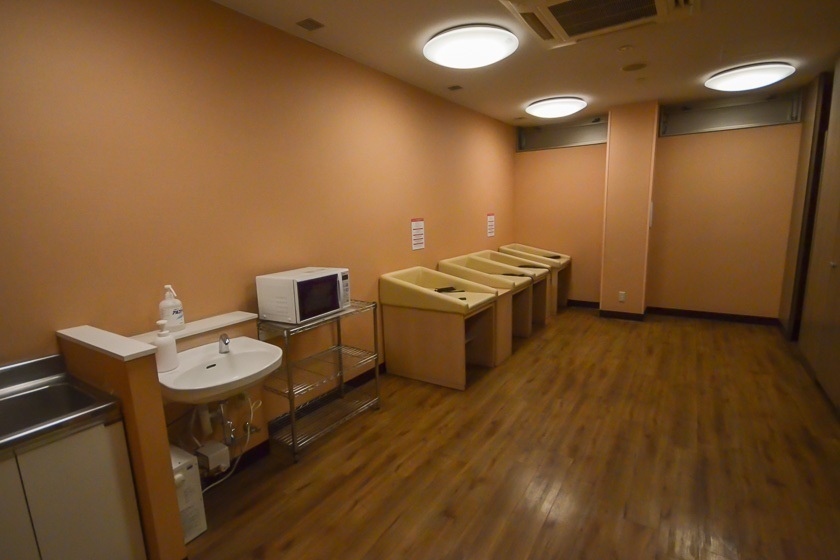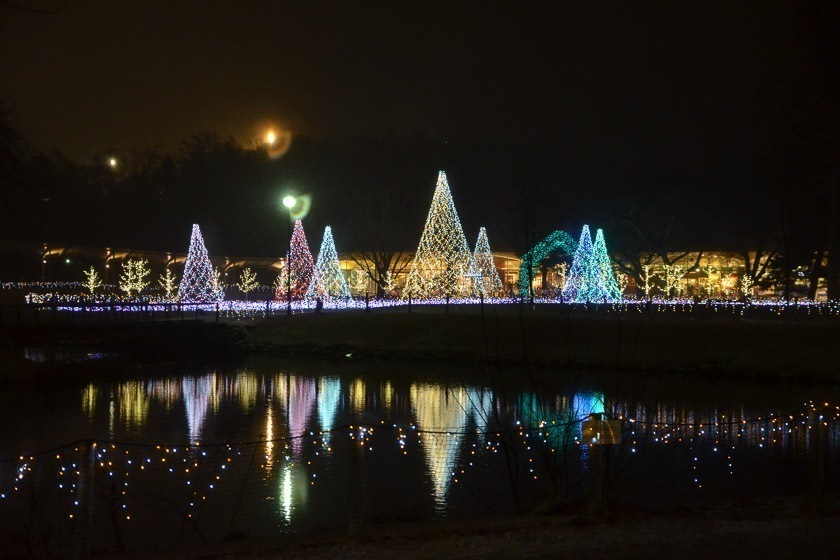 Traveling with Kids is a blog series that features family-friendly activities. It also aims to provide useful insight and tips through first hand experience traveling with kids in Japan.