Island Paradise in Okinawa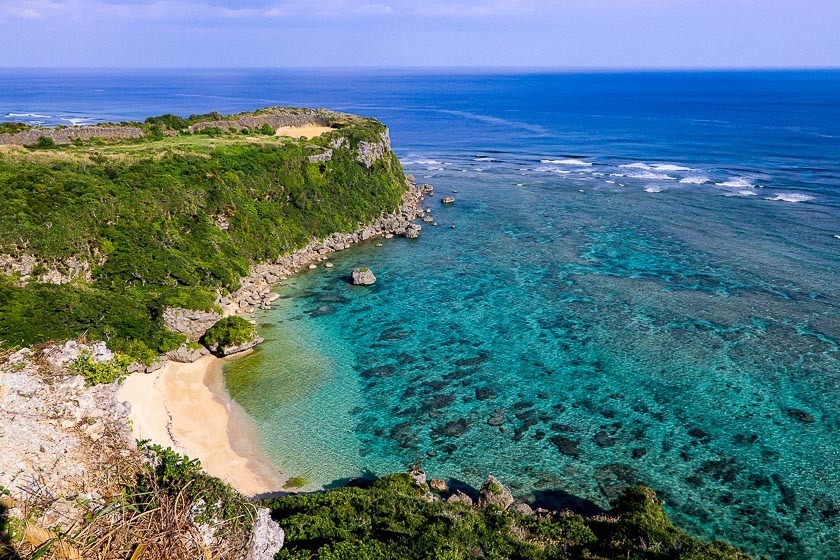 Okinawa Prefecture is Japan's southernmost prefecture and made up of many islands. Its subtropical climate - summer temperatures ranging between 25 to 33 degrees Celsius and winter daytime temperatures ranging from 15 to 23 degrees Celsius - make the island prefecture a popular holiday destination.
Summer is by far the busiest season in Okinawa, with a plethora of beach activities from sea-kayaking to snorkeling readily available to holiday-makers. However, this is not to say that there is nothing to do outside of the warmer seasons. In fact, visiting the prefecture during the off-season may provide a better experience as there are fewer visitors, the temperatures are relatively mild in which a single layer of clothes would suffice, and the waters are still warm enough for a quick dip.
Bearing these in mind, I visited Okinawa Honto, the main and biggest island of Okinawa, where the prefectural capital Naha is located, in the second week of January. I arrived to a balmy 20 degrees Celsius, and it was a great respite from the wintry temperatures in Tokyo. I was pretty fortunate with the weather, not once did it rain, and it was sunny and warm during my stay there.
I started my trip with a flight from Tokyo's Haneda Airport and arrived at Naha Airport in the afternoon with a flight time of about 2.5 hours. I spent two days and one night on Okinawa Honto on this Chotto Zeitaku trip.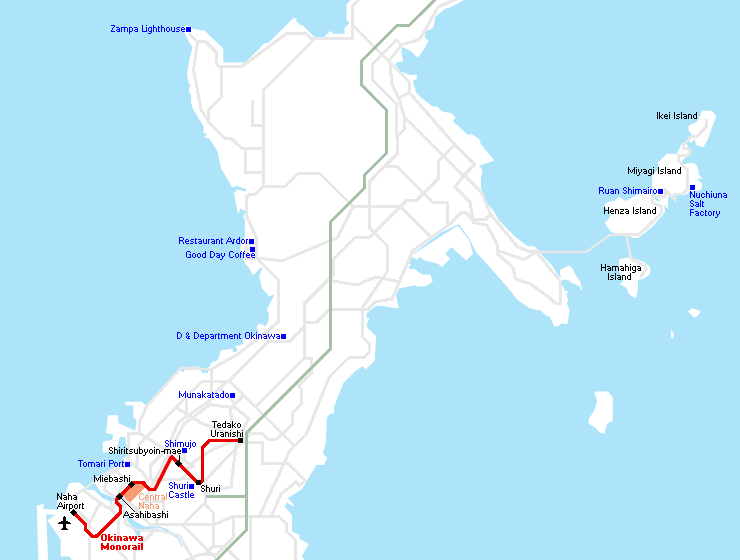 Note that this trip does not cover the main sightseeing spots on Okinawa Island, except for Shuri Castle. Instead, this itinerary would be useful as an add-on to a sightseeing itinerary, or for those who have been to the main island before and do not want to focus on sightseeing.
Okinawa used to be its own independent kingdom, the Ryukyu Kingdom, and is geographically closer to Taiwan and China compared to the main island of Japan. Because the Ryukyu Kingdom used to be a trade partner and tributary state of China, the local culture was also influenced by Chinese culture, and this unique blend remains to be seen today.
As an island that is exposed to the elements, the first thing that many may notice is the architectural style in Okinawa. Unlike the major cities of the main island of Japan, where tall buildings are commonplace, traditional Okinawan houses are typically single-story with low sloping roofs to hold fast against strong winds and rain. In fact, there are few tall buildings in Okinawa, and many of them are found in the prefectural capital of Naha.
When it comes to food, local Okinawa cuisine is also a happy blend of original Ryukyu, Chinese and Japanese styles. Some of the local delights that should not be missed include Okinawa Soba, rafute and champuru.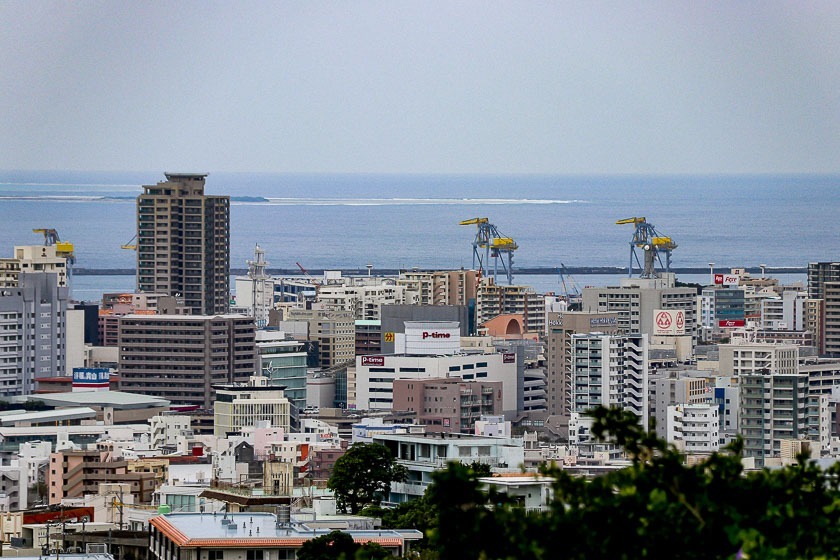 Day 1
From the airport, I picked up my rental car and headed straight for lunch at Shimujo, a local restaurant that specializes in Okinawa Soba. The restaurant is located in a traditional Okinawa house, which is also designated cultural property, and I couldn't have asked for a better start to my trip.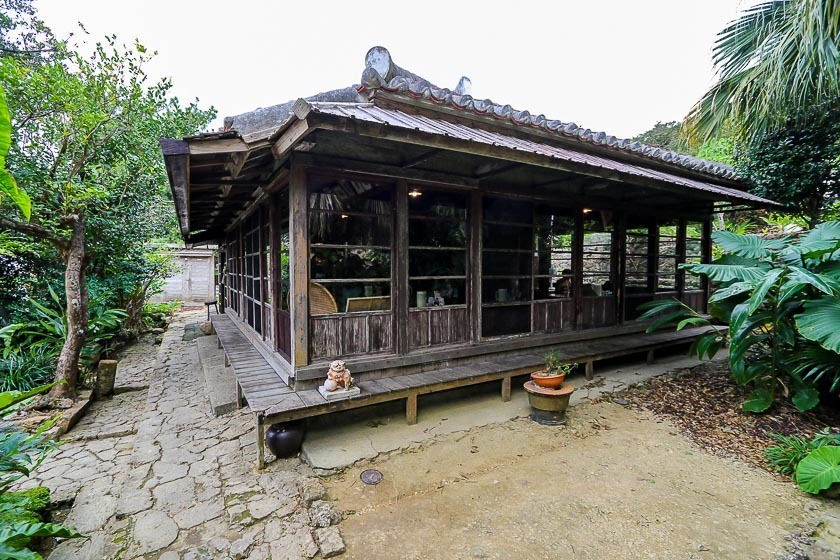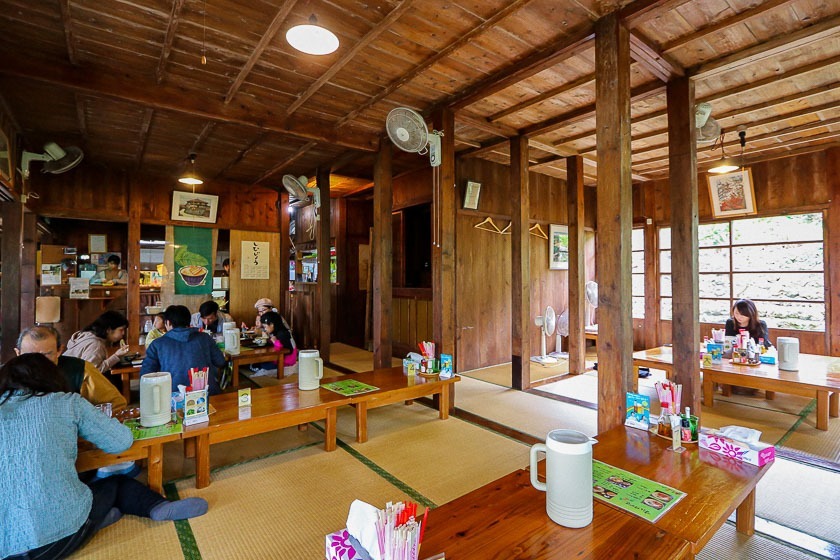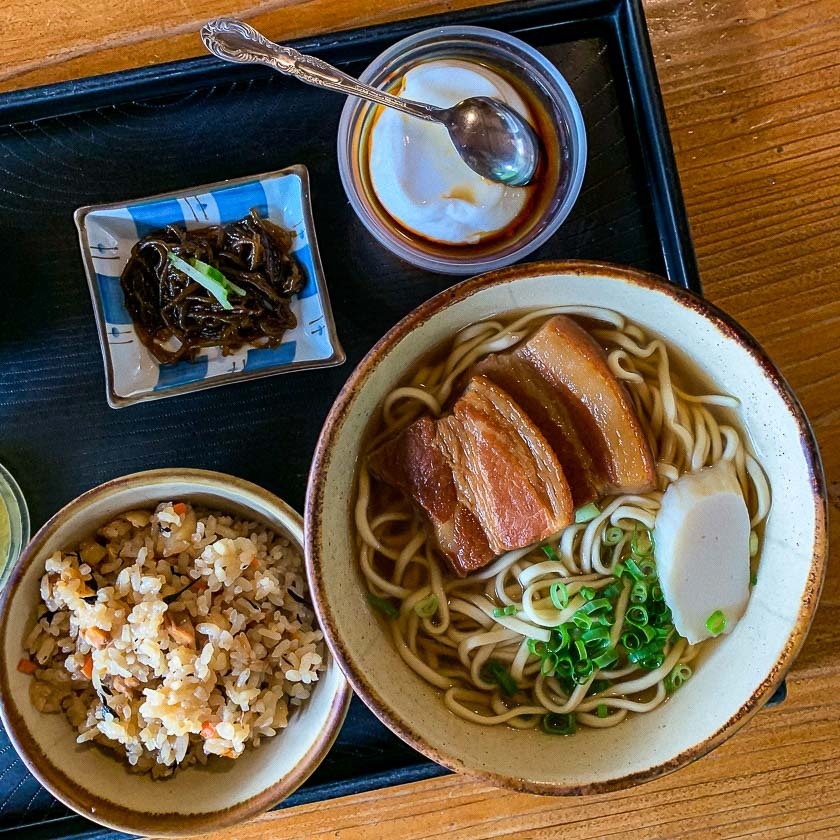 From there, it was a short drive to Shuri Castle, a reconstructed castle that is included as one of the UNESCO World Heritage designated Castles of the Ryukyu Kingdom sites. The castle stands in contrast to the ones typically seen on the mainland of Japan; there is no castle keep, and the main buildings are laid out in a square.
Shuri Castle was where the Ryukyu kings governed from until Okinawa became a Japanese prefecture in 1879. The castle was destroyed by fires and wars, and the current reconstruction was from 1992. The main buildings have a strong Chinese influence in their design, and offer visitors a glimpse into the workings of the kingdom.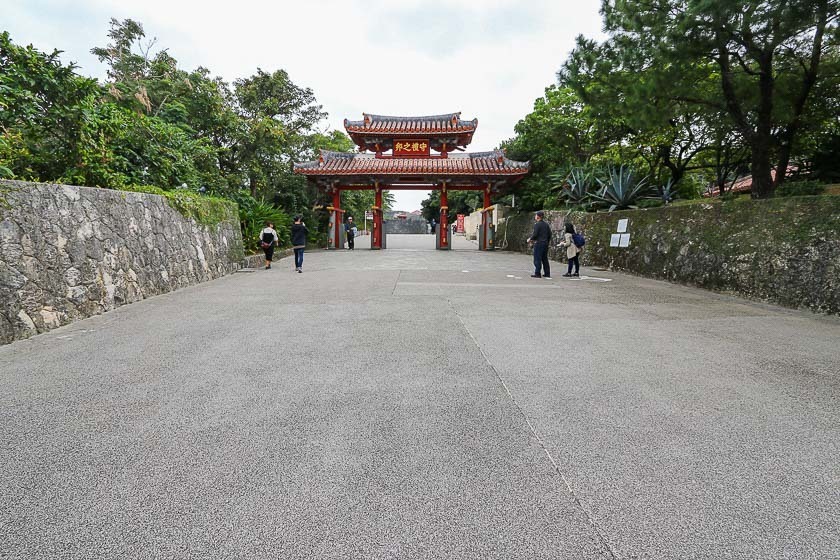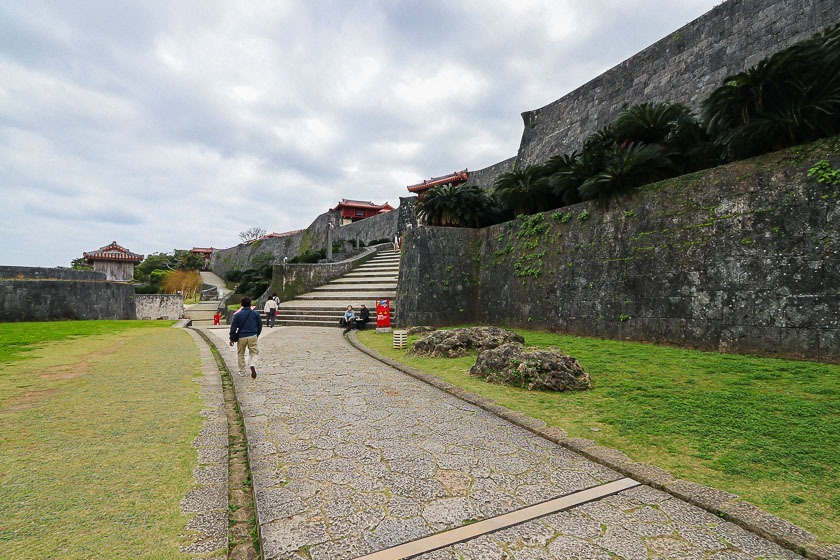 Unfortunately, a devastating fire broke out in the main buildings of Shuri Castle at the end of October 2019 and destroyed almost all of them. As such, it is impossible to enter the main buildings now, and visitors can only walk around the castle grounds. It is however, still worth to pay a visit to the castle and go for a walk on its grounds.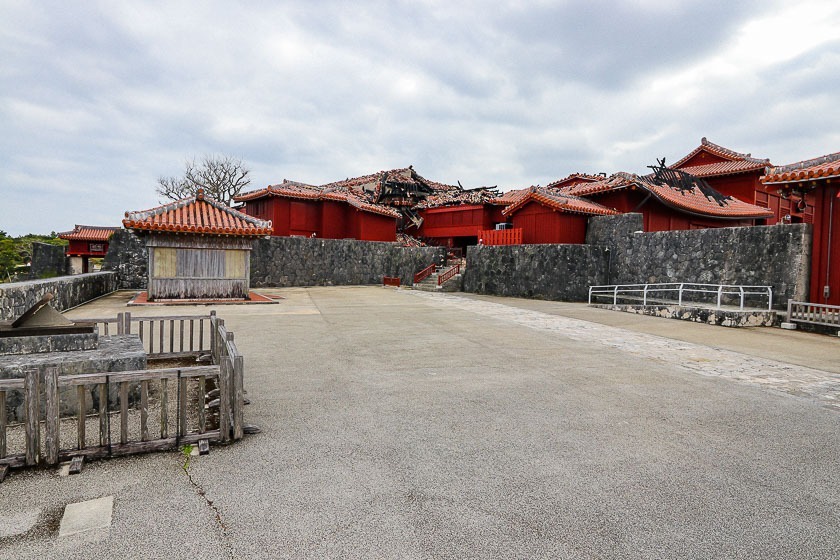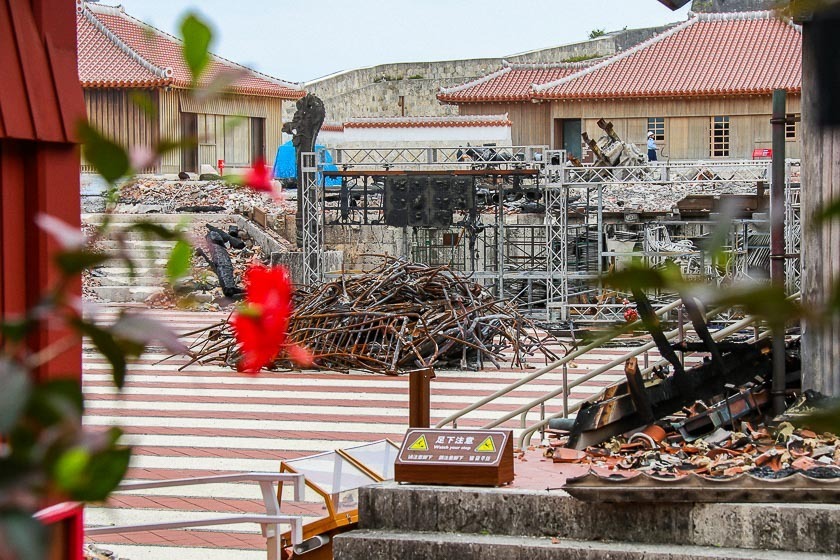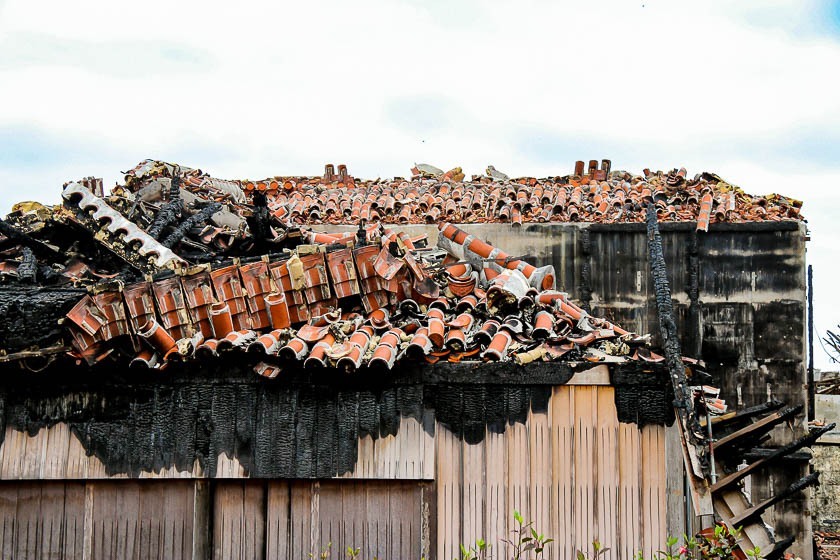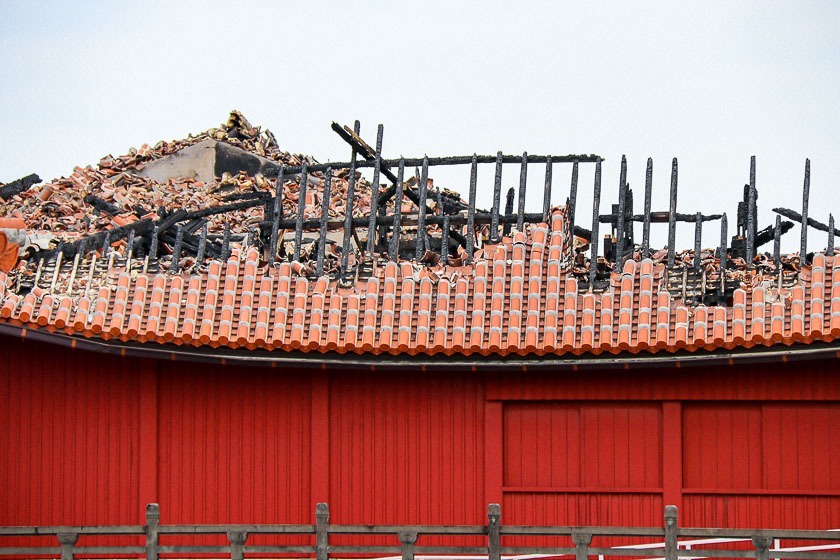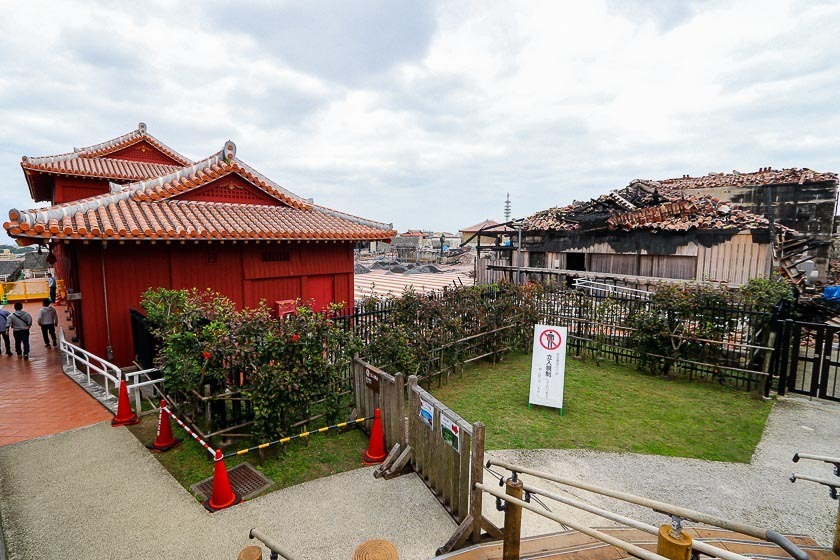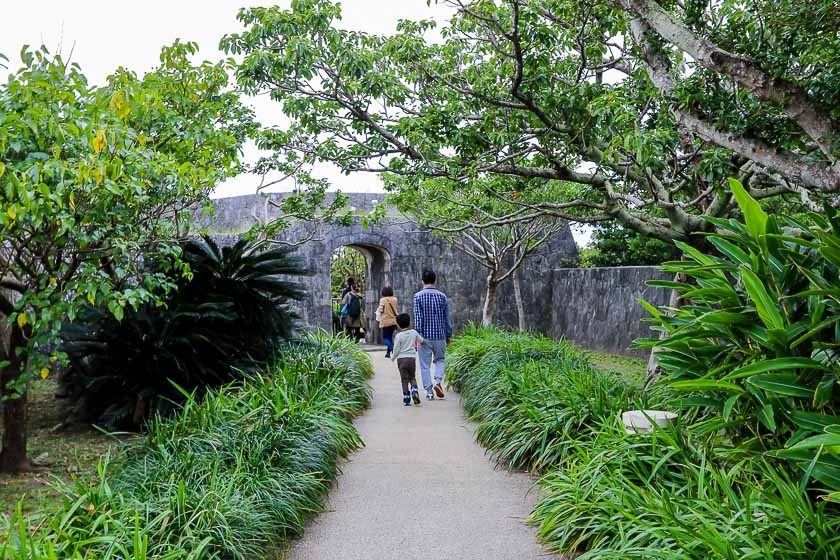 After that slightly sobering visit to Shuri Castle, I got back into my rental car and headed to Munakatado, a local bakery. The drive took only about 20 minutes, and I was rewarded with a rustic bakery set in a residential area. The bread at Munakatado is made with natural yeast and baked in a wood-fired oven, and all I saw were warm golden hues of baked goodness when I entered the shop.
This hidden bakery-cafe was a good quiet spot for me to spend some time deciding on my next few spots. I imagine the place to be filled during the weekend brunch hours with children playing in the back garden and adults getting their bread and coffee.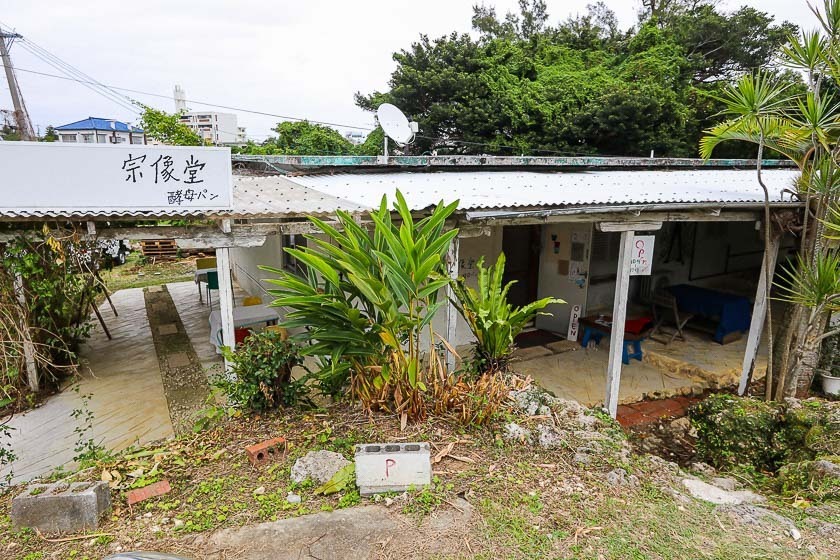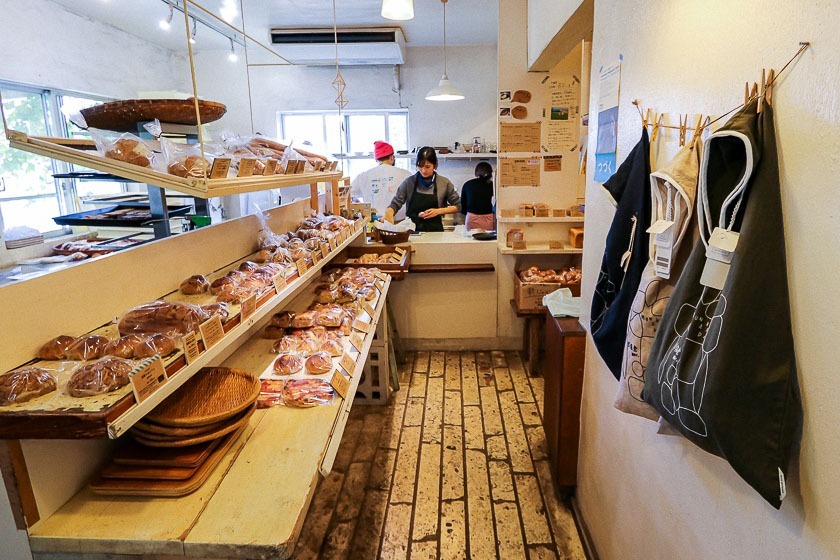 My next spot was D & Department Okinawa, a local lifestyle shop and cafe, and one of only nine D & Department stores in Japan. The D & Department brand includes magazines devoted to each of the 47 prefectures of Japan and is focused on long-life products from all across Japan. Perhaps the most easily accessible store out of the nine is d47 located on the eighth floor of Shibuya Hikarie. The Hikarie location offers a museum, a travel store and a shokudo restaurant.
In addition to carrying products from the 47 prefectures of Japan, D & Department Okinawa also has a section selling local Okinawan products. I thought it was a great place to avoid the dime a dozen tourist souvenirs while purchasing local goods. I also took some time to visit the cafe on the second floor, where even more local handmade products were sold. This is definitely an all-in-one store!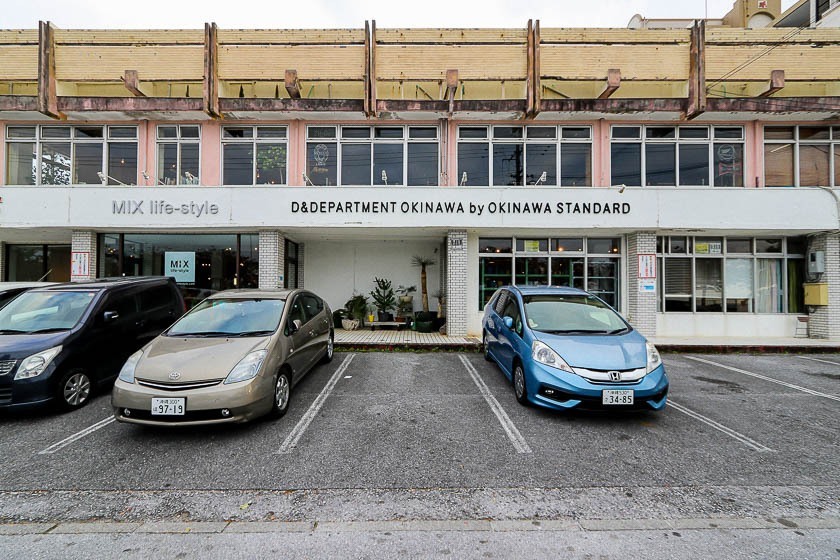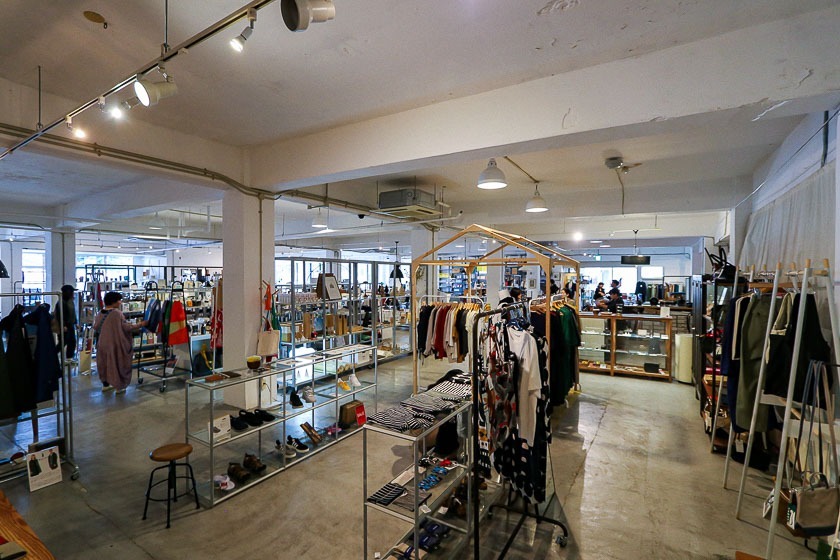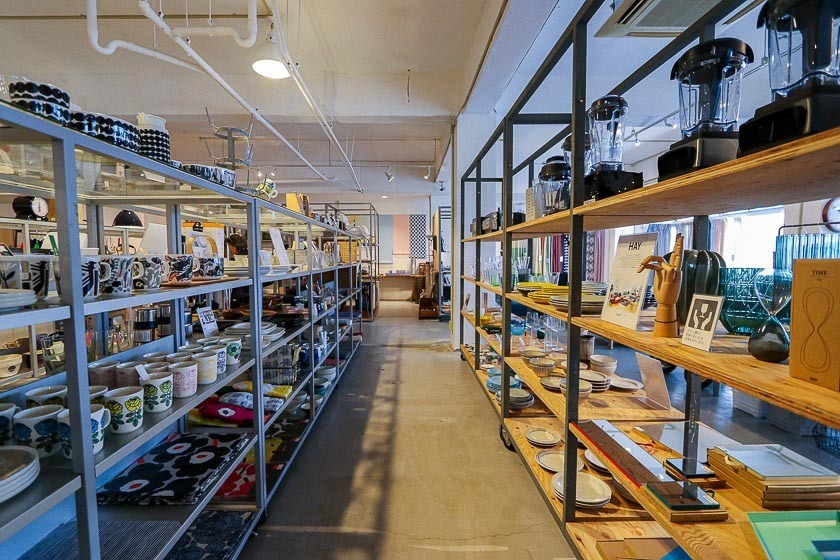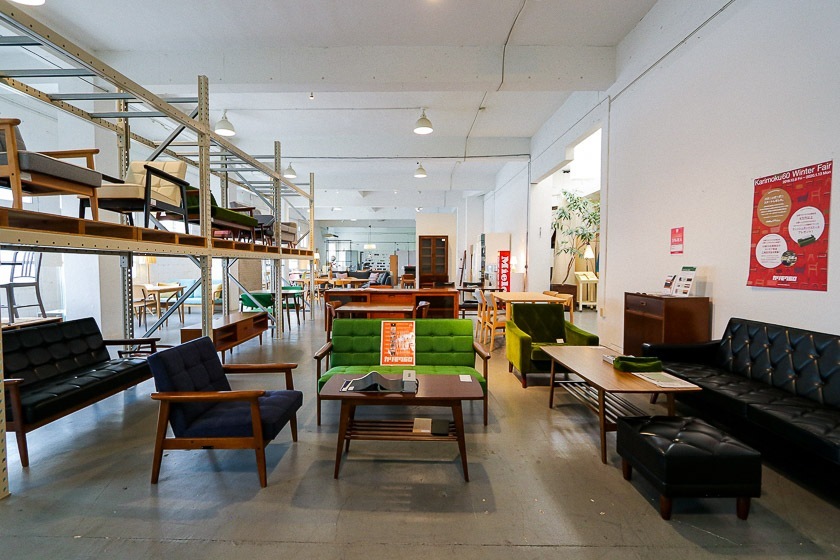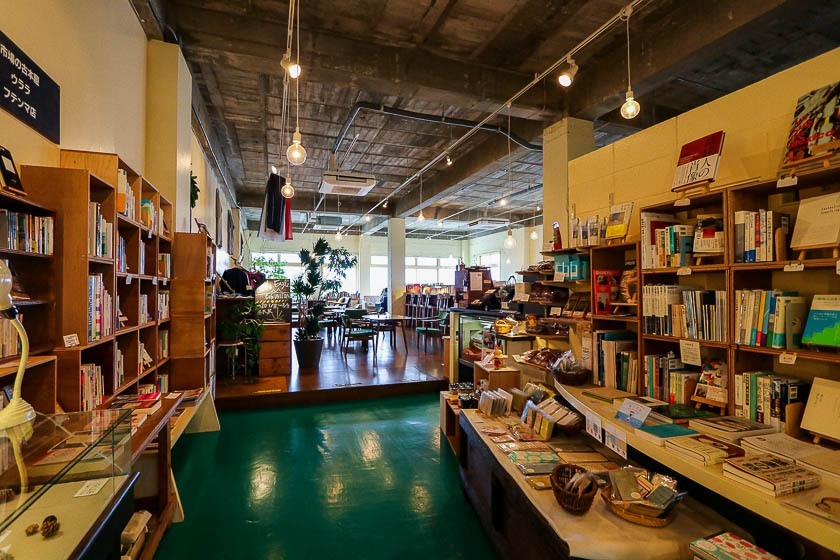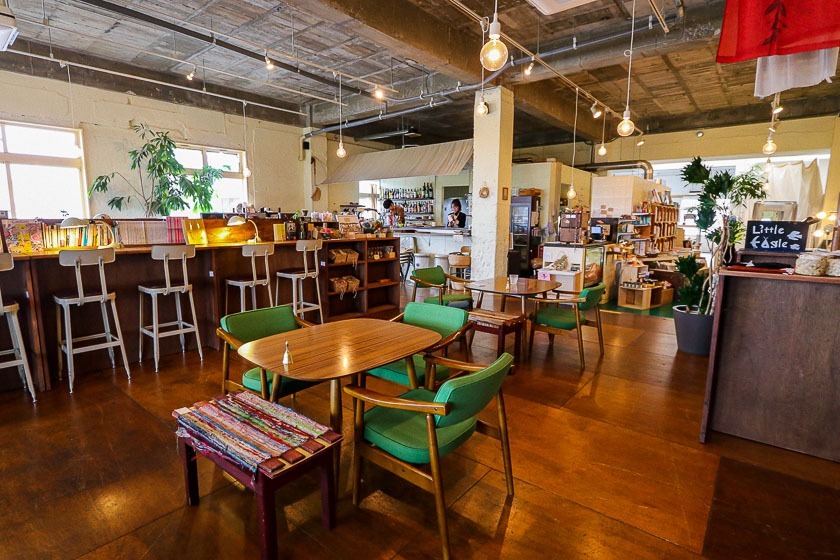 From there, I headed to Hotel Sunset Terrace, my accommodation for the night in Chatan. I had made dinner reservations at a restaurant located on the ground floor of the hotel. Staying at that hotel was a no-brainer, especially if I was going to drink, which I did. Remember that Japan has a zero tolerance on drinking and driving, and the penalties are pretty harsh.
Restaurant Ardor is an Italian-style restaurant which uses local Okinawan ingredients. It was a superb take on utilizing local food and creating a fusion of Italian, Okinawan and Japanese flavors. Dining at Ardor was without doubt one of my best meals in 2020 thus far, and even the drink pairing was creative and innovative.
All of the staff at Ardor are from Okinawa, and some of them speak excellent English. I felt really lucky to be able to dine there, not only was the food great, the ambiance was top notch too. It is recommended to call ahead before going, and reservations are advisable.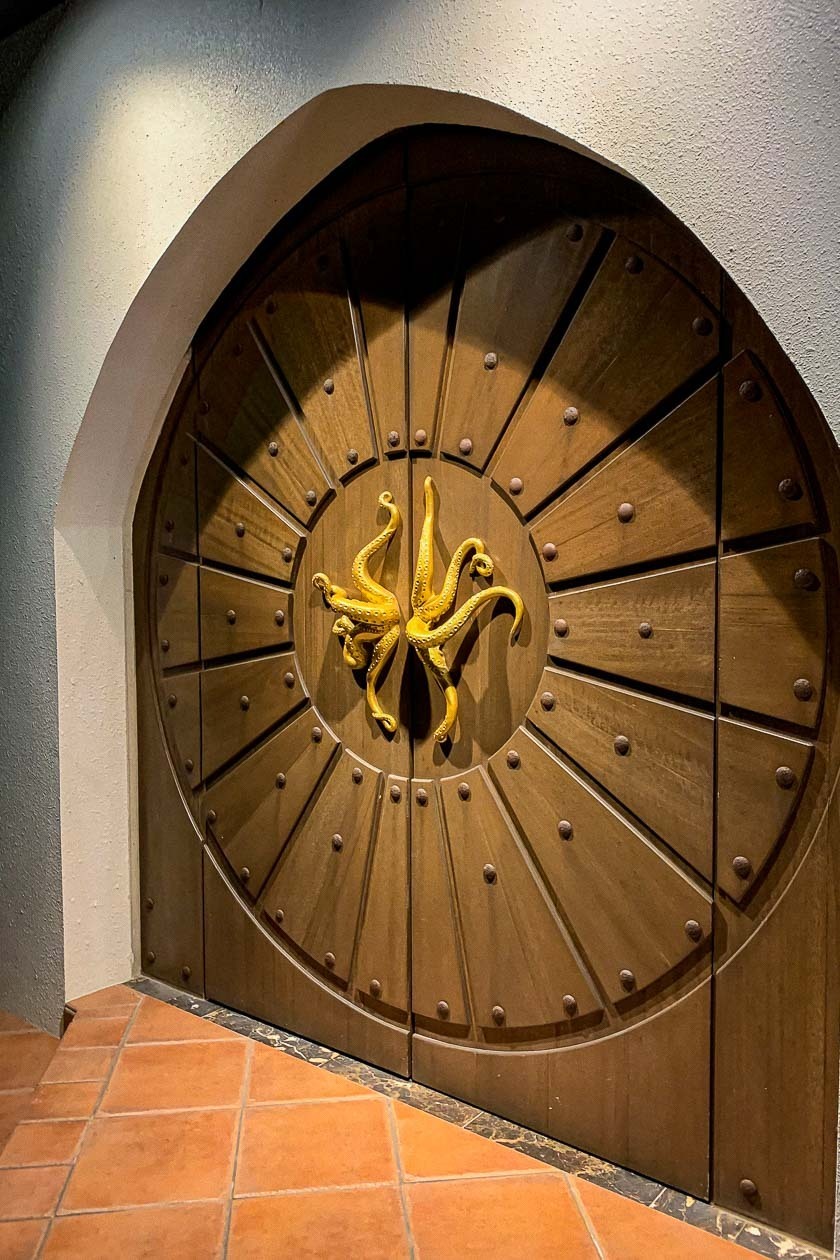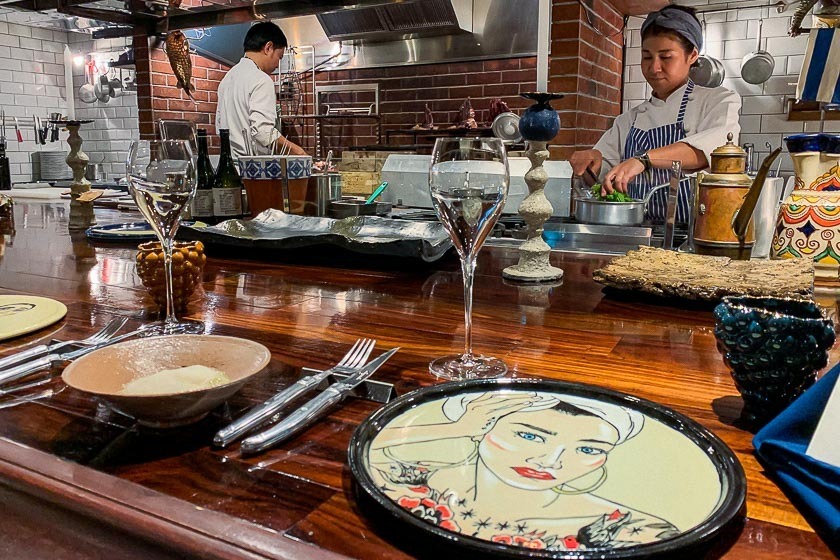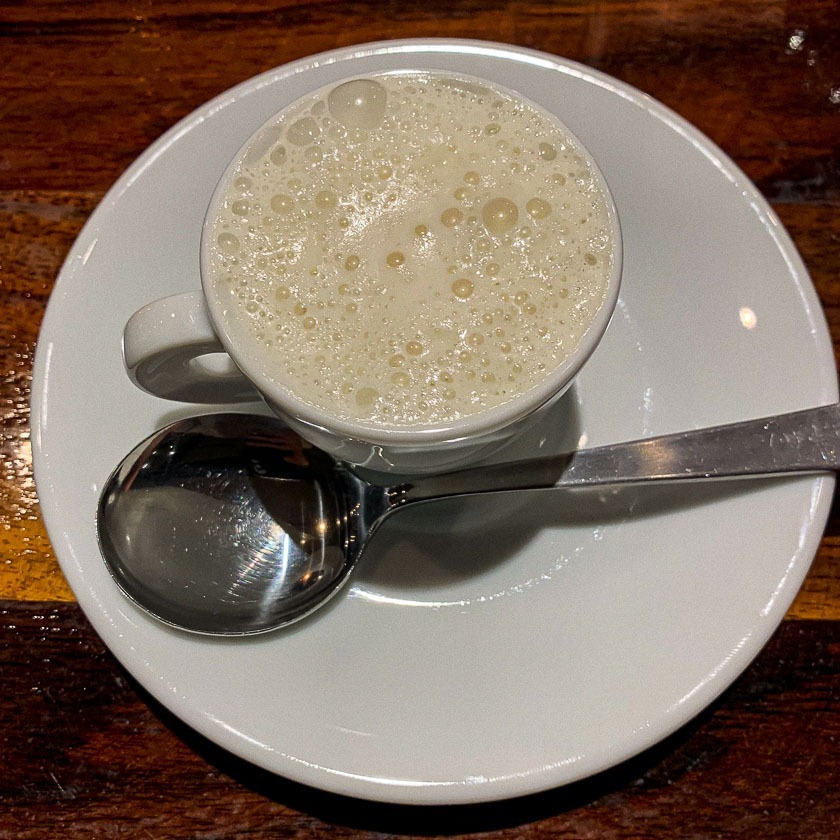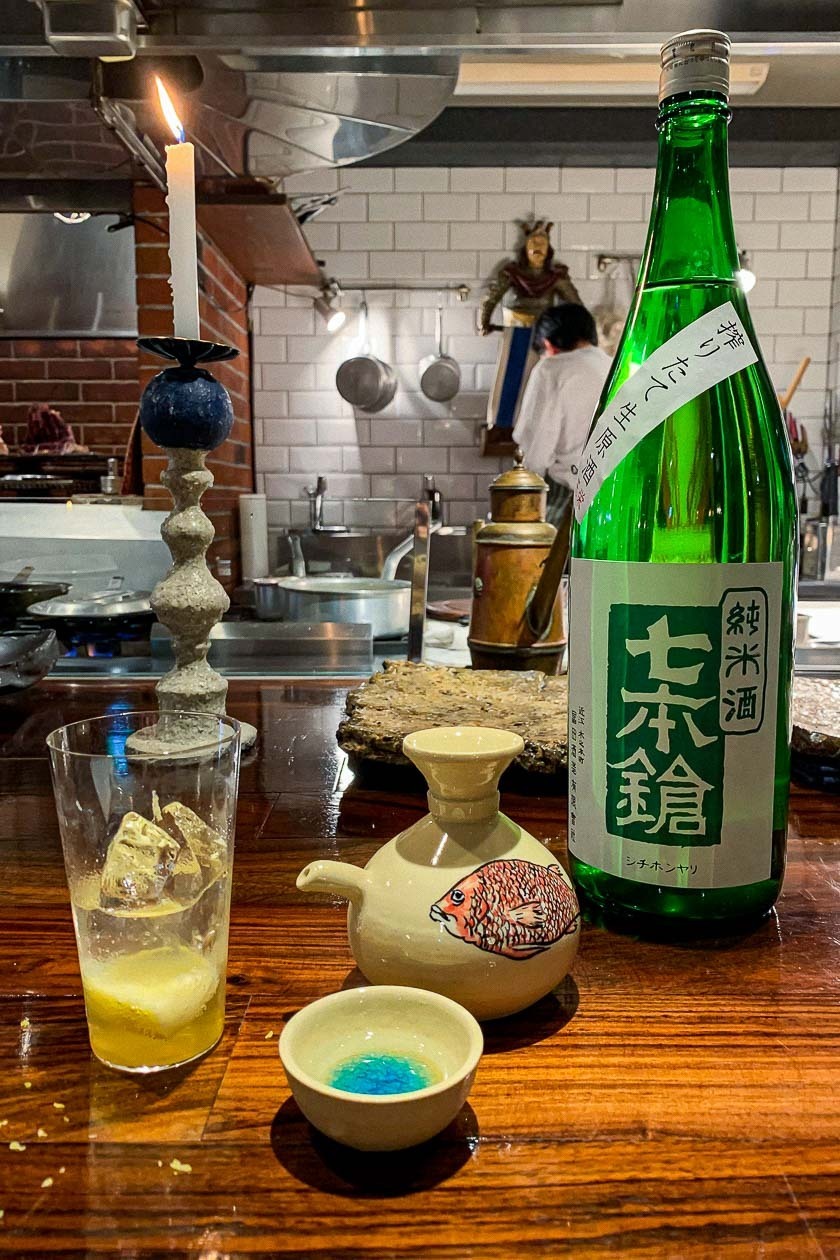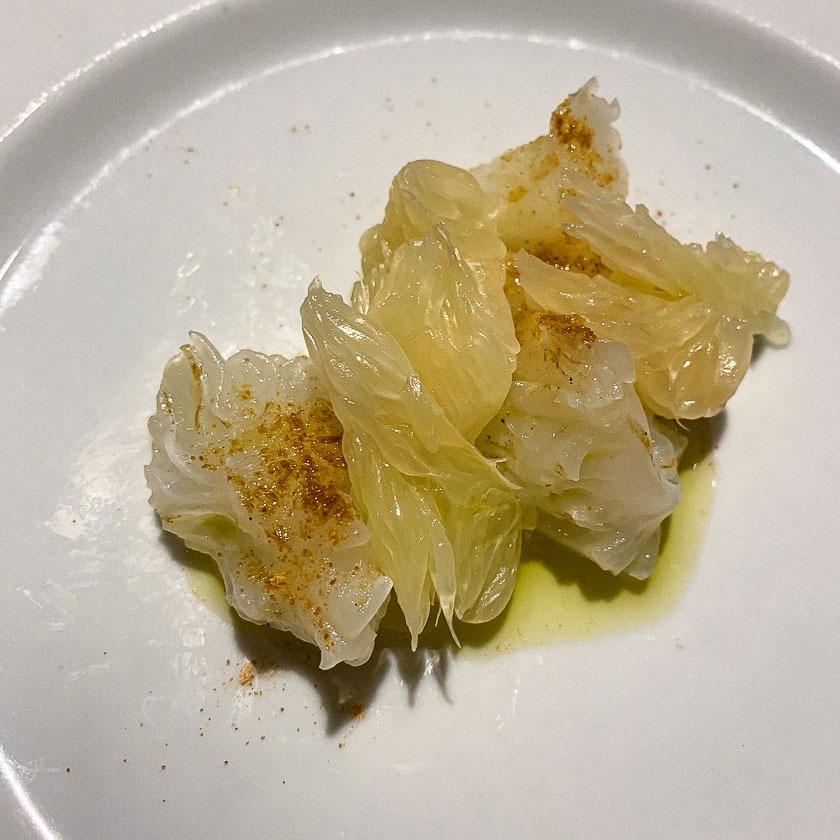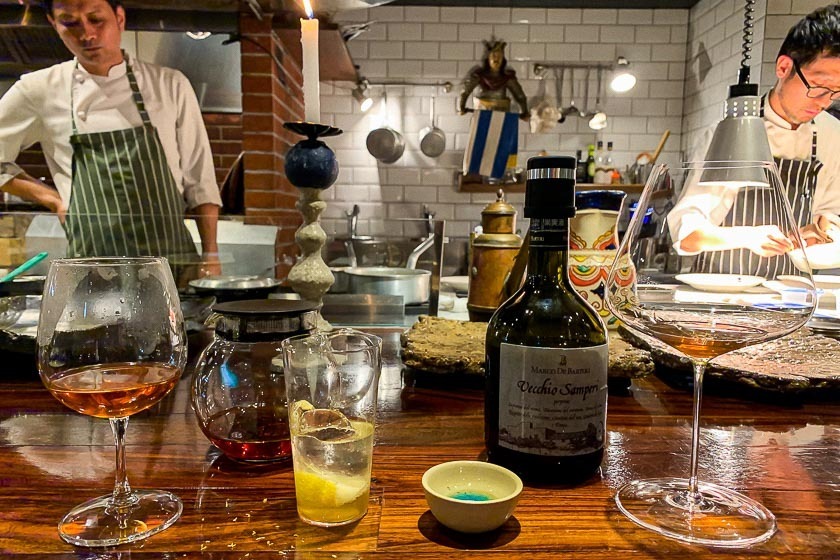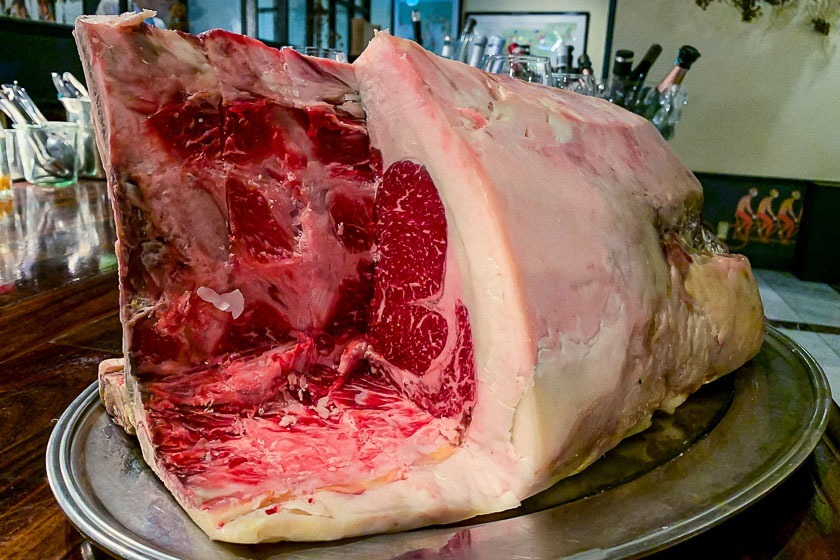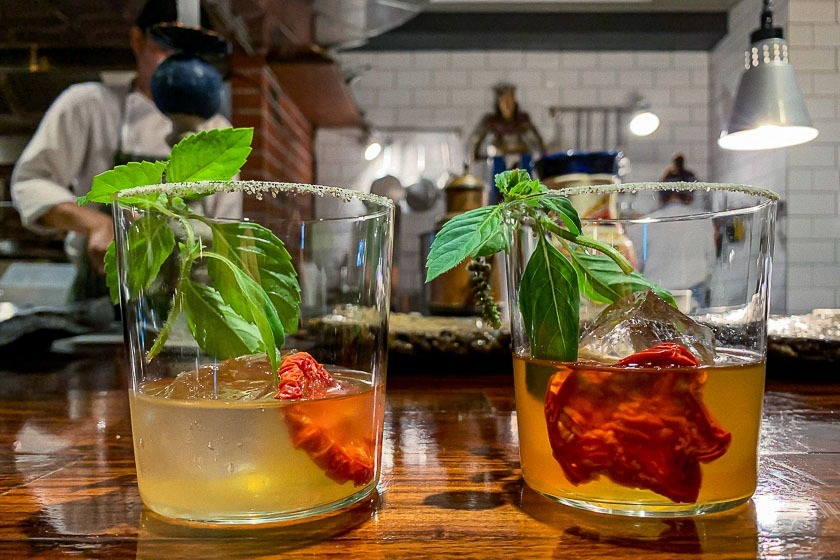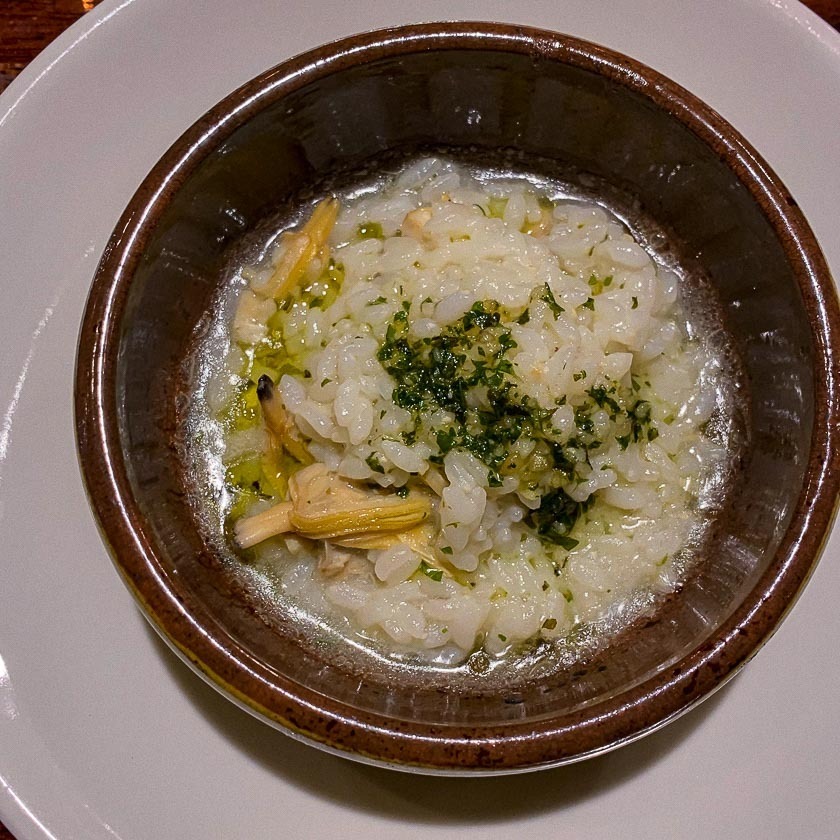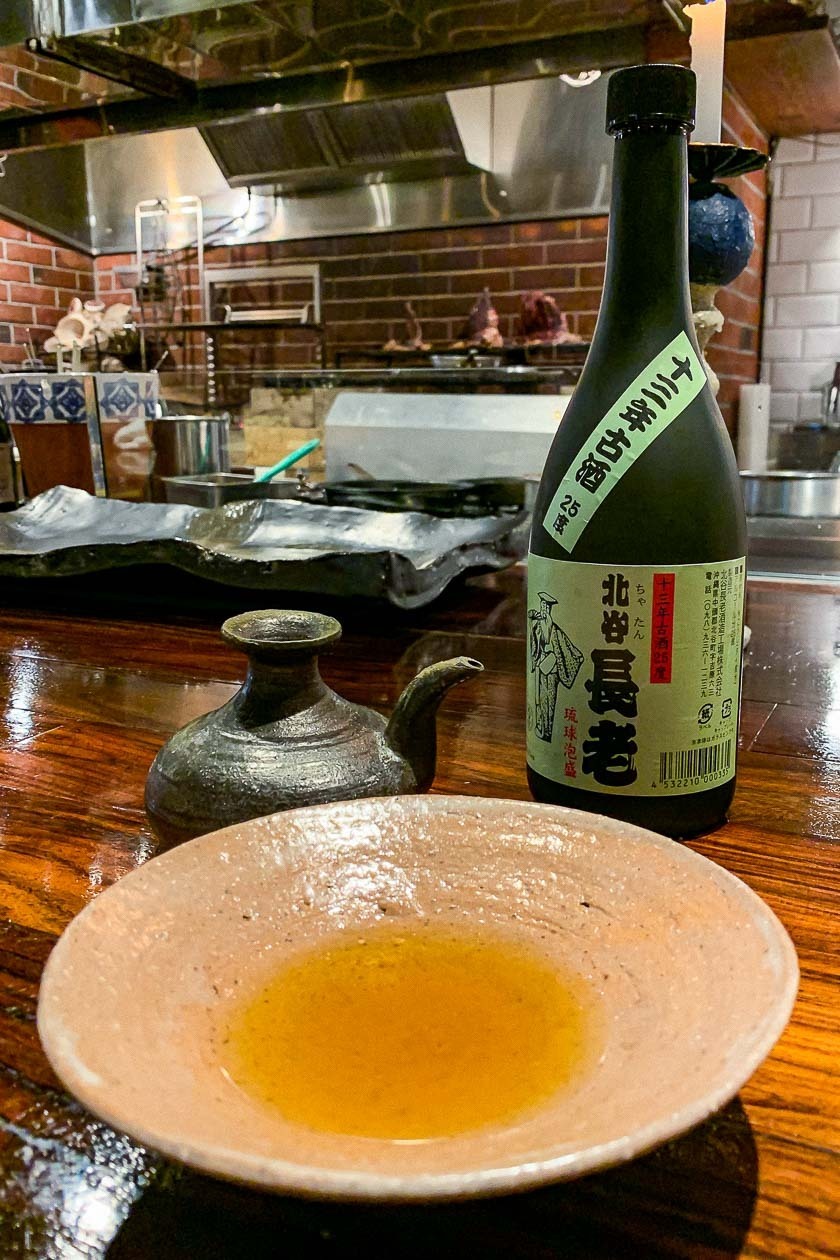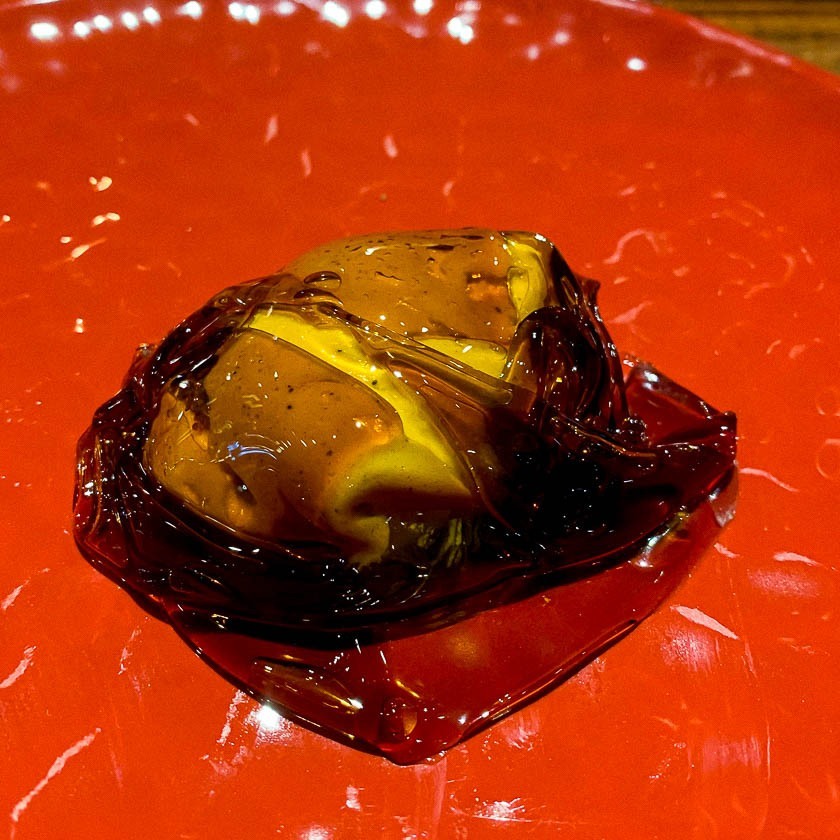 Day 2
After that epic dinner the night before, I wasn't really in the mood to eat anything. But the staff at Ardor had suggested Good Day Coffee not far away, and that was where I headed for brunch. The cozy cafe was about a ten minute walk from my hotel and made for a good leg stretch for an oldie like me.
True to the recommendations of the pros at Ardor, Good Day Coffee served up excellent brunch food and surfer vibes. The coffee was also great, and I felt like it was going to be a good day from there on. I walked along the coast back to the hotel, enjoying the sea breeze and coastal views.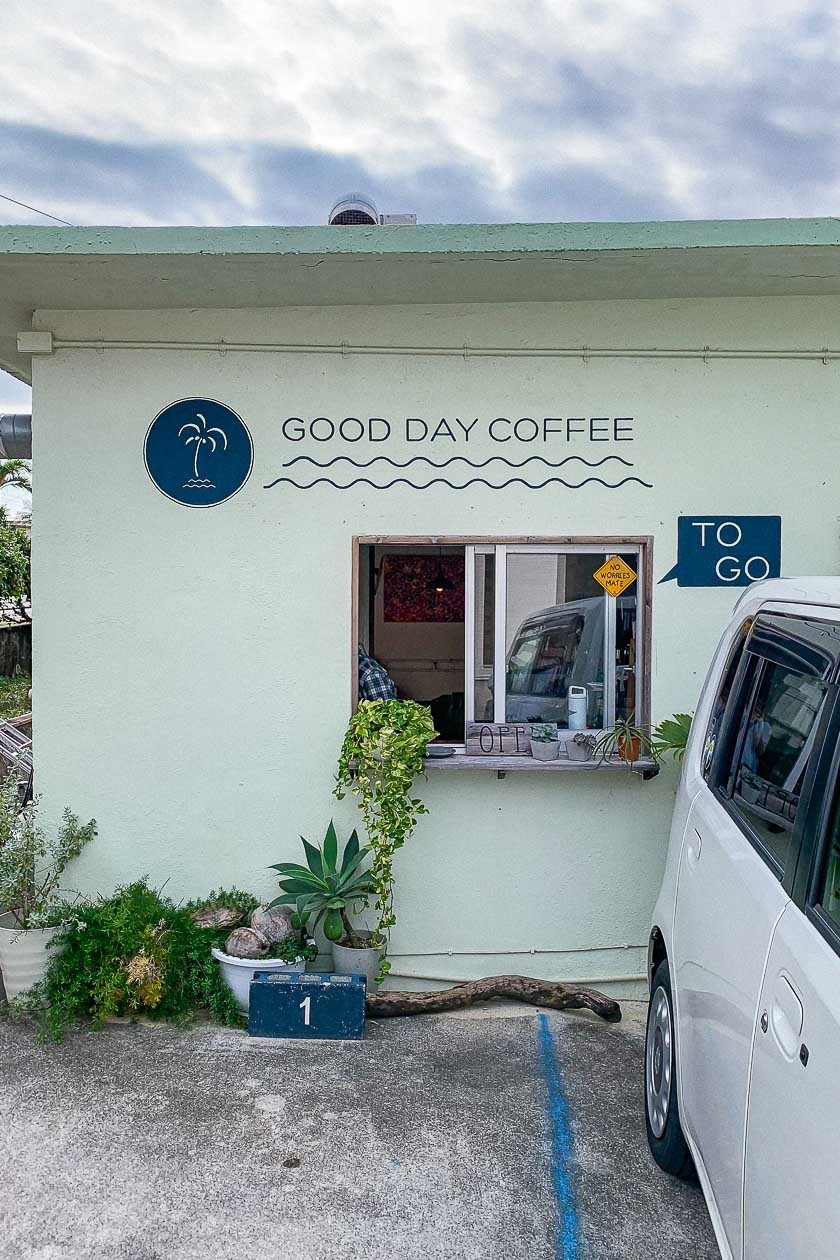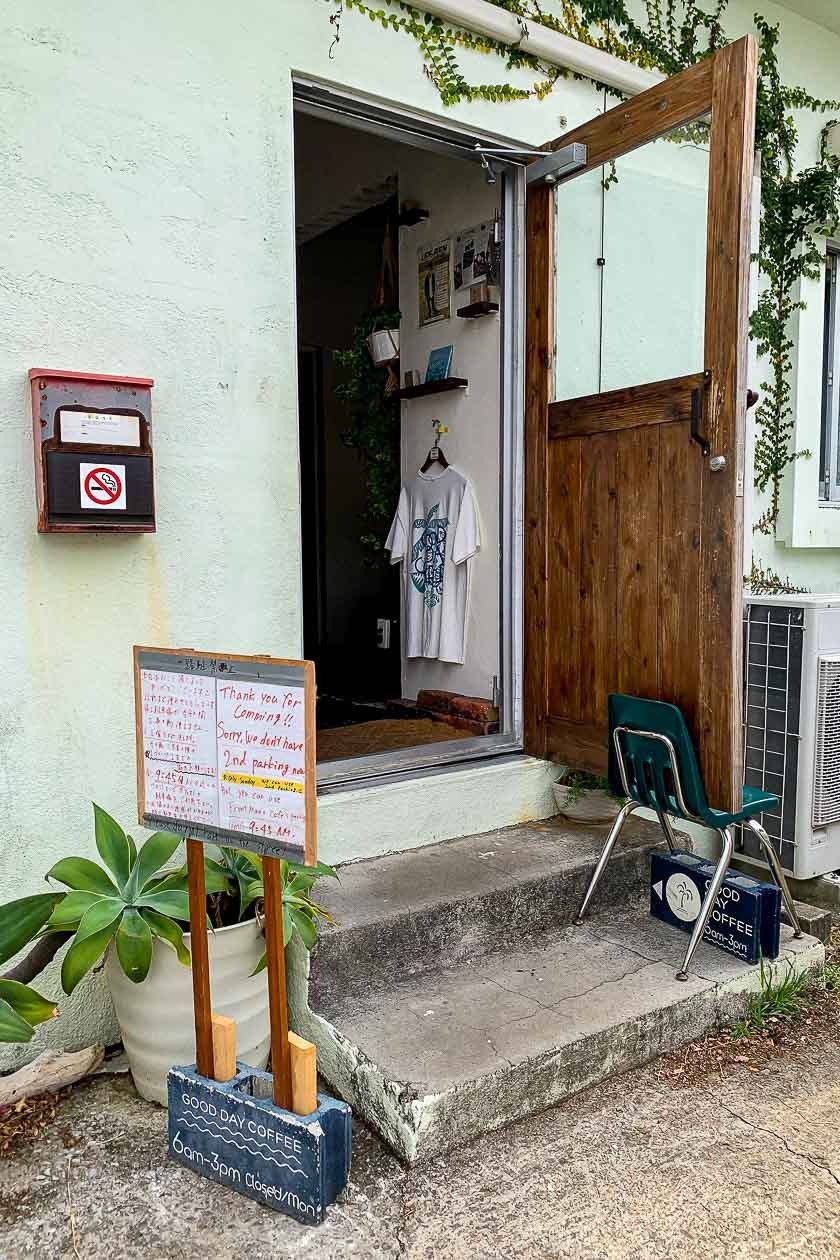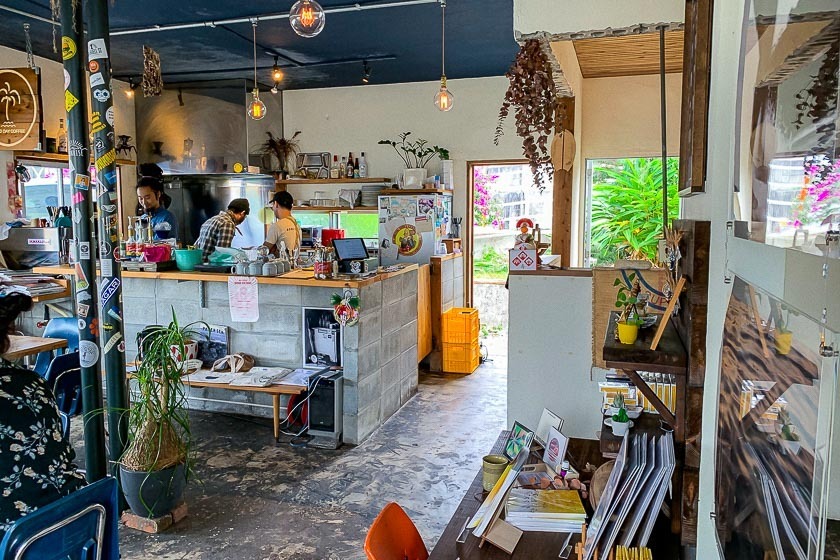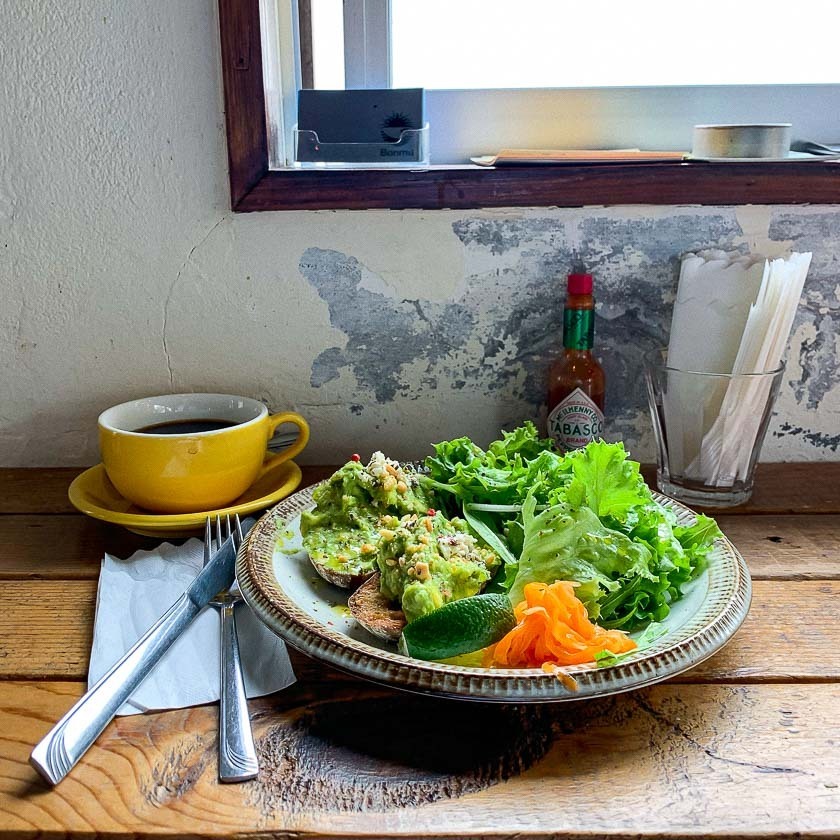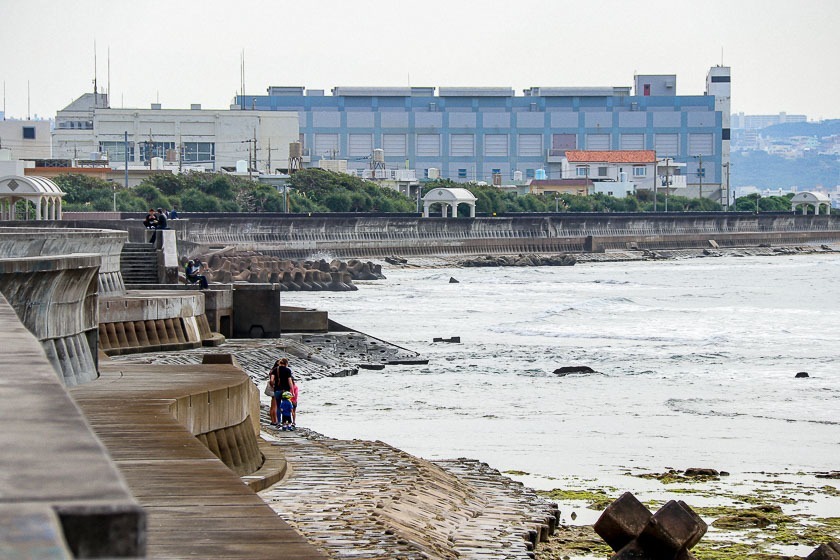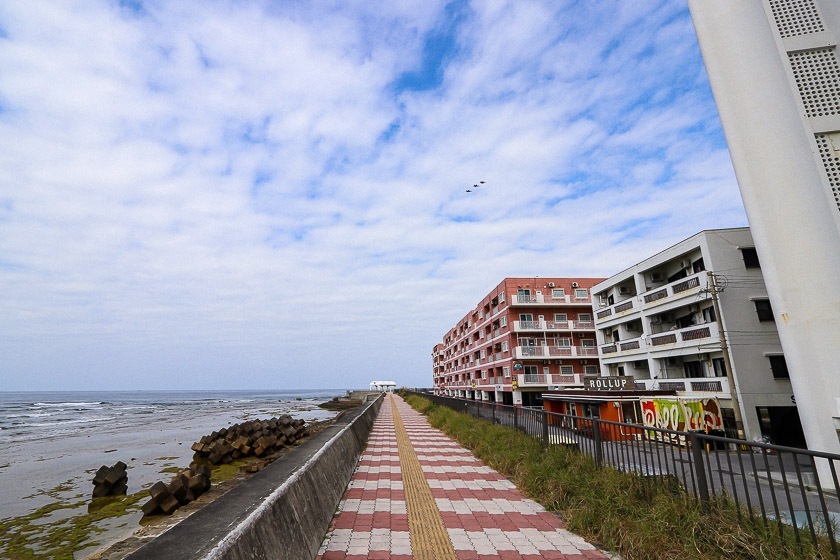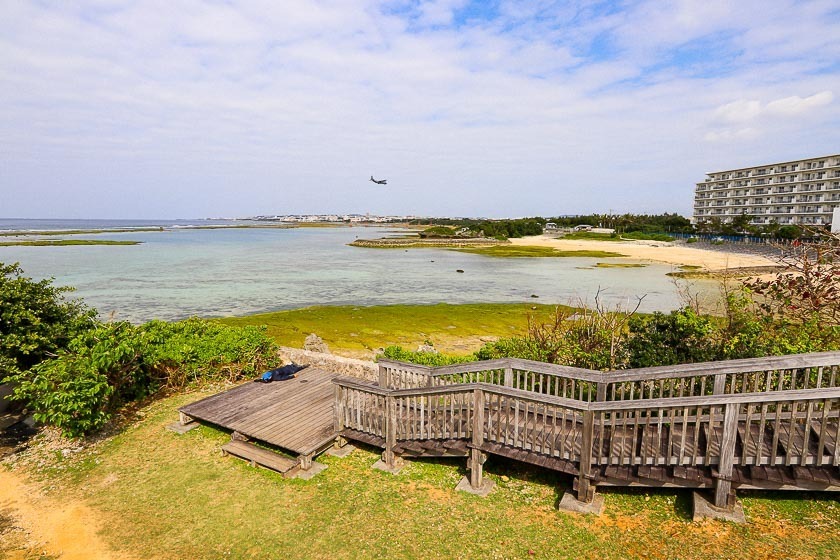 From there, I took one of my longest drives on this trip, about one hour, from my hotel to the islands on the eastern side of Okinawa Island. The plan was to enjoy more sea views, drive over bridges that cross the sea, visit a hidden beach and eat some quality kakigori, shaved ice.
The islands of Henza, Miyagi, Ikei and Hamahiga do not see many visitors, and even during summer - the peak tourist season - these islands remain relatively uncrowded. These places to me are the secret gems of Okinawa, offering almost private beaches and the quiet island life.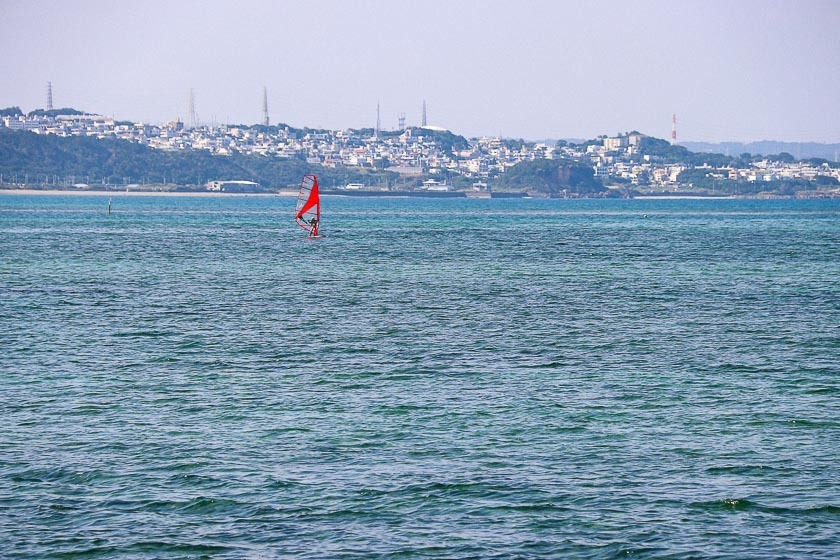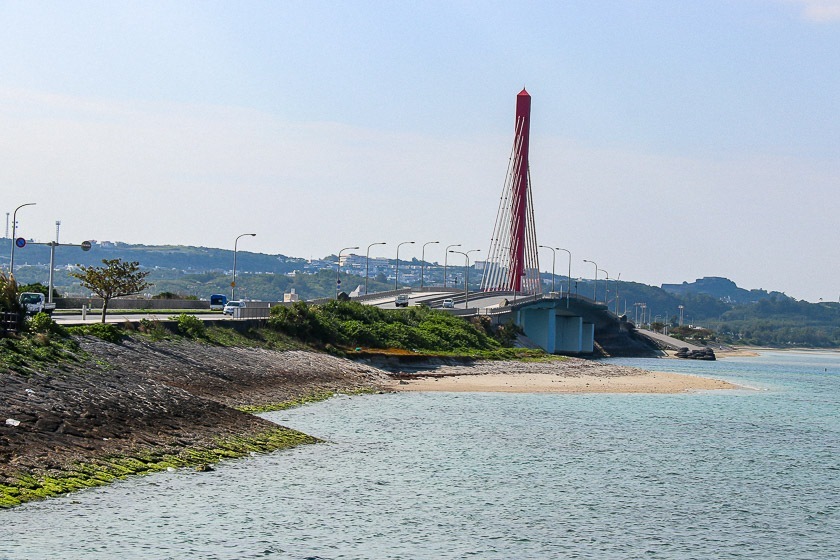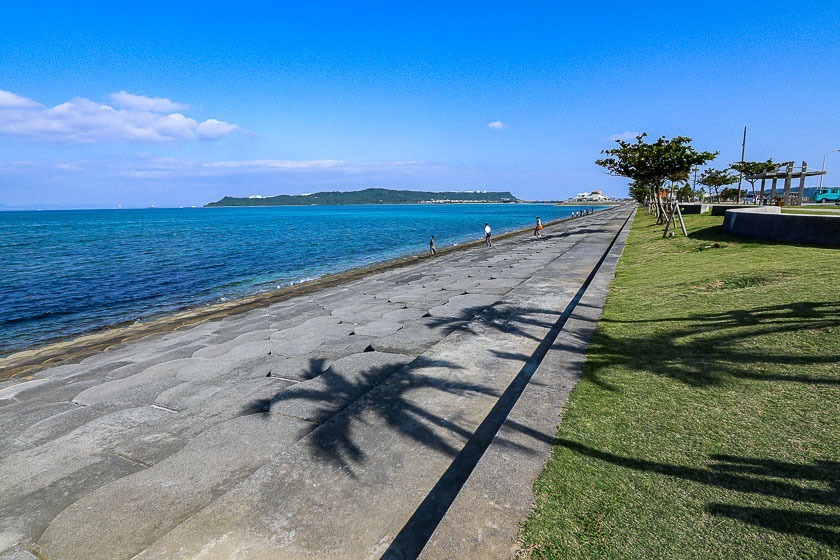 I headed first to Miyagi Island and straight to Nuchiuna Salt Factory located on a hill on the eastern end of the island. The salt factory is an interesting place to see how salt is made, and there are large rooms with glass windows where visitors can see the sea water that would eventually become natural salt. However, the draw for me here was the lookout point a stone's throw from the factory.
From there, I saw the islands of Henza and Hamahiga as well as the deep blue sea. I found it very relaxing to stand and look at the open water around me.
After taking in my fill of the open water and island landscape, I headed down the hill to Ruan Shimairo, a small gallery and shaved ice cafe. The kakigori here was nothing short of perfect and was served in cute custom made ceramic wares. I finished my shaved ice in a matter of minutes and considered getting a second serving, but decided against it after much deliberation. I had my eyes on purchasing the spoon just for eating future shaved ice, but alas, they weren't for sale at all.
To wrap up my time on the eastern islands, I drove to a small beach on the eastern end of Hamahiga Island. There was absolutely no one there, and I had my own private beach. Nothing like lying in the sun without a care in the world, and no one to bother you at all.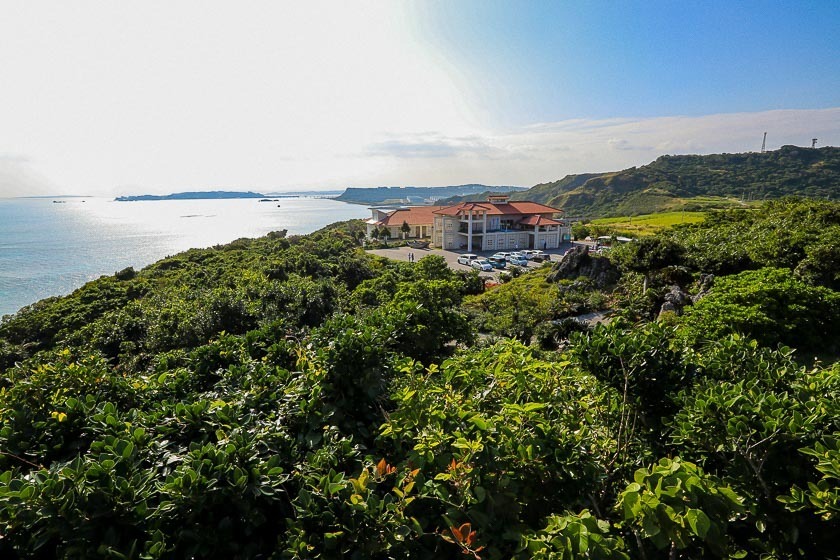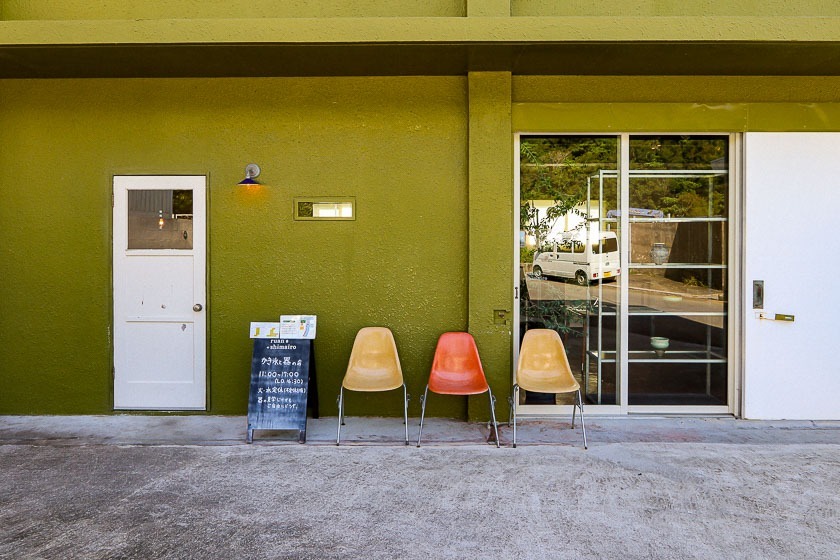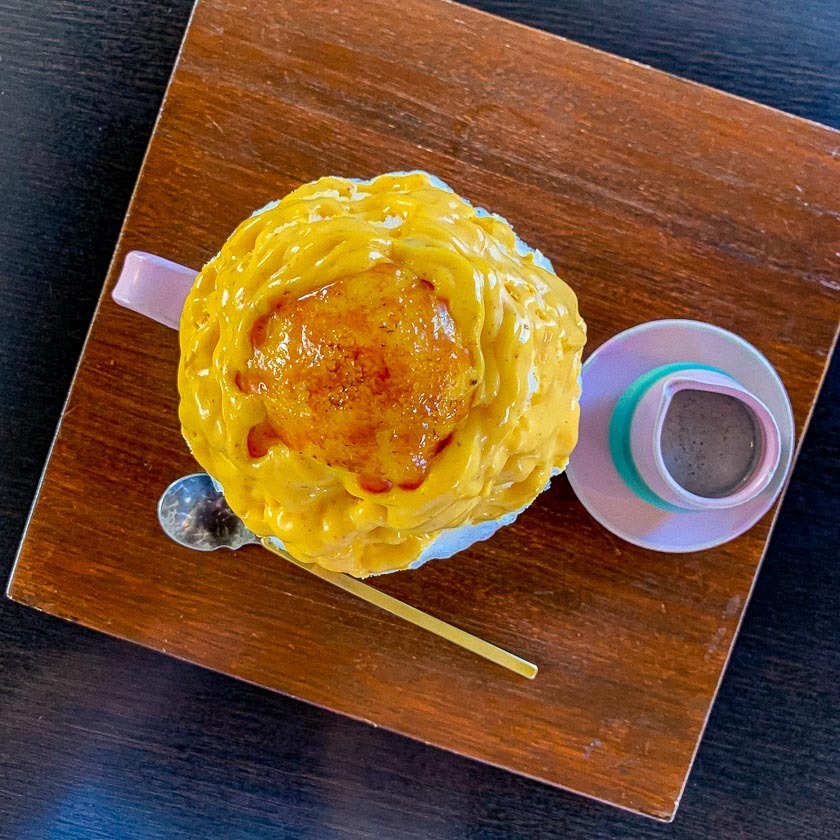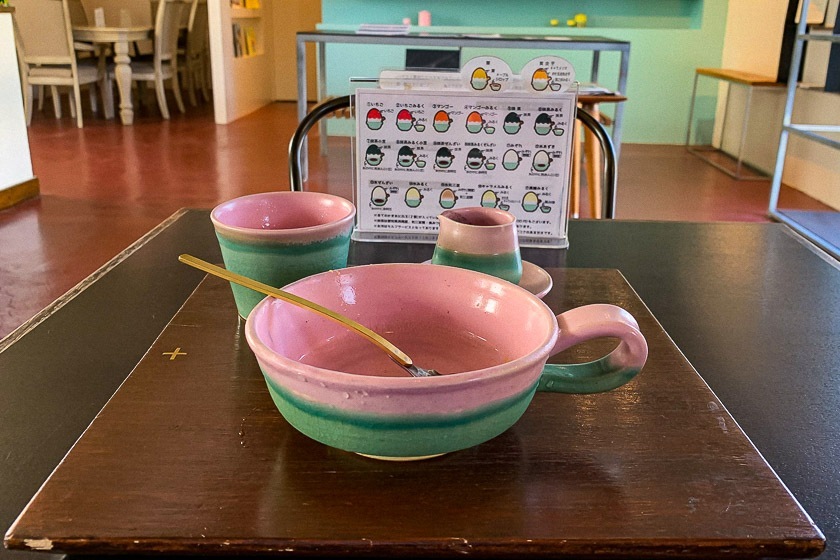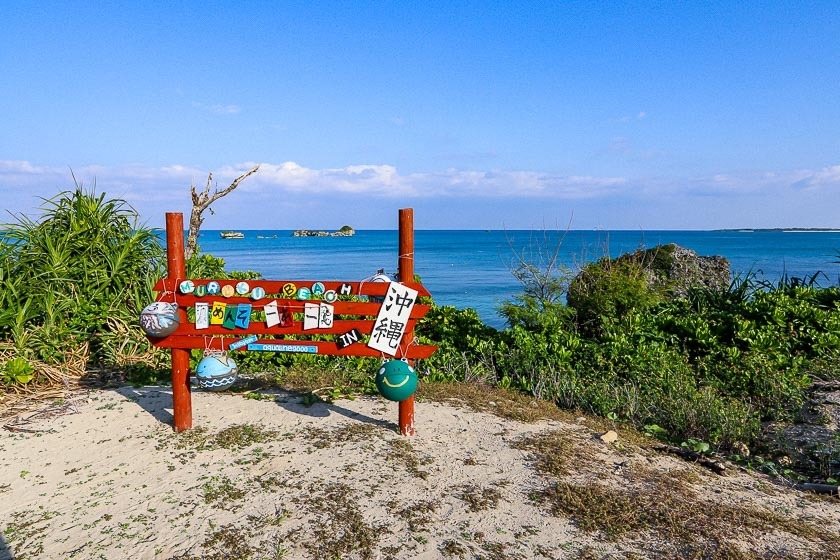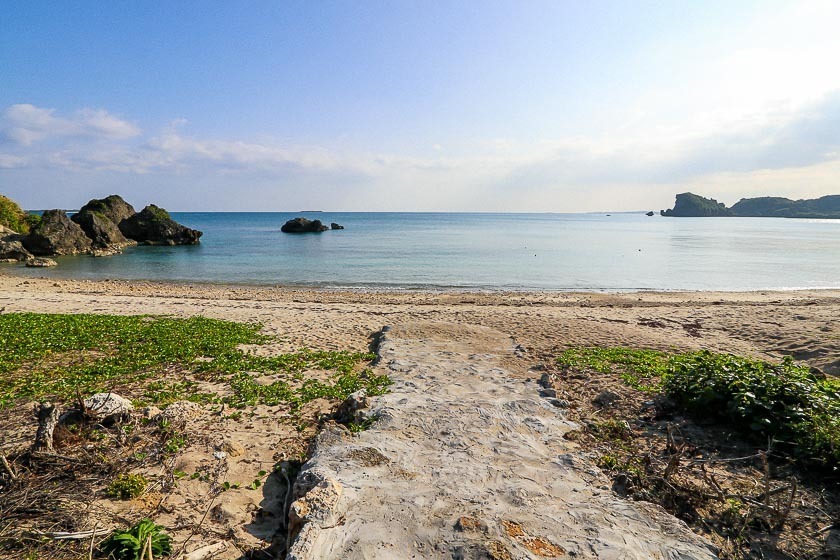 Finally to end my trip, I made my second hour-long drive to Zampa Lighthouse. The weather had been good all day, and I headed west for an opportunity to see the sunset. The lighthouse was built at the tip of Cape Zampa, which is bordered by two kilometers of 30-40 meter cliffs walls. It was a fitting place to end my trip and my day, and I couldn't have asked for more, except maybe I should have gone for that second order of kakigori :P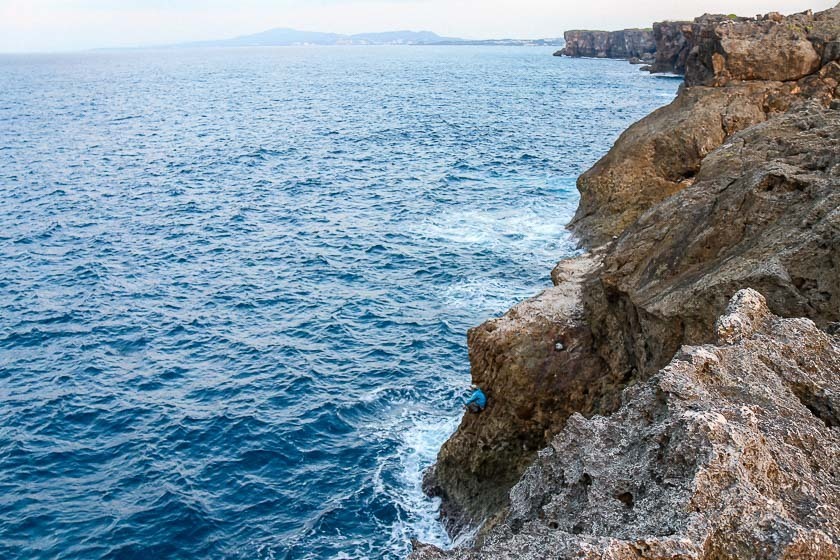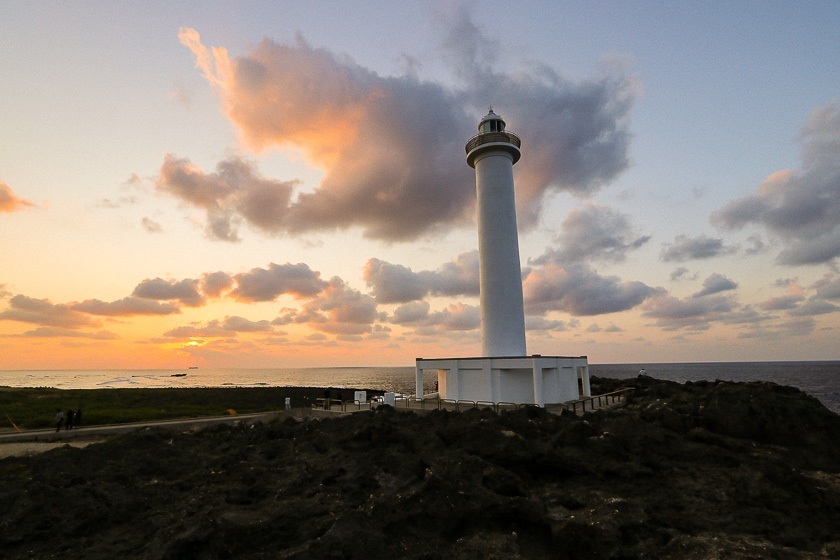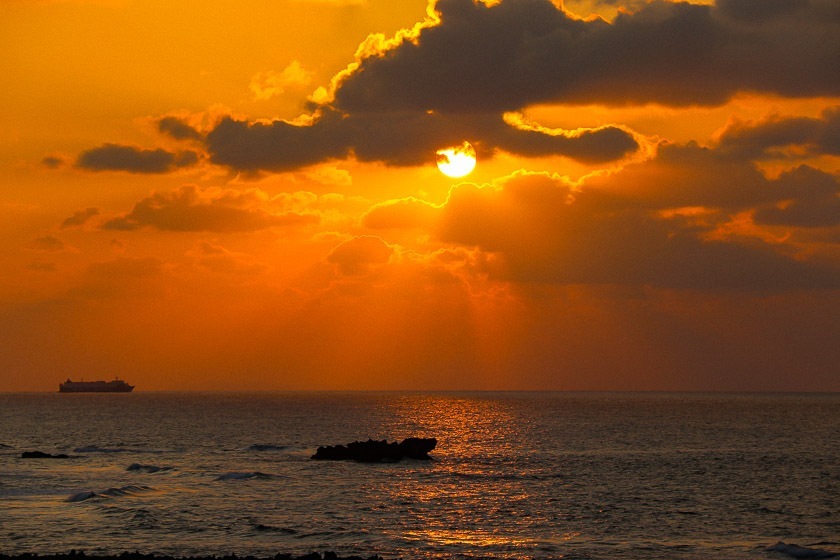 Getting There and Around
Driving is the most convenient way to access the spots I visited on this trip aside from Shuri Castle and Shimujo restaurant, which are within walking distance from Shuri and Shiritsubyoin-mae stations on the Yui Monorail respectively. However, I decided to go with a rental car straight from the airport and drive to all the places on my itinerary.
Rental car outlets can be found at Naha Airport and in central Naha.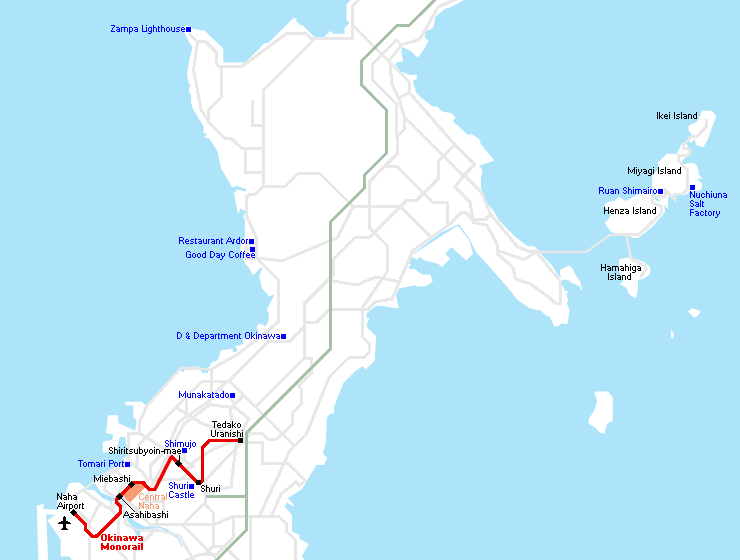 The Chotto Zeitaku Japan series by japan-guide.com is a continuing project to seek out places that allow us to enjoy the better things in life. Not exactly a sightseeing guide, but one that transports the visitor into a different space to relax and get away from it all.
More Chotto Zeitaku Japan