Matsue Horanenya - Sakaiminato
Note: The opinions and views expressed in this user report are those of the individual author and do not necessarily reflect the opinions and views of japan-guide.com.
May 20, 2019 - Matsue Horanenya - Sakaiminato
Another day of sightseeing has come to kill time before the second day of the Horanenya Festival on Wednesday. It's time to unleash my inner otaku and enter the manga world of Tottori Prefecture!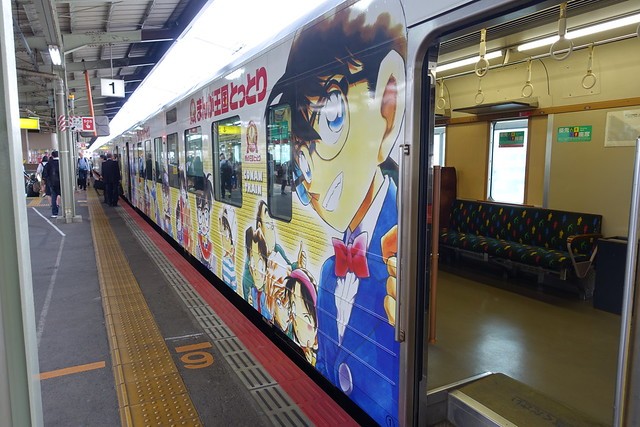 Although considered to be a backwater prefecture, Tottori is the home prefecture of two of the most famous manga artists in Japan: Gosho Aoyama, creator of the internationally popular series Detective Conan, and the legendary Shigeru Mizuki, creator of Gegege no Kitaro. I paid a visit to Shigeru Mizuki's hometown of Sakaiminato, not far from Matsue. A trip to Sakaiminato had been a must for me in the Sanin Region, especially after Mizuki-sensei's death in 2015.

Although Gegege no Kitaro was not published in Malaysia, I happened to know Mizuki-sensei through 'Gegege no Nyobo', an NHK asadora about Shigeru Mizuki's life told from the perspective of his wife. After watching 'Gegege no Nyobo', I was amazed and touched by Mizuki-sensei's life and achievements. It was fascinating to know that Mizuki-sensei was able to draw manga with only one arm despite losing his left arm during World War 2 when he was stationed in Papua New Guinea. Mizuki-sensei was the one who made the yokai (demon) genre popular and without his contribution, I would never be able to read my favorite manga, Yuyu Hakusho.

You can imagine my excitement when I saw a Yonago-bound Conan livery train plying into Matsue Station. I could have boarded this train to get to Sakaiminato, but as my Sanin-Okayama pass was still valid, I chose to ride in comfort by hopping on to the next incoming Yakumo Express to my next stop, Yonago.

At Yonago Station, I waited at platform 0 where trains bound for Sakaiminato would ply. To my delight, the next Sakaiminato-bound train was a Medama-Oyaji themed one. Medama-Oyaji is a walking eyeball character who is Kitaro's father, hides in Kitaro's left eye socket, has extensive knowledge about demons, and loves to soak in a teacup filled with hot water.

The stations along the Sakaiminato Line have a second name, based on demon characters from Gegege no Kitaro. For example, Yonago Station is also known as Nezumi-Otoko Station, Yonago Airport Station is also known as Betobeto-san Station and the final stop, Sakaiminato Station is also known as Kitaro Station.

The announcements in the train contain original cast voices of Kitaro, Neko-Musume (Cat-girl) and Medama-Oyaji, adding to the experience of entering Mizuki-sensei's magical demonic world.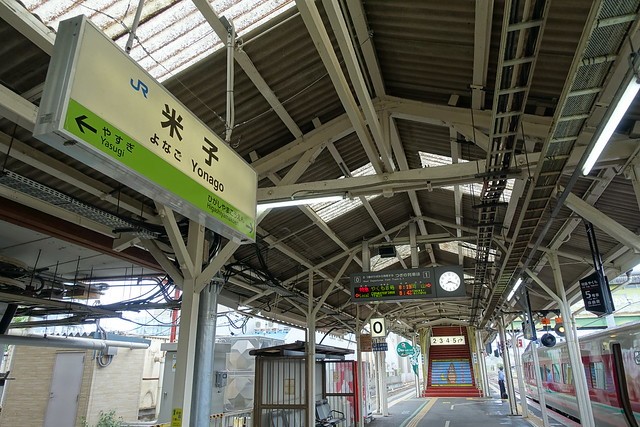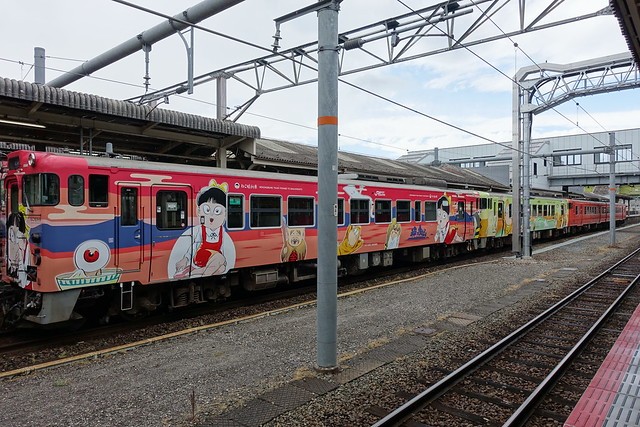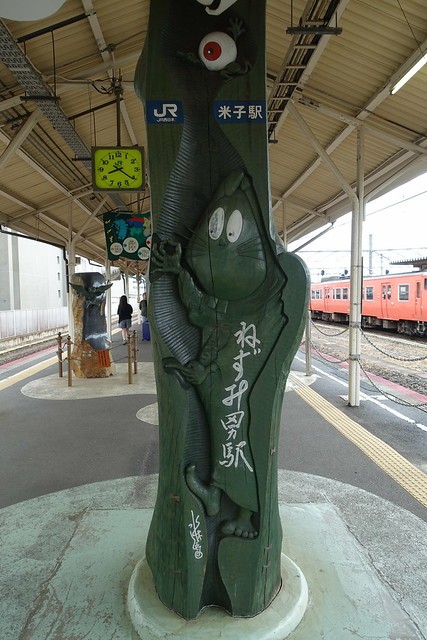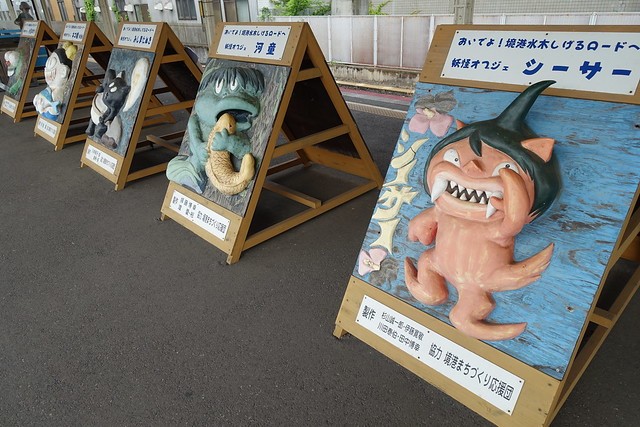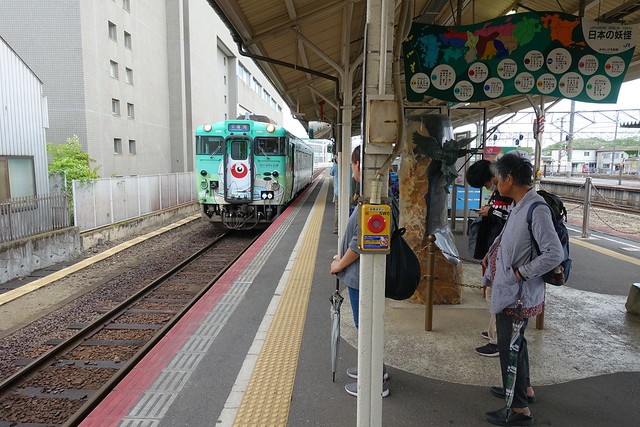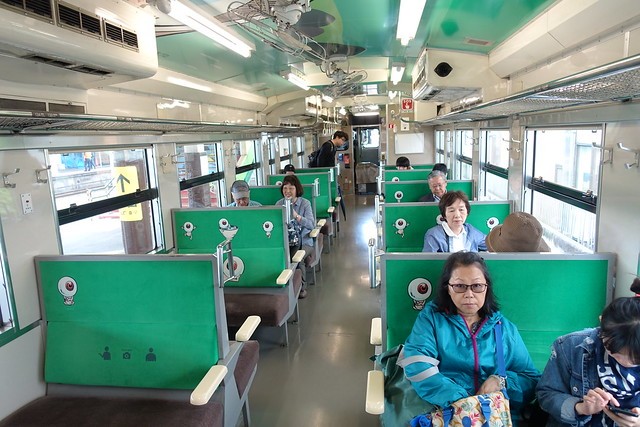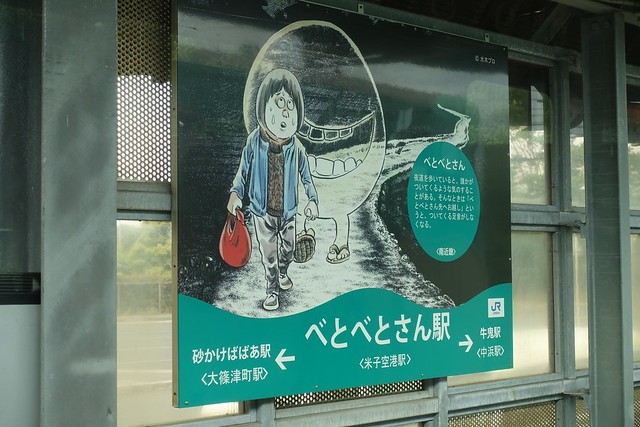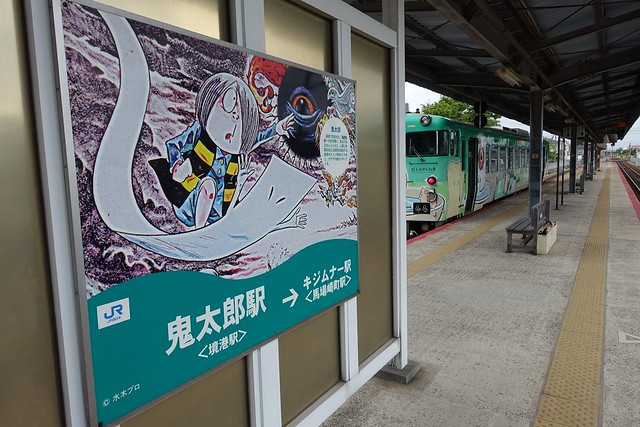 I eventually arrived at Sakaiminato Station and after exiting station, I could already see statues of Mizuki-sensei and his characters: Kitaro, Akuma-kun and so on. There is a road in Sakaiminato named in Mizuki-sensei's honor, called Mizuki Shigeru Road. This road is filled with small statues of Mizuki-sensei's demons and lots of kitschy Kitaro-themed shops that would surely delight fans of Gegege no Kitaro.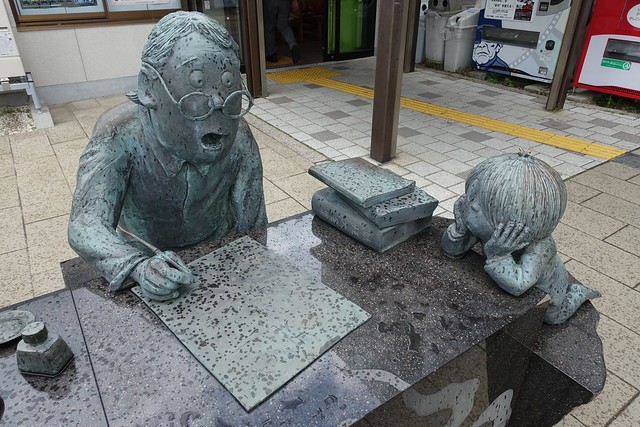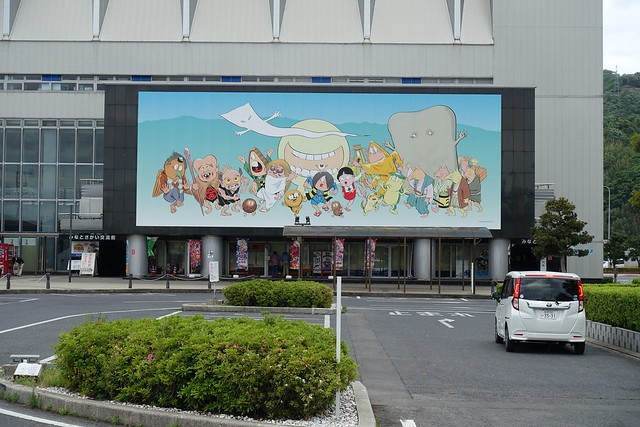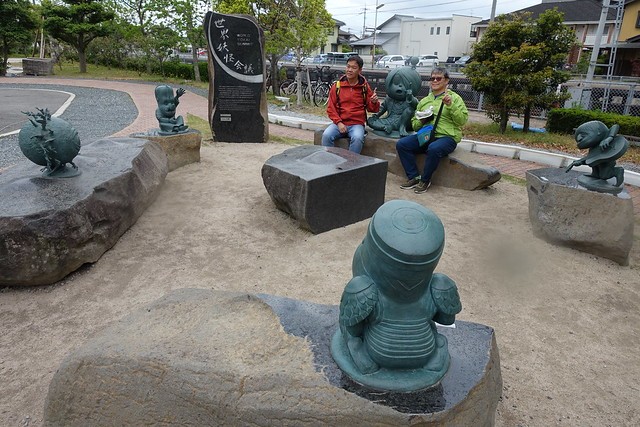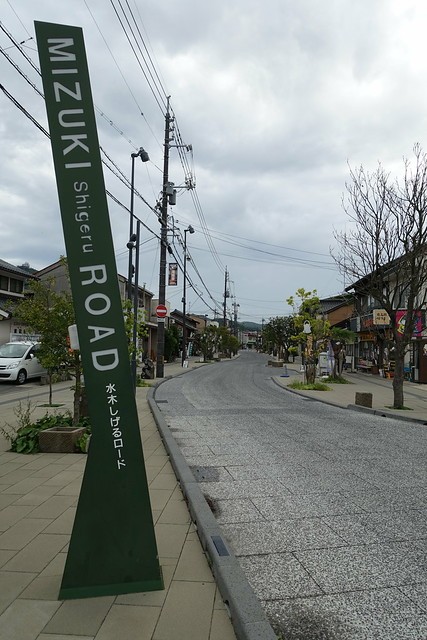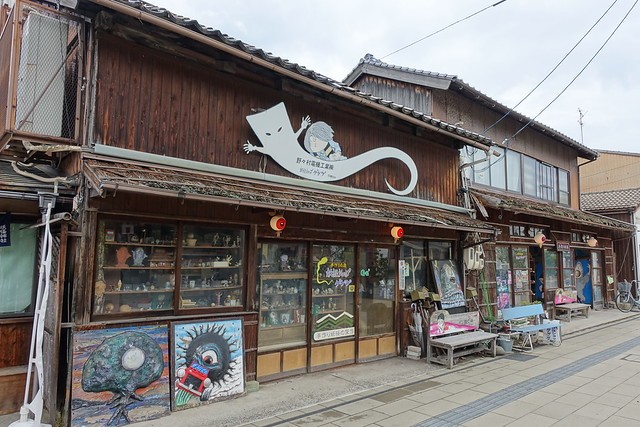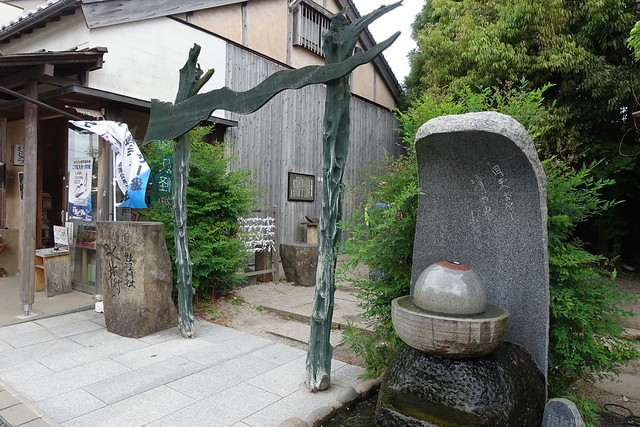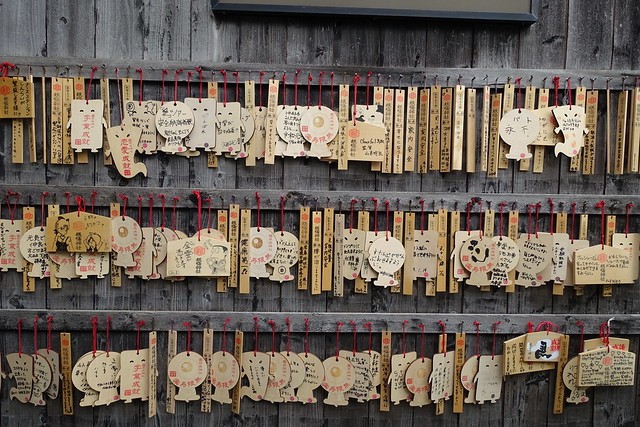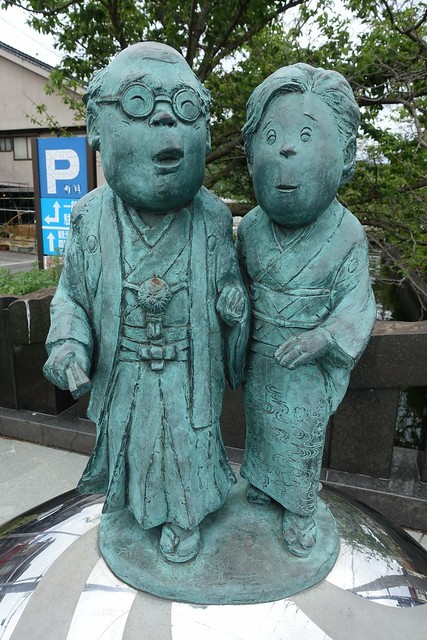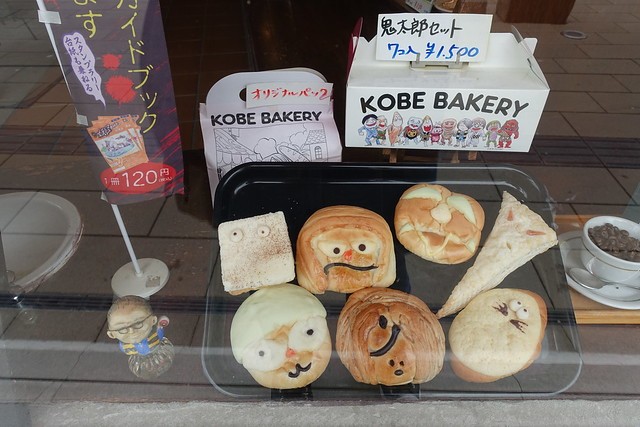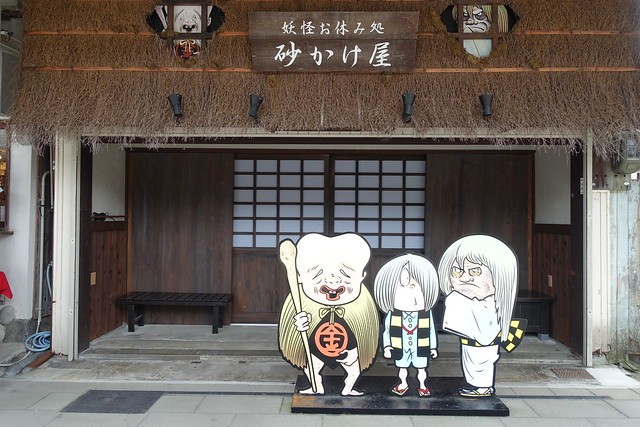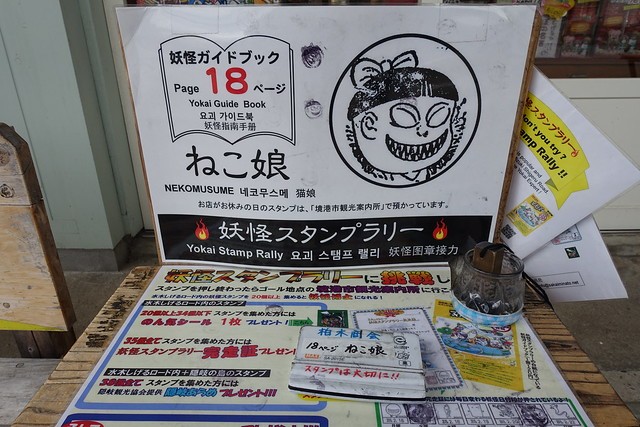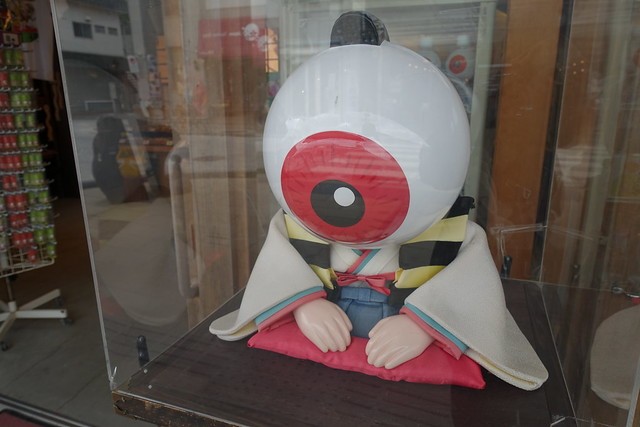 At the end of Mizuki Shigeru Road is Sakaiminato's most famous tourist attraction, the Mizuki Shigeru Memorial Hall. Here, one can learn about Mizuki-sensei's contributions and life.

I was most impressed with the exhibit displaying Mizuki-sensei's travel souvenirs, photos and gear and it was very interesting to know that he had visited Malaysia 3 times before to see our local aboriginal tribes. During the war, Mizuki-sensei lost his arm from a bomb shrapnel and was nursed by the tribesmen of Papua New Guinea. When he was found and rescued by the Japanese army, he vowed to pay them a visit again someday. After striking it rich with Gegege no Kitaro, he kept his promise by visiting Papua New Guinea numerous times, sometimes with his youngest daughter. Eventually, he developed a love for travelling around the world, visiting ancient monuments and aboriginal tribes.

One of the exhibit's centerpiece was a Papua New Guinea tribal wood carving, chronicling Mizuki-sensei's life. The carving contains depictions of him as a young boy, as a soldier, as a married man with his wife and two daughters, as a traveler with the Papua New Guinea tribesmen, and as a manga artist with his creations: Kitaro, Nezumi-Otoko, Neko-Musume, Konaki-Jiji, Sunakake-Baba, Akuma-kun and Mephisto. This wood carving was a request made by Mizuki-sensei to local Japanese artisans and second copy was made, kept in his home.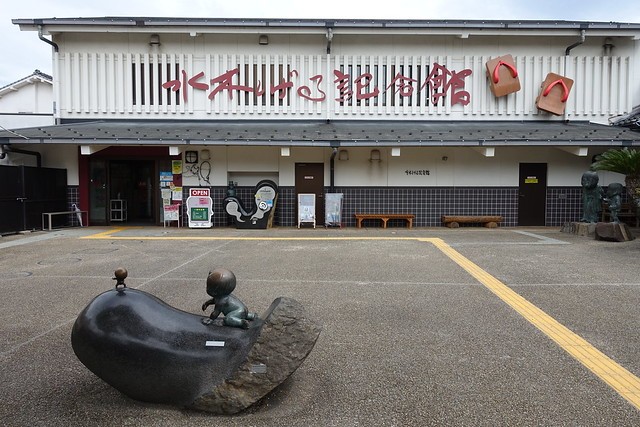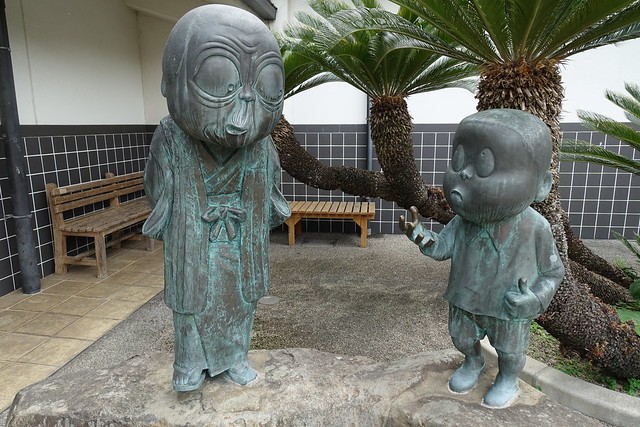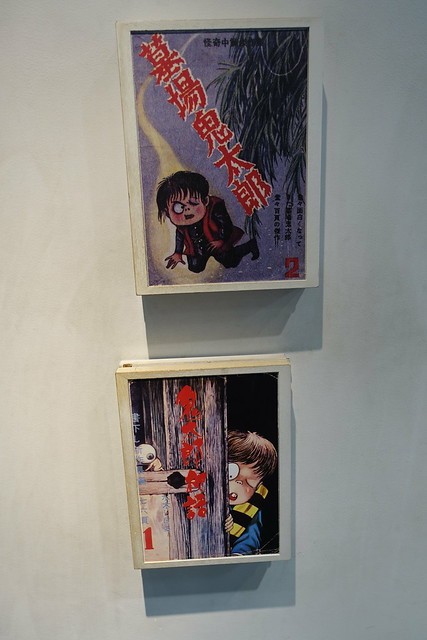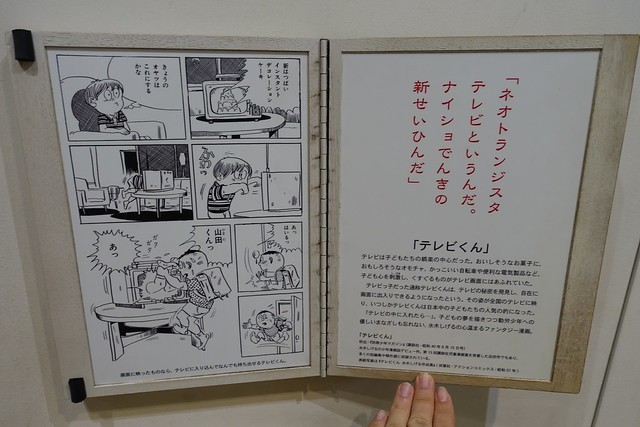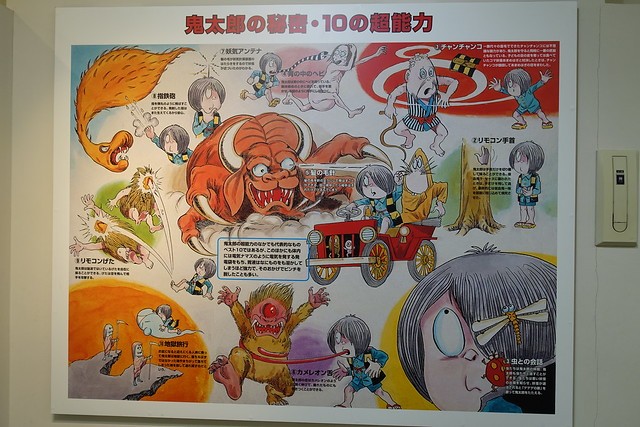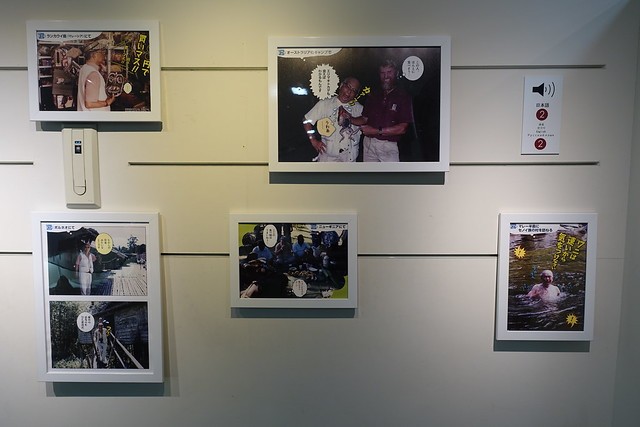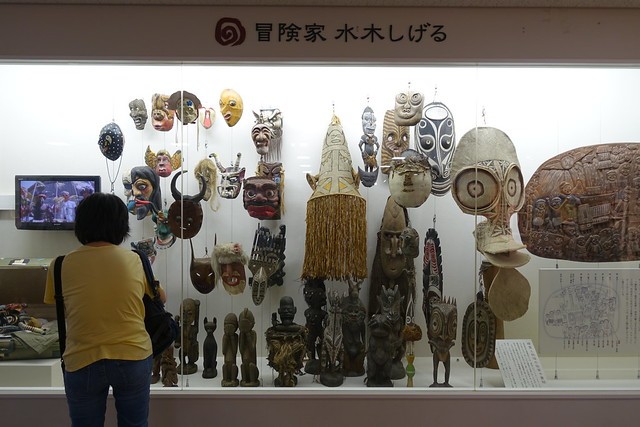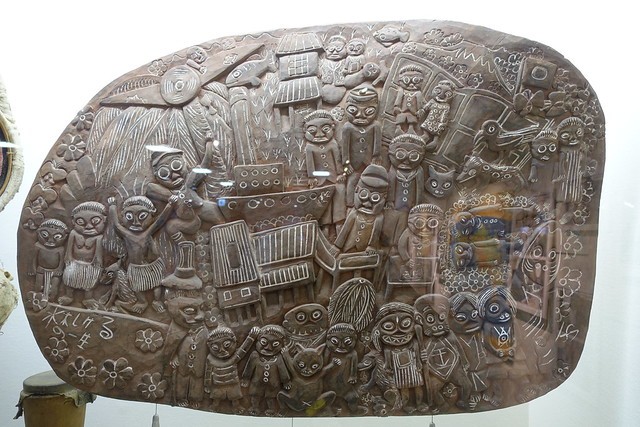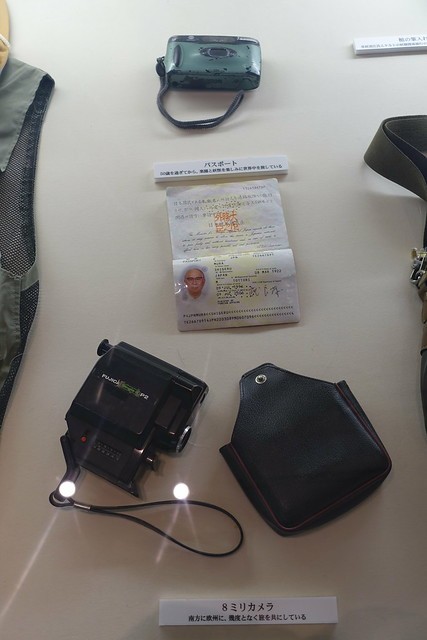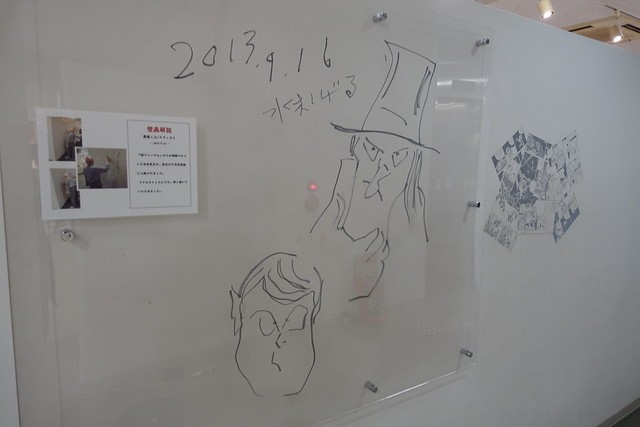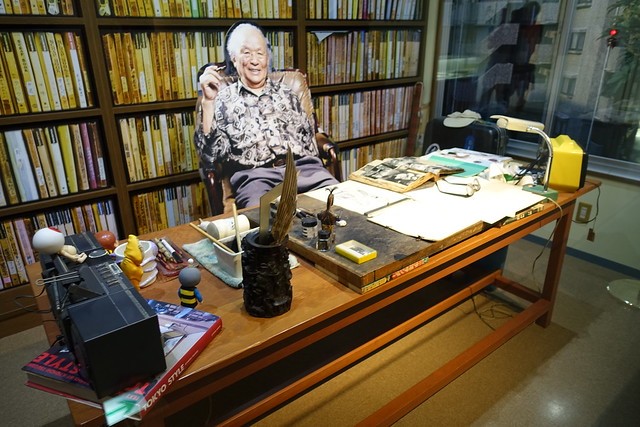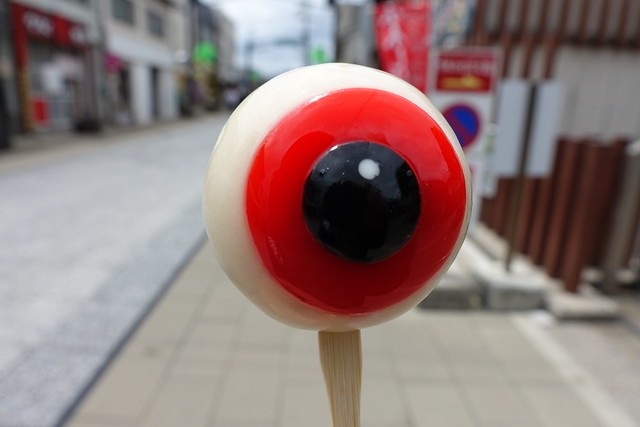 After a fun day visiting Mizuki Shigeru Road and the memorial hall, I headed back to Sakaiminato station and had lunch at a kaiten-sushi restaurant in the adjacent ferry terminal. After lunch, it was time to take off in a ship for an adventure at a faraway island...