February short tour - Tokyo/Kyoto
Note: The opinions and views expressed in this user report are those of the individual author and do not necessarily reflect the opinions and views of japan-guide.com.
February 17, 2015 - February short tour - Tokyo/Kyoto
Narita Express directly to Shibuya - Cerulean TowerHotel
We were running a short Introduction to Japan tour for a couple of English guests (D&H). They were heading back to the UK after enjoying several weeks of summer in New Zealand, and wanted to experience a bit of Japan on the way home.
One of the requests was to stay somewhere nice with a view of Tokyo. The Cerulean Tower Hotel in Shibuya fits that description and is easily accessible from the airport via the Narita Express. This made the transfer to the hotel easy after their 10 hour flight and the views from the 34th floor did not disappoint.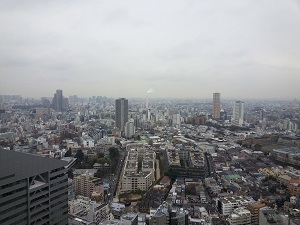 Day 2 Shinkansen Tokyo to Kyoto ? brief period of heavy snow
The forecast was for better weather in Kyoto, and the trip south had some promising sunny patches. There was a dramatic change around Hikone with some heavy snow, but that was quite localised, and Kyoto was cloudy, cold but not raining.

Matsubaya ryokan
We had booked two different types of room at Matsubaya Ryokan (about 10 minutesf walk from the main Kyoto station). D&H opted for the ewestern stylef room so Patrick and Wendy had three comfortable nights on futons in a six tatami mat room.

We enjoyed a Japanese barbeque meal for dinner and a visit to our local bar to say hello to friends rounded out the day.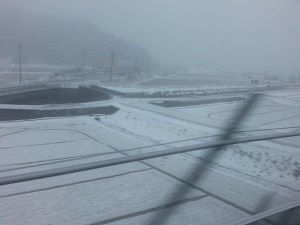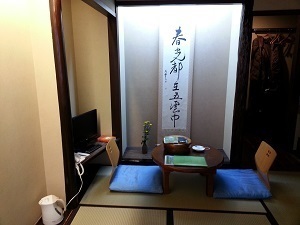 Day 3 Nara day trip
Taking the express train to Nara, D&H were able to see how more space was available for houses as we moved away from Kyoto. Also, as we were not on a fixed timetable, we took our time walking slowly through the township towards the main temple and shrine areas. This allowed for browsing in the shops and buying some souvenirs.

Because there are many sights in Nara, we focused on Kofuku-ji - the five story pagoda - and Todai-ji temple. The Great Buddha Hall has been rebuilt several times during the last 1,250 years and is a third smaller than the original, but remains impressive as the largest wooden building in the world. The Buddha is one of the largest bronze Buddha statues in the world (15 metres and 500 tonnes, but not tallest) and dominates the interior.

The deer that roam freely around Nara were their usual, pesky selves, even trying to eat a book from one of the school groups.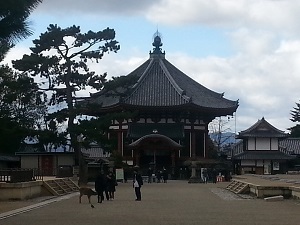 Tempura restaurant - Gion
During the evening we enjoyed a course meal at the Kikuya Komai tempura restaurant near Gion, on the recommendation of one of our local friends who accompanied us. Like many of the best locations, this would be nearly impossible to find without local knowledge.

The service was excellent and we watched the courses being prepared for us, with extremely fresh ingredients before being lightly battered and cooked. While we were seated at the counter, there are also two private rooms and the second floor is available for Maiko (apprentice geisha) to entertain guests. We were able to see two beautiful Maiko as they left during the evening. After dinner we enjoyed a stroll around old Gion and saw more Maiko entering and leaving restaurants with their guests.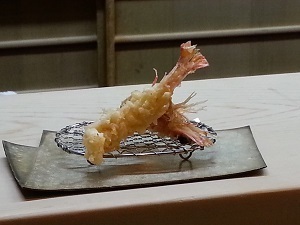 Day 4 Kodai-ji temple
Situated on the hills to the east side of Kyoto is the Kodai-ji temple complex. This location provides good views across the city. It is particularly famous for its gardens and beautifully designed building interiors.

The degree of effort put into making sure everything is kept immaculate was demonstrated to us by the gardeners tending the grounds ? weeding moss with tweezers! The grounds also reward visitors with a walk through a beautiful bamboo grove.

Another worthwhile attraction is the Entokuin, a sub-temple of Kodai-ji. The two zen gardens are illuminated in cherry blossom and autumn leaf seasons, but during our winter visit they were still beautiful (there are designated as gnational scenic spotsh).
The interior of the building includes 400 year old paintings (some with a gold background) by Hasegawa Tohaku, one of Japanfs most famous artists.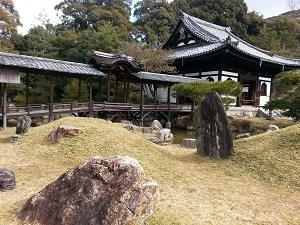 Day 5 Return to Tokyo
Saturday saw the four of us return to Tokyo, with many people travelling and the trains quite full. Fuji-san (Mt Fuji) made a welcome appearance during the trip, allowing many people to capture some great shots of this icon of Japan.

Once back in the capital, we visited the famous Shibuya pedestrian crossing on our way to Shibuya 109 - a store filled with boutiques and the latest trendy fashions. We stayed a further night at the Cerulean Hotel which had kindly stored some of D&Hfs luggage for them while we were in Kyoto.

Day 6 Tsukiji fish market, Ikebukuro and Pokmon store
After bidding our guests goodbye at Narita Airport, we returned to Tokyo for our last day in Tokyo. We made our way to Shimbashi station and walked from there to the Tsukiji fish market. Like many places in Tokyo, it takes a bit of travel time to get to (we took about an hour from Shibuya) and arrived around 10 a.m. Once we were near the markets themselves, it was easy to see the stream of tourists heading in the same direction for a look.

Security guards at the entrance were busy handing out instruction guides which listed the things you shouldnft do, including warnings against large tour groups, poor footwear and no strollers. Even mid-morning, the place is busy with workers zooming around on carts, scooters and trucks.

Inside, the large number of individual stalls and cramped conditions mean you need to keep your wits about you. There are plenty of interesting things to look at, but get too close and the stall owners will usher you away, unprepared to interrupt their wholesale business for the sake of curious tourists.
The remaining task for the day was a trip to Ikebukuro. We travelled some more on the Yamanote line and then had a pleasant walk to the Sunshine City shopping complex.
Our adult daughter has been a Pokmon fan a very long time, so we were in search of a plushy as a present (and a few other bits and pieces). We have been to Pokmon stores before (in Shindome, Osaka and Kagoshima), and while this was promoted as a MEGA-store, it seems about the same size as the Osaka one. Still, it had a good range of products and the large Pokmon on display were really good.

We will check out the shopping complex 60th floor observation deck, aquarium, and planetarium another time.