Trip to Kadogawa in Miyazaki-ken [Iorigawayaki- Ceramic Studio]
Note: The opinions and views expressed in this user report are those of the individual author and do not necessarily reflect the opinions and views of japan-guide.com.
May 20, 2017 - Trip to Kadogawa in Miyazaki-ken [Iorigawayaki- Ceramic Studio]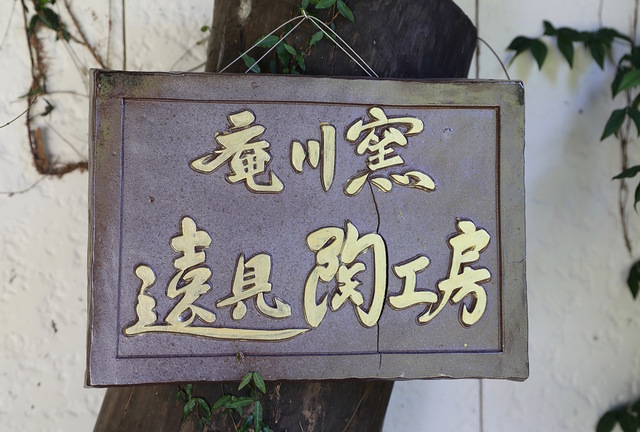 Halfway up Mt. Tomi is a small ceramics studio tucked into the steep hillside. The artist, Mr. Wada, lives and works there, making a variety of dishes, cups, vases and decorative items. Hundreds of items are available for sale, all of them glazed in deep earth tones that the artist makes himself. Mr. Wada was trained in Kyoto but returned to Kadogawa to make ceramicware from local clays in the Iorigawa neighborhood, hence the name.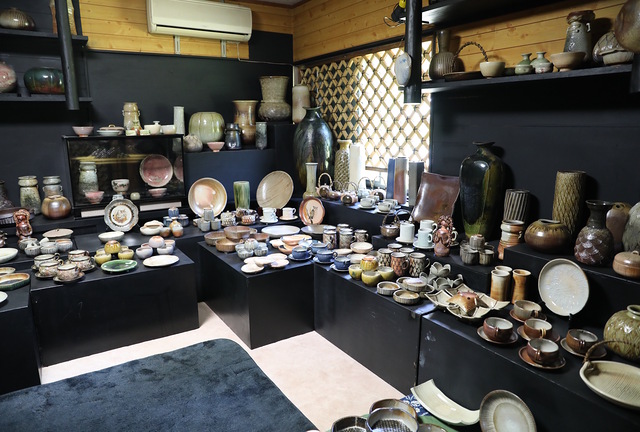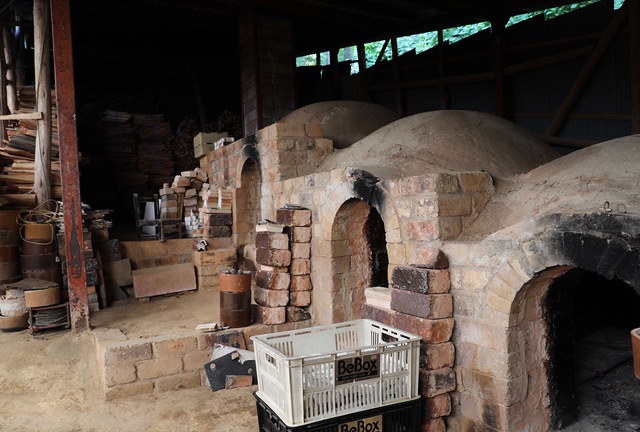 Mr. Wada led us down the path behind his studio-house and we soon came upon the immense kiln built into the hillside. He runs the wood kiln two or three times a year, each time for about three days. The temperature inside the kiln reaches over 1,250Ž! The kiln is about 8 meters long, and built in a series of steps so that the fire burning at the base can effectively heat the entire interior space. Each gsteph is a little stone room with an opening in the side (for easy loading) and a domed roof. Stacks of wood surround the kiln, in preparation for the next firing.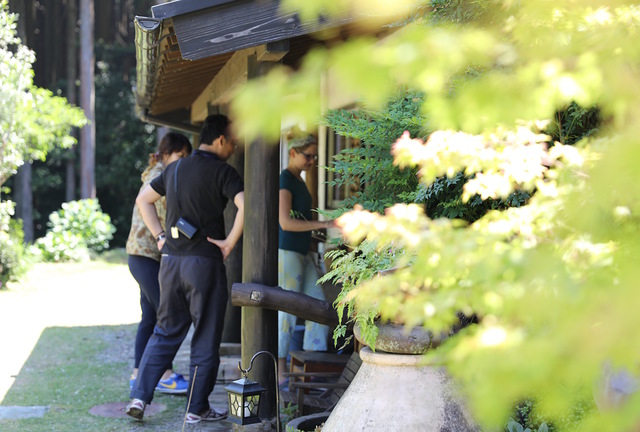 If you exit through the back of the kiln building you are greeted by the sound of a small stream running off into the surrounding forest. Though the ceramics studio is not far from the farms and houses in the valley below, it feels much more remote because of the dense forest.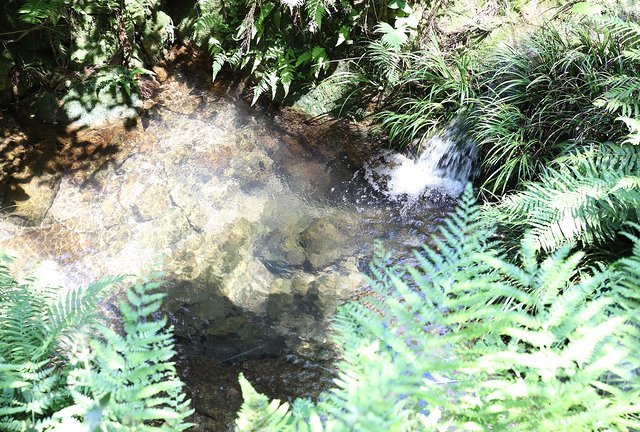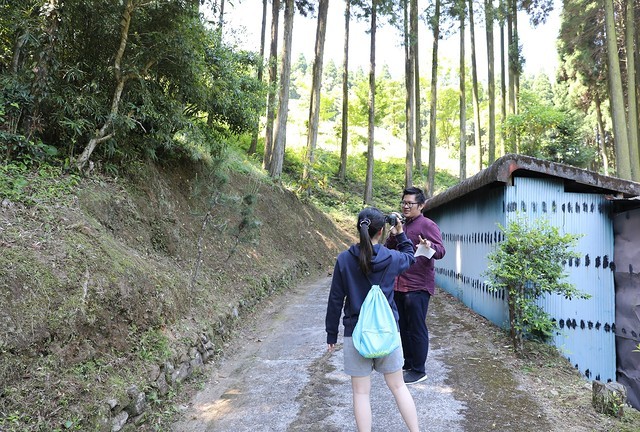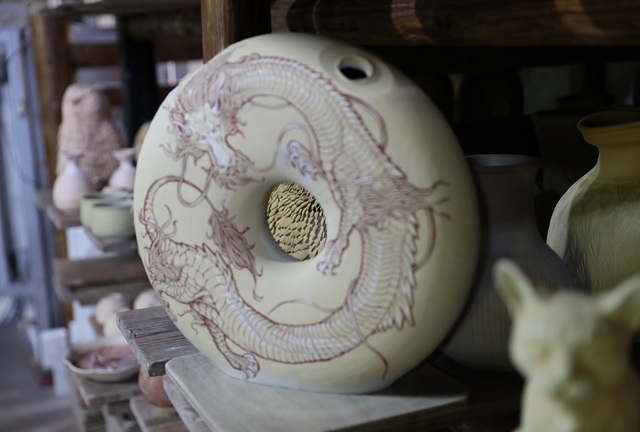 List of Posts:
2018/01/14 - Trip to Kadogawa in Miyazaki-ken [Making Yanagi-mochi]
2017/11/19 - Trip to Kadogawa in Miyazaki-ken [Danjiri festival!]
2017/08/12 - Trip to Kadogawa in Miyazaki-ken [Mukai ga hama, beach]
2017/08/12 - Trip to Kadogawa in Miyazaki-ken [Eiganji, temple]
2017/08/12 - Trip to Kadogawa in Miyazaki-ken [Iorigawa brake water, paint wall]
2017/08/12 - Trip to Kadogawa in Miyazaki-ken [Sushi, Kandagawa]
2017/08/12 - Trip to Kadogawa in Miyazaki-ken [Manju, Horikawa manju]
2017/06/06 - Trip to Kadogawa in Miyazaki-ken [Kadogawa`s Seaside Park]
2017/06/06 - Trip to Kadogawa in Miyazaki-ken [Isuzu river]
2017/06/06 - Trip to Kadogawa in Miyazaki-ken [Songoku, Chinese restaurant]
2017/06/06 - Trip to Kadogawa in Miyazaki-ken [Cafe, Strawberry Switch Blade Cafe ]
2017/06/06 - Trip to Kadogawa in Miyazaki-ken [Temple, Shorenji]
2017/06/06 - Trip to Kadogawa in Miyazaki-ken [Tombo, Japanese restaurant]
2017/06/06 - Trip to Kadogawa in Miyazaki-ken [Ka-chan, mackerel sushi specialty shop]
2017/06/06 - Trip to Kadogawa in Miyazaki-ken [The Komatsu Stone Tower Group]
2017/05/20 - Trip to Kadogawa in Miyazaki-ken [Mizunagasuisan Factory]
2017/05/20 - Trip to Kadogawa in Miyazaki-ken [Grilled Oysters at Shunsen Kadogawa ]
2017/05/20 - Trip to Kadogawa in Miyazaki-ken [Iorigawayaki- Ceramic Studio]
2017/05/20 - Trip to Kadogawa in Miyazaki-ken [Iorigawa Port]
2017/05/20 - Trip to Kadogawa in Miyazaki-ken [Yanagimochi Making]
2017/05/20 - Trip to Kadogawa in Miyazaki-ken [Mt. Tomi Observation Deck]
2017/05/20 - Trip to Kadogawa in Miyazaki-ken [Kokoronomori, Onsen and Hotel]
2017/05/20 - Trip to Kadogawa in Miyazaki-ken [Shunsen Kadogawa, local products store]
2017/05/19 - Trip to Kadogawa in Miyazaki-ken [Boat ride to Otojima and Birojima, Uninhabited islands in Kadogawa bay]
2017/05/19 - Trip to Kadogawa in Miyazaki-ken [Asahi, Chinese Restaurant]
2017/05/19 - Trip to Kadogawa in Miyazaki-ken [Matsuno Industrial Business Corp. Glass Bead and Marble Factory, Minamimachi 1-20]
2017/05/19 - Trip to Kadogawa in Miyazaki-ken [Kofuku, Chinese Restaurant, Kadokawaozue]