Trip to Kadogawa in Miyazaki-ken [Mizunagasuisan Factory]
Note: The opinions and views expressed in this user report are those of the individual author and do not necessarily reflect the opinions and views of japan-guide.com.
May 20, 2017 - Trip to Kadogawa in Miyazaki-ken [Mizunagasuisan Factory]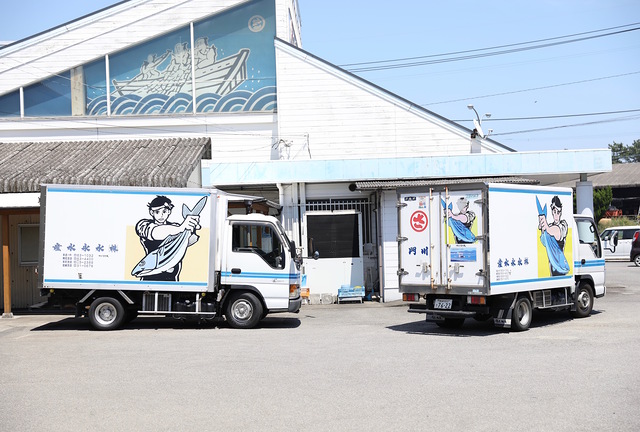 After observing (and eating) the fresh fish at the morning auction we headed to Mizunagasuisan to learn about the fish drying process. The factory and store are located on Route 10 just south of the Isuzu River-stop in to pick up a variety of local products such as vegetables, frozen foods, snacks, and, of course, dried fish.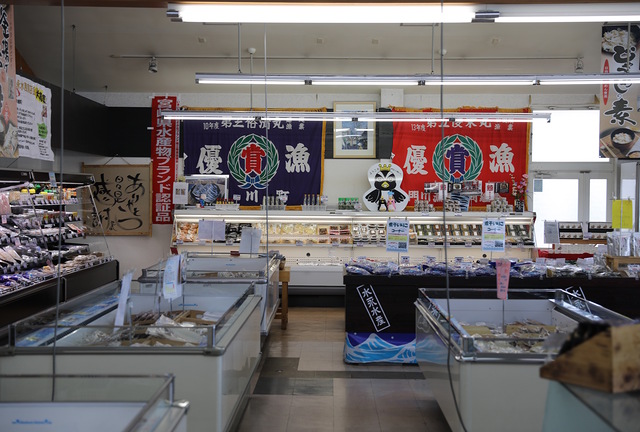 Mizunagasuisan processes many kinds of fish, but on the day of our visit they were drying mackerel. Workers were transferring fresh fish from large bins to the conveyer belt-five or six fish were skewered through the head with a rod and the rods were then slipped onto the belt which took them through a washing station. On the other side they were collected, dipped once more in water, and then hung on wooden drying frames that could be stacked six deep. The towers of fish are then wheeled into the drying room where they sit in front of large fans for about 48 hours, after which they are packaged and ready for market.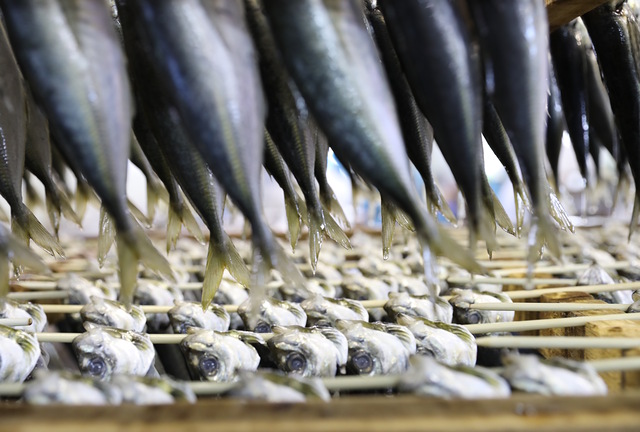 List of Posts:
2018/01/14 - Trip to Kadogawa in Miyazaki-ken [Making Yanagi-mochi]
2017/11/19 - Trip to Kadogawa in Miyazaki-ken [Danjiri festival!]
2017/08/12 - Trip to Kadogawa in Miyazaki-ken [Mukai ga hama, beach]
2017/08/12 - Trip to Kadogawa in Miyazaki-ken [Eiganji, temple]
2017/08/12 - Trip to Kadogawa in Miyazaki-ken [Iorigawa brake water, paint wall]
2017/08/12 - Trip to Kadogawa in Miyazaki-ken [Sushi, Kandagawa]
2017/08/12 - Trip to Kadogawa in Miyazaki-ken [Manju, Horikawa manju]
2017/06/06 - Trip to Kadogawa in Miyazaki-ken [Kadogawa`s Seaside Park]
2017/06/06 - Trip to Kadogawa in Miyazaki-ken [Isuzu river]
2017/06/06 - Trip to Kadogawa in Miyazaki-ken [Songoku, Chinese restaurant]
2017/06/06 - Trip to Kadogawa in Miyazaki-ken [Cafe, Strawberry Switch Blade Cafe ]
2017/06/06 - Trip to Kadogawa in Miyazaki-ken [Temple, Shorenji]
2017/06/06 - Trip to Kadogawa in Miyazaki-ken [Tombo, Japanese restaurant]
2017/06/06 - Trip to Kadogawa in Miyazaki-ken [Ka-chan, mackerel sushi specialty shop]
2017/06/06 - Trip to Kadogawa in Miyazaki-ken [The Komatsu Stone Tower Group]
2017/05/20 - Trip to Kadogawa in Miyazaki-ken [Mizunagasuisan Factory]
2017/05/20 - Trip to Kadogawa in Miyazaki-ken [Grilled Oysters at Shunsen Kadogawa ]
2017/05/20 - Trip to Kadogawa in Miyazaki-ken [Iorigawayaki- Ceramic Studio]
2017/05/20 - Trip to Kadogawa in Miyazaki-ken [Iorigawa Port]
2017/05/20 - Trip to Kadogawa in Miyazaki-ken [Yanagimochi Making]
2017/05/20 - Trip to Kadogawa in Miyazaki-ken [Mt. Tomi Observation Deck]
2017/05/20 - Trip to Kadogawa in Miyazaki-ken [Kokoronomori, Onsen and Hotel]
2017/05/20 - Trip to Kadogawa in Miyazaki-ken [Shunsen Kadogawa, local products store]
2017/05/19 - Trip to Kadogawa in Miyazaki-ken [Boat ride to Otojima and Birojima, Uninhabited islands in Kadogawa bay]
2017/05/19 - Trip to Kadogawa in Miyazaki-ken [Asahi, Chinese Restaurant]
2017/05/19 - Trip to Kadogawa in Miyazaki-ken [Matsuno Industrial Business Corp. Glass Bead and Marble Factory, Minamimachi 1-20]
2017/05/19 - Trip to Kadogawa in Miyazaki-ken [Kofuku, Chinese Restaurant, Kadokawaozue]