Trip to Kadogawa in Miyazaki-ken [Making Yanagi-mochi]
Note: The opinions and views expressed in this user report are those of the individual author and do not necessarily reflect the opinions and views of japan-guide.com.
January 14, 2018 - Trip to Kadogawa in Miyazaki-ken [Making Yanagi-mochi]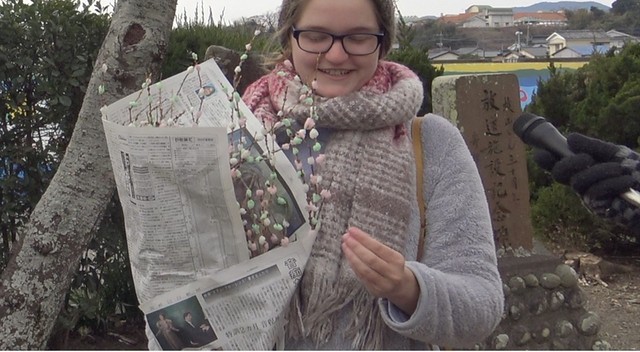 Each January a yanagi mochi making event is held in the Iorigawa neighborhood. Yanagi means "willow tree" and mochi are the sticky rice cakes you see all over Japan (sometimes filled with sweet red bean paste or other flavorings). Yanagi mochi is a traditional new year's decoration in which small pieces of mochi are arranged on willow branches which are then placed in houses to invite good health and safety in the year to come.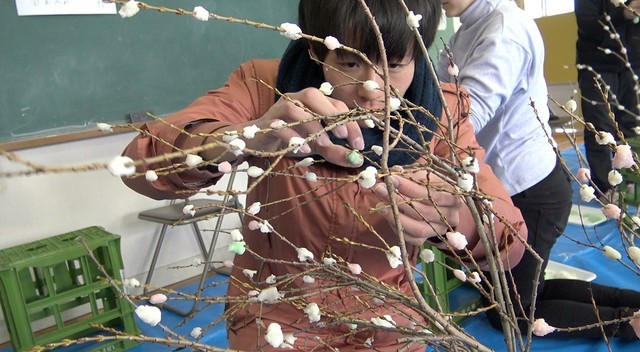 January can be cold even in sunny Miyazaki and nothing will warm you up like making mochi by hand! The freshly steamed rice is set in a large stone basin and then participants take turns beating it with wooden mallets. The individual grains of rice burst and it forms one big, sticky clump. This is then transferred to wide wooden trays and separated into flat, smooth disks. At this point filling can be added but, in the case of yanagi mochi, the mochi is then torn into small pieces and stuck onto the willow branches.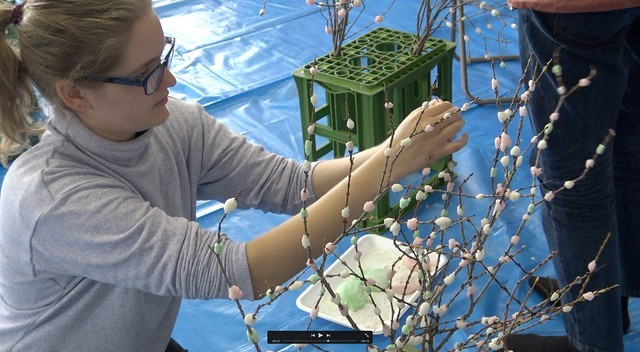 We all selected branches from the stockpile the event organizers had gathered in preparation for the event and set about decorating them with our freshly made mochi. We used white, red, and green mochi; yellow is also a popular color. You want to try to get an even distribution of the three colors throughout the branches without making your pieces of mochi too big that the branches can't support the weight.

The mochi is very sticky so it can be difficult to get it to stick to the branches and not your fingertips! You have to use a lot of rice flour to keep your fingers clean. Making yanagi mochi is a great activity for children of all ages and everyone enjoyed sneaking bites of mochi as they worked!


video is here!→https://youtu.be/pENBFbCQEb8
       https://youtu.be/UZbPCXxz_LA
       https://youtu.be/pSE7rxNVZxk
List of Posts:
2018/01/14 - Trip to Kadogawa in Miyazaki-ken [Making Yanagi-mochi]
2017/11/19 - Trip to Kadogawa in Miyazaki-ken [Danjiri festival!]
2017/08/12 - Trip to Kadogawa in Miyazaki-ken [Mukai ga hama, beach]
2017/08/12 - Trip to Kadogawa in Miyazaki-ken [Eiganji, temple]
2017/08/12 - Trip to Kadogawa in Miyazaki-ken [Iorigawa brake water, paint wall]
2017/08/12 - Trip to Kadogawa in Miyazaki-ken [Sushi, Kandagawa]
2017/08/12 - Trip to Kadogawa in Miyazaki-ken [Manju, Horikawa manju]
2017/06/06 - Trip to Kadogawa in Miyazaki-ken [Kadogawa`s Seaside Park]
2017/06/06 - Trip to Kadogawa in Miyazaki-ken [Isuzu river]
2017/06/06 - Trip to Kadogawa in Miyazaki-ken [Songoku, Chinese restaurant]
2017/06/06 - Trip to Kadogawa in Miyazaki-ken [Cafe, Strawberry Switch Blade Cafe ]
2017/06/06 - Trip to Kadogawa in Miyazaki-ken [Temple, Shorenji]
2017/06/06 - Trip to Kadogawa in Miyazaki-ken [Tombo, Japanese restaurant]
2017/06/06 - Trip to Kadogawa in Miyazaki-ken [Ka-chan, mackerel sushi specialty shop]
2017/06/06 - Trip to Kadogawa in Miyazaki-ken [The Komatsu Stone Tower Group]
2017/05/20 - Trip to Kadogawa in Miyazaki-ken [Mizunagasuisan Factory]
2017/05/20 - Trip to Kadogawa in Miyazaki-ken [Grilled Oysters at Shunsen Kadogawa ]
2017/05/20 - Trip to Kadogawa in Miyazaki-ken [Iorigawayaki- Ceramic Studio]
2017/05/20 - Trip to Kadogawa in Miyazaki-ken [Iorigawa Port]
2017/05/20 - Trip to Kadogawa in Miyazaki-ken [Yanagimochi Making]
2017/05/20 - Trip to Kadogawa in Miyazaki-ken [Mt. Tomi Observation Deck]
2017/05/20 - Trip to Kadogawa in Miyazaki-ken [Kokoronomori, Onsen and Hotel]
2017/05/20 - Trip to Kadogawa in Miyazaki-ken [Shunsen Kadogawa, local products store]
2017/05/19 - Trip to Kadogawa in Miyazaki-ken [Boat ride to Otojima and Birojima, Uninhabited islands in Kadogawa bay]
2017/05/19 - Trip to Kadogawa in Miyazaki-ken [Asahi, Chinese Restaurant]
2017/05/19 - Trip to Kadogawa in Miyazaki-ken [Matsuno Industrial Business Corp. Glass Bead and Marble Factory, Minamimachi 1-20]
2017/05/19 - Trip to Kadogawa in Miyazaki-ken [Kofuku, Chinese Restaurant, Kadokawaozue]